Looking for something fun, funky, and functional this holiday season? Here's four reasons why Keith Haring's Wooden Child's Chair (Red) is the perfect gift for your creative little one!
1. One of the most iconic and well-known graffiti and Pop artists of the 20th century, Keith Haring had a wild imagination. The artist grew up drawing characters from Disney movies, Dr. Seuss books, and Charles Schulz's Peanuts cartoons. Now your child can read about their favorite characters while sitting in an inspirational Keith Haring chair!
2. Haring had an affinity for highly saturated, bright primary and neon colors. Add some pop to any bedroom, playroom, or creative space. (The chair is also available in blue , yellow , and pink ).
3. 'Tis the holiday season, and this is the perfect gift for a new parent keen on decorating a room that's inspiring, magical, creative—but also sophisticated. These collector's items are not only gorgeous, they're also opportunities to teach children about art history.
4. This chair is made of non-toxic lacquered hardwood, and is made to last—so you can hang onto it until they head off the college (or, send it with them!).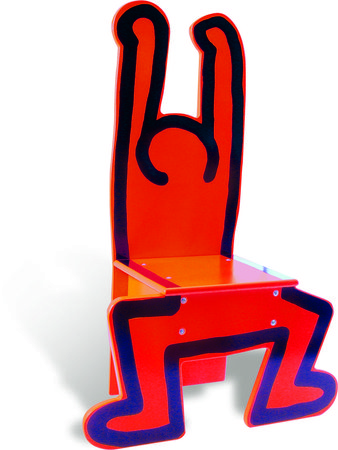 Keith Haring's "Wooden Child's Chair" (Red), Available on Artspace for $150
RELATED ARTICLES
Our Guide to Conscious Collecting: Support the Causes You Care About with Art
[related-works-module]