In late 2013, I started spending a lot more time in London, traveling between there and New York and Moscow and devoting a quarter of my time to each place (with the fourth quarter reserved for "other," including Art Dubai and Art Basel Hong Kong, as well as finishing school in Switzerland). Luckily for me, this year's art season started in London with a great lineup of shows in February, as well as the first round of contemporary art auctions.
The most anticipated event in London was the new show of cubistically distorted portraits by George Condo at Simon Lee Gallery, with a concurrent show of his ink drawings running at Skarstedt Gallery's outpost there. The paintings felt really fresh, even though you can't get more classic than the portraiture—and while Condo's work can be uneven, this show seemed to be exclusively made up of blockbusters. It was such a draw, in fact, that many people skipped the Phillips evening sale that night, opting to stay in Mayfair to celebrate George. I myself had just gotten back to London from Moscow, where I had watched the opening of the Sochi Olympics with my family, and went straight from the airport to Simon Lee, only participating in the Phillips auction by phone. Here's my favorite painting from the Condo show:
One of George Condo's new portraits
After the opening and the dinner at Nobu following the show, the art-world crowd moved to Andre Balazs's new hotel in Marylebone to discuss the biggest upcoming auctions of the week at Sotheby's and Christie's. There was a lot of talk about Rudy Stingel's paintings, which seemed to have been forgotten among the new abstraction of younger artists like Israel Lund, Lucien Smith, and David Ostrowski.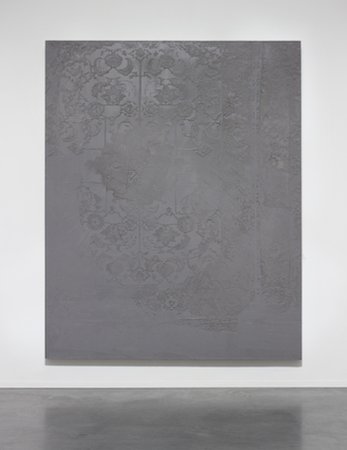 Rudolf Stingel's Untitled (2010)
There's also been a lot of talk these days about the continuing evolution of the art market, and the role of collectors within it. The New York Times just took on an official art-and-money commentator in Scott Reyburn, and his kick-off column—bluntly titled "For Love of Art, and Money"—concluded that it's no longer a fluke to make money in the art world. On a less highbrow note, the Internet was all abuzz with repostings of SellYouLater, a mysterious website that plays "Mad Money" with emerging artists. The eerie part? They're pretty accurate. 
I personally preferred Katya Kazakina's take in Bloomberg, in which she examined the bumper crop of young art stars, as well as Kenny Schachter's "Day Tripper" piece on Gallerist. Forget Oscar Murillo and Lucien Smith—now we're already on to Parker Ito, Ostrowski and Lund. (Although, to be fair to myself, I was on to them before Murillo made his debut in auction).
Lund, meanwhile, was the subject of more than a few whispers when one of his paintings—scheduled to be the opening act at London's Phillips day sale—was pulled from the auction altogether, apparently because it was one work separated out of a series of eight and could not be sold separately. The market-making collectors backing Lund could not get their public price set at auction this time around, but I am sure the situation will be fixed in the next batch of sales. 

But back to gallery land, where art isn't traded like stocks and where artists are genuinely supported.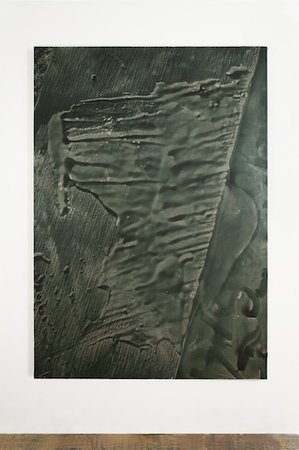 Daniel Lefcourt's Cast (2013)
Out in the East End, I made sure to catch Daniel Lefcourt's Cast paintings at Campoli Presti. Hands down, this is the most beautiful work to be inspired by "accidental cryogenics." He'll have the next show at the gallery's Paris outpost, opening under the ambitious title: "A Moveable Feast – Part VI." (Guess I missed the first five installments?)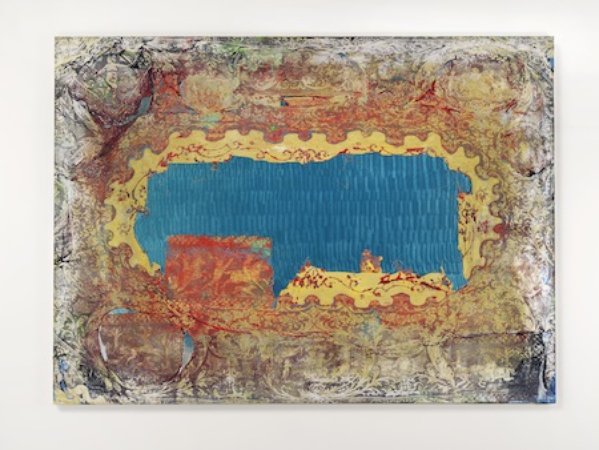 Mark Flood's Blood Trail (2013)
One of my next stops was Modern Art, where the dealer Stuart Shave was showing new work by Mark Flood. Mark is someone who has this immediately apparent sense of humor, but he's also deeply invested in his materials and in experimenting with his technique. I'm a sucker for his lace paintings—they're the kind of artworks you must see in person to get a sense of their many textures. 

Meanwhile, with so much great art everywhere in London, I learned that it can even get you in trouble with your neighbors. Last week I was leaving my new flat in Notting Hill when I caught sight of one of my neighbors taking photos of my house from across the street. Disturbed, I went about my day, only to come home to a typed note that read: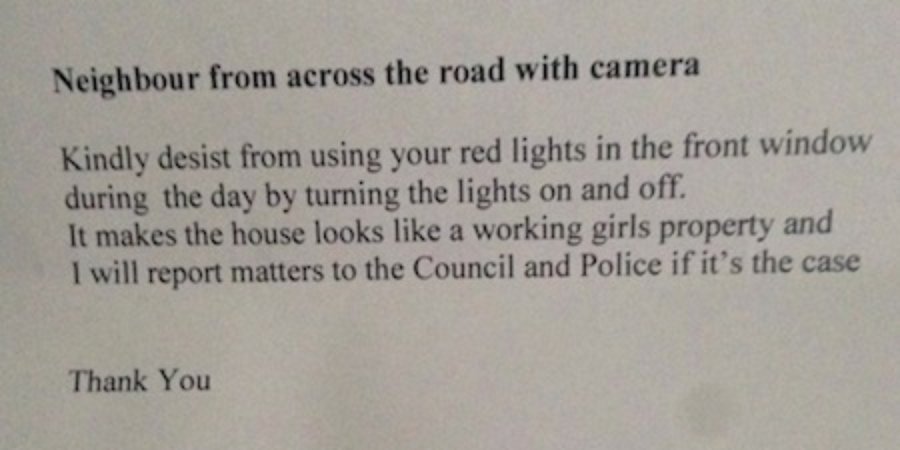 The "red lights" in question? It's actually an artwork by Shezad Dawood that plants a red neon sign saying "Allah the Sovereign" in Arabic inside a tumbleweed. I was turning it off before leaving the house in the eco-friendly mindset of controlling my electricity consumption, and ended up getting accused of being a harlot. The road to hell really is paved with good intentions.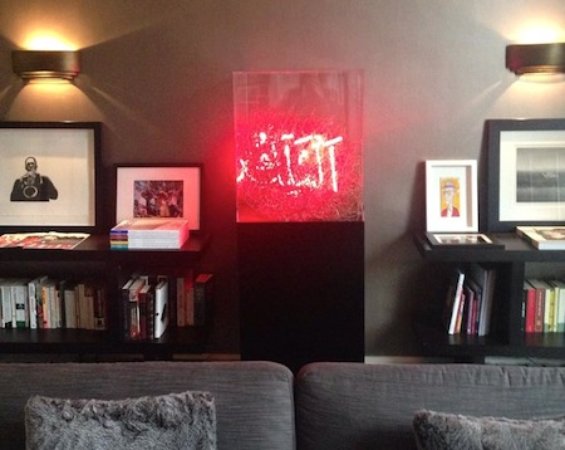 The Shezad Dawood sculpture in Maria's home
But seriously— in the land of Tracey Emin, how is it possible that a man sees a red neon light in a ground floor flat of a Victorian building in Notting Hill and associates it with Amsterdam's red-light district? One good thing that came out of this experience is that I got back in touch with Shez, whose work I showed in Moscow at Baibakov Art Projects back in February 2009. Turns out he has a solo show in the works at Parasol Unit this April. Maybe as a goodwill gesture I should send an invite to my neighbor? (I'll tell him he can bring the city council and the police along too.) 
My London art week wrapped up with an evening organized by the impeccably elegant and ruthlessly intelligent Yana Peel, who flew in from Hong Kong to co-host a dinner at home with Natalia Vodianova in honor of Kazimir Malevich's upcoming exhibition at the Tate. Malevich has been making a comeback in the public consciousness these past few weeks: his famous Red Square was celebrated on February 7 at the opening ceremony of the Sochi Olympics.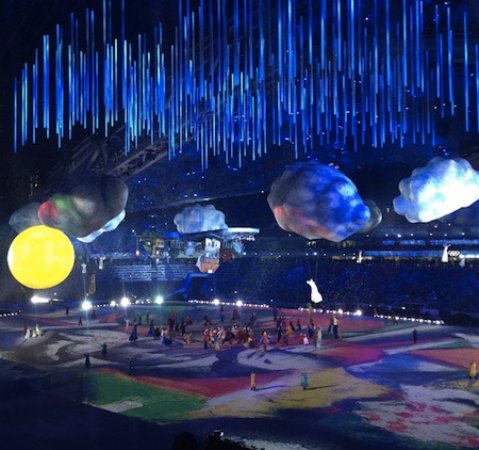 Another view of the Kandinsky, Malevich, Chagall sequence at Sochi
The following week, I flew to Sochi on February 19 to spend the last five days of the Olympics onsite and step outside of the world of art into winter sports. But art found me here too: Malevich and his contemporaries Vasily Kandinsky and Marc Chagall were again prominently acknowledged in the closing ceremony with an entire dedicated scene recreating their strange worlds of abstract forms and celebrations of Russian peasantry and folklore—complete with a floating upside-down house with upside-down actors inside and on its front lawn. This was quite a sight to see, and the grandeur of the ceremony actually brought me to the brink of tears. 
Although I was skeptical at first, my trip to Sochi made me appreciate the immense hard work that went into making the games happen successfully. Most of all, I was thrilled that through the opening and closing ceremonies, the world got to see another image of Russia—that it's not all Pussy Riot and Edward Snowden, but also Constructivist art and modern literature by the likes of MikhailBulgakov and Vladimir Mayakovsky. Sometimes, amidst the news headlines, even I need to be reminded of the rich cultural heritage of Russia, and I was grateful for the wakeup call.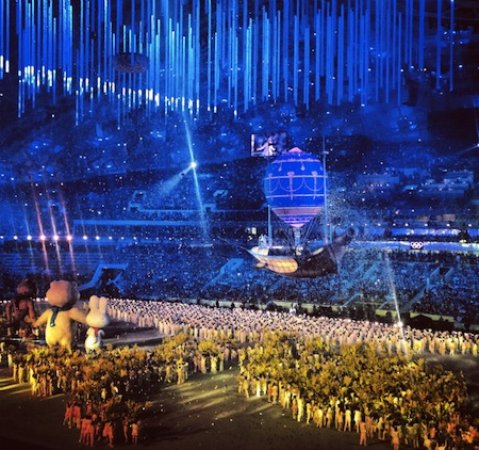 The Sochi closing ceremonies (note the Fabergé egg)