Alexander S.C. Rower, or Sandy as he is known to his innumerable friends in the art world, travels the world widely as the president of the Calder Foundation, the very plugged-in organization dedicated to the work and legacy of his grandfather Alexander Calder. Here, Rower shares his highlights from this year's Frieze New York art fair.
Frieze New York is the only fair I attend completely for fun. With the exception of a standing mobile in Acquavella's booth, the very contemporary focus of the fair means that Calder is largely absent from the 200-odd stands. It is therefore a great chance for me to catch up with old friends, discover artists, and take in a general snapshot of what is groovy on the global scene, all in a few hours. I actually stayed longer this year than I ever have before—and I've been genuinely impressed that each year the fair has been a fuller, richer, and better experience than the one before. 
1. 
H. C. Westermann
Madame B, 1965
Venus Over Manhattan (New York)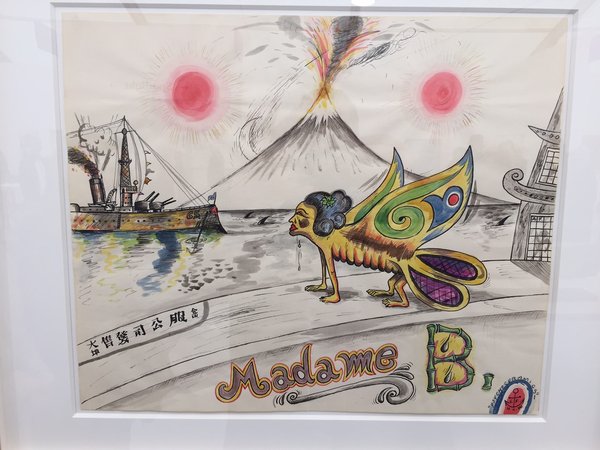 Leave it to damned Adam Lindemann to show a dead artist at Frieze New York, with a presentation in keeping with his theme of unsung historical artists. He regaled me with tales of H. C. Westermann's tour of duty on a WWII destroyer, where one of his tasks was to pile up the dead bodies. This drawing glorifies the gloom shrouding humanity, a window view from a brothel. Who can tell me what the Chinese characters say?? 
2. 
José Bento
Untitled, 2016
A Gentil Carioca (Rio de Janeiro)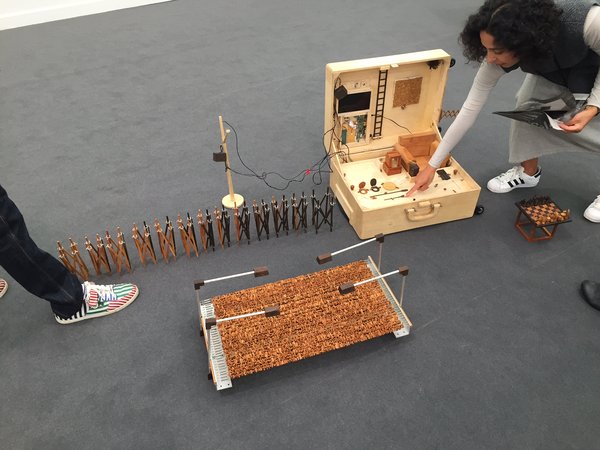 This contemporary 
Boîte-en-valise
 caught my eye soon after I walked into the fair, exhibited at the storied artist-run Rio gallery A Gentil Carioca. The box contains mini-replicas of the artist's own works, in direct homage to
Marcel Duchamp's 
Boite-en-valise, 
which was actually itself an homage to 
Cirque
by Duchamp's dear friend Calder
.
 Duchamp loved the unpacking of the five suitcases that contained Calder's seminal work of performance art in the late '20s. I wonder if this artist knew that history.
On an outside wall of Mitchell-Innes & Nash's booth, I came across an understated grouping of soft platinum photographs by Justine Kurland. Normally working on a bigger scale and in color, Kurland depicts beautifully intimate, autobiographical moments in these small black-and-white prints. This image of a dog-eared photograph of the artist's father tacked on a wall is something we all have somewhere in our homes—treasured candid photos we love to destruction. This mid-career artist is definitely one to watch closely. 
4.
Katsuyo Aoki
Predictive Dream XXXIX, 2012
Tomio Koyama Gallery (Tokyo)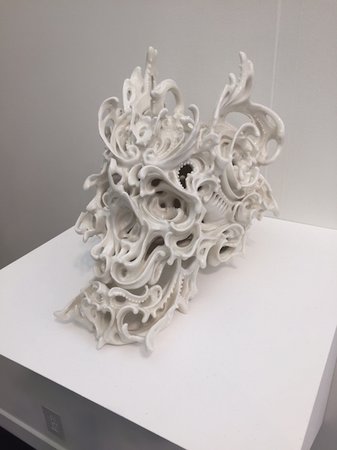 Had my brother not brought my attention to the back corner of this booth from Japan, I would have missed Katsuyo Aoki's work altogether. I figured the two fantastical porcelain skulls must have been cast in some way, but upon closer inspection it became clear that each was a unique sculpted form, utterly extraordinary and obsessive. I had never heard of the artist, and I am curious what connection she has to extraterrestrials. 
5.
Richard Nonas 
An installation view
Fergus McCaffrey (New York)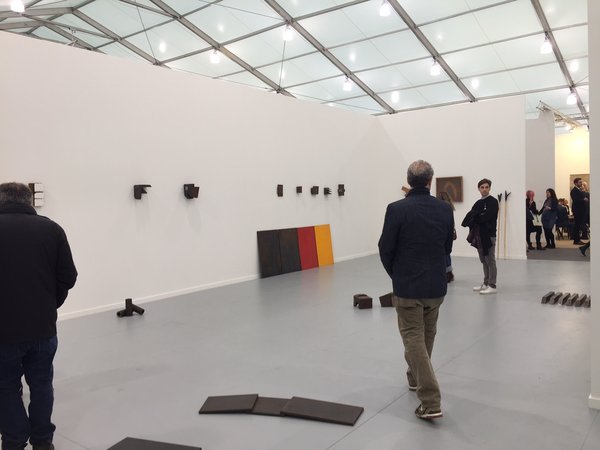 The solo booth of curatorial heavyweight Richard Nonas's work at Fergus McCaffrey stood out as a mini-exhibition within the fair. Nonas's early years as a social anthropologist studying native folks made a deep impression on the artist, whose work is so sublimely elegant. It has been a pleasure for me to follow his work from afar, beginning from over 20 years ago when he did a residency at our Atelier Calder program in Saché.