An accomplished artist and writer as well as a curator, Mark Beasley is one of the globe-traversing talent-finders who take it upon themselves to assemble the Performa performance art biennial, which just concluded its most recent run in New York last month. His notable ability to hopscotch between disciplines is evident in his exhibition history: in addition to his work with Performa, Beasley collaborated with Mike Kelley on an experimental music festival, organized the of-the-moment "Plot09" show on Governors Island for Creative Time, and recorded an album with the musical group Big Legs. Here, he shares his favorite artworks from this year's edition of NADA Miami Beach.
JOHN HILTUNEN
Untitled, 2014
Creative Growth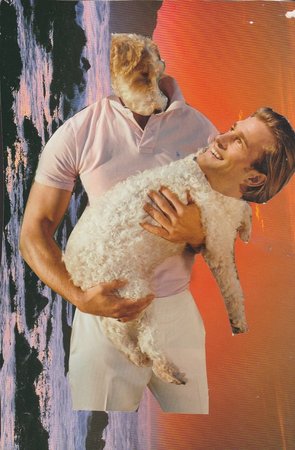 I'm sitting in New York's Laguardia airport chewing on a dry croissant and drinking a scalding cappuccino from a foam cup while being ear-bombed by Formica jazz. I feel a little disorientated and sickly. The in-flight magazine describes the Miami art fair as a "multi-day pop-up shop for some of the world's most expensive and unique merchandise." The girl sat next to me is eating an extra-large bag of Cheez-It's and watching One Direction play the iTunes festival on a fluoro-pink iPad. I'm browsing the NADA artist's list. I like John Hiltunen's collages—they're the blunt-trauma version of the cut-up. A dog's head is switched out with his owner (a cookie-cutter male model with forced smile and open necked Polo-shirt) and then stuck onto a vertical glowing sunset over a lilac seascape. I feel momentarily at ease.
ARAMIS GUTIERREZ
Untitled (Snakes), 2015
Guccivuitton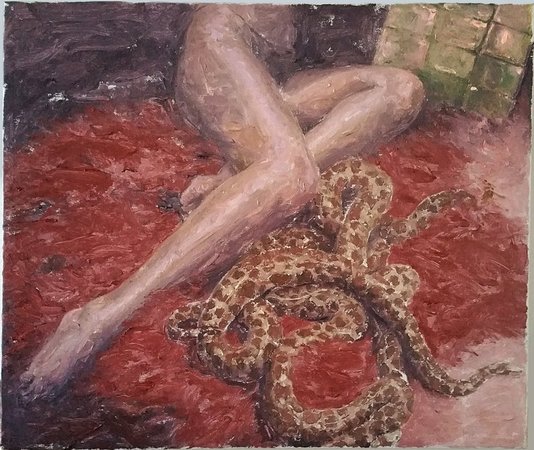 There's a certain painterly figuration that always gets me. As a kid I painted all the time—for a brief while I was taught by Peter Doig—but then I started reading and the world became bigger than the paintbrush. That said, good painting, where the paint is continually moving and writhing, can't be beat. This might be that. Plus, the gallery has a "punky" vibe.
ART & LANGUAGE
Part of an American Portrait, 2013 
Rob Tufnell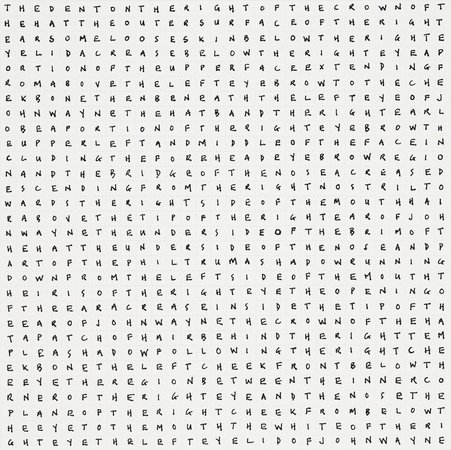 Take a trip to the Rob Tufnell gallery and rifle through his acid-blotter print series! Guaranteed to stretch the mind, this series includes prints by the great and the good of critical and "out there" thought: Art & Language, Rodney Graham, Jeremy Deller, Laura Owens, and Steven Claydon.
JERRY THE MARBLE FAUN
Victor, 2009
SITUATIONS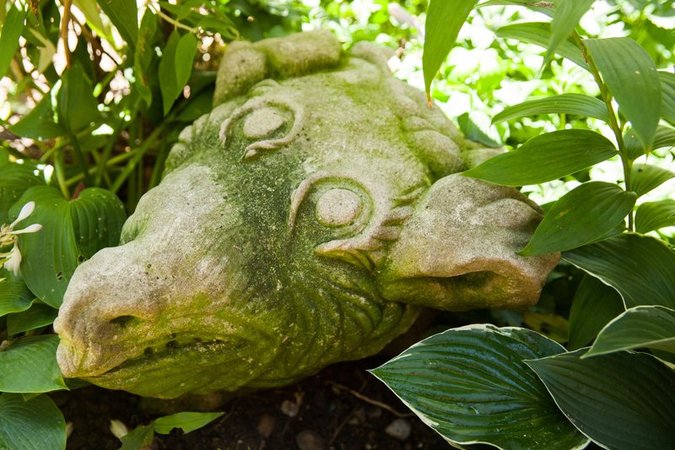 I'm imagining waking up with one of Jerry the Marble Faun's faun sculptures resting on my Miami hotel pillow. When Jerry was featured in the Maysle's brothers movie Grey Gardens (1975), he was the sensitive teen-age handyman with delicate features and big hair who visited with faded socialites Edith and Little Edie. He now makes sculpture. I like the idea of him. He makes the landscape interesting. The sculptures have great names like Barnard and Victor.
PUPPIES PUPPIES
Corn Stool, 2015
Queer Thoughts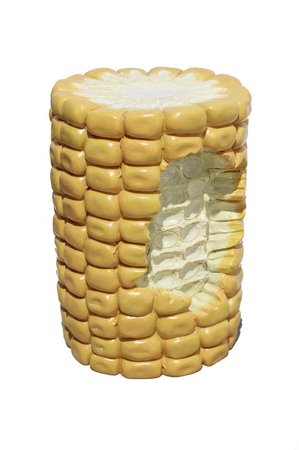 I first bumped into one of Puppies Puppies Corn Stools at Galerie Neu Alte Brucke at the Independent fair in Chelsea. I recall sitting there while being shown images of Gollum chewing on a fish: a performance by the artist. It stayed with me. On those occasions that I've visited a collector's house there's often a piece of artist-made furniture. It's never clear if you're meant or even allowed to sit. This feels like that particular conundrum would be avoided: "Come in and pull up a corn stool!"