From a major piece by one of the year's best-reviewed young artists to a head-turning historical prank by America's most famous living sculptor, these are works that could add major oomph to any collection.The following pieces were selected by Artspace editors in consultation with VIP client manager Hannah Flegelman.
* All prices current as of November 24, 2015

ALEX DA CORTE
Triforce, 2015
Anodized metal frames, foam, spray paint, sequine pins, paper, velvet, tape, Plexiglas
$20,000*
Alex Da Corte's wonderfully perverse photographic works take the kind of deadpan aesthetic perfected by Elad Lassry and Roe Ethridge and drag it through the looking glass into a strange new synthetic realm of product-pushing, memes, pop culture, and contemporary design. Sometimes, as in his stunning Luxembourg & Dayan show earlier this year (which Roberta Smith wrote "dazzles at every turn"), a Lynchian sense of menace creeps in. A sensation among collectors, this Yale MFA's work has only gone to auction once due to its evident staying power, and next year he stands to reach a new echelon of renown when a survey of his work opens at MASS MoCA in March. This unique mixed-media ode to the Triforce (Link's sword in the Legend of Zelda video game franchise) is an iconic, instantly recognizable example of his work that exudes serious wall power.
KATHERINE BRADFORD
Ship's Rainbow, 2015
Acrylic on canvas
$10,000*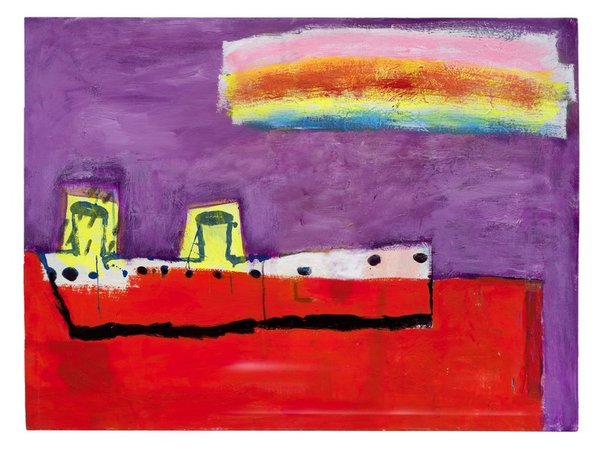 Although she is collected by the Met and other major museums, the Williamsburg-based painter Katherine Bradford has long enjoyed a quiet, solid career, selling her paintings to a modest group of collectors who supported her. Now, at age 73, that is rapidly changing—her dreamlike, unfussy portrayals of ships aglow on night seas, cave-painting-ready divers, and an existential Superman launching himself through monochrome skies have hit the moment with uncanny precision, seeming distinctly fresh and relevant amid the work of painters half a century younger. This joyous composition, suffused with ripe colors and direct appeals to the eye's pleasure precinct, could make any apartment immediately spring to life.
JEFF KOONS
Art Magazine Ads (Flashart, Art in America, Artforum, Arts), 1988-89
Suite of four color lithographs
$45,000*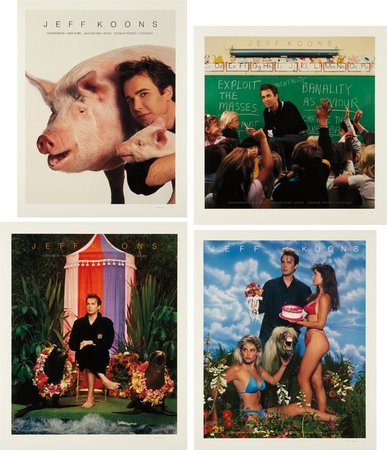 When Jeff Koons was a rising prince of the downtown New York art world in the late 1980s, riding on the successes of his consumerism-burlesquing "Luxury and Degradation" series, he did two things that were wholly unexpected. One was that, in 1988, he unveiled his "Banality" series of sculptures—diving face-first into the aesthetic realms of kitsch tchotchkes and making unsettling monuments to subjects like Michael Jackson and his monkey and greeting-card pap (as in a appropriated image of a couple holding puppies on a park bench that led to a successful and lucrative lawsuit). The other was that the artist, anticipating the bared knives of critics, hired an image consultant and began an expensive campaign to build his brand in the press, giving self-glorifying interviews and taking out full-page ads in the leading art publications presenting himself as an offbeat yet successful guru-like visionary. In this period, which culminated in the pornographic "Made in Heaven" series and was exemplified by these high-concept ads, Koons honed the abstracted, plasticine persona that he continues to promote today, and which might be the most unsettling of his surface-obsessed sculptures. 
MARY SIMPSON
Cirrus, 2015
Oil on maple panel
Inquire for Price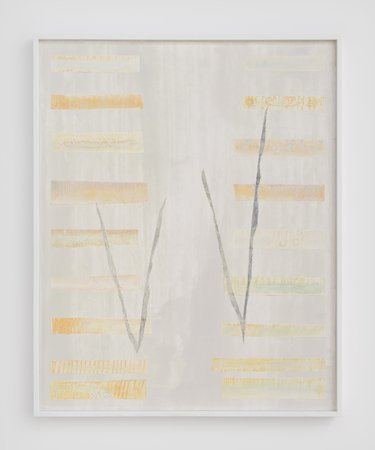 A painter's painter known for witty, thought-through abstract compositions, Mary Simpson may not be a famous name yet, but a quick look at the dealers who have been giving her solo shows over the past few years suggests that moment is building—and fast. She's had shows at Simone Subal, Rachel Uffner, and On Stellar Rays (terrifically prescient eyes on the Lower East Side) as well as Bortolami and Almine Rech, and now Uffner is taking her work down to NADA Miami Beach for the fair. (She's also collected by the Horts, which never hurts.) This delicate, atmospheric piece is an excellent example of her work, and of her generously accessible price.
ANALIA SABAN
Bouquet of Flowers Within Circuit Board (With Green Line), 2014
Pigmented ink and crayon on etching paper
$850*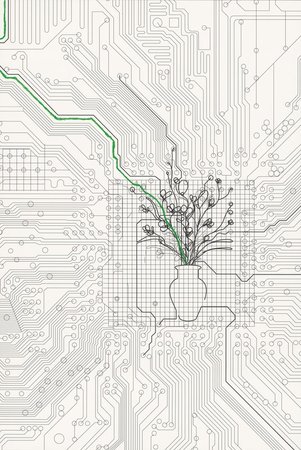 Born in Buenos Aires and trained in art at UCLA (by John Baldessari), Analia Saban has been meditating on the medium of painting for a while now, in inquisitive explorations of its possible subject matter (circuit boards?), chromatic allure (can taupe be exciting?), and even medium (are drapey installations kind of like painting?). The answer to all of these questions, as adoring critics (and her demanding gallerists at Sprüth Magers and Tanya Bonakdar) can tell you, is "yes." This rather affordable edition—derived from a painting that sold for $87,500 at Sotheby's last year—investigates the iconography of the microchip, importing a sprig of natural life in the form of a green vine that the artist has hand-drawn on each edition.


PAMELA JORDEN
Untitled, 2014
Oil on linen
$9,500*


Sometimes a painting just zips into your head like a killer radio single, lightening your mood and making you search out the new talent behind it. At EXPO Chicago earlier this year, the artist Pamela Jorden had a similar breakout hit with her abstract tondos at Romer Young Gallery, which forced practically every passerby to instantly war-game out what it would look like on their wall. Taught by Wade Guyton, the Knoxville-born artist centers her process around the physical properties of her materials, painting her canvases before stretching them to their frames to distend their shapes beyond her complete control. This piece is a particularly toothsome result, showing her A-game on the verge of the publication of her first major monograph this fall.