As you might expect of someone who maintained a graphic design practice for more than 20 years while also curating, teaching, and running the department of graphic art and design at London's Royal College of Art, Liz McQuiston knows a thing or two about the fine art of getting your point across through images—particularly of the political variety.
She's also the author of Phaidon'sVisual Impact: Creative Dissent in the 21st Century, an accessible, illustrated exploration of how art and design have driven major social and political change in the 21st century. Here, McQuiston takes the time to talk about 10 of her favorite works on Artspace, which tend (perhaps unsurprisingly) towards graphic acuity and strong political sentiments.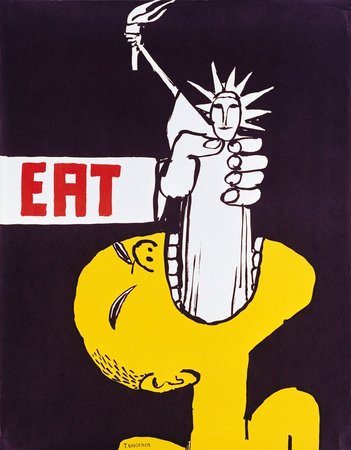 My main memory of 1960s America, where I spent my teen years, is that of a country on fire. Imagery arising from liberation movements—Civil Rights, Black Power, Feminism, lesbian and gay rights—was emotional, shocking, and very, very angry. Brutal photo essays of the war in Vietnam filled magazines; television news footage of antiwar protests and riots showed carnage; the press pictured bleeding students and "police brutality" on campuses; and posters against the war by famous, little known, and anonymous artists alike proliferated. The imagery was everywhere, in the media, on the streets, it was impossible to escape the social upheaval.
Tomi Ungerer's vibrant antiwar poster, EAT, never fails to remind me of those extraordinary times and the horrors of that war, or any war for that matter. And the imagery of that time influenced my research interests, for I continue to be drawn to overtly political imagery or seek out projects that can be interpreted as having implicit connections to political or social issues.
TOM OF FINLAND
Leather Duo, 1963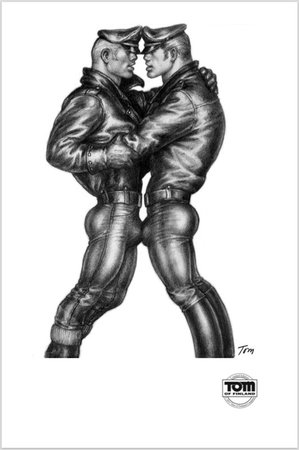 The homoerotic drawings of Touko Laaksonen (otherwise known as "Tom of Finland") provided a much needed injection of fun and pride into the early gay rights movement that emerged from the 1969 Stonewall Riots in New York City. Appropriating symbolic figures of 1950s "manliness" from the straight world (lumberjacks, bikers, cops, and so on), he created a line of iconic gay figures often clad in leather and enjoying sex as well as a broader oeuvre of homosexual art that continues to occupy an important place in popular culture to this day.
JENNY HOLZER
Truism 1, 1983-1991

Throughout the 1980s, art activist Jenny Holzer's thoughtful messages, known as "truisms," appeared throughout urban environments on everything from massive electronic signs (Times Square) to t-shirts and stickers in phone booths. Despite the variations in size, they were curiously private and at times disturbing—political messages that one silently ingested while passing people in the street. I still have certain favorites: "Abuse of power comes as no surprise," "Protect me from what I want," "Men don't protect you anymore," "Savor kindness because cruelty is always possible later." Decades later, she has moved on to appropriating texts from other sources such as torture documents from the Iraq War. If anything, I find her use of language in motion (through LED works) has gained in power and in its ability to mystify.
BARBARA KRUGER
You're Right, 2010

Barbara Kruger's politically-inspired work combines the visual language of graphic design and advertising with text that is often direct and accusatory, demanding the viewer to engage in a debate or take a personal stance. Her work has tremendous lasting power. One of my personal favorites, Your Body Is a Battleground, became the standard for feminists and pro-choice activists throughout the 1980s and still resonates with women's rights issues in the 21st century. The image shown above is a good example of her power to provoke different meanings, created by the way that the text impacts with the ambiguity of the image. Are those the eyes of a man or a woman?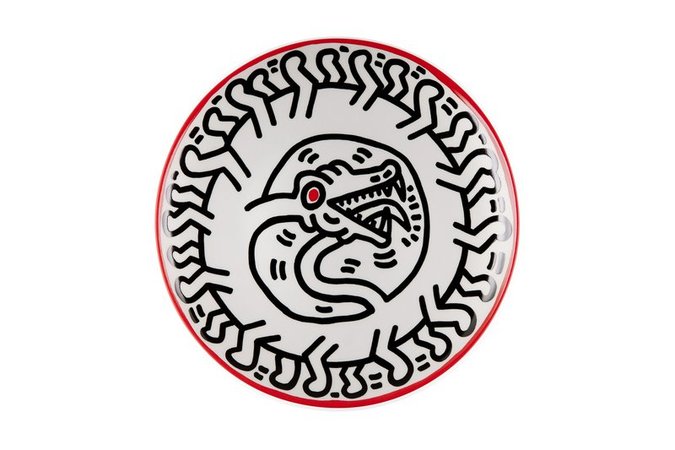 Keith Haring's vast output of much-loved drawings spread across every surface imaginable in the 1980s, from subway walls and buildings (including the Berlin Wall) to commercialized graphic and 3D paraphernalia of all sorts. His thick-lined, energetic characters expressed wide-ranging emotions, bringing love and a sense of joie de vivre to the masses—as well as exposing society's anxieties and fears. For at that time, the characters marked with an "X" could be related to the AIDS pandemic ravaging the USA's gay community. It eventually caught up with Haring himself and he died tragically in 1990, at the age of only 31.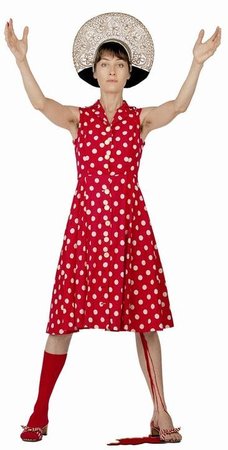 This life-size cut-out by Swiss artist Pipilotti Rist carries on the wonderful streak of shocking humor that has been present in feminist art since the 1970s. Rist uses her own body to communicate a complex, symbolic bundle of women's experiences: youth, working life, motherhood, plus overtones of religion. And the colorful image itself must in reality project an imposing presence—life-size, dressed in jezebel red, standing in religious pose, while bleeding onto the floor. I love it. Some will find it shockingly rude, I find it meaningful and hilarious at the same time.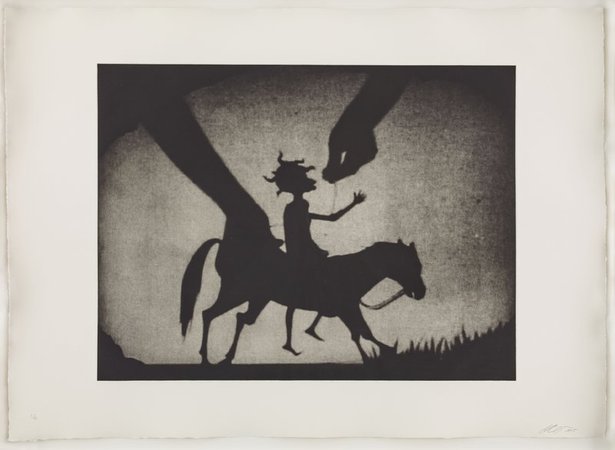 Although Kara Walker's early work often borrowed its visual language and mode of production from genteel Victorian black-paper cutouts, they served to make brutal comments about acts of cruelty and racism, both historical and contemporary. The image above, one of a set of five, provides a good example: the closer one looks, the more detail one discovers, and the more upsetting the imagery and its implications become. The horrors of history insist on terrorizing the present. Her more recent work continues to be brutal in its use of media and message, appropriate to present-day culture where movements such as Black Lives Matter are still necessary.
AES+F
LAST RIOT, The Bridge, 2006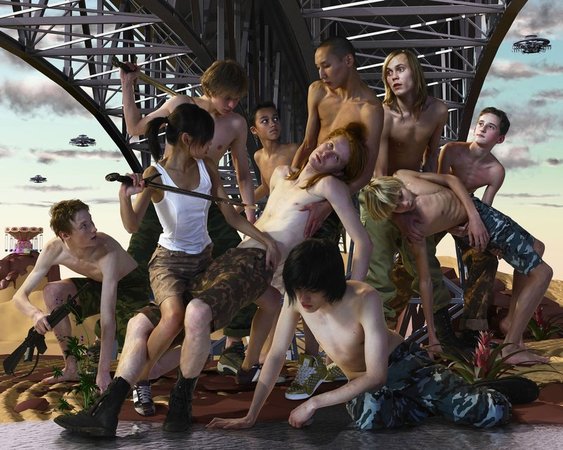 One of my favorite art groups is Moscow-based AES+F who create subversive "discussion pieces" exploring modern values and conflicts. They have composed a number of futuristic visual narratives involving children, including the unsettling image above, who are often in heroic pose but bear weapons and are able or ready to commit an act of violence. The depictions can be interpreted as warnings of a possible future involving such a contradictory society, where children are no longer protected but are seen as acceptable or trained aggressors. The beautiful production and dynamic composition of the images make them even more threatening. They present an exquisite, dark premonition—let's hope that we never go there.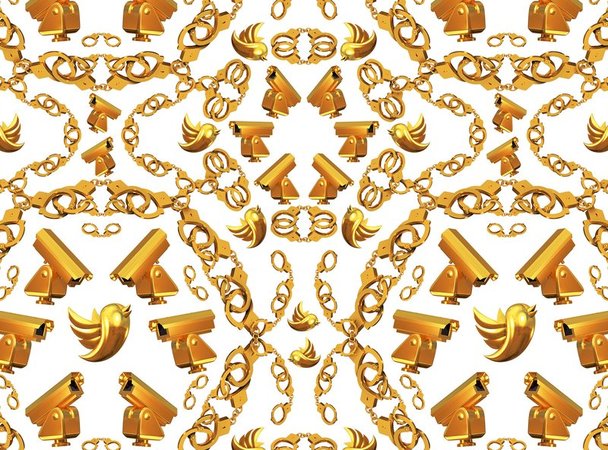 Ai Weiwei has become a household name as a 21st-century artist-activist with a global reach. This is partially due to his perilous relationship with the Chinese government and its constant (often failed) attempts at surveillance of his every move—and the wonders of social media, especially Twitter, which has allowed him a massive audience of followers. His life story cannot be separated from his work and the wallpaper shown above displays his ability to bring humor to his situation. For the color gold, read "the government." The circular patterns are composed of handcuffs, and the sinister surveillance cameras surround, and are trained on, the Twitter bird (the social-media virtuoso Ai Weiwei). Once in a while, the teasing Twitter bird escapes the trap, and the cameras swing around to find the bird mocking them from outside the trap. Hence the wallpaper also depicts a dangerous game, watched by a worried (and caring) world.
JR
28 Millimètres, Women Are Heroes - In Kibera Slum, Train Passage 1, 2010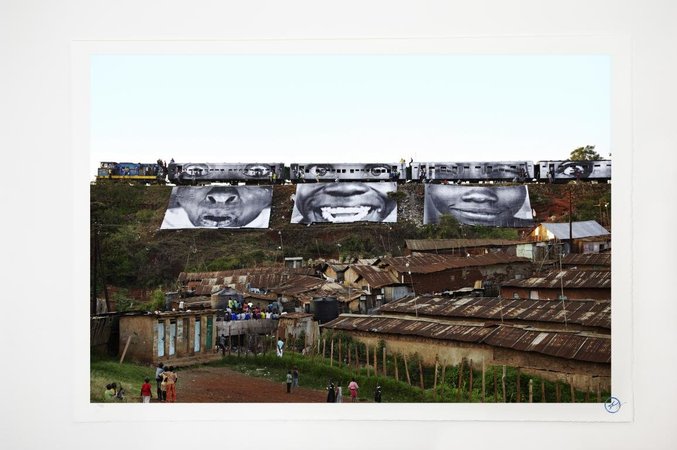 One can't help admiring JR; he wants to change the world, and he attempts it in such a big way, literally. His giant photographic "pastings" and global actions have adorned the Separation Wall in Bethlehem, the slums of Kibera in Kenya (photos of resident women's faces, as shown above), an infamous favela in Rio de Janeiro, Brazil, and many other locations around the world. The key to his projects seems to rest in his talent to engage endlessly with everyone from little children to feuding grownups, followed by developing a variety of ways of involving them in his work. Through this process, he has magnified society's "invisibles" for all to see and enjoy. Amazing—and in our troubled world, we should be glad that he is around.