Sometimes it's wise not to think too hard about the origins of great art. The 20th century art historian E H Gombrich tried to account for the wealth of brilliance that arose in Europe during the Renaissance, but, for once, the great art historian's grasp of cause and effect, did not come easily.
"One may well ask why it was that all these great masters were born in the same period, but such questions are more easily asked than answered," he wrote in his canonical book, The Story of Art.
"One cannot explain the existence of genius. It is better to enjoy it."
This month, we're taking Gombrich's advice to heart, by bringing together a collection of beautiful, brilliant, enjoyable contemporary works that reinterpret the masterful, mysterious achievements of these bygone geniuses.
Remastered is an online-only auction of contemporary works that pays homage to the legacies of the Old Masters. This exciting group of works by leading artists including Tracey Emin, Vik Muniz, Shepard Fairey, Eddie Martinez and Ai Weiwei spotlights fresh approaches to traditional renderings of figuration, portraiture, perspective, and light, to create new visual dialogues.
Bidding starts on Thursday, November 4, 2021 at 9am EST and you can check out the Remastered auction landing page here.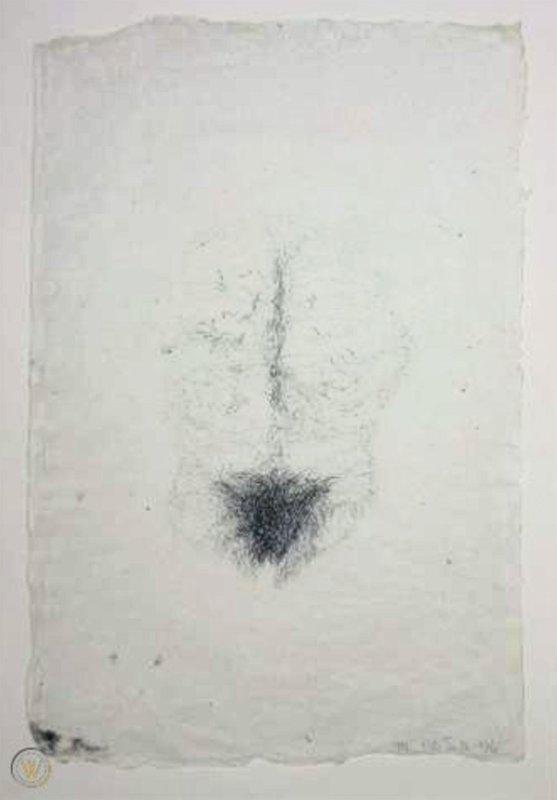 Born in 1954, Kiki Smith emerged in the 1980s as an artist deeply concerned with exploring the human condition, the elements of the natural world and the unflinching, physical realities of life. Working across disciplines and mediums from flags and installations to painting and sculpture, much of her work has the visceral, corporeal quality of Renaissance painting. While we tend to focus on the overwhelming scale and beauty of that period's most notable works, it's important to remember that Michelangelo and da Vinci's anatomical realism came from the often grisly study of corpses and the human form.
The philosophical idea that even the most beautiful images of human perfection are comprised of musculature and viscera is one which has recurred throughout Smith's career (an earlier 'Untitled' piece from 1990 showed two lifesize – and lifelike – beeswax figurines, suspended in the air as if contemplating their own bulk, with fluids flowing from their bodies and onto their skin. "I use the body because it is our primary vehicle for experiencing our lives," Smith has explained. "It's something everyone shares."
This curiosity saw her going as far as spending three months training to be an emergency medical technician. This lithograph is less physically imposing than her sculptural pieces, but instead depicts the shape and imprint of the body on Nepal H4 paper. One of an edition of 30, this piece is signed and numbered an comes with a certificate of authenticity.
JOHN REUSS - Shadow Smile, 2019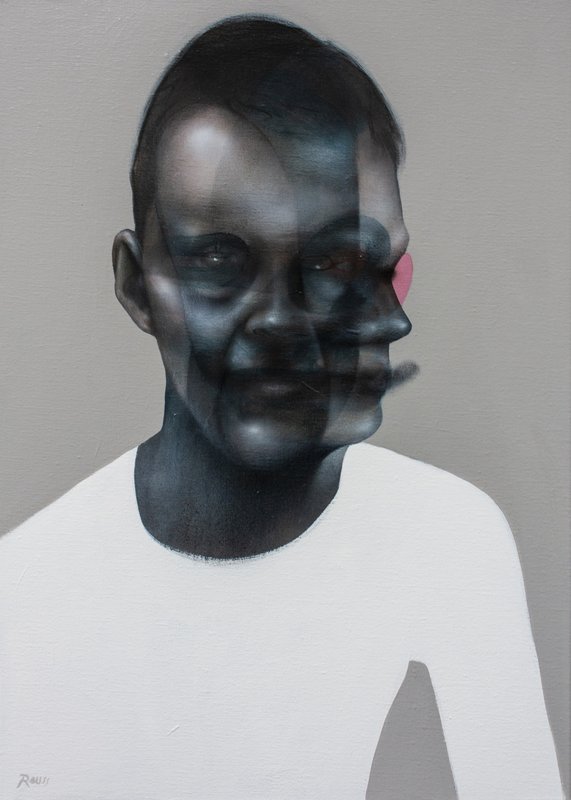 John Reuss' paintings are built around contrast: flat blocks of muted colour played against intricate textured areas; blank white expanses juxtaposed with textured, gradated studies in acrylics and charcoal; a violent immediacy as the product of a laborious, constantly reworked practice.
In many of these elements, the storied, historical artist Reuss appears to reference most obviously is Francis Bacon, whose studies of screaming popes and the broken faces of his associates conjured up a similar mood of fleshy, existential dread.
"On an aesthetic level my work is often characterised by contrasts - the juxtaposition of opposites on several levels. Fine detail, drawn lines and meticulously painted shapes clash with bold brushstrokes, spatters and blurred contours. Soft organic shapes and multifaceted figures meet renditions or furniture and space and geometric abstractions," says Reuss. "My process is one of dialogue and for me the creative process is a key to the inner, psychological world - and art itself an amazing medium to catch what its going on between the lines, the things we have no language for. "
The end result is work which feels contemporary, and could not be regarded as pastiche but also seems to sit outside its time, referencing – like Bacon – something more permanent and unsettling in the human condition. "For me creativity is as much about tearing down and destroying as it is about creating and building up," says Reuss – a sentiment that Bacon himself would have appreciated. This is a unique work on canvas, measuring 27.5" x 19.7, which comes signed.
LAWRENCE VALENZA - This Fall, 1988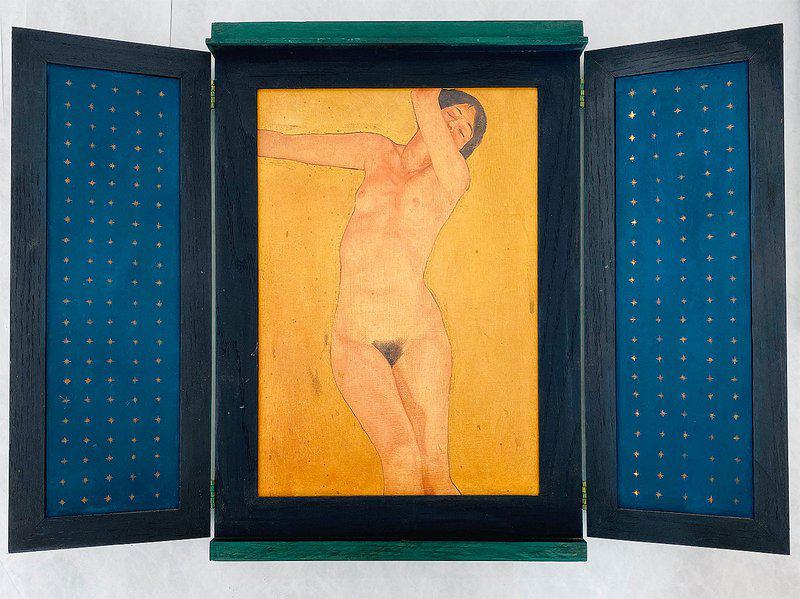 In 1988, aged just 27, American artist Lawrence Valenza produced This Fall. This work – quiet, pared down, tender, soaked in radiant colour of acrylic and gold leaf – would have been a remarkable achievement for such a young artist at any time. But in the 80s – a decade dominated by supersized, cartoonish, pop iconography and conceptual drama – such a piece seemed to sit far outside the margins.
Valenza's work seemed to owe more to the Austrian expressionists and Egon Schiele than it did to any of his contemporaries. And for a final, anachronistic touch, the painting came housed not in a simple frame, but on an assembly of wooden panels, hinged to open and close in a manner more commonly seen in the 15th Century with Jan van Eyck's Ghent Alterpiece (this technique and presentation method was used repeatedly by Valenza). Valenza talks of his paintings as semi-mystical objects that emerge from the ether and assume their own energy.
"Quite often when I work, I paint or carve some element with no clear idea what I intend to do with it. In a way it's like creating my own objets trouvés," he has said. "An image may lie around for months or even years before I understand what I want to do with it. Digging through my studio I am sometimes pleasantly surprised by an old, unsolved friend. Sometimes the answer never presents itself or informs other works without resulting in a completed work of it's own."
This sense of art emerging with its own energy and at its own pace also chimes with an observation and philosophy of Schiele's – that 'Art cannot be modern. Art is primordially eternal.' This unique work is signed on the reverse and comes with a certificate of authenticity.
VIRGIL ABLOH - "Mona Lisa", 2019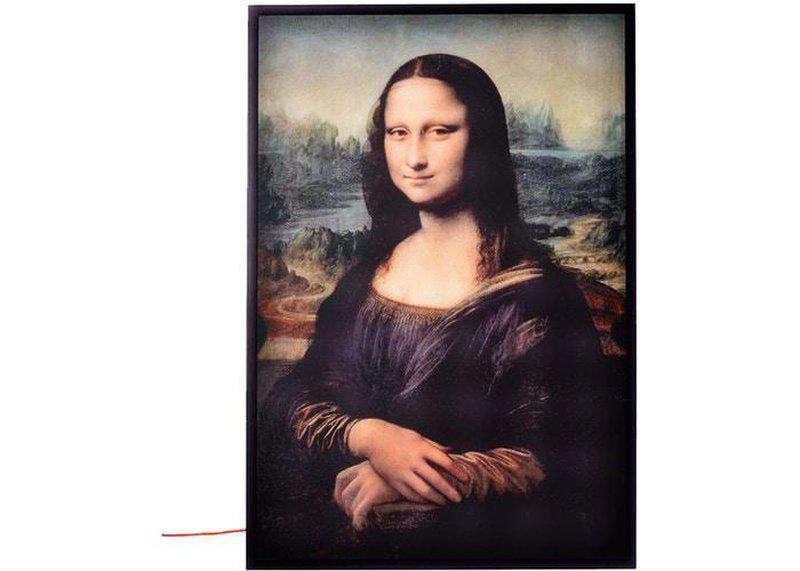 In an interview with PBS, Louvre curator Jean-Pierre Cuzin made the case for Leonardo's Mona Lisa being the starting point for an entire tradition of painting that followed in the centuries after it. "The entire history of portraiture afterwards depends on the Mona Lisa," he said. "If you look at all the other portraits – not only of the Italian Renaissance, but also of the seventeenth to nineteenth centuries – if you look at Picasso, at everyone you want to name, all of them were inspired by this painting. Thus it is sort of the root, almost, of occidental portrait painting."
One of the most striking aspects of the painting even now is its use of light – layers of transparent colour were used by the artist to build up a glowing, otherworldly quality to the soft gauze of the subject's veil, her hair and her skin. In a break with earlier Florentine traditions of clearly delineated lines, Leonardo's technique of sfumato dissolved the boundary between light and shade, blending colours and shapes together to give the work a softened, ethereal quality.
Some 500 years later, these same ideas – of light, illumination, colour and portraiture – are brought together once more in Virgil Abloh's own version of the Mona Lisa. Retooled for modernity, Abloh's mixed media piece is a backlit rendering of the portrait, in a black, powder-coated steel frame. Made in 2019, this appropriation of the original image measures 30.31 x 20.87 x 2.76 in, is in mint condition and comes in its original packaging.
BRIAN BRESS - Cowboy (Brian led by Peter Kirby)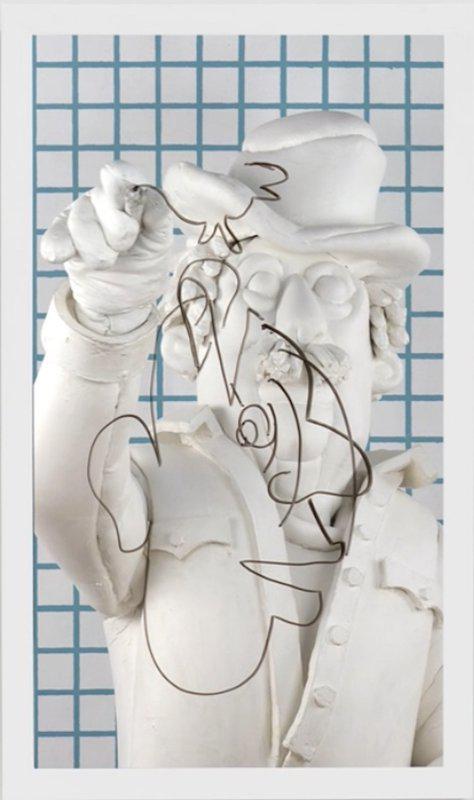 In the history of painting, artists have frequently returned to the actual business of painting itself: in Velazquez's Las Meninas (1656), the artist places himself prominently in the picture, engaged in the creation of the artwork; in van Eyck's geometrically groundbreaking Arnolfini Portrait (1434), scholars have speculated that the tiny figure hidden in the reflection of a convex mirror at the back of the room is the artist; Rembrandt's Self Portrait with Two Circles (1665-1669) shows him holding his palette, brushes and maulstick, an implement for supporting the hand holding the paintbrush while the artist works.
These concerns – of the artist's place in the picture, their role in its creation and the actual physical reality of making art – are timeless, and are the inspiration for this video piece by Brian Bress. Bress's work involves short narrative pieces populated by bizarrely costumed characters, often played by the artist himself, engaged in futile, circular quests. In this piece, the artist appears in a foam rubber cowboy suit, blinded and with restricted movement, attempting to draw on the glass screen sitting between himself and the viewer. The thick airless suit dictates the work that he produces.
"I come to video with the agenda of a painter, rather than a video artist," he told Studio International in 2014. "For example, my work often has a fixed frame, as in a painting and not a video. I can address the edges of the 'canvas' in a way a painter would."
For Bress, the challenges and questions of creating art remain the same as they did to the Masters – it's simply the media which has updated in the modern era. "I usually tell people that I use video or the container of video as a space to occupy the place where one expects to find a painting," he explained. "So, hopefully I play with viewers' expectations." Now, as 500 years ago, the questions artists ask of themselves are still to be answered in full. Check out all the lots in the Remastered auction here.