Contemporary art sometimes throws us in at th e deep end. Think of Hockney's A Bigger Splash, Ed Ruscha's Nine Swimming Pool, Elmgreen & Dragset's 2016 pool installation at the Rockefeller Center, Eric Fischl's bikini-filled canvases, or any one of Slim Aarons' many glamorous, mid-century poolside shots.
Having dodged the rain and snow during the winter months, many of us are now craving as much cool, blue water as possible. As always, Artspace is able to oblige. 
David Hockney – A Bigger Splash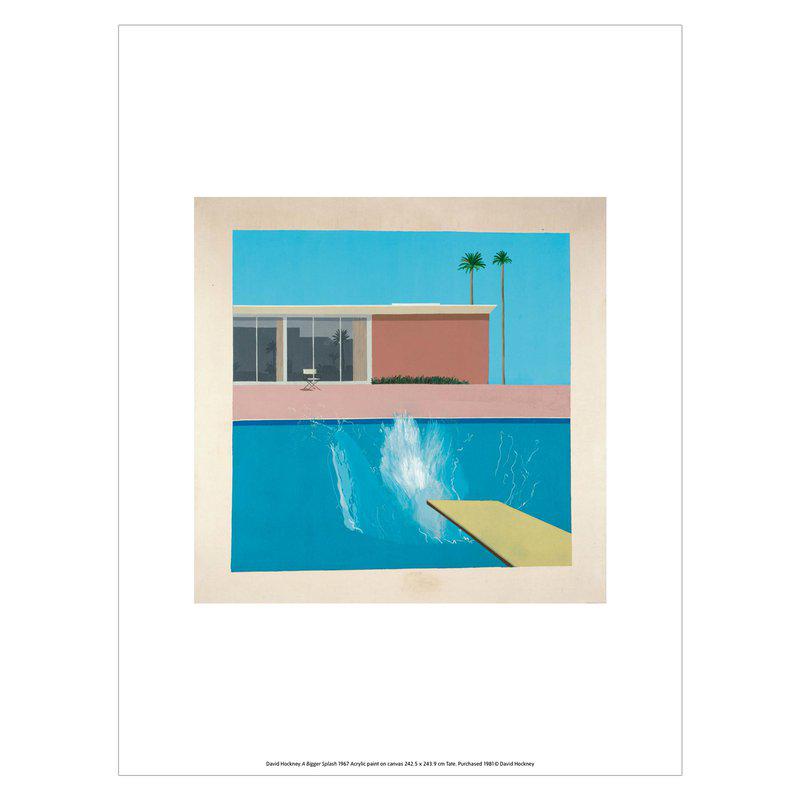 When David Hockney first visited California in the early 1960s, shortly after graduating from the Royal College of Art in London, he was unsure whether the West Coast had much of an arts scene, "and that was the least of my worries," the artist is quoted as saying. Instead Hockey dived into the West Coast's distinctive colors, landscape and architecture.
A Bigger Splash was painted a few years after that initial visit, when Hockney was teaching at the University of California. The work isn't painted from life; the splash was based on a photograph, while the building was drawn from an earlier sketch. Rather than view this painting as a specific incident, Hockney has instead encouraged viewers to focus on the contrasting qualities of the splash and the clear-lined planes of the architecture. "That's what it's commenting on," he said in a 2009 interview, "the stillness of an image. Most of the painting was spent on the splash. And the splash lasts two seconds and the building is permanently there."
Sarah Ancelle Schönfeld – Universal Cleaner (Swimming Pool III), 2015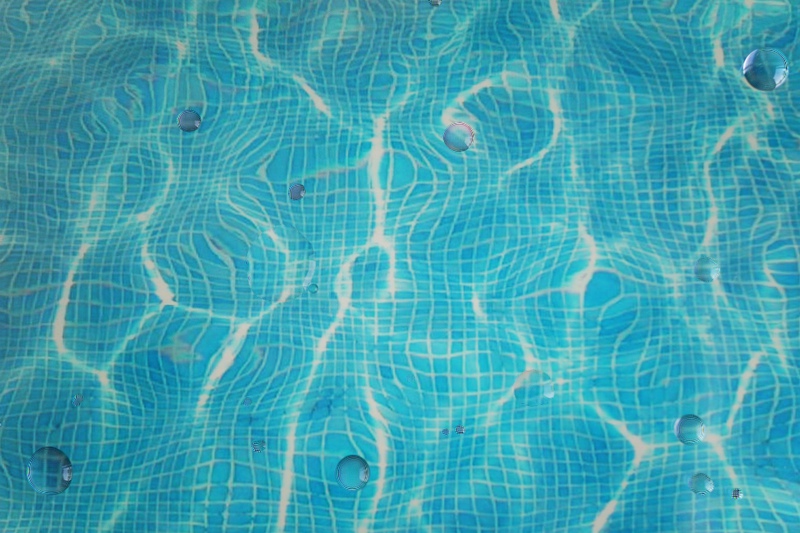 Do not adjust your screen; those drips are meant to be there. In 2015, the German artist Sarah Ancelle Schönfeld created a series of prints, by pouring liquid detergent onto iPad screens. The results distorted familiar images, (while also piquing fears of expensive tech damage) while reminding us of our heavily screen-mediated experiences. Those blue-green tiles may look enticing, but they remain off limits.
Fabrizio Alzati – Waiting for the big wave, 2008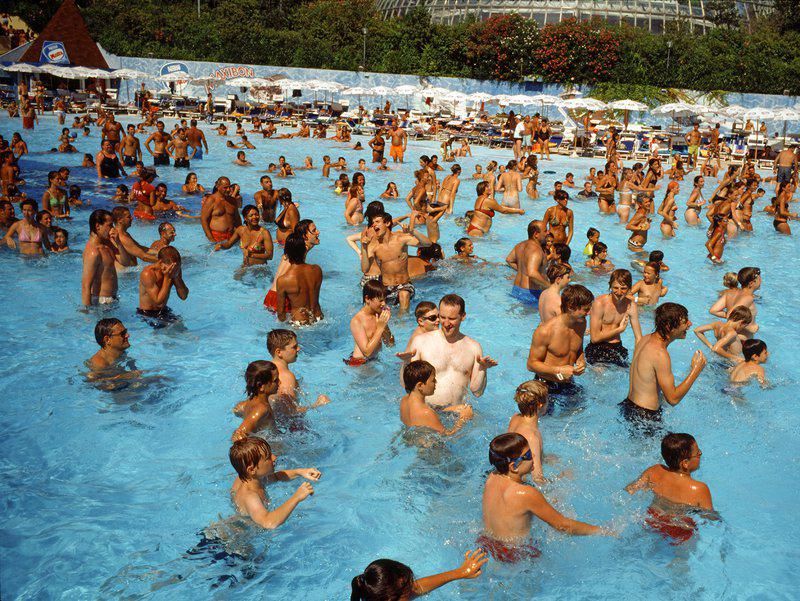 The Riviera Romagnola is a stretch of Adriatic coast on the north-eastern side of the Italian Peninsula that was developed from a marshy wasteland into a mass-tourism destination during the mid 20th century. It hasn't the charm of Capri or Sardinia or the Amalfi Coast, but that doesn't prevent thousands of Italian holiday makers from descending on its beaches, hotels and water parks each summer. The Milanese photographer Fabrizio Alzati developed his documentorial style while working in Japan, though he applies his skills equally well closer to home, in this image of a water park in Riccione, which brings to mind the work of Massimo Vitali, Joel Meyerowitz and Martin Parr.
JR – Swimming Pool, Intercontinental Hotel, Verticale, Monrovia, Liberia, 2008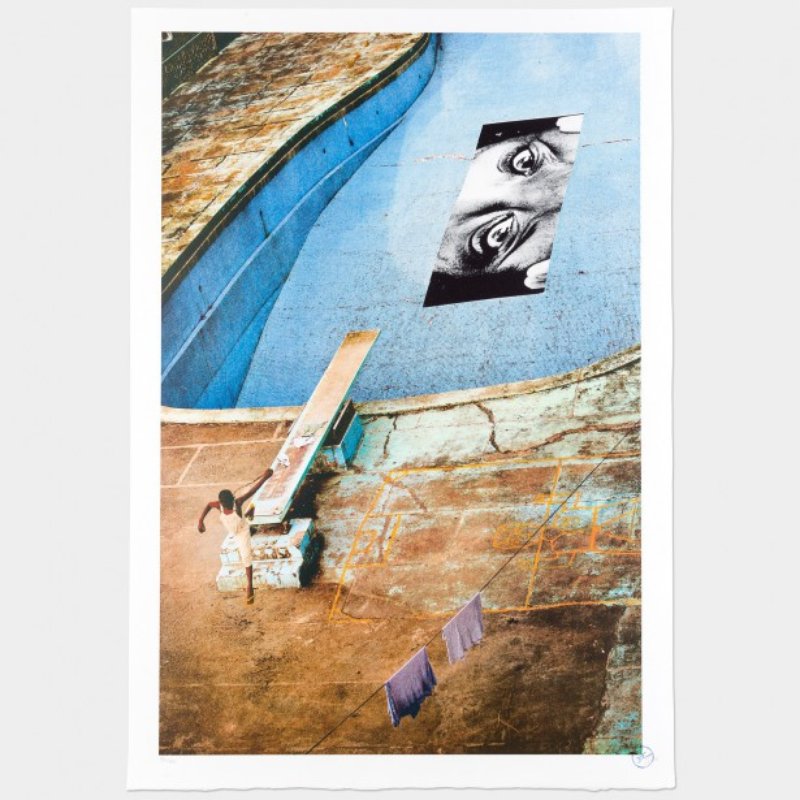 This Liberian pool, where the French artist JR installed one of his large-scale public portraits, hasn't welcomed costumed swimmers for quite a while. Also known as the Ducor Hotel, the Intercontinental was established in 1960 as one of West Africa's most luxurious places to stay. Closing just prior to the beginning of Liberia's Civil War in 1989, the building was completely derelict when JR visited the country in 2008, creating portraits for his Women Are Heroes project, which sought to underline women's pivotal role in society and to highlight their dignity. This picture – with its leaping child recalling Cartier-Bresson's 1932 photo, Behind Saint-Lazare Train Station – shows the beauty and lyricism we often find in ruins.
Poby – Man on Diving Board, 1998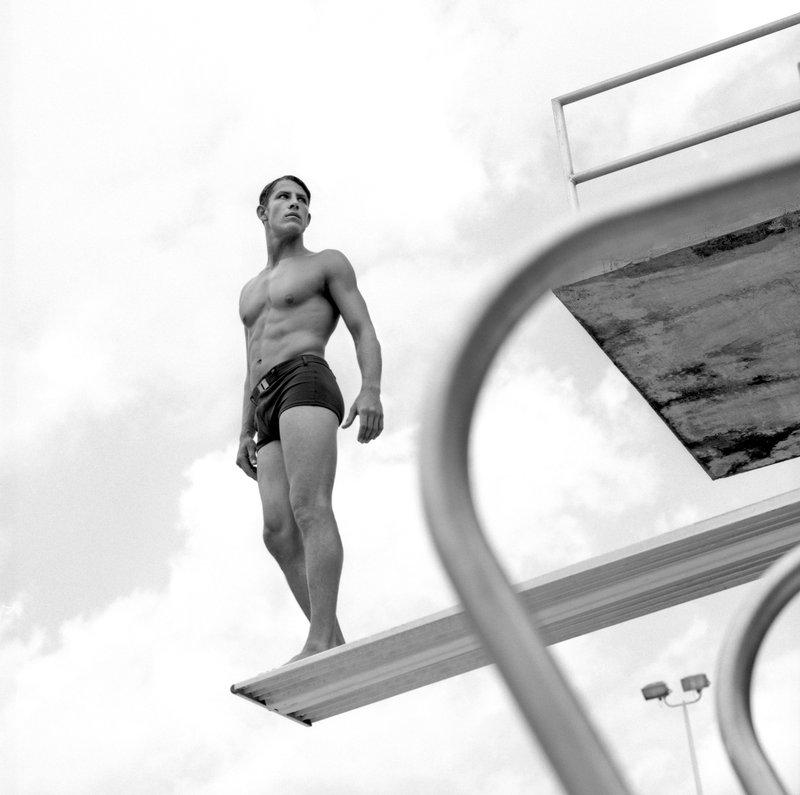 Poby, or Peter Pobyjpicz, began playing water polo at the age of ten, and went on to captain the German youth team as a sixteen-year-old, before pursuing a career in photography. Studying art and graphic design in Düsseldorf, he gravitated to news and sports editorial, then produced advertising imagery, before developing his own fine art practice. The photographer now resides in California, and shoots much of his rich highly detailed imagery on a 4x5 large format film camera.
This perfectly composed monochromatic image, which forms part of Poby's Beauty portfolio, expresses the scopophilia some experience at the pool, while also paying tribute to earlier pioneers of earlier modernist photography, such as Hermann Schieberth and László Moholy-Nagy.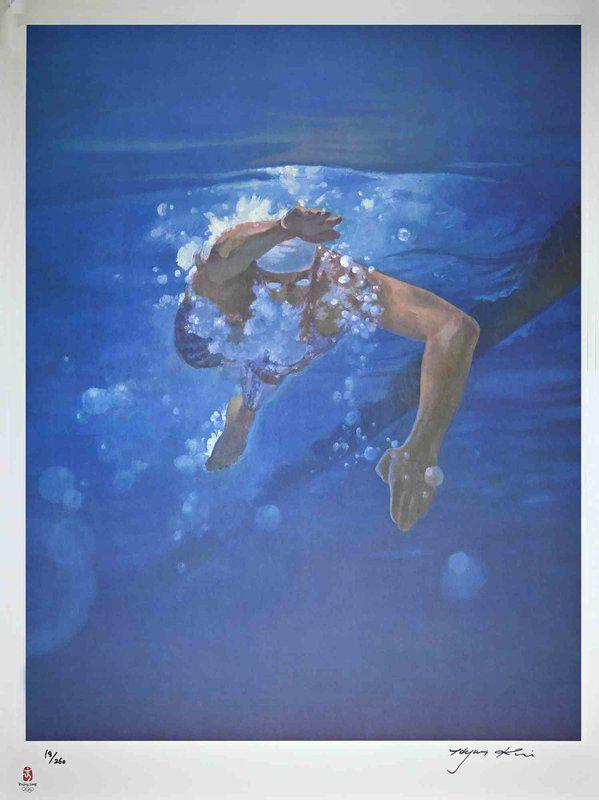 The pool can be a place of intense competition, as well as deep relaxation. Artist Kim Hyang's 2008 work, Swimmer, depicts the place in its former state, with a muscled freestyle swimmer powering forward within his lane.
This print was created for the 2008 Beijing Olympics and forms part of an official portfolio of art produced to commemorate those games. Though the figure in Hyang's work represents no individual athlete, it's hard to think of the 2008 Olympics and not remember Michael Phelps' incredible performance, winning eight gold medals – a new record for the Games.
Rachel Valdes – Piscina Verde 3, 2020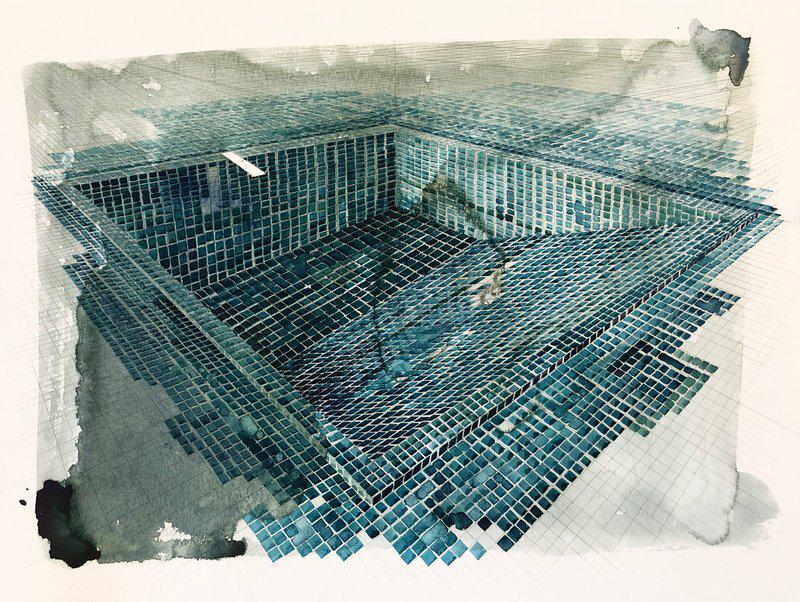 The Cuban artist Rachel Valdes works in a variety of media; many of her larger-scale public works consist of light-and-mirror installations. However, she also works on a smaller scale. This pool series of watercolors are beautiful exercises in three-point perspective, and also slightly spooky depictions of a tiled pool that seems at in places, full real, and in others, entirely abstract.
Kanghee Kim – Untitled (Swim Reflection), 2018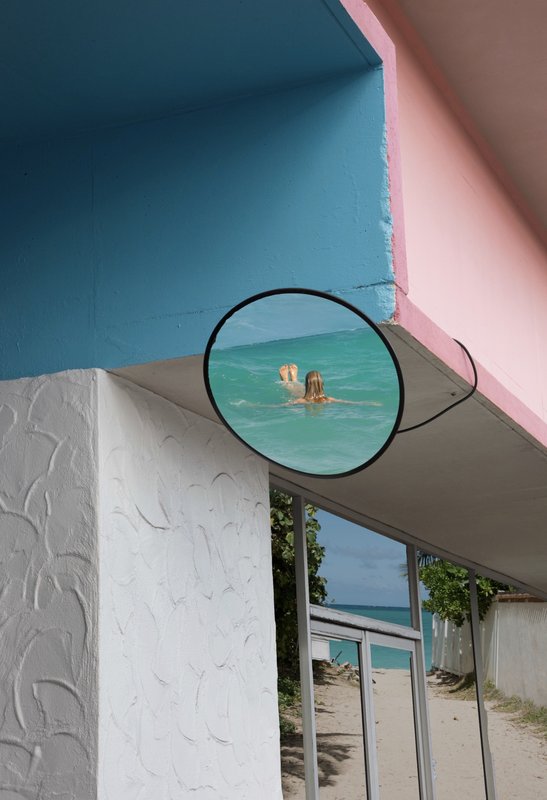 Kanghee Kim's neat composition looks as if she's captured a candid moment in a concave mirror from a swimming pool parking lot. In fact, this Korean-born, NYC-based artist cheats a little, using photo manipulation software to introduce surreal juxtapositions into her Street Errands series. "Manipulating scenes creates infinite possibility, free from the limits or restraints of real life," the artist told i-D magazine.
"I modify or even demolish the scenes in the original photographs, leading to a new space. Creating surrealistic or fictional images with photographs I take daily allows me to feel a bit liberated. I can't travel abroad due to the restriction of my visa status. Instead of waiting for miracles, I create the magical moments in my imagination with my experience."