Should we regard arts and sports as old adversaries, or true team mates? The simple, high-school dichotomy of the brash jock and the sensitive painter seems too simplistic, given any nuanced examination. Art history is filled with examples of artists drawing inspiration from the sporting arena; consider Edgar Degas ' Young Spartans Exercising; George Stubbs' horse racing paintings; Henri Rousseau 's Football Players; George Bellows ' boxers; as well as more recent works, such as Jonas Wood's tennis court drawinngs , or Wilhelm Sasnal 's depictions of speedway competitors.
Sports offer artists near perfect human bodies, clear colours and forms, movement, triumph, tragedy, as well as opportunities to examine society's follies and foibles. From baseball to boxing, to a highly unconventional approach to winter sports, here are some of the best sports-related works on offer at Artspace.
Brandon J Donahue – Basketball Bloom (The Rock II), 2022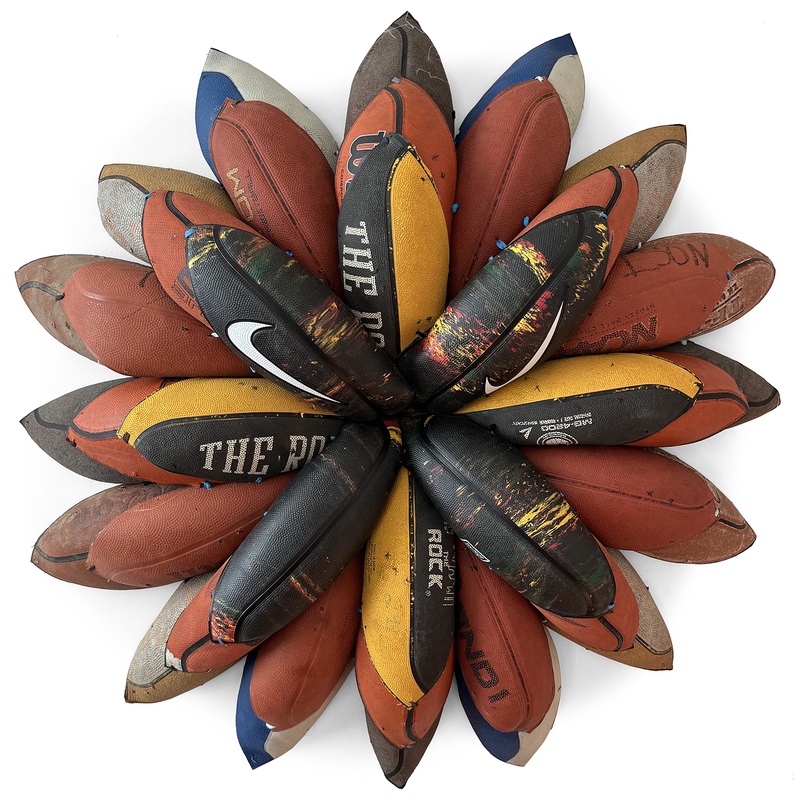 Donahue's recent solo exhibition, Rebounds & Assists, featured a variety of b-ball themed works, though his basketball blooms (see The Rock II , above) were perhaps his most compelling, successful works on show. Fashioned from found basketballs and shoestrings, the sculptures have some of the social resonances of Nari Ward or David Hammons , while retaining the charming simplicity of classic, found assemblages by Picasso or Duchamp . A real three-pointer from this Baltimore artist.
David Hockney – The Skater (Official 1984 Sarajevo Winter Olympics Poster) , 1984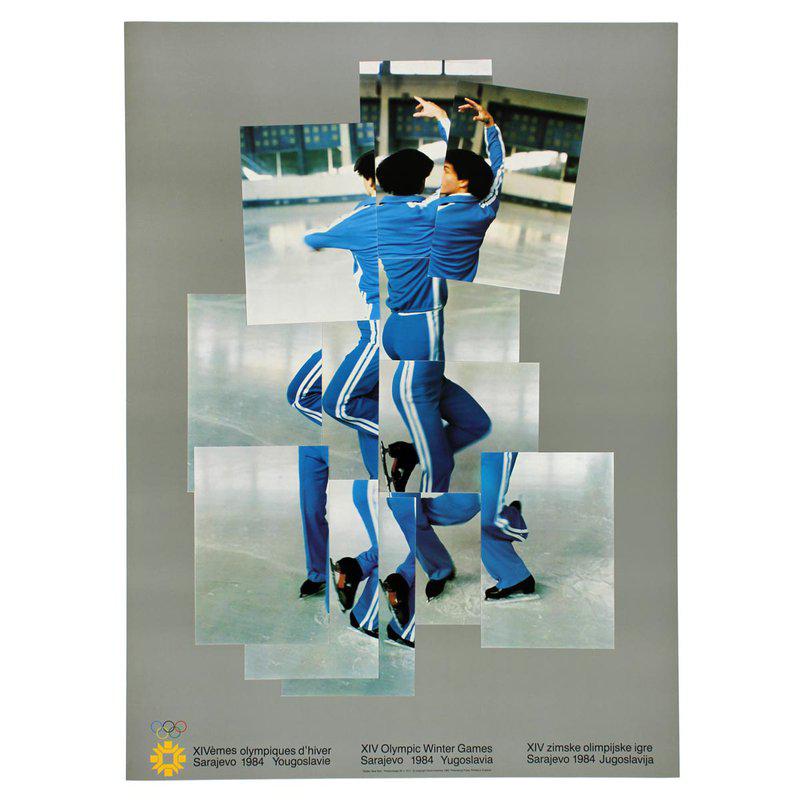 Pierre de Coubertin, founder of the modern Olympics, always intended to include arts and culture within the games, and, over the past century many modern and contemporary artists have produced works to mark the occasion. Some years are stronger than others, with a particularly good showing from artists such as John Baldessari , Robert Rauschenberg and Billy Al Bengston producing posters for the 1984 Los Angeles Olympics. This signature photo-collage work (dubbed 'joiners' by Hockney), created for the Winter Olympics of that same year, held in Sarajevo, is equally impressive, conveying, as it does, a sense of movement and dynamism via still images.
David Levinthal – Baseball 42 , 2008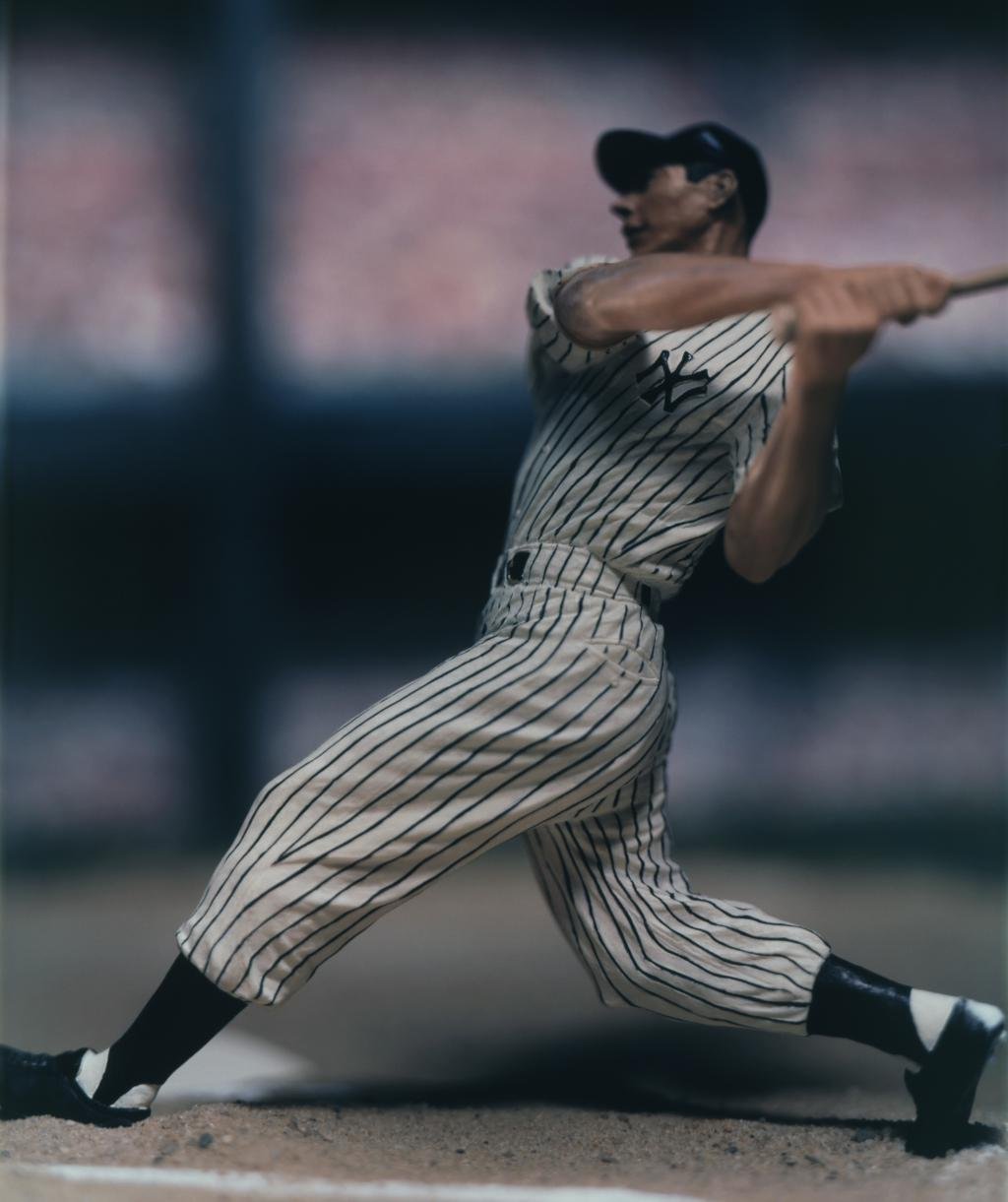 Is this really a faithful representation of Joe DiMaggio, perhaps the world's most famous baseball player, swinging his bat in the early 1940s? Not exactly. Levinthal , an American photographer, Stanford and Yale graduate, and Guggenheim fellow, works with vintage toys and figurines in his photographs, to create images that have the lifelike qualities, while simultaneously revealing their true nature. In focusing on a toy, Levinthal plays with our own desires, fantasies and expectations; as Scout Barry says in the 2011 movie, Moneyball, "We're all told at some point in time that we can no longer play the children's game."
Andy Warhol – Muhammad Ali (FS II.182), 1978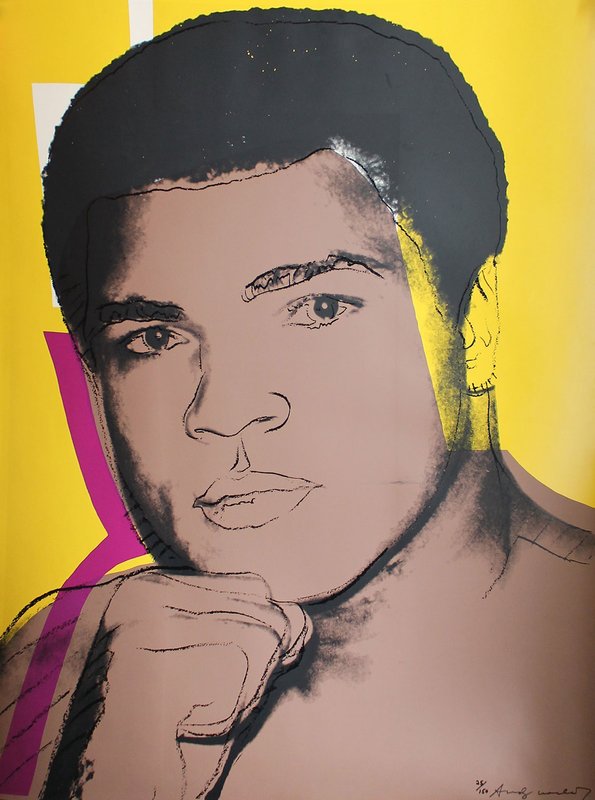 When Warhol went to photograph Muhammad Ali at the boxer's training compound, Fighter's Heaven, in the summer of 1977, Ali didn't feel as if he was looking his best. According to the writer and Warhol acolyte Victor Bockris, Ali suggested Warhol came back in a few weeks time, when, the boxer said, he'd be a little more trim, and "a little more prettier." Warhol persisted, producing the source material for his screen prints of Ali – perhaps the best-known work in Warhol's Athletes portfolio.
Despite his fame, Ali was surprised to learn the price of the boxer's portrait. "White people gonna pay twenty-five thousand dollars for my picture!" Bockris quoted Ali as saying. "This little negro from Kentucky couldn't buy a fifteen hundred-dollar motorcycle a few years ago and now they pay twenty-five thousand dollars for my picture!"
Dafydd Jones – Going down on the dining table, Dangerous Sports Club ski race, St Moritz, 1983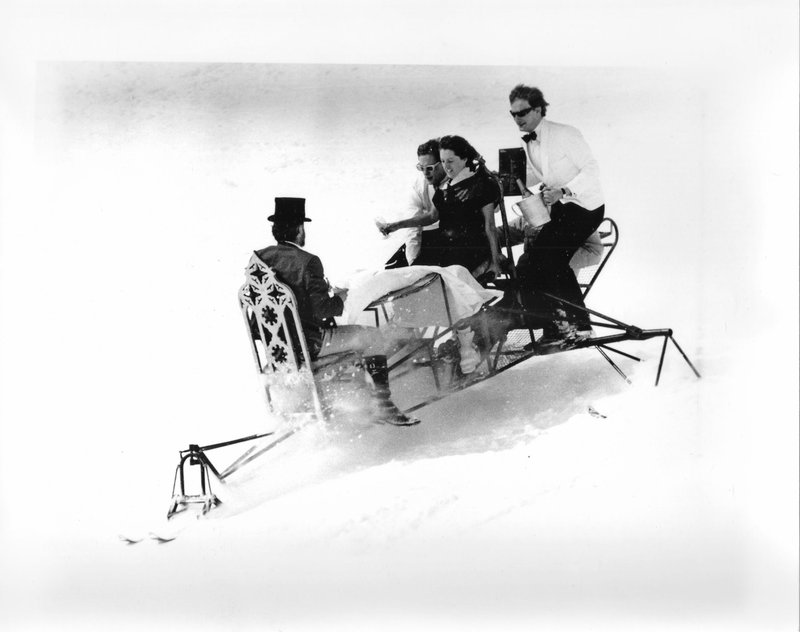 You're unlikely to find any sporting body willing to recognise this particular method of descending the slopes of St Moritz in Switzerland – beyond Britain's own Dangerous Sports Club. Founded in the late 1970s by Oxford University graduates, this informal, upper-class club helped develop bungee jumping, and also sent a range of different contraptions down these Alpine slopes, including a grand piano and a eight-berth rowing boat. The photographer Dafydd Jones , who later made his name shooting for Vanity Fair, documented the group's activities with the same visual acuity he went onto apply to VF's famous Oscar parties.
Julian Opie – Running Plate , 2020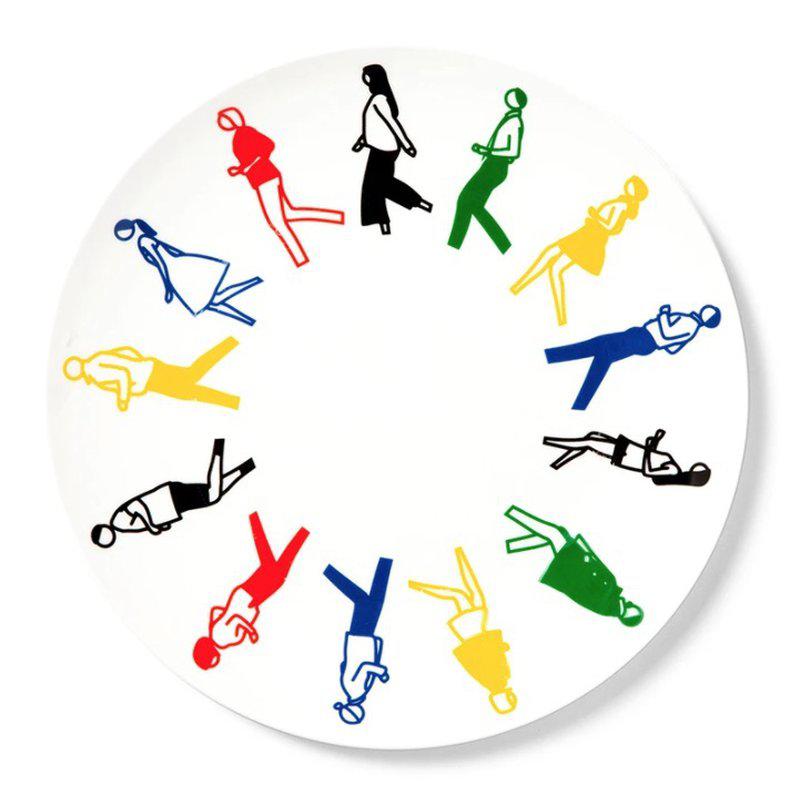 Few of us can see ourselves mounting the Olympics podium or raising a trophy aloft anytime soon. However, many of us do undertake simple, athletic exercises every day. British artist Julian Opie seems more interested in these quotidian activities than he does in big-name sports stars. His print, Running Men , is a fairly faithful depiction of the kind of guys you see in the park at the weekend, while this Running Plate appears to show figures barely breaking a sweat, as they work a light run (perhaps for a bus or a train?) into their everyday lives.
Raymond Pettibon – Mickey , 2000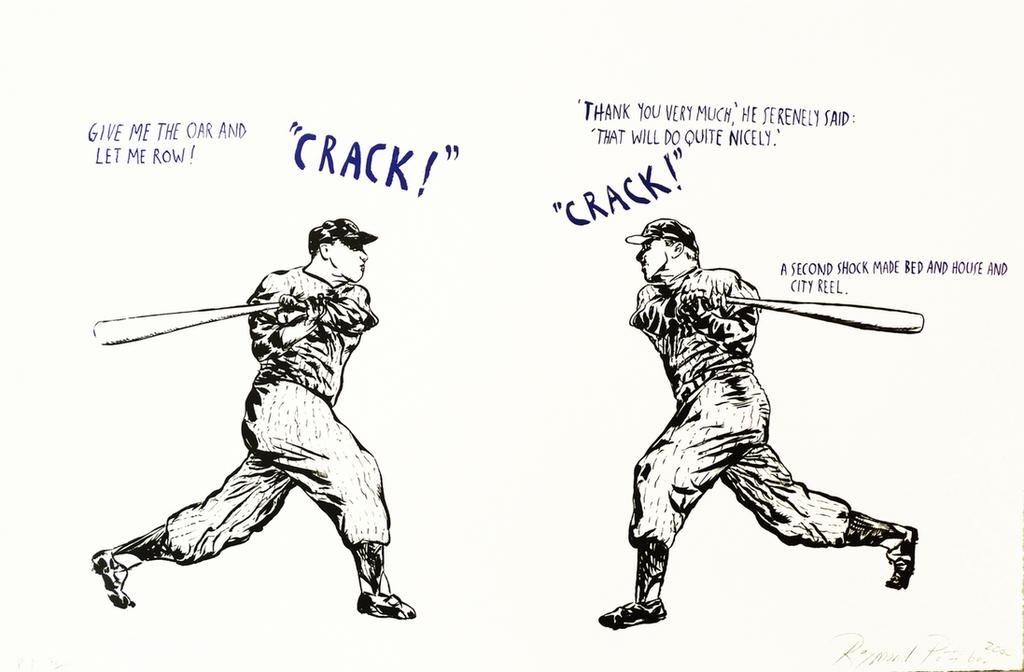 Pettibon may alight on surfers, trains, the Manson Family and the claymation figure Gumby, in his distinctive, pen-and-ink works, but his earliest fixation remains baseball. "Baseball has probably been my favorite sport since I was a child," the artist told Art21 in 203. "My work on the subject does tap into some of the nuances of the game—the pitching of the baseball, for instance, or hitting a baseball—but also it says a lot about what goes on off the field as well about the society in general. It's kind of a microcosm of the society as a whole." This Mickey Mantle picture shows that player at his most powerful, while the oblique, declarative text around the sportsman perhaps hints at the darker side of sports heroism.