Artists may have a reputation for self absorption, yet it could well have been an artist who first realised that mankind really didn't lie at the center of the universe. In an annotation in one of his notebooks, Leonardo da Vinci wrote 'the sun does not move.' This observation, predating the work of the Polish astronomer Copernicus by decades, indicates that it was this Italian Renaissance Man who first understood that the earth circles the sun, rather than vice versa.
Heliocentrism aside, many other painters, sculptors, photographers and other artists have focussed on celestial bodies, in part thanks to their beauty, symbolism, and associated sense of wonder. Some of mankind's earliest structures, such as the neolithic mounds of Brú na Bóinne in Ireland, the Nabta Playa stone circle in Egypt, and Stonehenge in Great Britain, were built according to the course of the moon, sun, stars and planets. In the present day, contemporary stars of the gallery system such as Trevor Paglen, Wolfgang Tillmans, Sarah Sze and Olafur Eliasson continue to draw inspiration from the heavens above. To pay tribute to this ceaseless source of stimulation, we've put together this group show of works that engage with celestial bodies in a number of illuminating ways.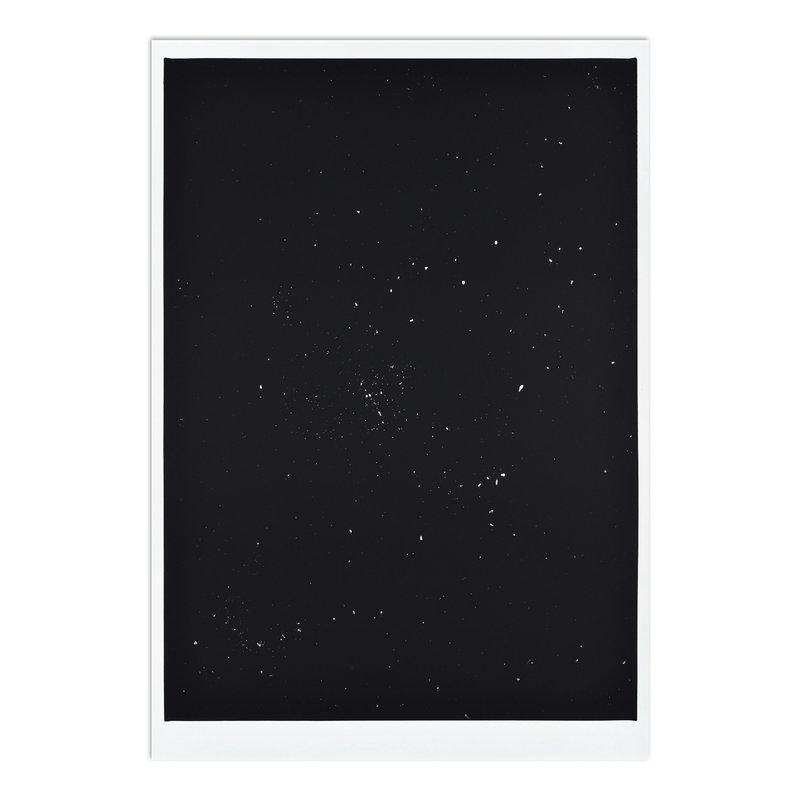 Mankind has often looked towards the stars for meaning and guidance, but been left with just a sense of wonder. Perhaps art can do the same thing? Rondinone is a hugely successful contemporary artist, working across a wide range of media, winning over both collectors and critics. However, he avoids too much art-world verbiage, preferring instead to focus on the simple thrill of contemplating universal cycles and everyday life. This 2009 screenprint forms part of a much larger body of starry works that evoke that wonderful experience of gazing skywards on a dark clear night.

John Stezaker – Father Sky, 2018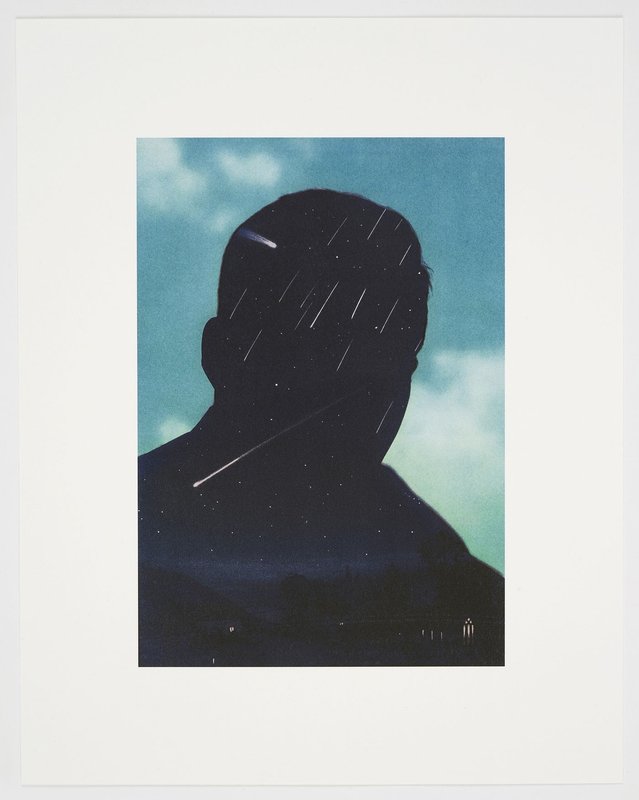 This British artist tends to work with stars of the screen, rather than those found in the night sky. Stezaker is best known for his collage work, combining old Hollywood headshots with other, incongruous elements. In this instance, the artist revisited a series of works he created in the late 1970s and early 1980s, combining color portraits of film stars photographed against a blue-sky background. To these, the artist added darker elements, drawn from a collection of older photo etchings of night skies. "Returning to the image as a lithograph was an opportunity to modulate this edge between interior and exterior," Stezaker wrote in 2018, "The color enhancement of the lithographic process was also a way of harmonising the disjunction between the technicolor exterior and the pre-war photogravure simulations of the nocturnal sublime."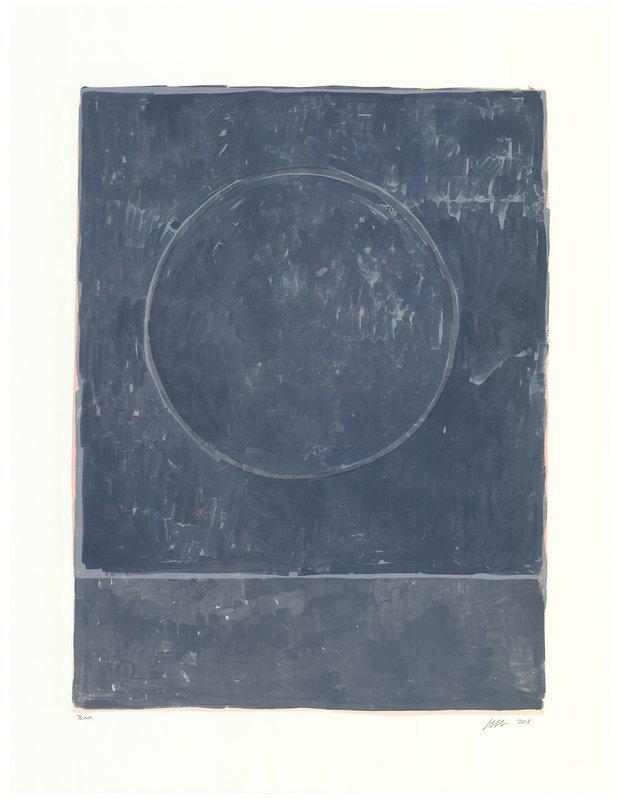 Were it not for the title, this work by the New York artist Sam Moyer might be viewed as abstract. Moyer, a Yale MFA graduate, uses a variety of methods and materials to create her works, including bleach, India ink, found textiles, painted glass, Plexiglas, marble and wood.
Her pieces (which are included in the permanent collections of the Whitney and the Louis Vuitton Foundation, among many others) often occupy a state somewhere between sculpture and painting, recalling the minimalism of Donald Judd or Richard Serra. In this setting MOON SUN takes on both a contemporary and an almost ancient quality, bringing to mind ancient Egypt more readily than SpaceX.
Caroline Corbasson & Andrea Montano – Pollen, 2021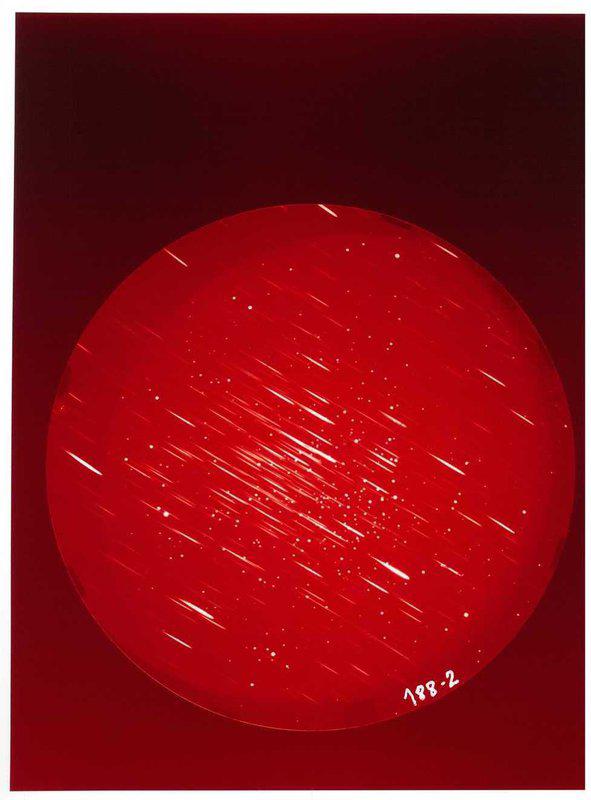 Until Galileo created his objective lens in the early 1600s, the difference between dedicated astronomers and ordinary star gazers was slight. The Paris-based artist Caroline Corbasson focuses on the ways in which these specialised and amateur views of the heavens have diverged over the centuries.
In 2020, Corbasson ​​took up an artist's residency at the Astrophysics Laboratory of Marseilles. The institution passed on 42 glass plates and 71 silver negatives to the artist, each created between 1962 and 1978. The plates and negatives were too old to be used in the lab, but remained valuable material for Corbasson. Working with the photographer, Andrea Montano, Corbasson created these fine-grained renderings of outdated views of the heavens. Why the title? Well, Corbasson thought the granular nature of this work recalled the reproductive powder of seed plants.
Adrienne Elise Tarver – Star, 2021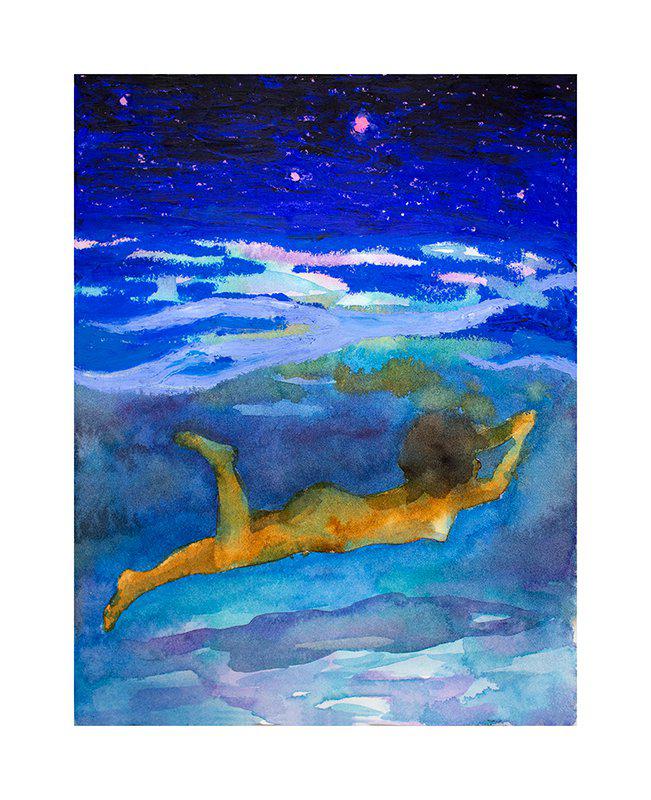 This Brooklyn-based artist focuses on the astrological, rather than the astronomical, in this work. Star forms part of Tarver's series Manifesting Paradise, a series of works on paper, based on the Major Arcana, the central set of cards in a tarot deck. The single, celestial body in Star is set above a vivid tropical setting, featuring a solo swimmer. The work is an attempt to aim to "reclaim the perceptions of the exoticized, tropical seductress imparted on Black and brown women by Western civilization," explained the Aldrich Contemporary Art Museum in Connecticut when this series was debuted at the museum last year; "here, the faraway temptress meets another long-standing trope: the Black Voodoo priestess, treasury of esoteric wisdom."
Roger Chapelain-Midy – Starry Sky, 1962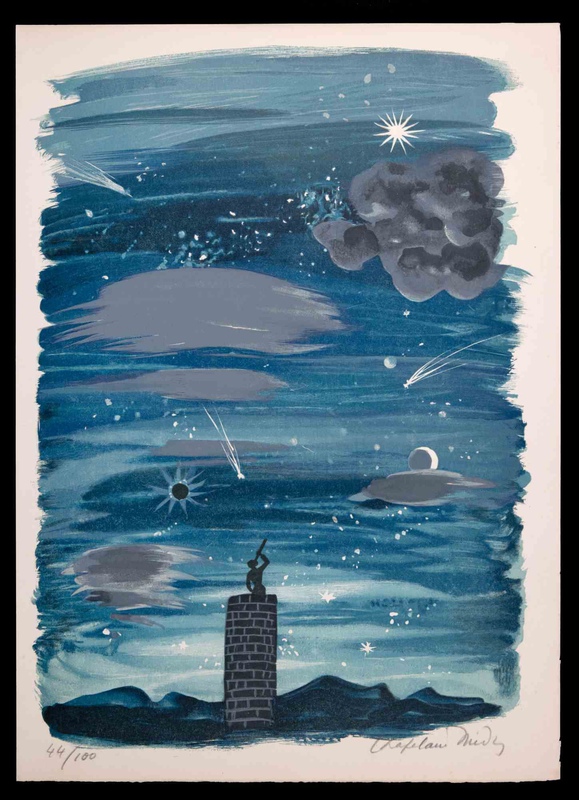 Born in Paris in 1904, Chapelain-Midy trained at L'Ecole des Beaux-Arts, and found success both as a fine artist, showing at the Venice Biennale in 1937 as well as at galleries across the globe both before and after the war. He also designed French postage stamps, worked on numerous theatrical productions and paintings for major French public buildings.
In 1938 the artist was awarded the Carnegie Prize in Pittsburgh and he was also made chevalier of the Legion d'Honneur and Officier des Arts et Lettres. However, the artist was less keen on modernism than many of his contemporaries, and possibly, as a result, receives less attention today than he might otherwise have. This lovely view of a starry night recalls both Chapelain-Midy's love of Poussin, as well as echoes of more recent influences, such as symbolism.
James Rosenquist – Moon Box, 1971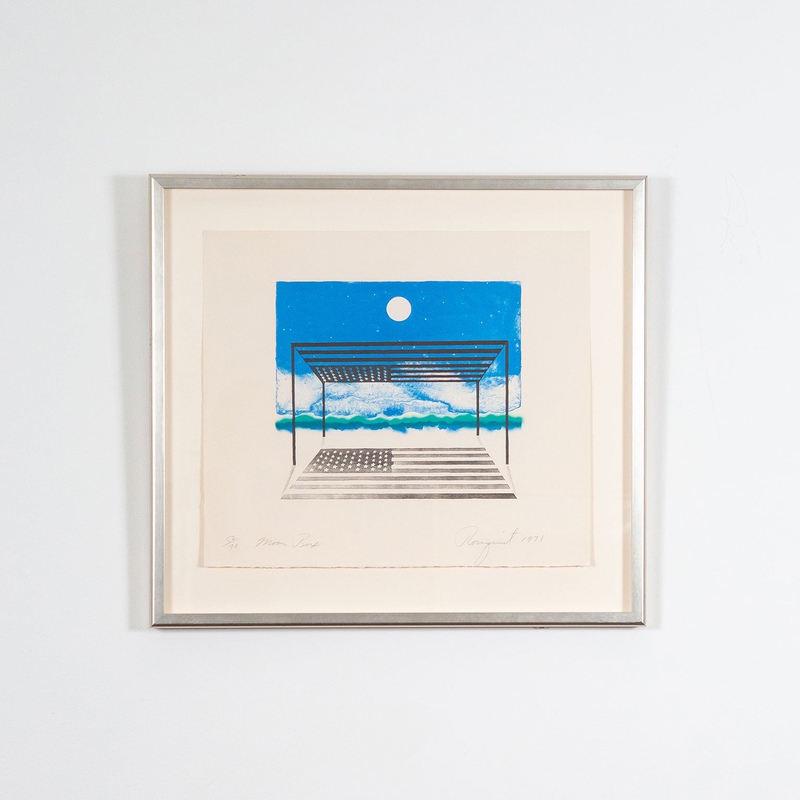 Rosenquist's inspiration was more often seen as coming from terrestrial sources, such as commerce, media and current affairs. Yet in 1971, when this work was made, the Apollo moon missions were still being launched, and this celestial body still played a key role in global affairs. Moon Box forms part of this pop artist's Cold Light series, and that icy glint of moonlight filtered through the American flag hints, perhaps, at a chilled ambivalence towards lunar conquest during the era of the Cold War.
William Binnie – Untitled (astronaut), 2020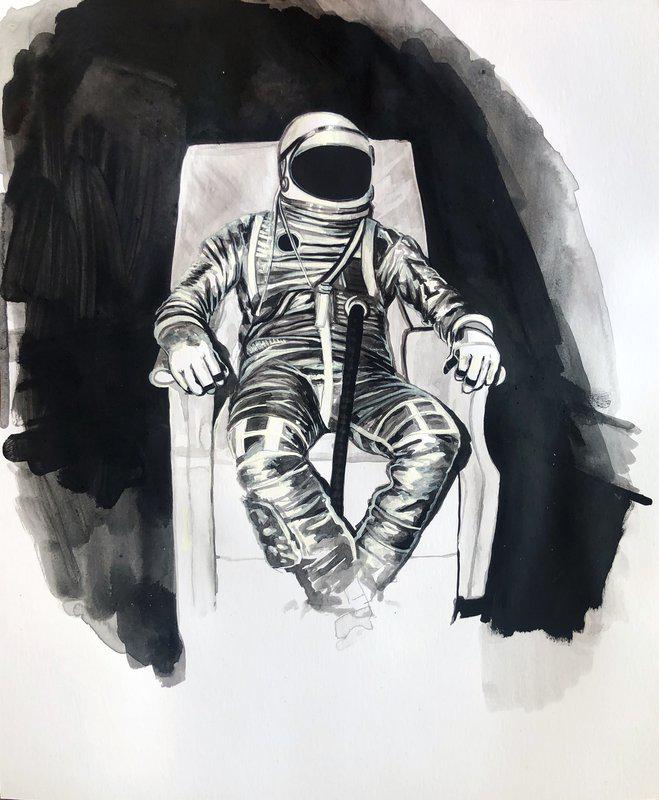 Binnie was born in 1985, in Dallas, Texas, towards the end of the Space Race, when the shine had come off that boyhood dream of becoming an astronaut. Rather than stand in as a symbol of an astronomical advancement, this faceless star sailor hints at space travel's more sinister, military-industrial underpinnings. As Binnie's gallery, Keijsers Koning, said of the artist, "He confronts the American mythos – the imagery enshrouding a land with a complex and often dark and troubling past and present, cloaked in a smokescreen of stoic heroism."