On 11 March 2011, a 9.0-magnitude earthquake caused a tsunami that devastated the Tōhoku region in northeast Japan. The force of the quake led to the failure of a cooling system at the Fukushima Daiichi Nuclear Power Plant, releasing high quantities of radioactive discharge. The extent of the damage was enormous. The world watched, stunned, as the impact of this disaster unfolded on our screens. The Japanese artist, Yoshitomo Nara, was among those onlookers.
The artist grew up in this part of Japan, and chose to return to the region, as he came to terms with the disaster. "Since the day of the great earthquake, something inside of me changed," he is quoted as saying in his recent Phaidon monograph. "I could no longer affirm the art that I had, perhaps too easily, believed in. I am sure that the loss and helplessness I felt then was shared by everyone in Japan.
I think a lot of Japanese people had to rethink their value systems, and for me that was art. Thinking about the actual victims and feeling this way made me despise art itself—to realize I have been making art without ever thinking deeply about it." Over the following months, Nara carried out community arts workshops with the children of the disaster-stricken area.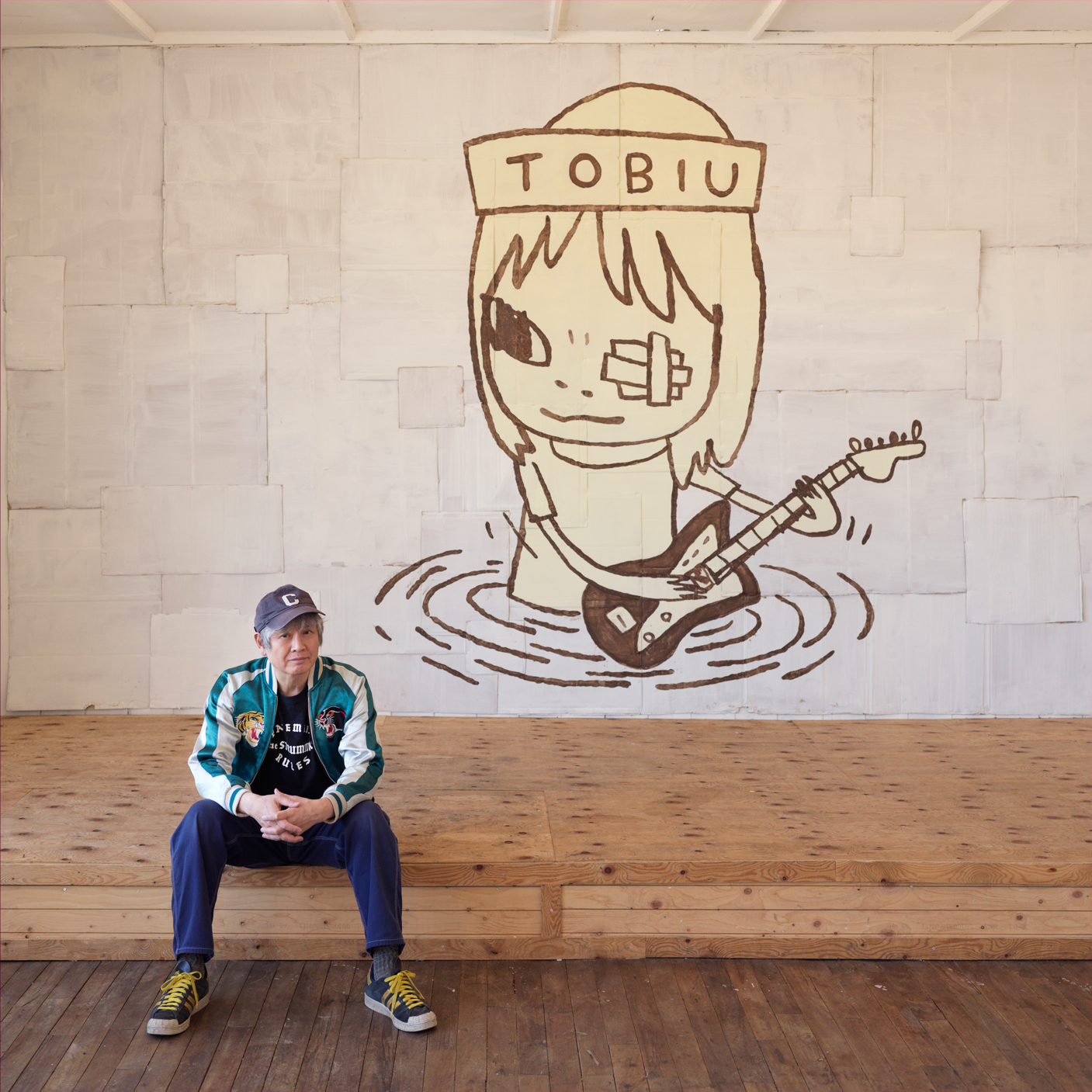 Yoshitomo Nara, 2020. Photo: Ryoichi Kawajiri
When the artist did finally return to his studio in April 2012, his first major work expressed something of the artistic rebirth Nara had experienced. "He began work on a new painting, Miss Spring .
"Using a shade of ice-cream pink as background and employing an array of painterly textures: autumnal colored orbs suspended in the girl's hair, square swathes of jeweled colors on her sweater, and speckles of fleshy pinks and whites on her rounded cheeks," states the monograph. "Despite this variety of shapes and colors, Miss Spring stands quietly, her lips pressed into a thin line and her sparkling eyes, one orange, the other blue, staring back at the viewer. It is hard to detect what she is thinking, and this opens her inner world up to interpretations that can range from diffidence to defiance."
Miss Spring can be seen as an accumulation of techniques that Nara began experimenting with in the mid-2000s and that have now evolved into a distinctive genre of bust portraits, often motionless in posture but lively in textures and colors. The painting's monumental scale invites viewers to approach the work, to view the tapestry of colors in her dress and the translucent clarity of her hair that, when seen up close, is repeated in the eyes, turning them into microcosms of the portrait itself.
Yoshitomo Nara - Miss Spring (2012/2021)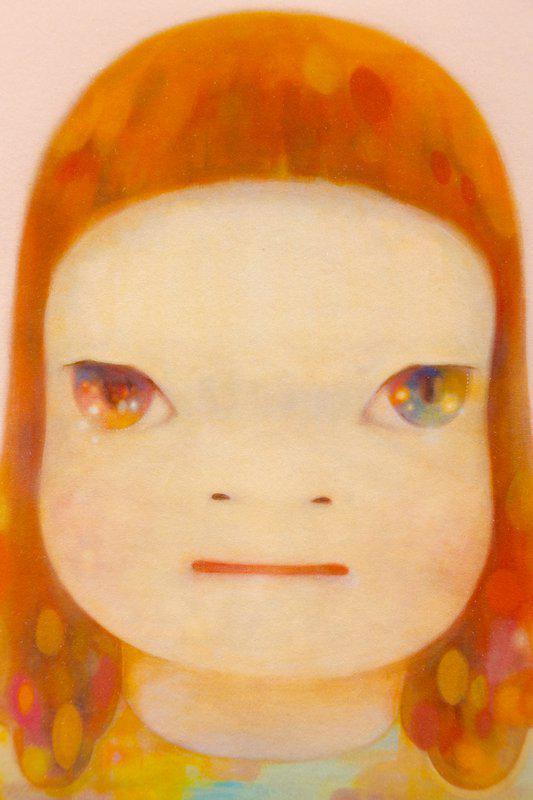 Image copyright Yoshitomo Nara
"The formal harmony in Miss Spring is unexpected, because it reveals a patience in its making, one that belies the complexity of the artist's emotions after Fukushima," the monograph continues. "As with his sculptures from this time, the painting retains the material traces of its creation, and the artist rewards those who look closely beneath and in between the orbs, freckles, and swathes, where glimpses of the many layers of paint underneath are revealed. This tonal richness is only visible when the viewer stands close to the canvas—where Nara stands as he paints—to enjoy, as he does, the sensory pleasure of its colors and to revel in the sense of aliveness that comes with acknowledging the artist's painting process. Despite the difficulty in reading the internalized world of Miss Spring , the patterns and movements of colors suggest that she lives up to her name of growth and promise."
It would be difficult to find a more perfect, personal reaffirmation of art. Now you can share in that sense of growth and promise by investing in a new Nara print of Miss Spring .
Yoshitomo Nara - Miss Spring (2012/2021)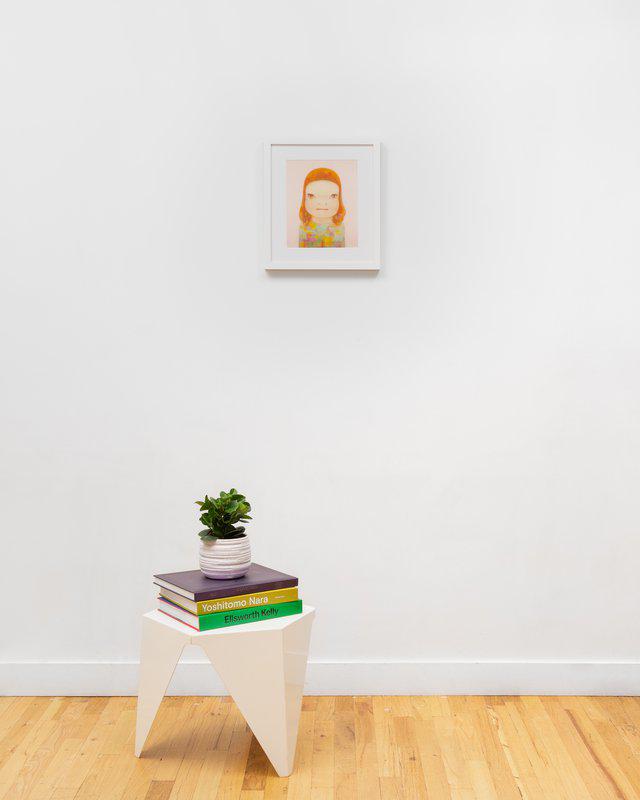 Photograph Daniel Terna
Miss Spring (2012/2021) is available as an edition of 100 digital pigment prints plus 5 APs on Takeo Deep PV Hakou paper, produced in Tokyo under the direction of the artist. Each print comes accompanied by a hardback copy of the 2020 Phaidon monograph Yoshitomo Nara, a bespoke print portfolio, and a numbered certificate of authenticity with registered serial number and publisher's stamp priced $2,000 USD each.
Miss Spring (2012/2021) is presented in partnership with the 2021 TWO x TWO for AIDS and Art Gala and Auction, for which Yoshitomo Nara has been named this year's artist honoree. Proceeds from the sale of the limited edition will benefit the Dallas Museum of Art and amfAR, The Foundation for AIDS Research.
TWO x TWO for AIDS and Art is an annual contemporary art auction hosted by Cindy Rachofsky in the Richard Meier-designed Rachofsky House in Dallas, benefiting two organizations—the Dallas Museum of Art and amfAR, The Foundation for AIDS Research.
Thanks to the phenomenal support of the dealer and artist community, corporate sponsors, and Dallas patrons, TWO x TWO for AIDS and Art's annual benefit gala dinner and art auction has raised over $93 million in its 21-year history in support of amfAR's AIDS research initiatives and the DMA's contemporary art acquisition program.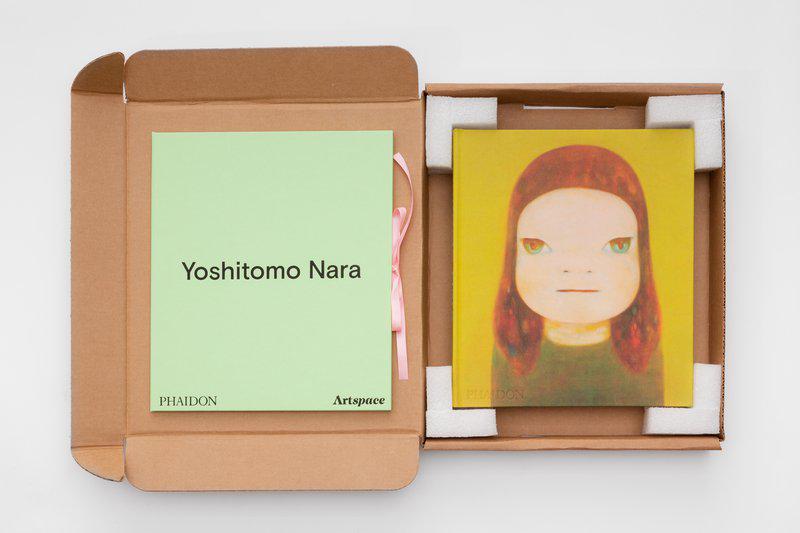 You can read our interview with the philanthropist and collector Cindy Rachofksy, here and purchase the Yoshitomo Nara limited edition Miss Spring (2012/2021) here.