At NADA Miami Beach, artistic statements tend to take precedence over curatorial ones. Recent editions have seen fewer solo-artist presentations and less risky, more sales-friendy group shows.  Nonetheless, these ten booths deserve a special mention for their brave, unusual, meticulous, conversational, or just plain gorgeous installations.
NOA ESHKOL
Artis, New York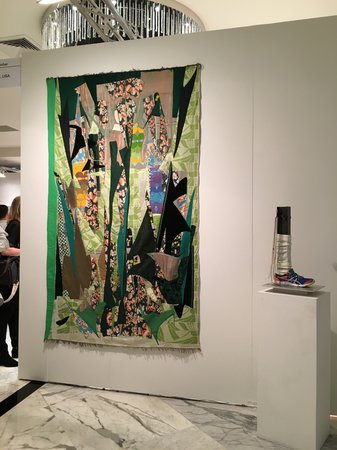 The nonprofit organization Artis funds research trips to Israel for artists and curators, and it was on one of these expeditions that the curator Prem Krishnamurthy was taken with the work of Noa Eshkol—a modern dancer who developed a rigorously mathematical movement notation system and later made dynamic tapestry collages from found scraps of fabric. Her work tends to inspire obsessive devotion, by among others the artist Sharon Lockhart (who filmed dancers interacting with some of Eshkol's textiles for a traveling museum show in 2011-2012.) At NADA, Krishnamurthy has installed a vibrant and intellectually compelling Eshkol-and-friends sampler that includes tapestries, archival drawings, and works by Jon Kessler and Ohad Meromi.
JPW3
Martos Gallery, New York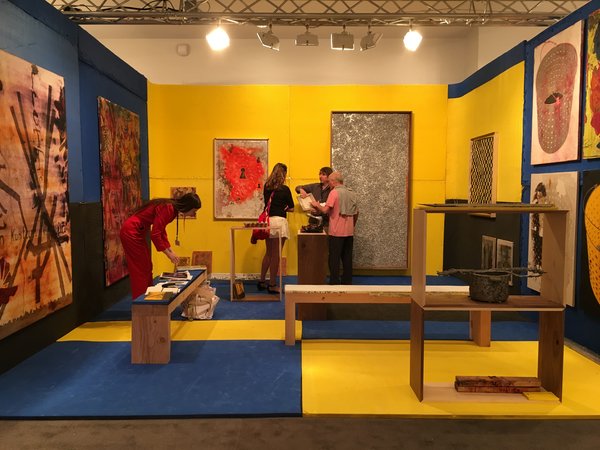 The Los Angeles artist who goes by JPW3 (real name: Patrick Walsh) has a way with wax, as seen in his solo debut at Night Gallery in 2014 and now in Miami at the inviting (if over-the-top) blue-and-gold booth of Martos Gallery. There, he combines his signature material with popcorn, dyes, and enamel to form richly textured paintings (sometimes drawing over them with a sharpie) and lumpen objects on smooth walnut pedestals. All that wax inevitably brings to mind Beuys, but there's a restlessness here that seems to have more to do with his impish protégé Polke.
ALEX DODGE
Klaus von Nichtssagend, New York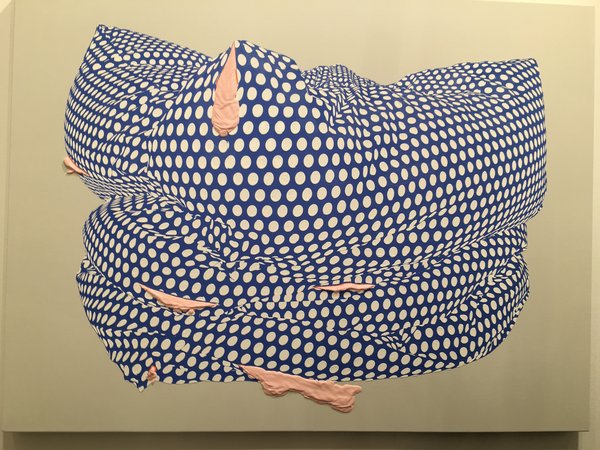 Alex Dodge's paintings of patterned fabric bundles are undeniably tactile and immediate, with their impastoed blobs and ridges, and yet there's something a little uncanny about them. That's because Dodge designs the fabrics himself, on a computer, and bunches them on-screen before "flattening" them out again with stencils and a squeegee. (Titles like Webinar hint at the early, digital stages of his process.) Looking at this booth reminds you how carefully the Old Masters studied draping, and makes you wonder what they could have done with the tools now at Dodge's disposal.
ERIKA VOGT
Overduin & Co., Los Angeles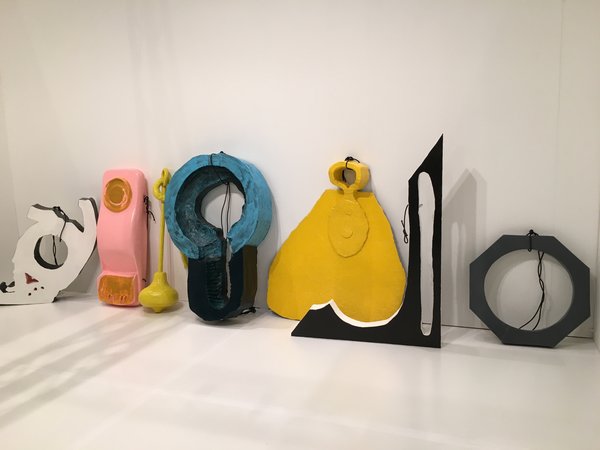 In a stark, gleaming white booth, the video and performance artist Erika Vogt has lined up a curious group of plaster-cast sculptural props from her Artist Theater Program (a series of loose, collaborative productions with fellow Los Angeles artists such as Math Bass and Shannon Ebner that seems to carry forward the spirit of 1970s endeavors by groups like "Experiments in Art and Technology"). It's hard to assign a purpose or identity to any one of these colorful objects, but you trust that they have been used for something weird and wonderful. Vogt is also performing at the ICA Miami this week, in an extension of her Performa 15 project. 
VARIOUS ARTISTS
Callicoon, New York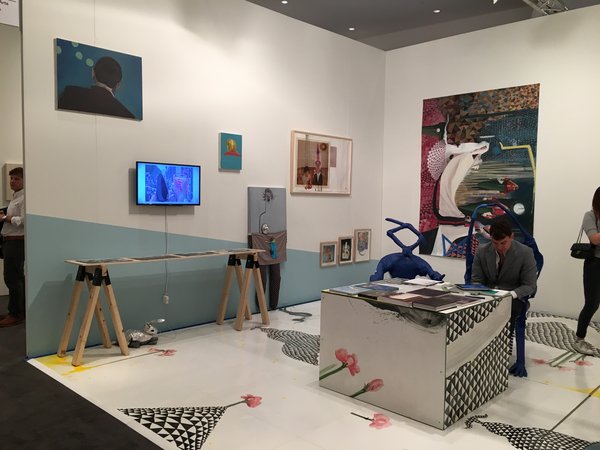 By far the most international, cosmopolitan booth at the fair is Callicoon's, where paintings by New Yorker Sadie Benning and Paris/Tel Aviv-based Bracha L. Ettinger hang above an intricate floor painting by the Dubai-based collective of Iranian artists Ramin Haerizadeh, Rokni Haerizadeh, and Hesam Rahmanian. With its pink amaryllis blooms sprouting from grids of black-and-white triangles, it leads you through an equally meandering installation that includes other paintings, collages, and videos by the trio.
BJORN COPELAND, SARA CWYNAR, JESSE HARRIS
Cooper Cole, Toronto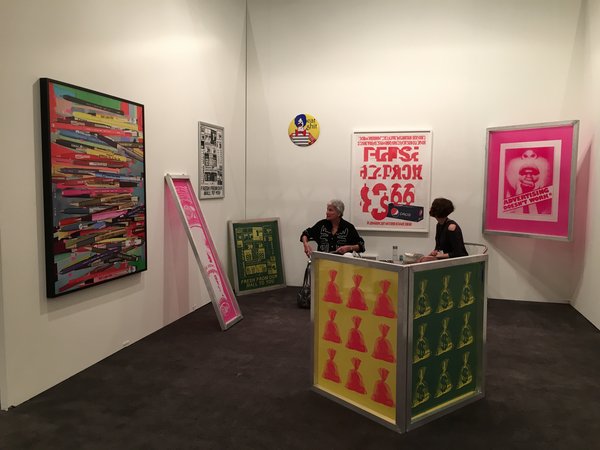 The "Pictures Generation" influence goes post-punk at Cooper Cole, where digital photo-collages by the "Greater New York" standout Sara Cwynar showcase brightly colored pens and pencils, the Canadian provcateur Jesse Harris satirizes art's commodity status in large photo-sculptures, and the artist-musician Bjorn Copeland presents a visual cacophony of slashed and rearranged advertising posters. (Keep an eye out for his more subdued, yet still subversive, crumpled white canvas held together with grommets on the outside wall of the booth.)
VARIOUS ARTISTS
Raster Gallery, Warsaw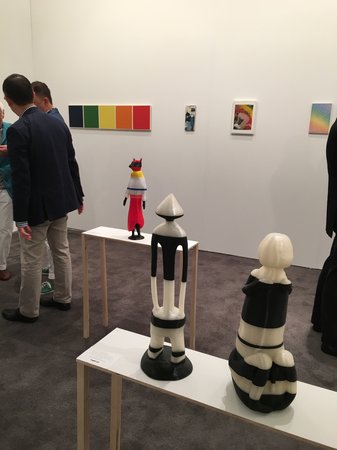 Teeny-tiny paintings might seem like a trend from NADAs past, but the booth of Raster Gallery makes an excellent argument for their continued relevance. The standout here is Michelle Rawlings, who makes minuscule, rainbow-hued, mosaic-like grids that evoke some of Sonia Delaunay's experiments with color. She also throws in a charmingly offhand little figurative oil sketch, of a girl in a striped sweater browsing the racks in a clothing store. Complementing these works are small 3D-printed sculptures by Janek Simon, based on drawings of African sculptures made by artists Oskar Hansen and Lech Kunka at the Museum of Man in Paris in the 1940s. 
RITTA IKONEN AND KAROLINE HJORTH
Recess, New York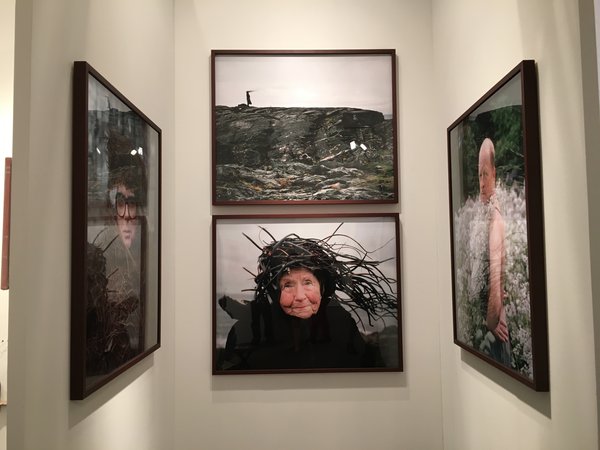 There's a dearth of photography at this year's NADA, but this small NADA Project booth would be a standout even in a more crowded field. In their ongoing series Eyes as Big as Plates, the Finnish artist Ritta Ikonen and the Norwegian photographer Karoline Hjorth photograph senior citizens in the landscape in the guise of characters from Nordic folklore. This entails working with their subjects to create costumes and accessories out of local foliage: crowns of twigs, capes of pine needles. Imagine Bjork posing for Katy Grannan, and you'll get a sense of their aesthetic. 
ANNA BETBEZE / MATT CONNORS
Markus Lüttgen, Cologne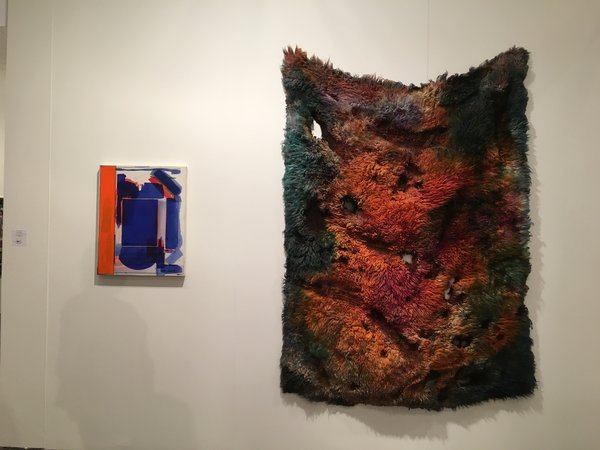 This irresistible two-artist booth juxtaposes the dyed and shredded flokati rugs of Anna Betbeze with the stained and imprinted canvases of Matt Connors. It's an ideal pairing, contrasting smooth and shaggy surfaces and hard and soft edges while drawing both artists into a rewarding conversation about color, the decorative arts, and the surprising legacies of mid-century stain painting.
PUPPIES PUPPIES / NOLAN SIMON
What Pipeline, Detroit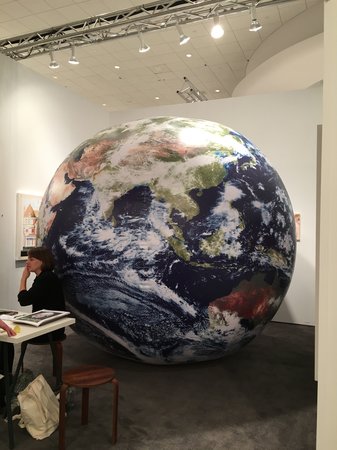 Leave it to Puppies Puppies, whose painted horseshoe crab was selected for the cover of Artspace's first print magazine, to hold down a booth with similar élan. A giant, inflatable globe forces viewers (and the dealers' desk) to the margins of the space, creating challenging viewing conditions for paintings by Nolan Simon but making up for it with absurdity and glee (and a convenient metaphor for the wondrously diverse but often maddeningly vacuous ABMB experience).