From from masterpieces of brute conceptual power to dystopian advertisements from the Persian Gulf, there's plenty of market-fueling wonderment to be found at this year's editon of Art Basel Miami. Here are a few pieces you should seek out.


JOAN MIRÓ
Femme et Oiseau (1967)
Nahmad Gallery (New York)
$3 million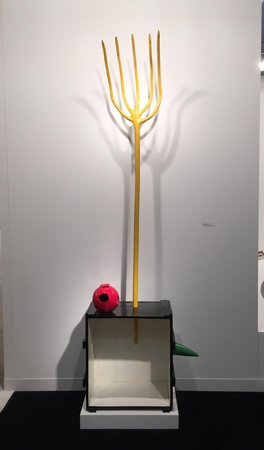 The Spanish artist Joan Miró is most famous for his Surrealist paintings, and if one gives mind to his sculpture it's usually to one of his monumental bronzes, like Moonbird, that can so easily be mistaken for a Picasso. Therefore, it may come as a surprise to American audiences that Miró actually carried out a robust and continuous sculptural practice that, at its most endearing, seems surprisingly contemporary—one that was based on taking a found object, placing it on another object, and then casting it in bronze and painting it. What comes from this process is a cheerful faux readymade, a bit like Cy Twombly's great studio creations but also in tune with the casual assemblages of contemporary artists like Margaret Lee.
GCC
Vision Driven (2015)
Project Native Informant (London)
$20,000 for the billboard, $5,000 apiece for the videos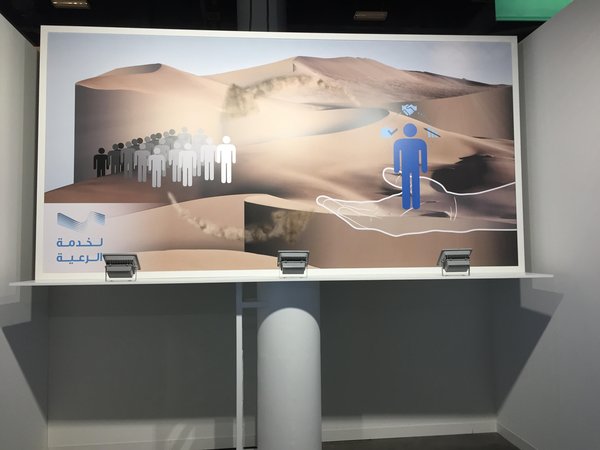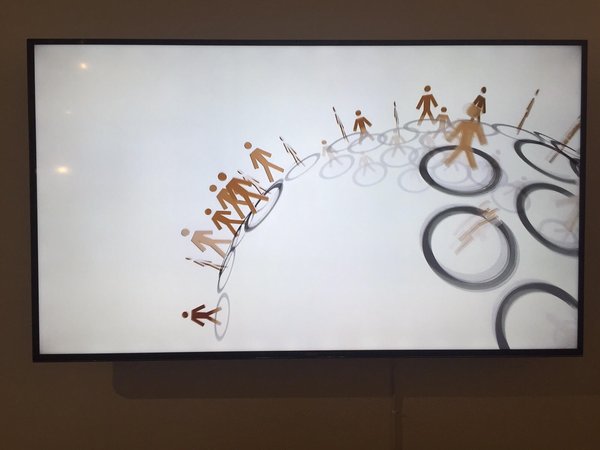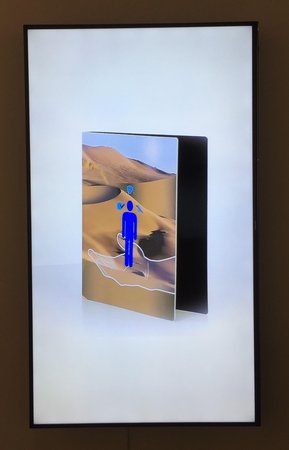 Not to be confused with the Gulf Cooperation Council, the art collective known as GCC uses its base of operations in the Persian Gulf as a laboratory for alternative histories, satirical futurism, and other forms of critique that can seem all but indistinguishable from present-day reality. For instance, in the Positions sector Project Native Informant has brought a trio of pieces—one video advertisement, one billboard, and one video product display—that convincingly present a scenario in which all of the governments in the Gulf region have united to create a single app where residents can pay their electricity bills, vote, and do everything necessary to be a citizen.
Similar to apps already underway in certain African nations, the utility bears a logo with the proverb "In service of the flock" and has excellent, up-to-the minute branding that presents it as the ultimate tool to carry out an engaged neoliberal existence. There is, as one might suspect, a sinister undercurrent to the display: in the advertisement's promise of liberation from inconveniences, one becomes a seamless cog in a multinational machine, where one's emancipated "lifestyle" is the product of an enforced top-down consensus. Included in the upcoming Berlin Biennial, GCC will also have a solo show at Mitchell Innes & Nash next fall—its first New York showing since its MoMA PS1 survey last year.
JEAN PAUL RIOPELLE
Forestine (1954)
Acquavella (New York)
$4.5 million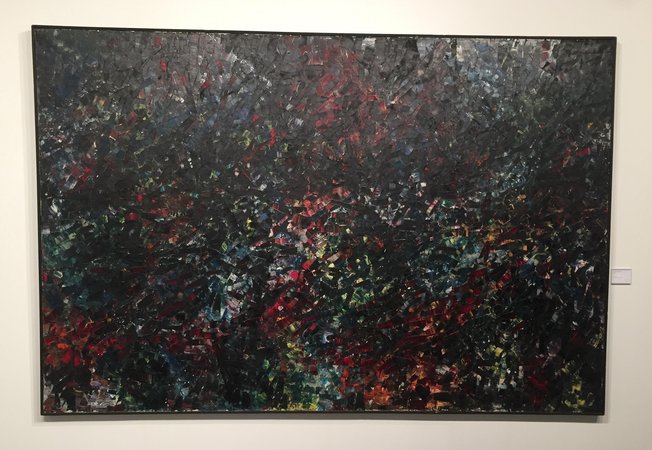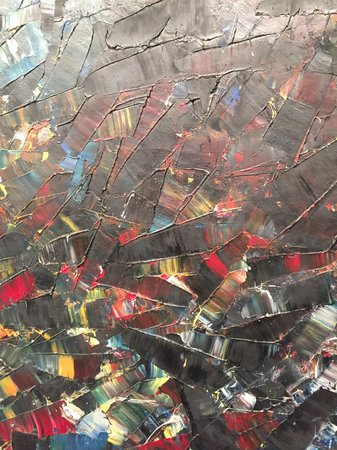 Those enamored of process-based abstraction but spooked by zombies might do well to go back in time a bit to rediscover the Canadian artist Jean Paul Riopelle, who made his exquisite paintings with precise, almost surgical smears of the palette knife. Look at one of his canvases and within the decadently iced gorgeousness of it all you can find intimations of Gerhard Richter's squeegee.
SIGMAR POLKE
Higher Beings Ordain... (1966-68)
Sies + Hoke Gallery
$85,000 for the set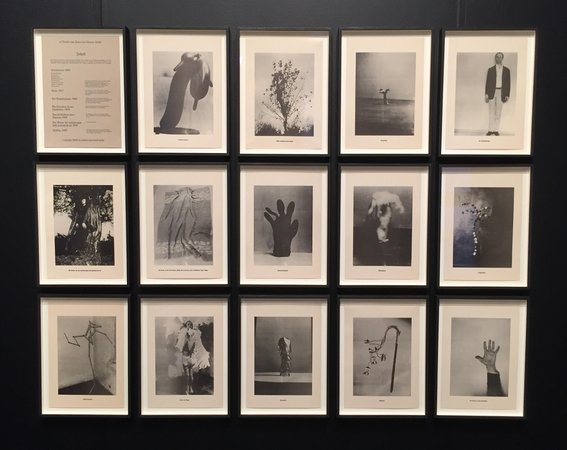 The artistic psychonaut Sigmar Polke tried every path to transcendence that came his way, from magic mushrooms to religion, and put his findings in his art. In his early years, he dabbled—ironically, certainly cynically—in a kind of spoof of charismatic faith and divine possession, making paintings like his famous Higher Beings Command: Paint the Upper Right Corner Black! of 1969. With the ghost of Hitler still palpably present in his native Germany at the time, it was a clear reference to the kind of mass persuasion that had characterized the Nazi era. These photographs document Polke's related performances, in which he gave what seem like random stances and disturbances a sense of pseudo-occult significance.
ANDREI KOSHMIEDER
Untitled (2015)
Real Fine Arts (Brooklyn)
$9,500 apiece for the sculptures, $14,000 for the table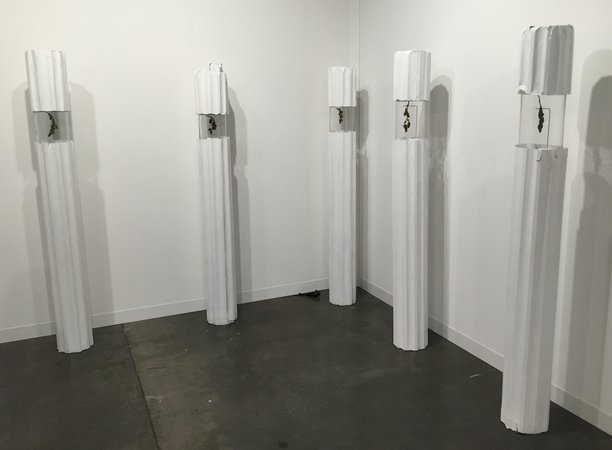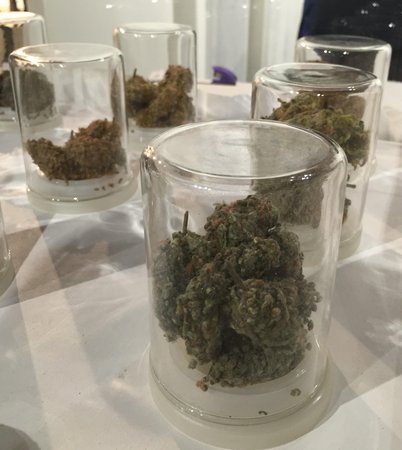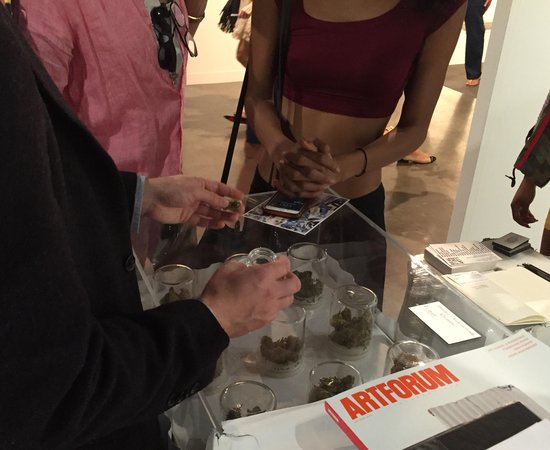 Gracing the cover of the October issue of Artforum with one of his radiator sculptors, the young German artist Andrei Koschmieder is on a hot streak that will certainly be helped by his mood-enhancing turn in the Positions section. In his booth curated by Real Fine Arts, the artist brought an array of stands displaying clusters of extra-dank marijuana buds, with the dealer presiding over a display case in the front filled with even more luscious weed specimens (which he was happy to remove from their casings and show off).
While the relaxing marijuana laws across the U.S. may have caused barely a stir around the presentation, the nervous folks at Basel can breathe a sigh of relief: everything in the display, including the stands, is made out of paper. How is that possible? It's art. And because it's German art, the dealer explained, "it of course has a jarring disappointment built into it."
DAVID SMITH
Untitled pieces
Hauser & Wirth
$7.5 million for the sculpture, $425,000 for the painting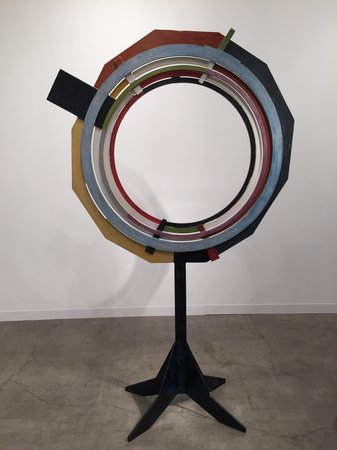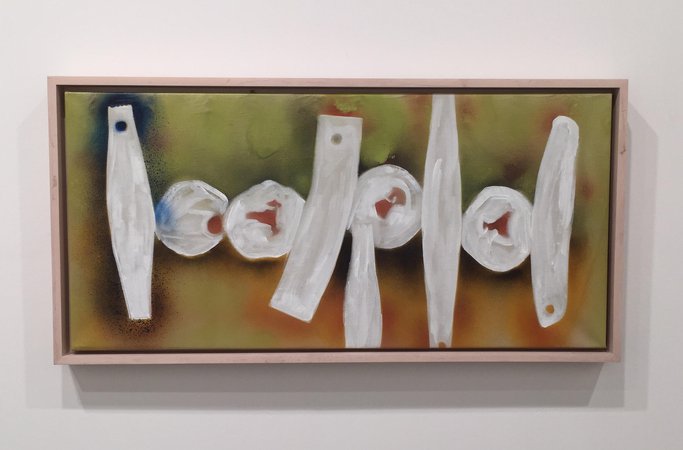 The legendary American sculptor David Smith, a fellow traveler of the AbExers who always kept one foot planted firmly in Modernism, passed away in 1965. But he has just experienced something of a rebirth: the gargantuan international gallery-cum-museum Hauser & Wirth has just announced its representation of the artist's estate. This means that there will be major institutional shows to come (look for a major one to gin up in 2017 in a major American museum), and it also means that we should expect to see new sides of Smith that make him seem fresh and relevant. For instance, did you know that he was a painter too?
At the fair, the gallery brought one monumental piece from 1961 that Smith had covered in bright acrylic paint, almost as if he were channeling Calder (another Picasso devotee), as well as a painting on canvas that looks a bit like a Motherwell "Spanish Elegies" landmark but that Smith actually made by laying down sculpture parts on the textile, spray-painting it (aerosol paint having just been invented in the mid-'60s), and then painting in the gaps.
Although he always thought of himself as a painter first and foremost, Smith never actually started with a brush and only began making his spray-paint compositions after noticing that the dust that settled on his sculpture pieces left a nice imprint when they were removed. Stay tuned for more revelations like these. 
MATT HOYT
Various objects
Bureau (New York)
$9,000 to $15,000 based on the size of the display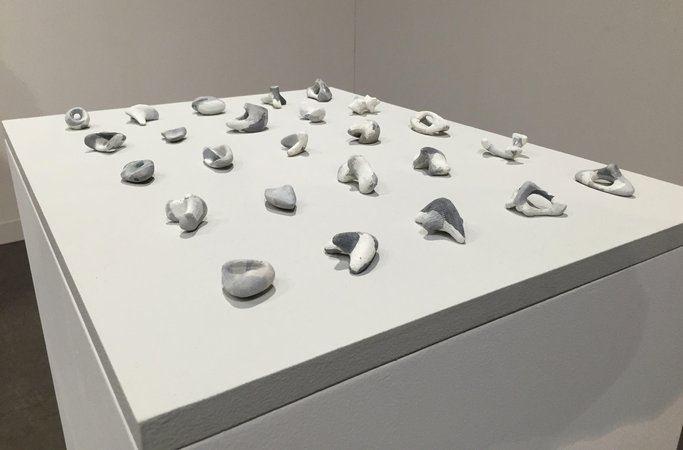 In the overabundant visual splendor of the fair, Bureau's solo booth devoted to the Brooklyn-based artist Matt Hoyt is a spot of sensory repose—a mini-monastery where one can simmer down and quiet one's eye. On four tables are different configurations of small, palm-sized, gray-and-white objects that Hoyt has crafted from different epoxies and putties—working them over by hand over the course of months (sometimes years), worrying them with scraping tools, and sculpting them into strange shapes that intentionally avoid any distinct reference but nonetheless evoke vertebrae, climbing-wall hand-holds, and interesting rocks.
The artist has placed them with great meticulousness on white stands where each piece has height, width, and angle specifications and is described in precise diagrams. (The artist disallows covers for these displays, and nothing can be glued down.) Very modest in appearance, these sculptures find a certain grandeur in their rigor and intensity—imagine Ken Price (or Ron Nagle) getting bitten by Sam Anderson's teeny-tininess bug.
NICHOLAS MAGNAN
Ancient Lights (2015)
Labor (Mexico City)
$50,000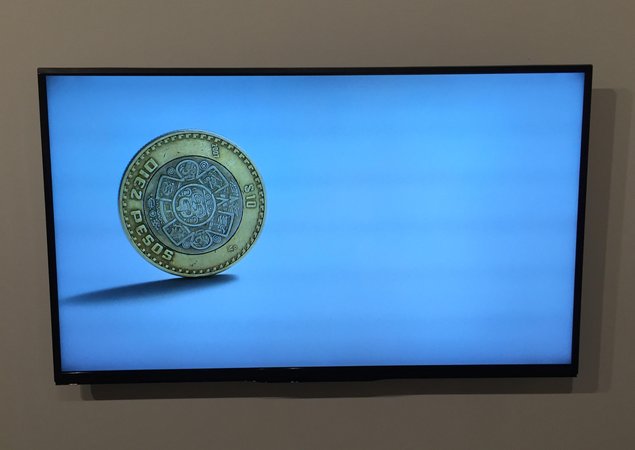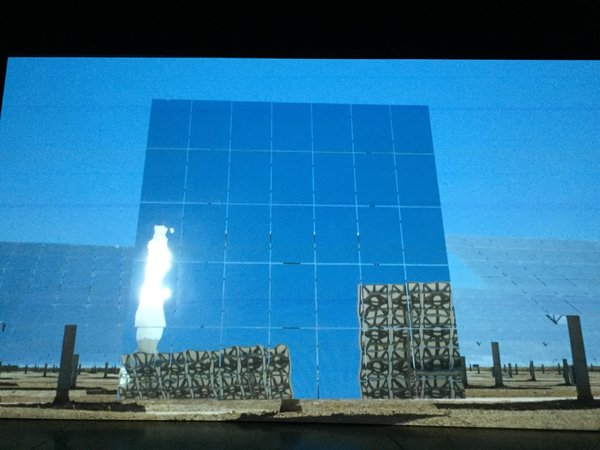 The multidisciplinary artist Nicholas Magnan does deeply researched work that explores the cultural and political dimensions of our most vital natural resources. At the fair, the subject of his two-channel video installation at Labor gallery is the sun. On the booth's front wall is a video of a Mexican 20 peso coin slowly twirling, so that it shows off the diagram of the Aztec solar calendar (derived from the Sun Stone discovered at Zócalo) on its flip side; on the reverse wall the other video shows footage from a thermosolar plant and dendrochronological studies while also relating the theories of Soviet scientist Alexander Chizhevsky, who believed that sunspot-related solar flares were the cause of 11-year cycles of social unrest in civilization.
There is also a critical third element to the installation that was missing from the display: the videos in Ancient Lights are supposed to be powered by the sun. In the piece's two previous showings, at Chisenhale Gallery and Artspace Sydney, this was accomplished by mounting a solar rig on the galleries' rooftop, but try as they might (and they tried for five months), the dealers were unable to get the proper setup through Basel's red tape. Still, the poetry of the work shines in its concept.
NICOLAS PARTY
Portrait and Blakam's Stones (2015)
The Modern Institute (Glasgow)
$22,000 for the portrait, $3,500 per stone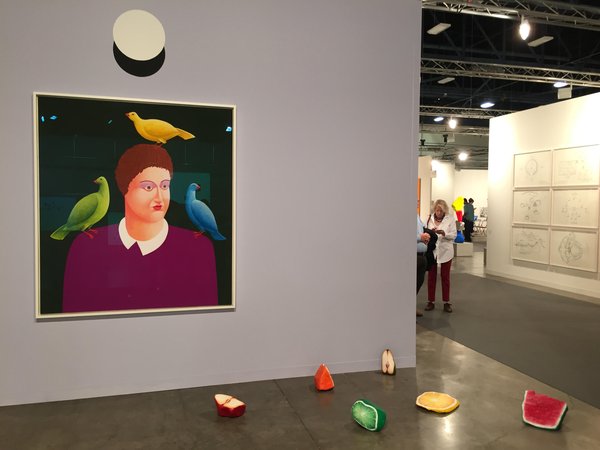 True to his name, the Brussels-based artist Nicolas Party is the kind of guy who likes to have fun even when he's working, and his work has a consistent air of jeu d'esprit. He started out by making street art, and he's sustained that passion for making an attractive mess on other people's walls by creating quirky scenographic settings for his deadpan, bulbous portraits by painting the walls behind them in unexpected colors and designs.
At the fair, he coated the Modern Institute's wall in lilac and added a mysterious orb up top, decorating this palette with a portrait and a cluster of rocks that he disguised as bright fruit. (They had to be imported; Party discovered years ago that Miami has no rocks, just shells.) Word to the wise: the wall paintings are always sold separately from the portraits, and range from $15,000 to around $30,000 depending on the site. 
JIMMIE DURHAM
Still Life With Xitle and Spirit (2007)
Peter Freeman Gallery (New York)
Just under $1 million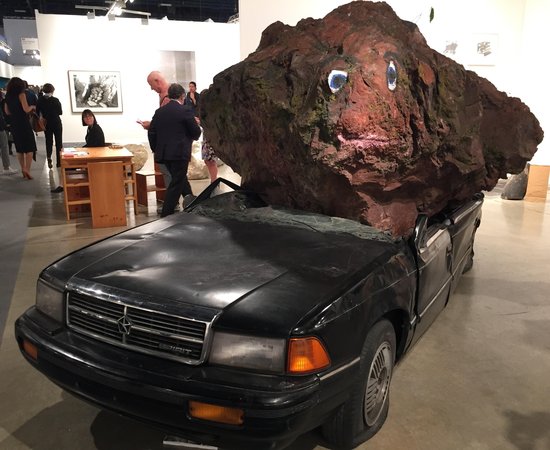 In 2003, the artist Jimmie Durham began dropping things. Big things—boulders, to be precise—onto vehicles, starting with a car in Norway and eventually encompassing a small plane, a three-wheeler truck, two more cars, and a canoe. In 2007, he was commissioned to make this piece for a collector in Mexico City, and to create it he chose an unmarked black Dodge Spirit (the vehicle of choice for Mexican undercover cops) and used a crane to let a nine-and-a-half ton volcanic rock from a site in the Aztecs called Xitle plummet onto the car's roof. (At the time the battery and a bit of gas remained in the car, so there was some excitement at the event.) Durham also drew a face on the rock, which a dealer attributed to his Native American ancestry and the fact that faces make you regard objects differently.
The piece had been sitting on the collector's Mexico City lawn since that event, and has just been sold at the fair—to a museum, like the other iterations in the series. That's not surprising, given Durham's rising fame. Included in the 2004 Whitney Biennial as well as that museum's recent "America Is Hard to See" survey, the 75-year-old artist is about to have a retrospective that will begin at the Hammer and travel to the Walker and then to the Whitney (where he will become the first Native American artist to have a major show at this museum of American art).