SARA CWYNAR at Cooper Cole
Sara Cwynar's solo booth with Toronto-based gallery Cooper Cole is a victory lap for the artist after her recent solo show at Chelsea's Foxy Production, which was reviewed very favorably in the New York Times by Roberta Smith. Cwynar is a graphic artist by day, and fine artist by night, and its shows; her works flex their power to expand and flatten space in layers of built-up and re-photographed collaged images.
MATTHEW BRANDT at M+B Los Angeles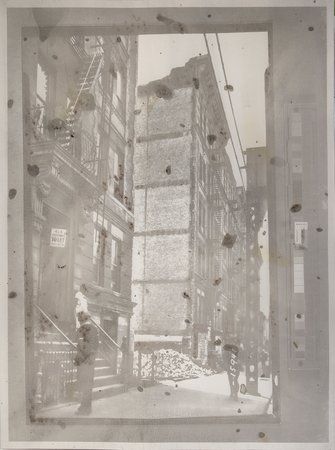 Matthew Brandt has carved out a niche for himself in the sub-genre of what might be called "process photography." He uses unconventional materials in traditional photographic techniques to produce unique photographic prints with a conceptual twist; for example his "dust" series, which uses collected dust and adhesive in place of the usual photographic chemicals to print delicate, gossamer images; or his photographs of lakes and rivers that are developed in liquid collected from the bodies of water themselves. In a two-person booth with Jesse Stecklow, M+B is showing Brand't new series of fragile, subtle dust photos.
DAVE HARDY at Regina Rex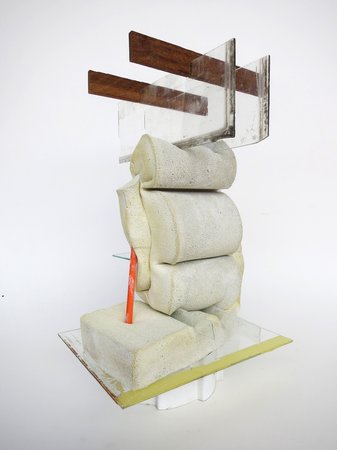 Hardy's sculptures are shown in Regina Rex's group booth alongside works by John Dilg, Kristen Jensen, Elisabeth Kley, Anna Mayer, Sarah Peters, Nicholas Pilato, and Hayal Pozanti. His minimalist found-object assemblages are made from cast-off materials like liner foam, sheets of glass, and squares of carpet. They're gravity-defying—sometimes frighteningly so (especially in the hustle and bustle of a fair)—and show an economy of means that highlights Hardy's acumen as a sculptor.
SUMMER WHEAT at Samsøn Projects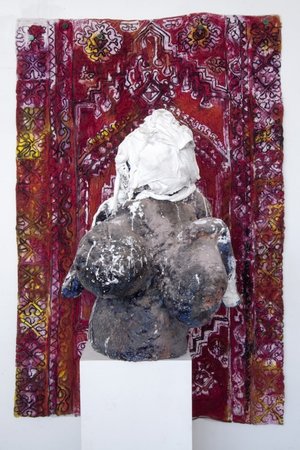 In her own words, Summer Wheat makes artworks—one of which is currently included in the show "Expanding the Field of Painting" at Boston's Institute of Contemporary Arts—that are "ugly but beautiful." Through juxtapositions of texture, color, and sensibility, they're also bold and gripping; particularly her paintings, which show the fecundity of unrestrained mark-making. Our favorties are her 'tapestries,' made by layering aluminum mesh with acrylic paint.
XAVIERA SIMMONS at David Castillo Gallery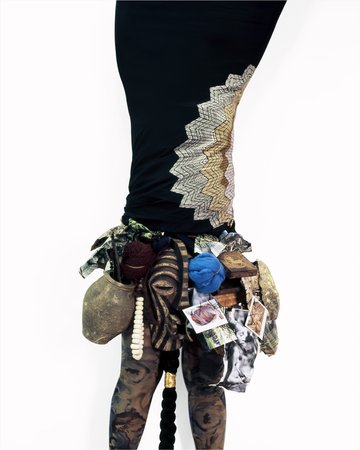 Working in photography, performance, sound, sculpture, video, and installation, Xaviera Simmons (pronounced zy-VEER-ee-a) explores history, experience, and memory through abstraction. Working in "cycles" of photography, performance, and various other media, her work is in constant rotation. At NADA, Simmons is showing a series of works that tackle "cognitive capitalism" in quasi-portait photographs that point to the self's design through external aesthetic means, as well as text-based black-and-white paintings that signal a new direction in her ever-evolving ouevre.
DAVID X. LEVINE at Steven Zevitas Gallery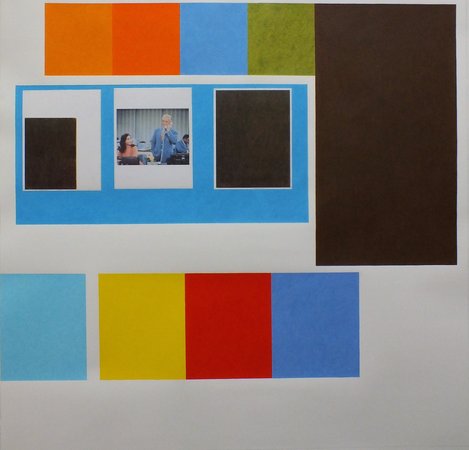 David X. Levine works in colored pencil on paper, sometimes layered with collage, in super-large scale, creating pieces that area formally reminiscent of Sol LeWitt's well-known wall drawings. Levine has been working in New York for close to 20 years, but it's only recently that Brooklyn-based gallery Knowmoregames has been promoting his work. The fair will surely be an eye-opener for those not already familiar with his work.
LENA HENKE at Real Fine Arts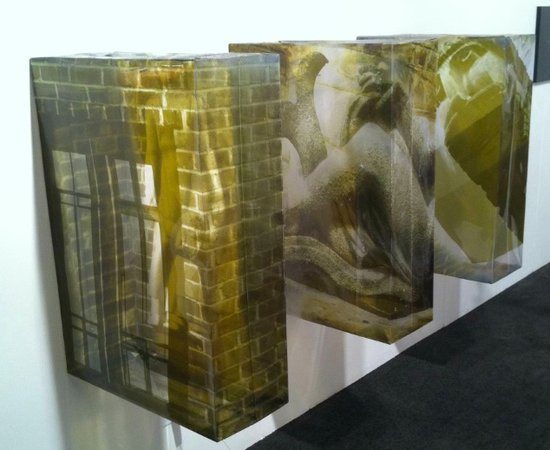 We're not sure what exactly to call Lena Henke's printed-on boxes of transparent plastic—in the traditional of Donald Judd's "specific objects," they hang on the wall but are clearly sculptural, and they use photographic images, but in abstracted forms. Based on her recent installation at MOCA North Miami last year, it's clear that Henke likes making works that are in proximity to, but don't quite fit, standard notions of objecthood. At a fair where 90 percent of the work is two-dimensional, these clearly stood out.
DOUGLAS MELINI at Eleven Rivington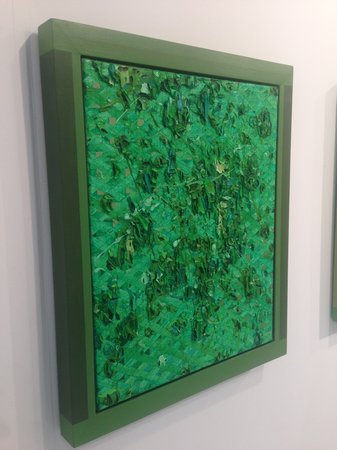 Speaking of painting—if you're going to go the two-dimensional route, consider Douglas Melini's example. His tidy canvases are layered with tape, then piled on with thick oil paint; he also hand-paints his frames. The color palette is swamp-monster green, which gives Melini's works a pleasurably vegetal quality.