Here are five reasons to collect Coming to Jones Road Under a Blood Red Sky #5 by Faith Ringgold:
1. Faith Ringgold is best known to the public for her story quilt Tar Beach (1988), which she adapted into an eponymous children's book published in 1991. Ringgold began quilting in the '70s, a tradition she learned from her great-great-great grandmother. She and her mother (a seamstress and fashion designer) produced a gridded quilt together that had 30 portraits of Harlem residents. When her mother died the next year, Ringgold decided to continue the tradition, combining it with storytelling, creating her first "story" quilt: Who's Afraid of Aunt Jemima? The story, hand-written around the edges of the quilt, described Aunt Jemima as a successful businesswomen, reversing the negative stereotype.
2. Born in 1930, Ringgold grew up in Harlem. She taught in New York City Public schools while pursing a master's degree and engaging in political activism and the civil rights movement. She demonstrated against the Whitney and the MoMA for their exclusion of black and female artists, and she co-founded Where We At, a group for Black female artists in 1971. She was arrested in 1970 for desecrating the American flag as a participant in The People's Flag Show at the Judson Memorial Church in New York.
3. Retrospectives of Ringgold's work have been organized by Rutgers University (1973), the Studio Museum in Harlem (1984) and the Fine Arts Museum of Long Island, Hempstead (1990). She participated in the 1985 Whitney Biennial, and has won Nation Endowment for the Arts awards in sculpture and painting, a John Simon Guggenheim Memorial Foundation Fellowship, and 16 honorary doctorates. She taught at the University of California, San Diego from 1984 to 2002.
4. At The Armory Show earlier this month, ACA Galleries dedicated its entire booth to Ringgold's work, showing pieces from every decade of her career. Her work is also featured in the highly acclaimed traveling exhibition "Soul of a Nation," organized by the Tate Modern and shown at the Crystal Bridges Museum of American Art, the Brooklyn Museum, and The Broad in Los Angeles. The exhibition brought together 60 artists responding tot he Civil Rights, Black Power, and Black Feminism movements.
5. The silkscreen edition from the Metropolitan Museum of Art Coming to Jones Road Under a Blood Red Sky #5 is based on one of Ringgold's story quotes from the series "Coming to Jones Road," which narrates the journey of runaway slaves migrating North.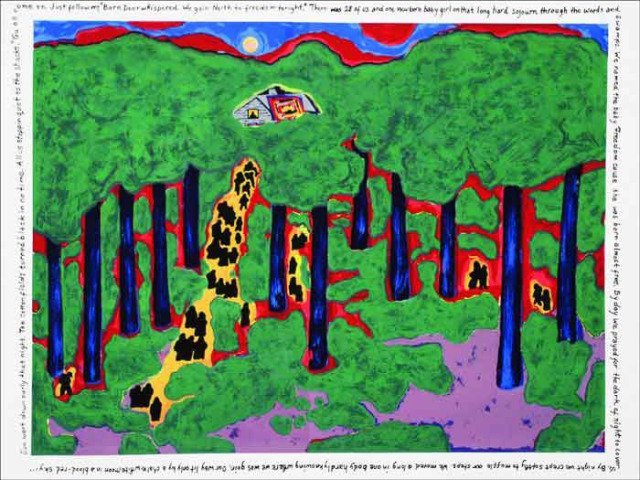 Faith Ringgold, Coming to Jones Road Under a Blood Red Sky #5 (2004) is available on Artspace for $2,500.
[related-works-module]