Move over, Banksy. Here are 5 things to know about Lee Quiñones:
1. Before you own a Banksy, you better collect a Lee Quiñones first. Though he remains relatively underground and under-recognized, Quiñones is known by true hard-core street art aficionados as one of the originators of street art.
2. Born in Puerto Rico, and raised in the Lower East Side of Manhattan, Quiñones joined the "Fabulous Five" graffiti crew in 1975. Their claim to fame: "the only running 10-car train painted from top to bottom, end to end." Painting in New York City, Quiñones entirely covered over 100 whole subway cars throughout the MTA system in the 1970s.
3. Instrumental in moving graffiti from underground (literally) to street level, Quiñones created the very first handball court mural in 1978.
4. In 1980, Quiñones had his first New York gallery show at White Columns, helping elevate spray paint to a legitimate fine art material, and ushering street art into the acclaimed and respected medium it's considered today.
5. Quiñones' first ever gallery show in Los Angeles opened in January at Charlie James Gallery. "If These Walls Could Talk" presents a group of framed "tablets"—works on slabs of drywall and wood paneling that were painstakingly removed from the artist's former studio.
6. If you're a true fan of graffiti and street art, don't miss this opportunity to collect this unframed print, signed by the artist, for $1,500 or as low as $133/month.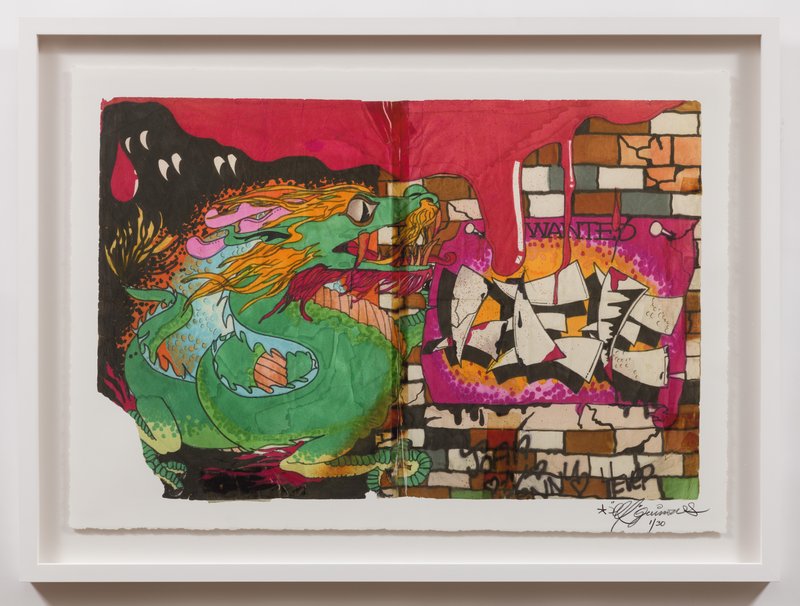 Year of the Dragon, 2019 is available on Artspace for $1,500 or as low as $133/month