Five reasons to collect Lawrence Weiner's aluminum stencil work:
1. One of the founders of conceptual art in the 1960s, Weiner is known for his typographic texts, often applied directly to the wall. He got his start, though, at the age of 19 with what he called Cratering Piece: simultaneously ignited explosives in the four corners of a field; the craters left behind he considered sculptures.
2. Central to Lawrence Weiner's work is the personalized experience of the viewer; its up to us to complete the work. Weiner formulated his "Declaration of Intent" in 1968:
1) The artist may construct the piece.
2) The piece may be fabricated.
3) The piece need not be built.
Each being equal and consistent with the intent of the artist the decision as to condition rests with the receiver upon the occasion of receivership.
3. This approach couldn't be more exemplified than in "EACH TO THEIR NEEDS EACH TO THEIR ABILITIES…". Consisting of an aluminum stencil in a printed envelope, the viewer must complete the work herself.
4. This edition of 100 is brand new, just produced by Weiner and publisher Florence Loewry earlier this year—a steal for $560.
5. Weiner has received two National Endowment for the Arts Fellowships, a Guggenheim Fellowship, the Wolfgang Hahn Prize, among many other honors. The Museum of Contemporary Art, Los Angeles and the Whitney co-hosted a comprehensive retrospective of the artist's nearly 50-year career in 2007-2008. Weiner has also had major solo exhibitions at museums like the Hirschhorn in DC, the ICA in London, the Dia Center for the Arts in New York, Musée d'Art Contemporain in Bordeaux, and the Walker Art Center in Minneapolis, among many others.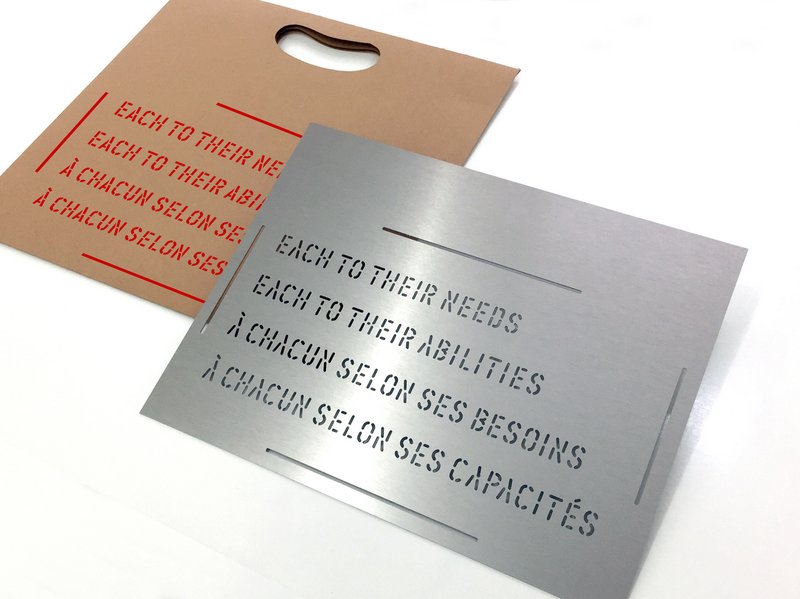 Lawrence Weiner, EACH TO THEIR NEEDS EACH TO THEIR ABILITIES À CHACUN SELON SES BESOINS À CHACUN SELON SES CAPACITÉS (2019) is available on Artspace for $560 or as low as $44/month