The 2019 Whitney Biennial just opened this week, meaning the art world is abuzz with the names of the talented artists who made the roster. Curated Jane Panetta and Rujeko Hockley, this year's Biennial is like any other: a snapshot of the most critically important artists entering the canon. If you're looking to expand your collection, the Biennial list is a great place to start. Here are 8 works by artists in this year's Whitney Biennial that you can acquire right now on Artspace.
KORAKRIT ARUNANONDCHAI
Untitled (Memories 1), 2014
$2,308 or as low as $155/month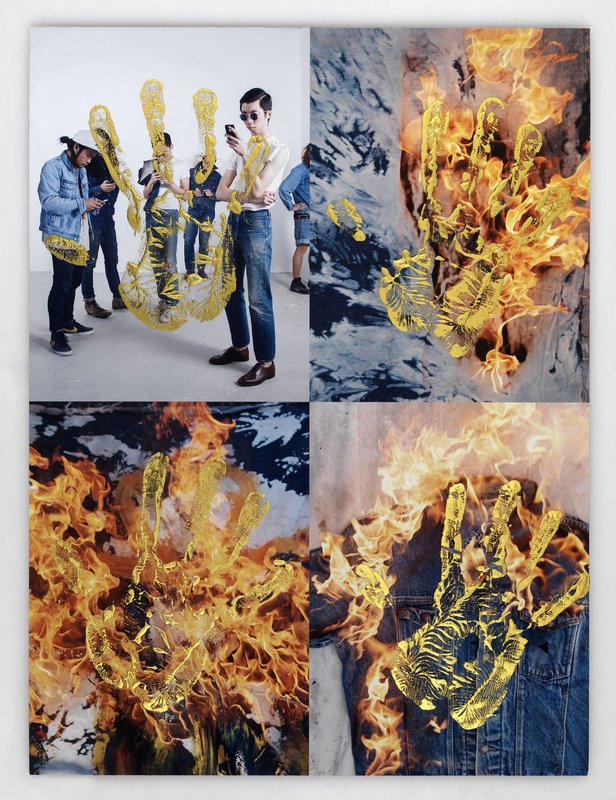 While Bangkok-raised artist Korakrit Arunanondchai creates performances, immersive installations, and videos, denim and flames are certainly his signature motifs—both in his wardrobe and his art practice. Untitled (History Painting) (2013), for example, consists of stretched denim, tie-dyed with bleach, burnt and patched up with photographs of the flames used to scorch them. The artist sees the fabric as universal, and relates the rise of denim culture with the importation and appropriation of Western culture across the globe, layering a visual language that resonates with his personal history as a cultural transplant with painting's own history—all the steps of its construction made visible. In Untitled (Memories 1), the artist's hand is literally made legible with the artist's handprint in gold paint. A former professional rapper and student of relational aesthetics pioneer Rirkrit Tiravanija, Arunanondchai extends the history of his works in a further synthesis of past and present.
LUCAS BLALOCK
Photography Is Magic Commission: Thimblerig, 2015
$5,000 or as low as $441/month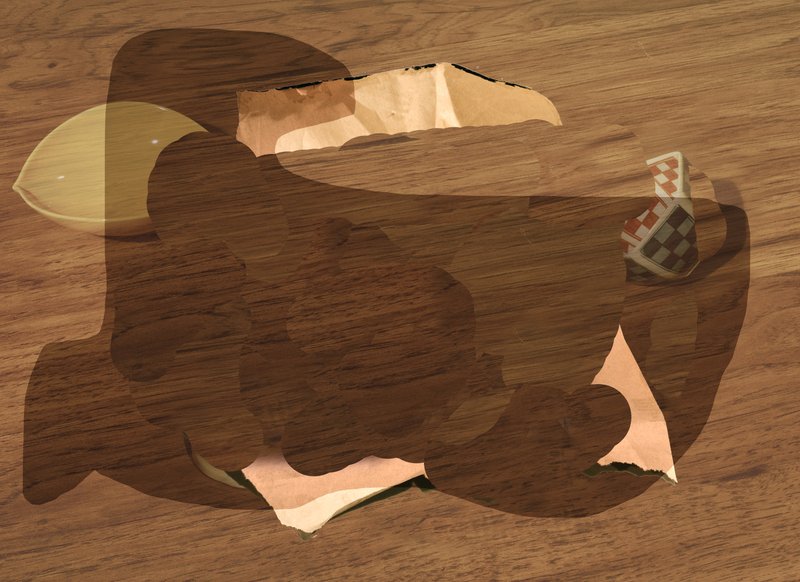 One of the O.G. artists of post-internet art and digitally constructed photography, Lucas Blalock uses highly unique and innovative post-production techniques to map, meld and re-form photographic objects and images. His compositions exist in an ever-shifting middle ground between abstract and figurative, digital and analog. Often credited with elevating Photoshop to a medium in its own right, Blalock makes evident the material possibilities of software. Thimbleric is painterly and authored, yet machine-made, re-defining the character of contemporary picture-making. Blalock says of his work, "When I started making the work shown here, in 2006, I was channeling a then-newfound interest in the nineteenth-century photography's role in it, and figures from Courbet to P. T. Barnum." Blalock currently has a solo show up at the Institute of Contemporary Art, Los Angeles.
NICOLE EISENMAN
Untitled, 2012
$6,000 or as low as $529/month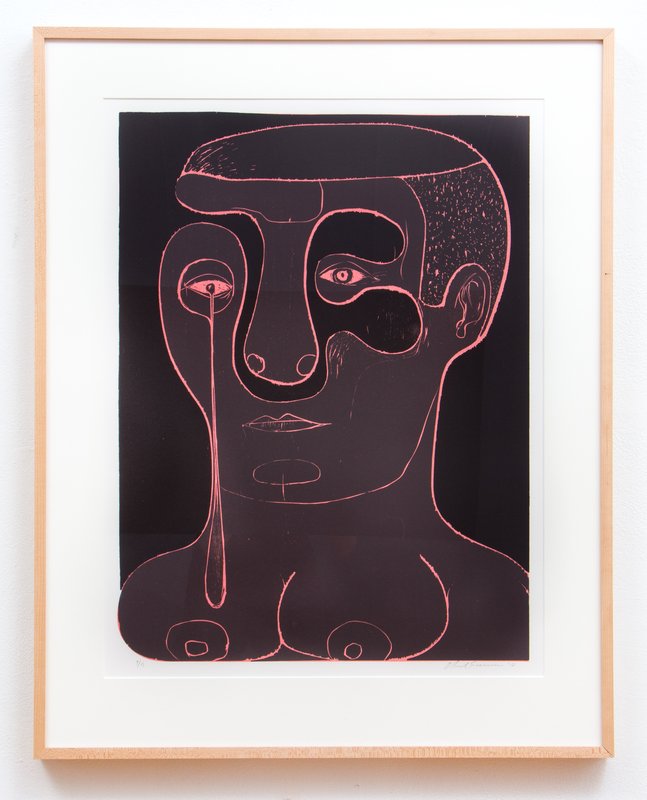 A painter, sculptor, and printmaker, Nicole Eisenman draws on both popular culture and classical imagery in order to create works that simultaneously reference art history and comment on contemporary culture. Eisenman's work is variable, ranging from colored abstract compositions to realist works created in the classical style, and she has consequently proven herself competent in and comfortable with all facets and styles of painting. Her subject matter reflects this flexibility as well: her works are just as likely to feature friends gathered around a drink-filled table as they are to depict grand adventures, like a deep-sea diving expedition. A McArthur Foundation fellow, Eisenman will be returning to the Whitney, where she participated in group shows in 2015 and 2017. In 2014, she was the subject of a mid-career retrospective exhibition organized by the Contemporary Art Museum, St. Louis that travelled to the Institute of Contemporary Art, Philadelphia, and the Museum of Contemporary Art, San Diego.
SIMONE LEIGH
Premye, 2011
$400 or as low as $36/month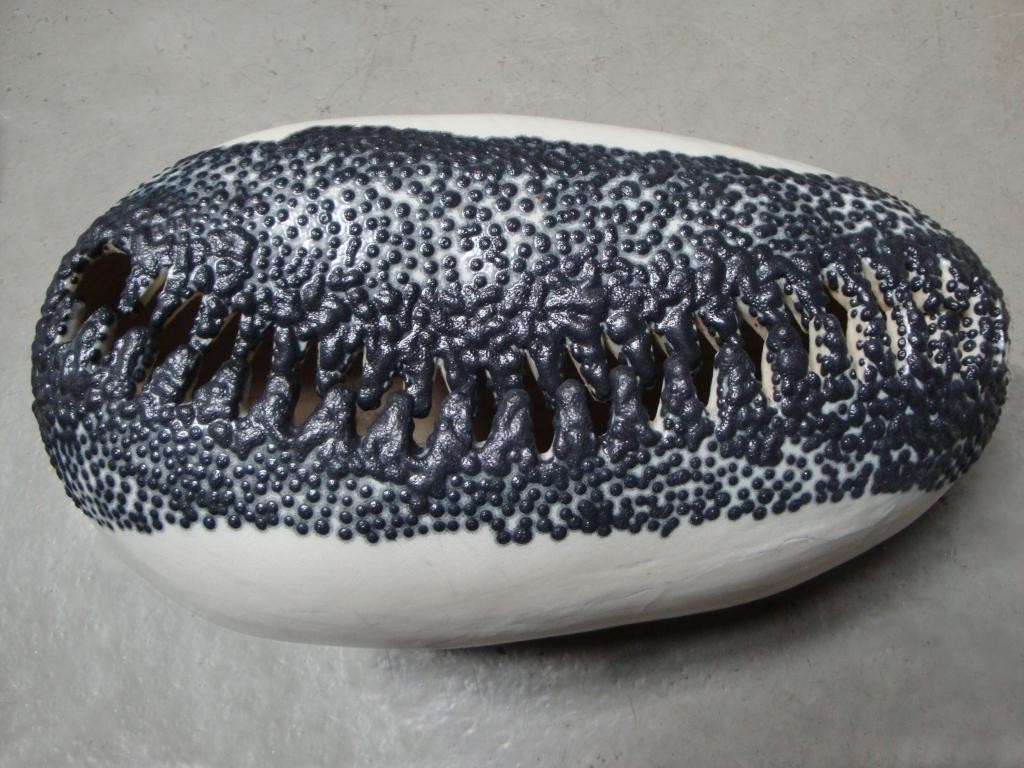 Winner of the 2018 Hugo Boss Prize, Simone Leigh is a sculptor whose work synthesizes traditional African pottery techniques with contemporary influences, subverting the Western notion that "high art" excludes craft. This photograph pictures sculptor Simone Leigh's first porcelain cowrie-like sculpture, which she executed in 2011. The cowrie shell has historically carried monetary, religious, and decorative functions, particularly in Africa and Asia, as well as references to fertility and femininity. Commanding and curvaceous, her ceramic sculptures frequently reference the female body and are informed by her interest in African art, ethnographic research, and feminism. Next month, Leigh will present a solo exhibition at the Guggenheim Museum in New York.
WANGECHI MUTU
Eve, 2011
$500 or as low as $44/month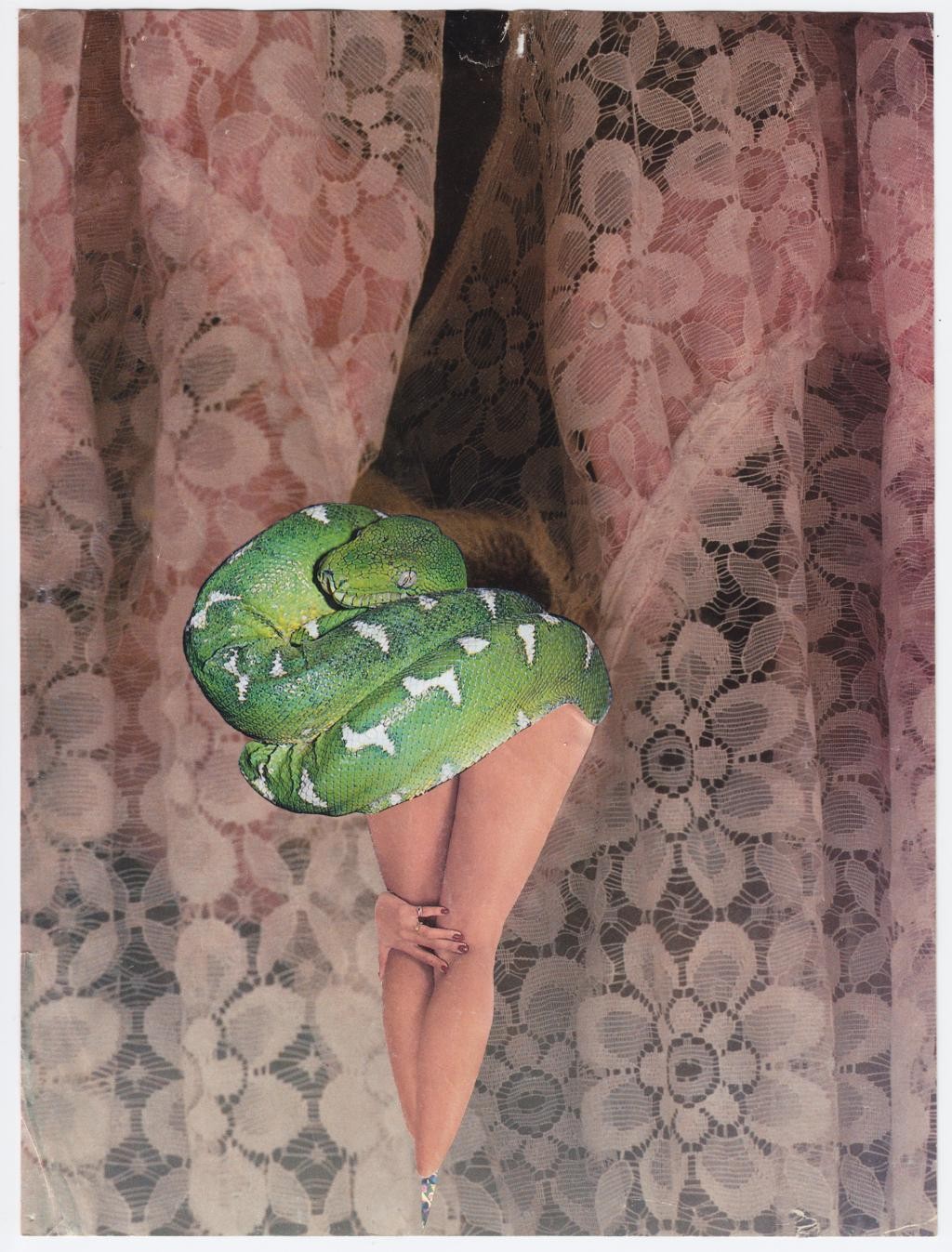 Kenyan-born Wangechi Mutu is a Brooklyn-based artist whose sculptures, works on paper, installations, and videos explore gender, race, and sexual identity using collage and assemblage strategies that create provocative juxtapositions of the female body. Her collages are constructed using fragments from fashion and travel magazines, pornography, African art books, automotive schematics, and images drawn from science fiction as well as hand-drawn or painted elements which create a variety of new formations of the body. In this photo-based work, a bright green snake—the proverbial serpent of biblical traditions—is collaged onto the legs of a woman whose hand is reaching back seductively behind her knee. The woman appears to be walking toward a lace curtain while the snake's head beckons us to follow. Having had her first U.S. museum solo show at the Nasher Museum of Art at Duke University in 2013, Mutu is currently creating sculptures that inaugurate an annual commission series of works to be installed on the Met's iconic Fifth Avenue façade for the first time since the building was unveiled in 1902.
PAUL MPAGI SEPUYA
Erik, April 1, 2014
$9,000 or as low as $793/month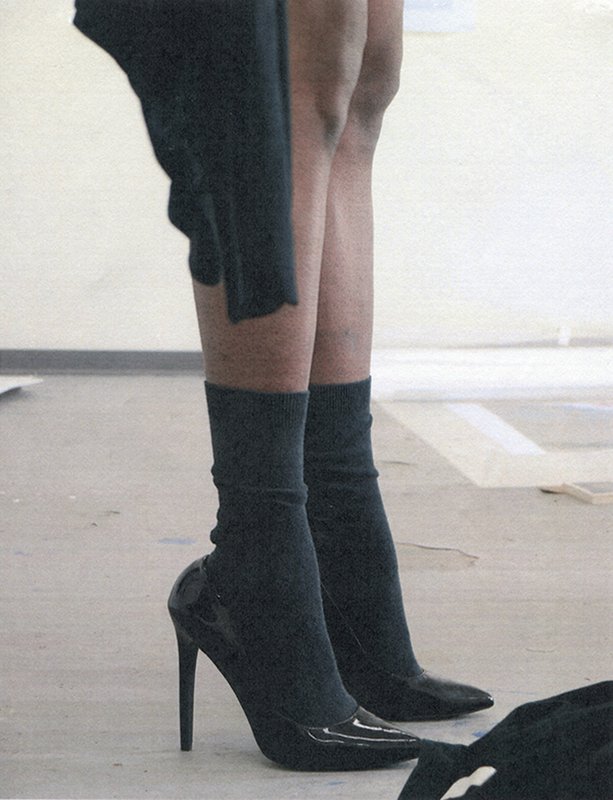 After receiving his MFA from University of California, Los Angeles in 2016, Paul Mpagi Sepuya hit the ground running. In 2017 alone he had three solo shows, a three-person show with Deana Lawson and Judy Linn at Sikkema Jenkins, was featured in the "Trigger" show about gender at the New Museum in addition to being in eight other groups shows. Last March he was in "Being: New Photography 2018" at MoMA, and he currently has work up at the Guggenheim as part of "Implicit Tensions: Mapplethorpe Now." Sepuya portrays young men in his community, making visible the relationships and intimacy between himself and his subjects. Often Sepuya arranges and re-photographs his prints, collaging two-dimensional works with the objects and people around him. This gesture depicts the artist's studio as a site where life and art intersect. For more on the artist's practice, from his own words, read our interview with Sepuya here.
MARTINE SYMS
Threat Model Official Sticker Collection, 2018
$198 or as low as $14/month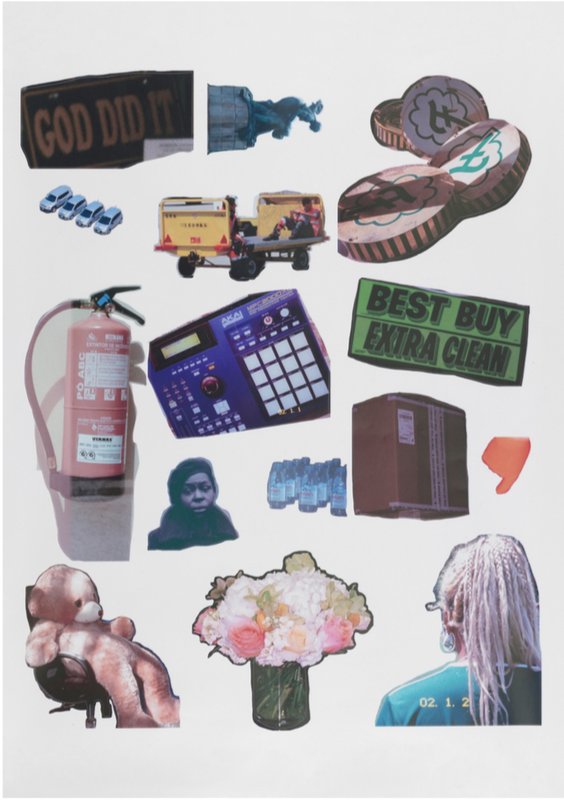 In 2007, Martine Syms coined the term "conceptual entrepreneur" to characterize her practice, which involves video, performance, and publishing. That year she created Golden Age, an artist-run bookstore and event space in Chicago while working as a graphic designer. When the space closed in 2011, the artist moved back to her hometown of Los Angeles to found Dominica Publishing, which has since published work by Diamond Stingily, Laurie Anderson, Hannah Black, and Syms herself. Her self-identified title illustrates one of the main tenets of her practice: self-determination through the support and development of other artists in her community. Interwoven with humor and social commentary, Threat Model Official Sticker Collection references her most recent body of work, exhibited at her first solo UK exhibition 'Grand Calme,' at Sadie Coles HQ in 2018. According to the ICA London: "for 'Grand Calme,' Syms co-opted the 'threat model system'—a digital diagram of potential threats and vulnerabilities in a software system. Presenting it as a decal across the entirety of the gallery, Syms mutated the system from a rationalized web of diagrammatic controls into one which navigates the neuroses of the artist. Through the arrows and dialogue boxes decaled on the wall of the gallery, Syms' internal world was generously laid bare to the viewer."
KYLE THURMAN
Untitled, 2014
$3,600 or as low as $317/month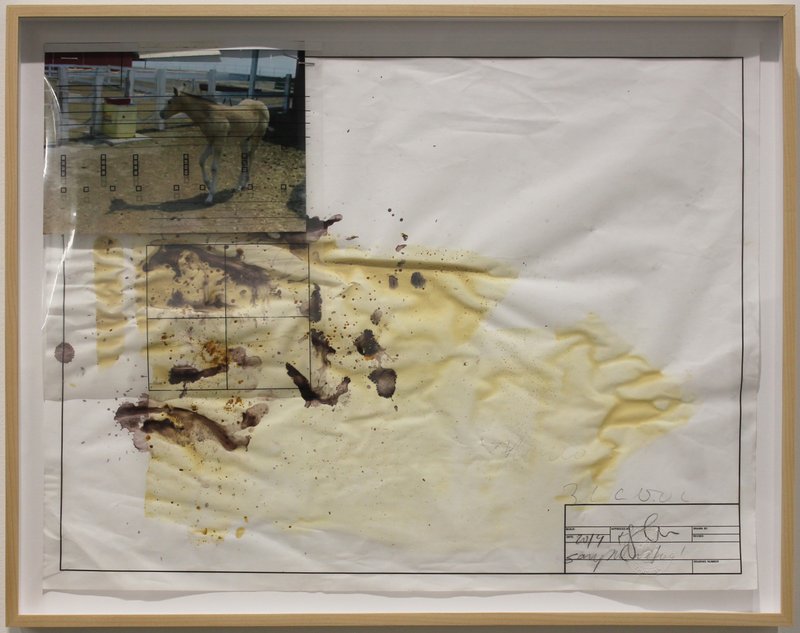 Just three years out of grad school (MFA, Bard College), Kyle Thurman examines creative decision, constructive process, and industrial production. Reclaiming the materials, forms and concepts of commercially produced artificiality, most notably, wind chimes, dyed flowers, and cardboard shipping boxes, Thurman eliminates the function of each object and reconfigures its primary components. In this Untitled work, and abstract compilation of materials are assembled and framed on engineering paper. Layering pigment, graphite, silica, urethane and oil shale, Thurman juxtaposes his guttural color-concoction with a photo of a young foal in a farm stable. Like a police file or architectural plan, Thurman compiles his context in overlapping sheets that physically and conceptually frame the central stains.
RELATED ARTICLES:
7 Artists To Watch in March 2019
6 Reasons to Collect Lee Quiñones, the Real O.G. of Street Art
5 Shows by Emerging Artists to See in NYC Before Mercury Is Out of Retrograde