We took a look at the estimated auction prices for some of our favorite artists at the upcoming London evening sales—and then we found way more affordable alternatives. Collect some of the most sought-after names, for a fraction of the price.
AMY SILLMAN
Steal: S & E (2007) available on Artspace for $5,000
Splurge: Purple Thing (2006) estimated by Sotheby's at $257,040 - $514,080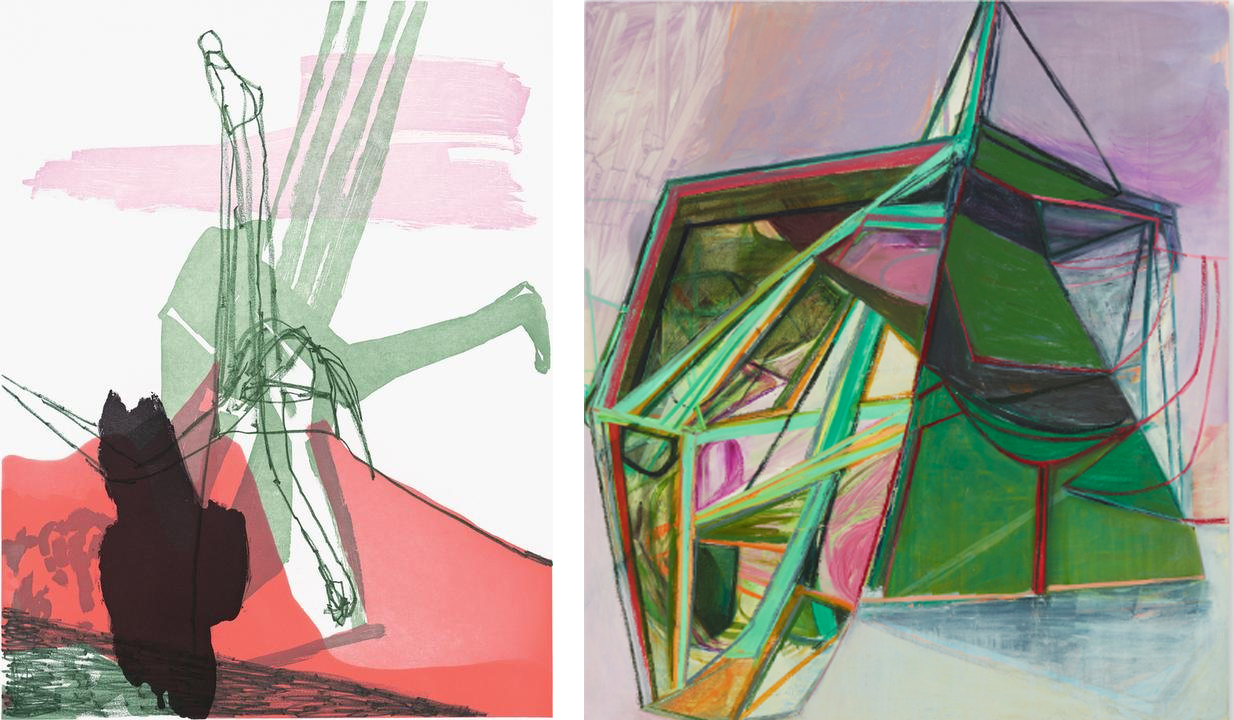 Detroit-born artist Amy Sillman is highly distinguished; she received a National Endowments for the Arts fellowship and the Elaine de Kooning Memorial Fellowship the same year she received an MFA from Bard College (1995). In 1997 she was the recipient of the Pollack-Krasner Foundation and the Joan Mitchell Foundation fellowships, and in 2000, she was awarded a Guggenheim Fellowship. But Sillman wasn't always on the path to become an art star. In her early years, she worked in a cannery in Alaska and a feminist silkscreen factory in Chicago. When she moved to New York, she worked as a Japanese interpreter for the United Nations. Sillman's work reflects her penchant eclecticism, using painting and printmaking to explore different shades of representation and abstraction. Sotheby's will be auctioning a 2006 oil on canvas—"an outstanding example of Sillman's deconstructive/reconstructive method in which the dynamic between abstraction and figuration is brought into pin-sharp focus." The same can be said for S & E, a signed, numbered, and dated print from a small edition of 20—for just $5,500.
LUCIO FONTANA
Steal: Concetto Spaziale (Rosso) (1968) is available on Artspace for $13,046 - $19,569
Splurge: Concetto Spaziale (Attese) (1965-66) is estimated by Sotheby's at $3,084,480 - 3,855,600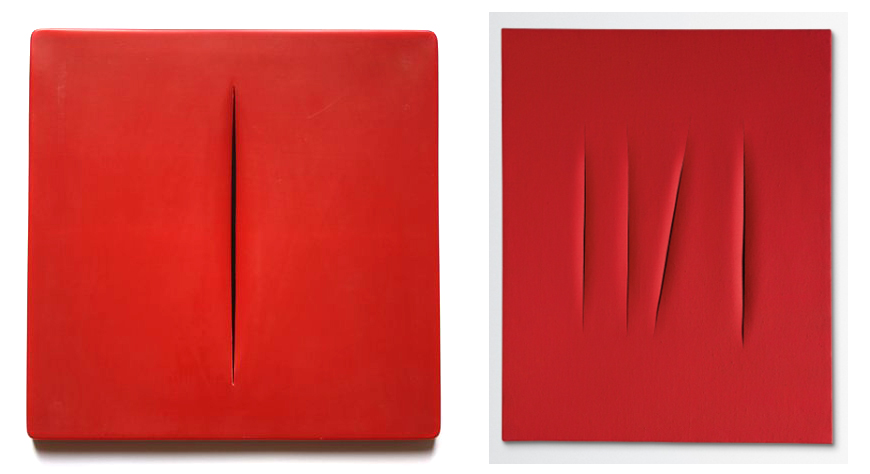 Executed in the year of the artist's death, at the pinnacle of his career, Concetto Spaziale (Rosso) is a perfect example of the work Lucio Fontana is known for. In the late 1940s, Fontana began puncturing the surface of his canvases, conflating the modes of two and three dimensionality and blurring the distinction between painting and sculpture. He deemed these works as explorations of spatial environments. The punctures, or tagli, became a central feature of his work. They were at once representative of creation and destruction. Regarding his tagli series the artist has said, ""My cuts are above all a philosophical statement, an act of faith in the infinite, an affirmation of spirituality. When I sit down to contemplate one of my cuts, I sense all at once an enlargement of the spirit, I feel like a man freed from the shackles of matter; a man at one with the immensity of the present and of the future." In 1966 Fontana presented his Tagli works at the Venice Biennale, and in 1977 his first retrospective was exhibited at the Solomon R. Guggenheim Museum. Sotheby's will be auctioning a tagli work, estimated to sell for over $3 million, similar in style and year to Concetto Spaziale (Rosso), though significantly larger. Add a tagli piece to your collection, for a fraction of that price.
CY TWOMBLY
Steal: Cy Twombly, 1986 (1986) is available on Artspace for $1,239
Splurge: Untitled (1961) is estimated by Sotheby's at $1,028,160 - 1,542,240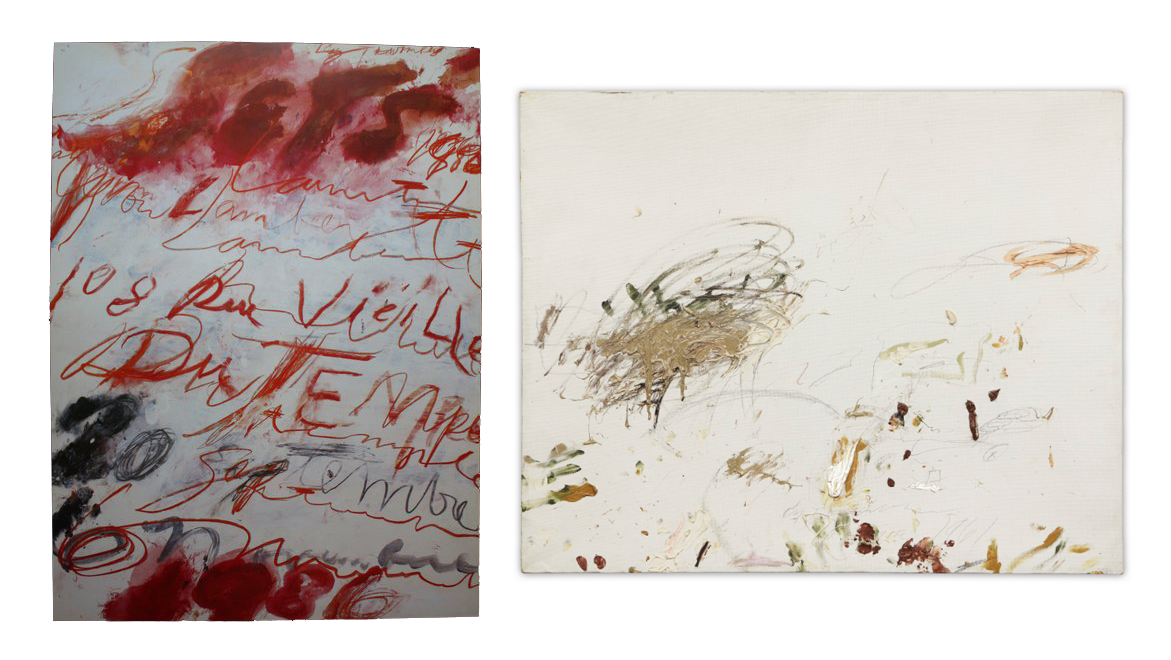 Emerging on the New York art scene with fellow artists like Robert Rauschenberg and Jasper Johns, Cy Twombly rose to prominence in the early 1950s, departing from movements like Pop and Minimalism that were in vogue at the time. He kept to a genre all his own, blurring the line between painting and drawing, and incorporating words, scribbles, and a childlike sensibility that revealed mediation and melancholy. Twombly's paintings, like the one estimated by Sotheby's to sell for between a million and over $1.5 million, are hard to come by. But this limited edition lithograph print, designed by Cy Twombly for his 1986 exhibition held at Yvon Lambert gallery, is a great way to celebrate the artist for just $1,239 (or as low as $84 per month with Affirm).
GEORG BASELITZ
Steal: Falle (Trap) (2008) is available on Artspace for $6,200
Splurge: Ohne Titel (Der Neue Typ) (1966) is estimated by Sotheby's at $578,340 - $835,380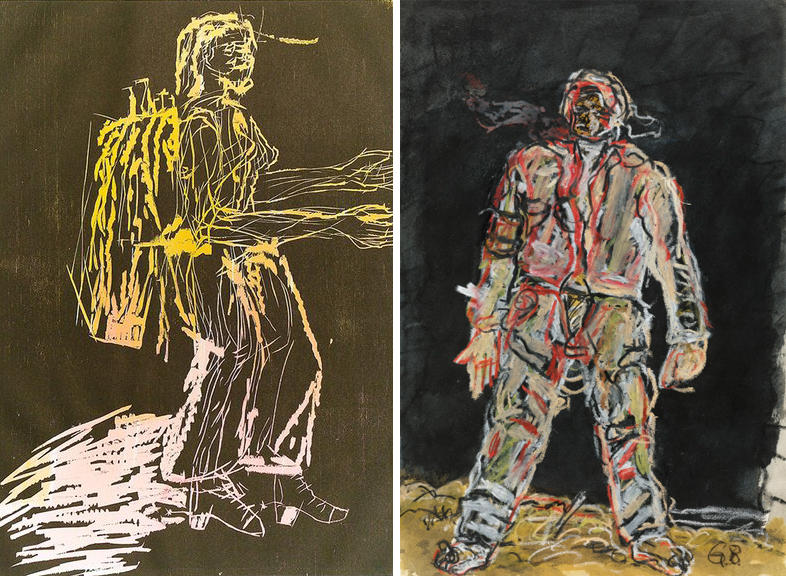 Like other artists raised in East Germany during the Cold War, Georg Baselitz gravitated towards and helped define what has since become known as Neo-Expressionism. Baselitz and his German peers—including Sigmar Polke, Gerhard Richter, Anselm Kiefer, and Neo Rauch—used figuration to explore the material, political, and sexual bases of humanity. In response to social and psychological pressures, his figures and images fragment, morph, and contort or invert themselves. Best known for his oil paintings on canvas, Baselitz's prints and drawings have also been widely praised. He is now among the most valuable living German artists. This color woodblock print on hand-colored paper is numbered, hand-signed by the artist, and it comes from a small edition of only 24. For $6,200, it's a steal.
RICHARD SERRA
Steal: Junction #12 (2010) is available on Artspace for $3,000
Splurge: Untitled (1974) is estimated by Sotheby's at $321,300 - 449,820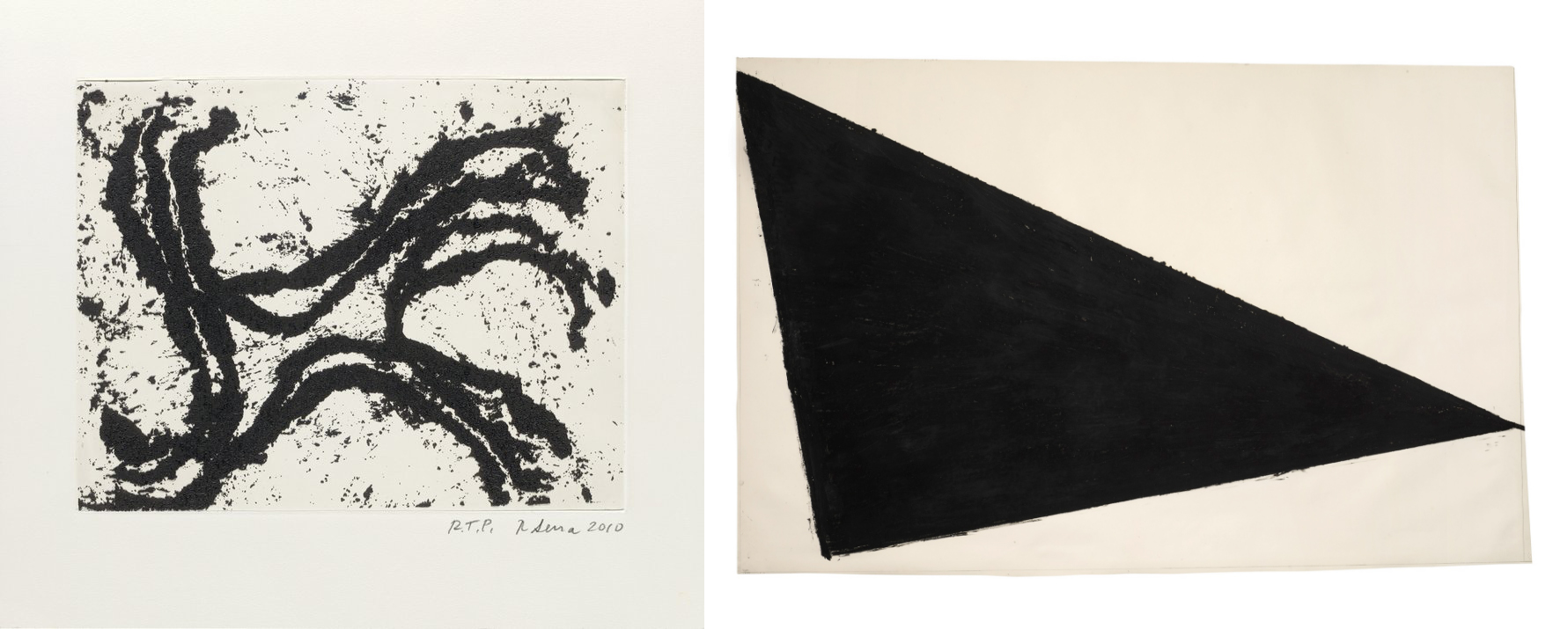 One of the best known Minimalist artists, Richard Serra has created works that span mediums from enormous site-specific sculpture to delicate works on paper. Frequently using industrial materials, Serra's sculptures evoke a sense of rawness while their towering heights and simple lines forcefully transgress into the viewer's space. In his series Tilted Arcs (1996-1999) monumental sheets of steel curve through public spaces, creating private enclaves even as these interventions shatter prior relationships with said spaces. In Junction #4, we see the artist approaching two-dimensional space as if it were a volume to be divided. This signed etching comes from Gemini G.E.L., arguably the most respected and prestigious printmaking publishers in the art world. For $3,000, collect the whole series.
RELATED ARTICLES:
12 Affordable Artworks by Artists in Sotheby's and Christie's May Auctions
Steal vs. Splurge: Vitali, Ruff, Warhol, Tillmans