From a seductive tabletop sculpture by a Turner Prize nominee to a spray-paint drawing by two rising stars, these are pieces collectors should zero in on, stat. The following pieces were selected by Artspace editors in consultation with VIP client manager Hannah Flegelman. (All prices are as of January 11, 2016.)
KATARINA BURIN
Vytvarné Snahy VSX2, 2013
Ink on paper
$4,500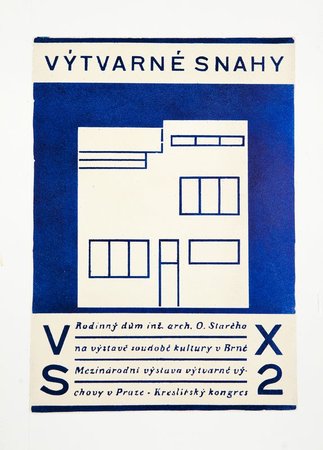 To say the Boston-based Slovakian artist Katarina Burin is brainy is a doltish understatement. A lecturer on visual and environmental studies at Harvard with a Yale MFA under her belt, Burin has won a following among art savants—together with gallery and museum shows and art prizes—for her sculptural installations blending elements of Soviet-era architecture and design with revisionist-history narratives that bring women (both real and fictional) from that period to the fore. This exquisitely designed and balanced piece reaches back into the historical archive to recreate, in pen and ink, a cover from a rare Czechoslovakian design periodical, Výtvarné Snahy (Art Endeavors), that was published in Prague over four years and stands as an icon of Lisstzky and Maholy-Nagy's New Typography movement.
KATHERINE BERNHARDT
Mr. Coffee With Fries, 2015
Six-color silkscreen printed on Coventry Rag 335gsm (Edition of 50)
$700


One of the biggest breakout stars of 2015, the painter Katherine Bernhardt has charmed her way into collectors' hearts with her addictively snackable paintings of fun little disparate objects, like hamburgers and basketballs, or cigarettes and watermelons, or tacos and socks, all rendered in a mixed-up profusion of toxic-candy colors. Critics like her too: Jerry Saltz wrote that "Dana Schutz and Katherine Bernhardt are among the liveliest American painters to emerge in this country in 15 years." This exclusive edition, produced as a collaboration between Artspace and NADA, unites her crowd-pleasing french fries with a friendly morning necessity—and proved a giant hit at NADA Miami Beach, where buyers snapped up all but a few remaining versions. Grab it while supplies last! (We here at Artspace certainly have been.) 
PREM SAHIB
Outing, 2015
Laser print on black paper (Edition of 85)
$376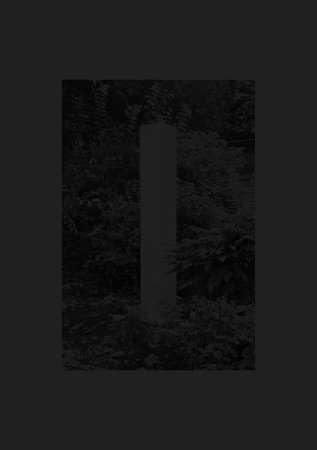 Only two years out of school at London's prestigious Royal Academy, Prem Sahib has made admirably quick work of penetrating the inner sanctum of that city's art scene, landing buzzy shows at ICA London and Southard Reid, displaying work at Glasgow International director Sarah McCrory's "domestic gallery," and collaborating with the white-hot artist Eddie Peake. It helps that his work is provocative in all the right ways, drawing on the transgressive chic of his subject matter: London's underground gay nightlife, from the blackout, vinyl-lined sex clubs to rave culture. This piece places one of Sahib's columnar Watch Queen sculptures—so named in reference to the gay slang term for fetishistic voyeurs—in the middle of a public park, evoking the same kind of nighttime escapades chronicled by the Japanese photographer Kohei Yoshiyuki.
ANDREW LAUMANN
Untitled (Ambient Works), 2015
Methylcellulose, house paint, paper, on wood panel
$4,500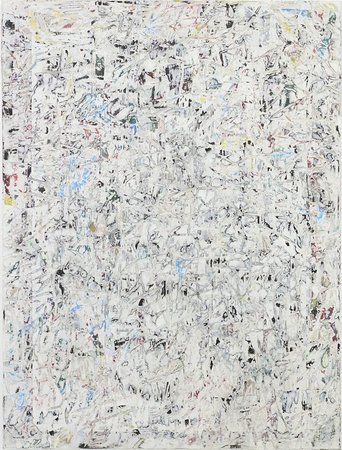 If Baltimore is currently in the process of quietly transforming into a hotspot for emerging artists and experimental spaces, Andrew Laumann is surely one of its early breakout figures. A self-taught artist who left home while still in high school, Laumann is a crucial presence in B-More's small but enthusiastic art and music scene (he also plays with Dope Body, an indie noise act signed by Drag City Records). Laumann first gained critical recognition for his photography, which was included as part of the New Museum's seminal 2009 triennial "Younger Than Jesus," but he has since turned his energies towards abstract painting. His compositions in spray paint and latex often incorporate bits of collaged materials, but the overall effect is of stability rather than bricolage. The painting above is a smart buy for a forward-thinking collector—Laumann originals of this size and quality won't stay at this price for long.
NICOLE WERMERS
Rock Dispenser / model for outdoor sculpture, 2010
Ready-made stainless steel dispenser, found rocks and pebbles arranged by the artist.
$414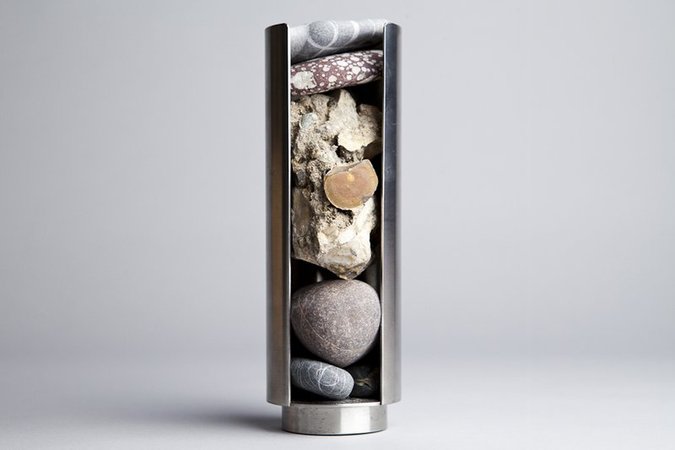 When it comes to heady conceptual works that still welcome (rather than alienate) viewers, few artists can match the sculptor and photographer Nicole Wermers for her adroit eye and keen sense of balance. In her sculpture, the German artist and 2015 Turner Prize nominee specializes in reimagining the oft-overlooked liminal space of the office lobby or company courtyard. In her hands, ashtrays, napkin dispensers, shelves, and other background items take center stage as art objects, their functionality exploited to serve the sculptor's aesthetic ends. Even as she revels in the flexible uniformity of stainless steel (a favorite material), the uneven contours of the natural world in the form of sand, water, and stone are never far afield; both impulses are on view in her Rock Dispenser/model for outdoor sculpture, a smaller-scale iteration of an 8-foot-tall sculpture first made in 2010. Wermers is in for another big year in 2016—be on the lookout for solo shows at Tanya Bonakdar and Jessica Silverman galleries in the upcoming months.
PAULINA OLOWSKA & BONNIE CAMPLIN
Salty Water Fishnet, 2008
$1,193
At first glance, Paulina Olowska and Bonnie Camplin may seem to be unlikely collaborators; the former is a Polish artist who draws extensively from fashion advertising in her layered installations and realist paintings, while the later is a London-based lecturer at Goldsmiths (and another 2015 Turner Prize Nominee) who takes a deeply interdisciplinary approach to her socially-incisive ink drawings and watercolors. The artists found shared ground in the form of feminist philosophy and fantastical storytelling for their shared 2007 installation "Salty Water/What of Salty Water," at Portikus in Frankfurt, which saw the artists constructing a surreal tale of non-narrative nautical adventure. The spray-painted composition above, Salty Water Fishnet, emerges from this shared psychic space, reflecting their oceanic theme and representing a middle ground of sorts between Olowska and Camplin's disparate approaches.