Alexander S. C. Rower, president of the Calder Foundation and grandson of the artist, was in in Paris during the week of FIAC for the installation of Calder's monumental sculpture Five Empties (1973) at the residence of the U.S. ambassador to France. Since he was in town, he also stopped by the fair and graciously shared his favorite works on view with Artspace.


On my last two trips to Paris, I was simply unable to visit the Fondation Louis Vuitton. This time I made it my first priority, as I wanted to see a performance of [the Russian Futurist opera] Victory Over the Sun that I had missed in Basel. It's an extraordinary and quite bizarre production of 1913 that would have felt almost interactive and overwhelming in its day. It constitutes the first appearance of the 'black square' in advance of Malevich making his famous painting in 1915, and the opus brings together performance, movement, sound, and the visual arts in a way that must have felt very fresh and new to the art community when it was presented. Now, almost 100 years later, it is hard to appreciate how radical the experience must have been.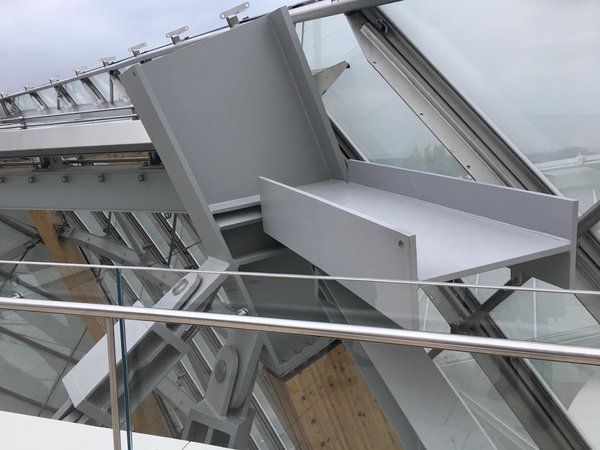 An architectural detail of the Fondation Louis Vuitton
I got to the Fondation early to explore Frank's project, a new Grand Palais (the Fondation Louis Vuitton). Being a sculpture person means always observing the physical presence of objects in space, especially when they are made out of steel. My favorite moment in the building is this intersection of structure and energy up at the top, where the steel does an almost balletic twist to solve all of the riddles of the engineering. Architects, like artists, are always looking for refinement and resolution—even in accidents.
MONIKA SOSNOWSKA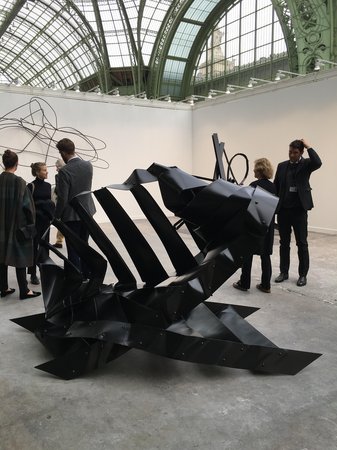 A Monika Sosnowska sculpture from 2015 at the Modern Institute
Monika Sowsnowska completed a residency at our Atelier Calder in 2014, and through that experience I discovered so much more about her process. There is a certain mystery to her works, which can sometimes seem like Dada found objects created by natural acts. To see her crushed architectural steel in the context of the magnificent Grand Palais is really striking. In fact, it would not be apocryphal to suggest that the Grand Palais is one of the great sculptures of the fair.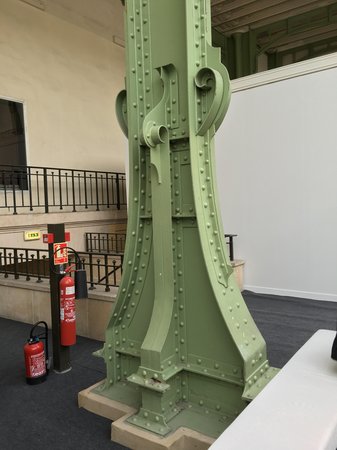 An architectural support in the Grand Palais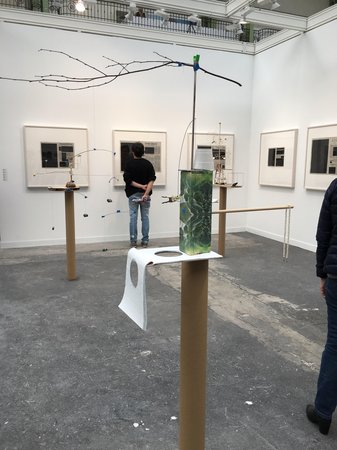 New sculptures by Sarah Sze at the FIAC booth of Victoria Miro

When I turned the corner, I came across a bosquet of works by Sarah Sze, another Atelier Calder artist, in Victoria Miro's booth. I nearly missed them, because of the great subtlety and grace of their transparency.  
(I used to be surprised by happening upon one of our Atelier artists in an art fair context. Now, after over 25 years of operation, it happens so frequently that it is no longer surprising but rather very rewarding—and a good reminder that we should keep doing the program!)
When I see Sarah's work, I always have a sensation of the exact second in which she is assembling, creating, and performing it, and of her process of discovery. That sense of immediacy is always present in her work, and is the thing I respond to most. As I stood and watched, I was concerned visitors would knock over these works which sprouted precariously from the floor.


JULIO GONZALEZ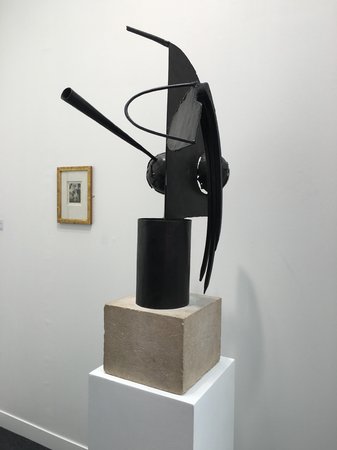 Julio González's La Grande Trompette, cast after 1942, at the FIAC booth of Annely Juda Fine Art
Julio González may have many artistic debts, and is often relegated to being a second-class citizen, but for me he is a magician and one of my absolute favorite artists. (My grandfather's two González works are now in my charge.) 
This is a fantastic 'drawing in space' (not unlike Monika's work). Few people know the history of that term, which was first applied to Calder in 1928 four years before it was applied to Picasso and González. Of course, the idea was a major preoccupation of all artists in that period. 
This González is both a rejection and expansion of Brancusi's masterpiece, Bird in Space.
CONSTANTIN BRANCUSI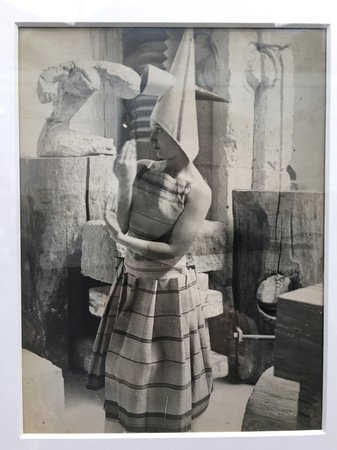 Lizica Codreanu dansant dans le studio de Brancusi, costume d'Irina Codreanu, c. 1923-1924, at the FIAC booth of Galerie Natalie Seroussi
I've never seen this particular image, but I've seen others of the dancer Lizica Codreanu wearing costumes by her sister, Irina Codreanu, who was Brancusi's apprentice. The image conveys the excitement of the moment. Brancusi's views of his studio are always extremely intimate—he literally lived with his sculptures, so we are looking into his private domain. This day, something was going on at home that he felt compelled to photograph. I don't fully know the history of the costumes and the related choreography, but I am intrigued by them.
GLENN BROWN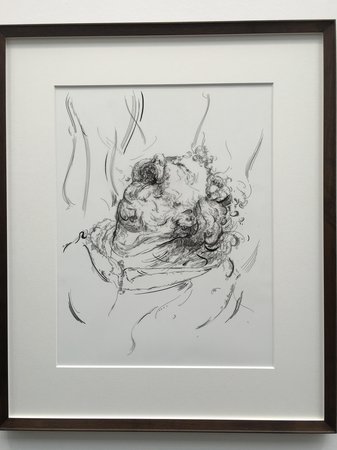 Glenn Brown's Drawing 39 (after Grünewald), 2015, at the FIAC booth of Galerie Max Hetzler
I've always wanted a painting by Glenn Brown—he's a spectacular editor of history. I am much less familiar with his drawings, so this was my discovery at FIAC this year. I almost walked by them, given that they have a certain starkness. This drawing in particular (at the booth of Berlin's Galerie Max Hetzler) I didn't quite understand at first. Something about its foray into abstraction was what caught my interest—it looks almost like a small Julie Mehretu.