This week, during the calm before the storm that is Armory Week (aka March Madness), we took a moment to delve a little deeper into the work of a few artists—with the high point being a studio visit with Mickalene Thomas on the verge of her film's landmark debut on HBO. (You can watch a video of the studio visit here.) We also had a chance to admire new paintings by Sarah Kurz in a group show at Sargent's Daughters, fresh work by the versatile Justin Lieberman at Martos Gallery, a thought-provoking show of Michel François at Bortolami, and several other offerings. Check it all out below.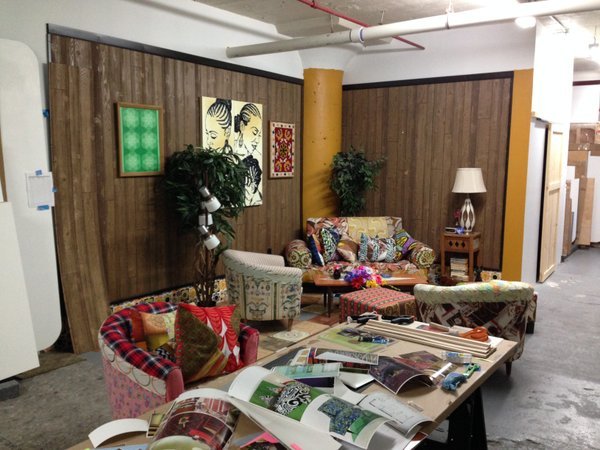 In Mickalene Thomas's studio, this is where the magic happens : the set where she takes her signature portrait photographs of women that are then transformed into her multifarious artworks. Based loosely on her late mother's living room, the set is outfitted with a visually gripping mixture of '70s touches (note the faux bois walls; she has stacks and stacks of different varieties), brightly patterned textiles from all over the world, and her own artworks. Those who were at Art Basel last summer may remember this particular set from Thomas's "Better Days" installation, which incorporated several of these pieces of furniture.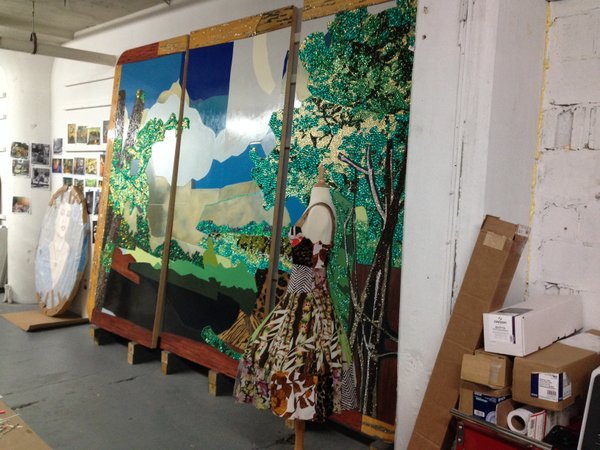 Lately Thomas has been venturing into landscape painting, such as this triptych-in-progress, which is festooned with her trademark rhinestones.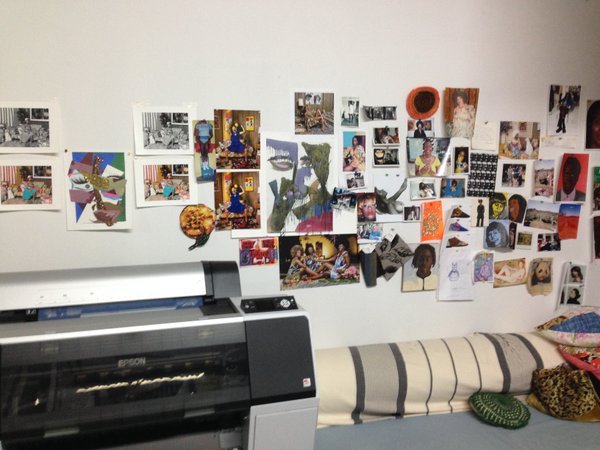 A wealth of archival materials, from photographs of previous works (like Thomas's take on Manet's Luncheon on the Grass that was shown at MoMA, here at bottom center) to inspirational clippings, are displayed on one wall.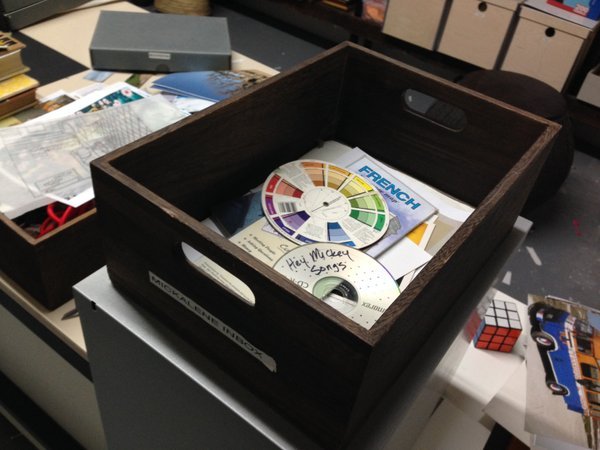 In Thomas's inbox, a color wheel sits next to a CD of "Hey Mickey Songs."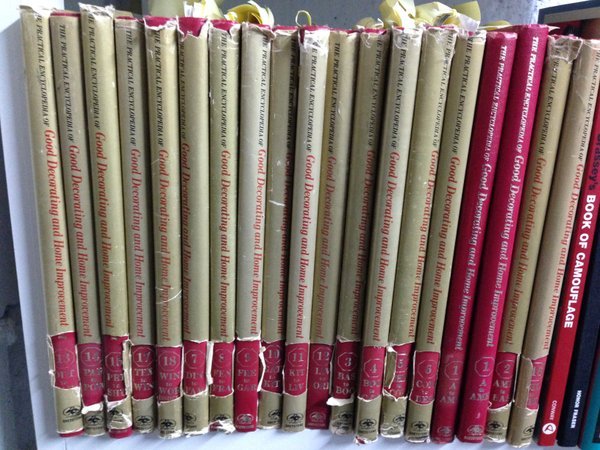 Reference materials on one of Thomas's bookshelves attest to the research that goes into her use of textiles.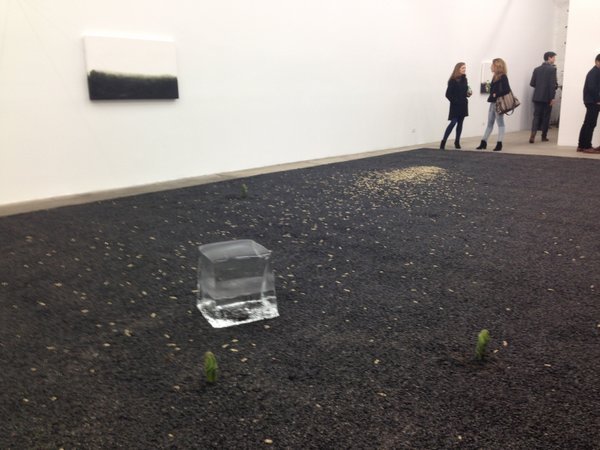 In Michel François's fifth solo show at Bortolami, the mid-career French conceptualist has created an installation of asphalt littered with metal peanuts and dotted with little cacti, which are "irrigated" by a sizable melting ice cube.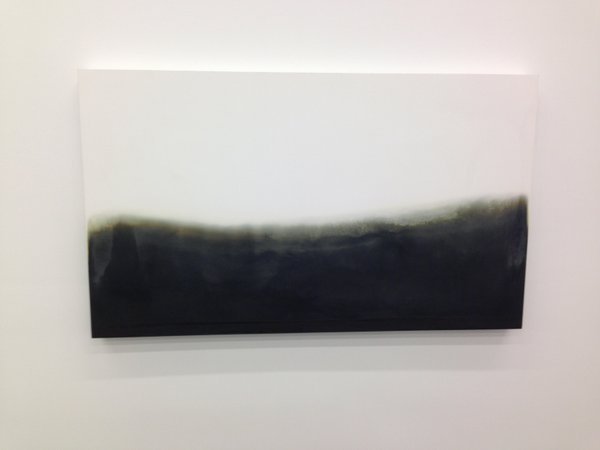 One of François's new Contaminationpaintings.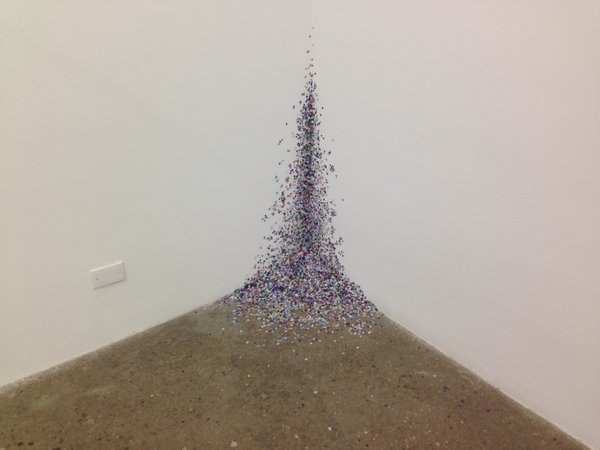 A corner piece in the show is composed of little hole-punched pieces of colored paper, aka chads.
In this installation in the show, a wire coated with gold leaf stretches across the room to meet with a wall composition. Matthew Barney's filthy Egyptian deities would approve.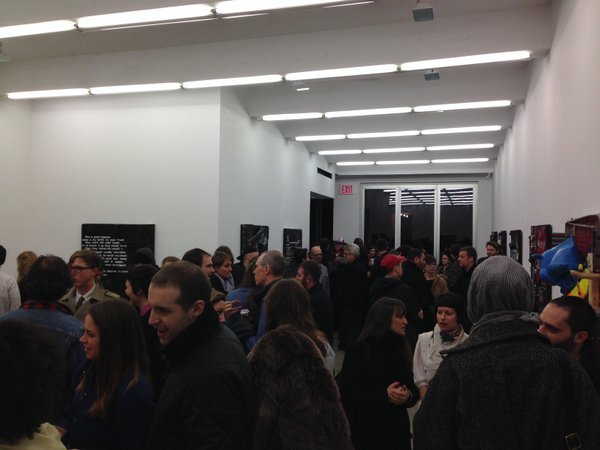 The opening for Justin Lieberman's new show at Martos Gallery drew quite the crowd.
Lieberman's new work shows a new direction for the closely watched young artist, building up layers of paint, distorted text, and assorted objects.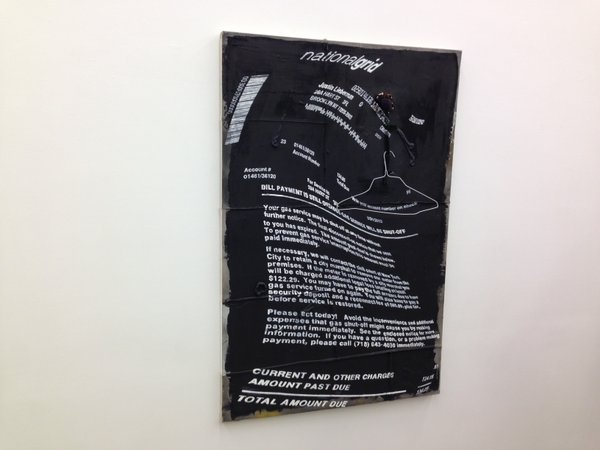 Here the artist included one of his own bills, stretched out of shape.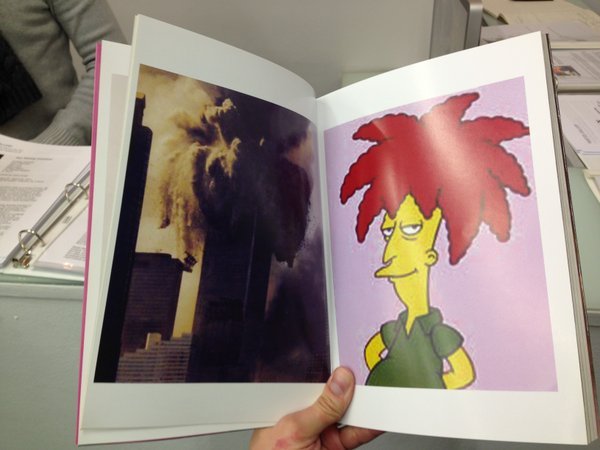 A disconcerting photographic pairing in Lieberman's catalogue.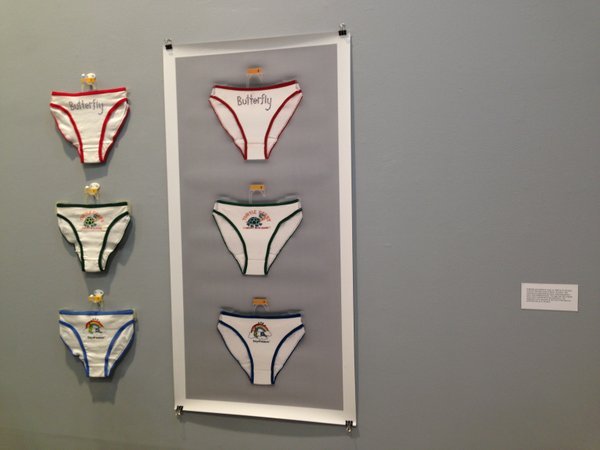 In the group show in the back of Martos, this piece by Zoë Sheehan Saldaña stood out. Called For No Boundaries Cotton Bikinis, it featured three pairs of children's skivvies that the artist took from Walmart and then meticulously copied by hand, painstakingly replicating their industrial stitching with similar materials. Saldaña then inserted her remakes on the rack at Walmart in place of the originals (which were priced at $1.50 each), creating a provocative dialogue between her own highly valued artistic production and the vastly undervalued work of the Bangladeshi seamstresses who made the original underpants. In the piece, Saldaña remakes are seen only in the documentary photograph.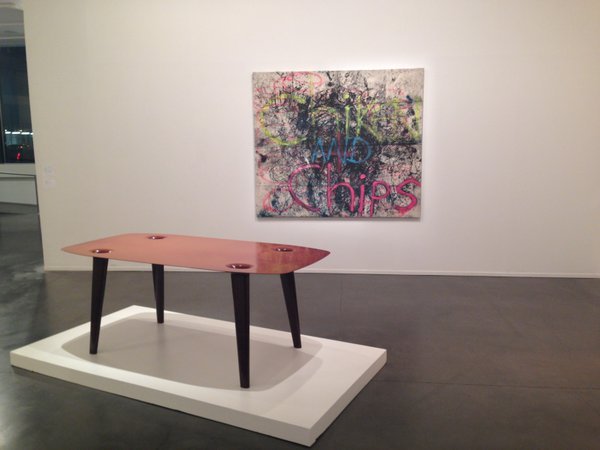 At the Phillips auction house on 57th Street, lots from the upcoming March 4th evening sale of art and design could be seen on display, including this Marc Newson table (est. $70,000-90,000) and 2011 Oscar Murillo painting (est. $120,000-180,000).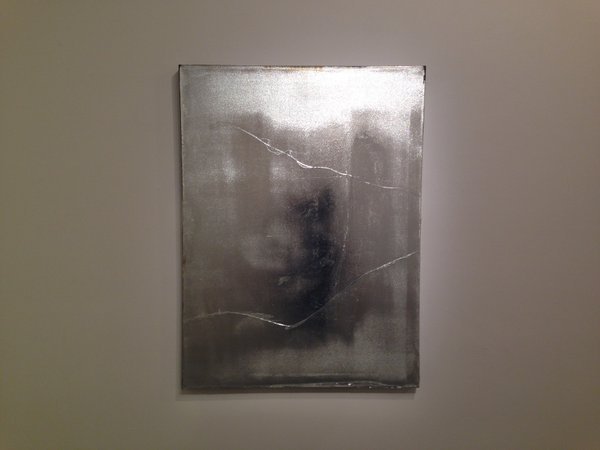 By point of comparison, this Jacob Kassay from 2009 is estimated at $100,000-150,000.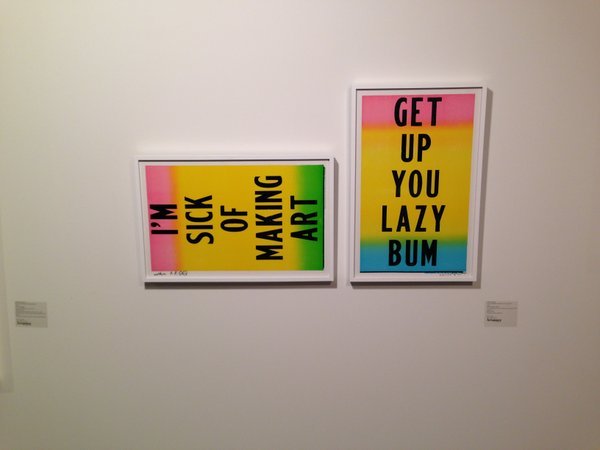 In the Friends Seminary benefit auction taking place upstairs in collaboration with Artspace, this Cary Leibowitz pairing is a steal with a $200 value.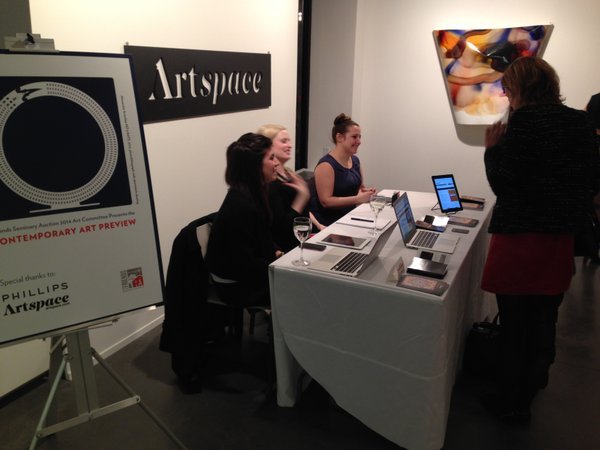 The Artspace team zestily helmed a table at the sale.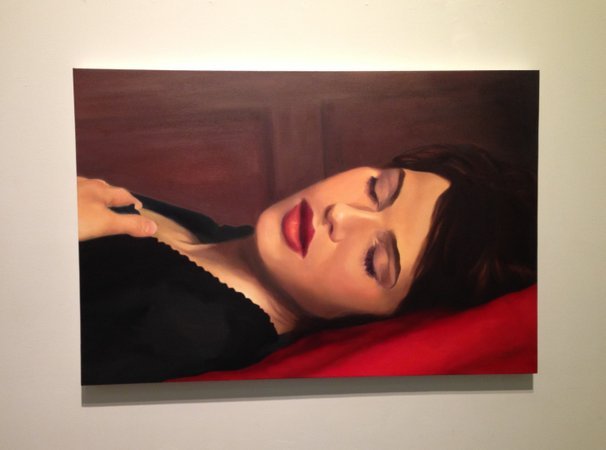 At Sargent's Daughters, Sarah Kurz's lovely paintings demonstrated remarkable assurance with the medium, empoying several different painterly strategies to create gripping compositions. This one, inspired by a scene from a melodramatic European film, married the rouged lips of the model (one of the artist's friends) with the deep red of the bier-like surface she lies upon.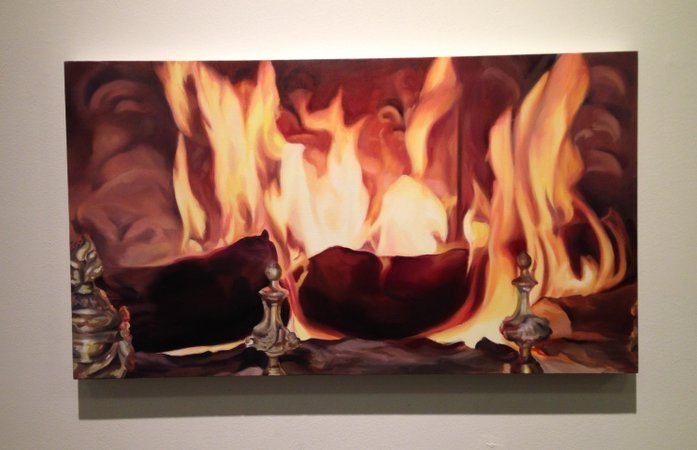 Can you feel the heat? Check out the vivid flames and almost liquidly depicted andirons in this painting by Kurz.
This painting remakes a scene with Julie Delpie from Krzysztof Kieślowski's 1994 film White, with her flaxen blond hair cleaving the composition in half, and an El Greco-like sky churning in the gap between the figures.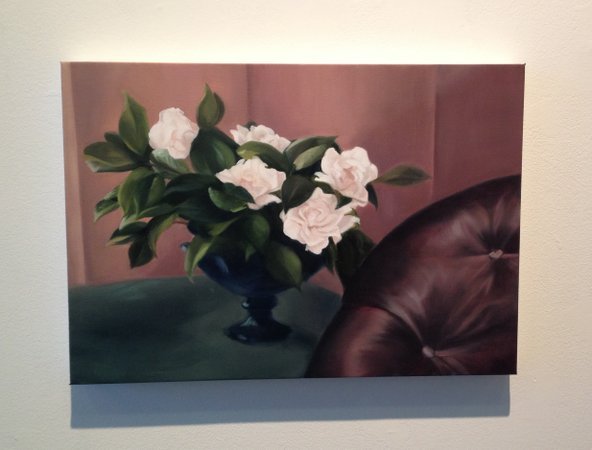 In this still-life, note the rhyme between the flowers and the indentations surrounding the buttons on the leather chair.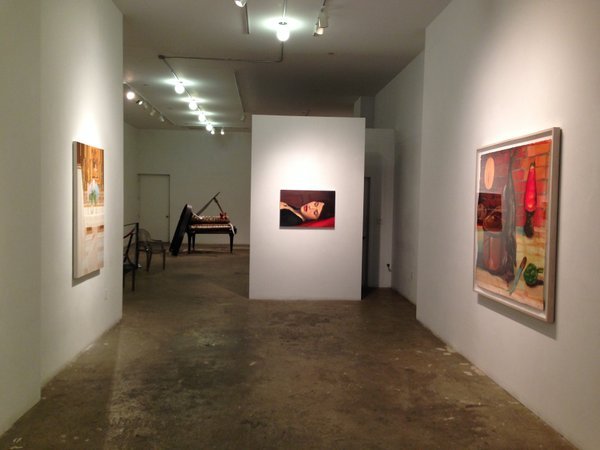 An installation shot of the group show, which also features work by Karen Heagle, Lonnie Holley, and Matvey Levenstein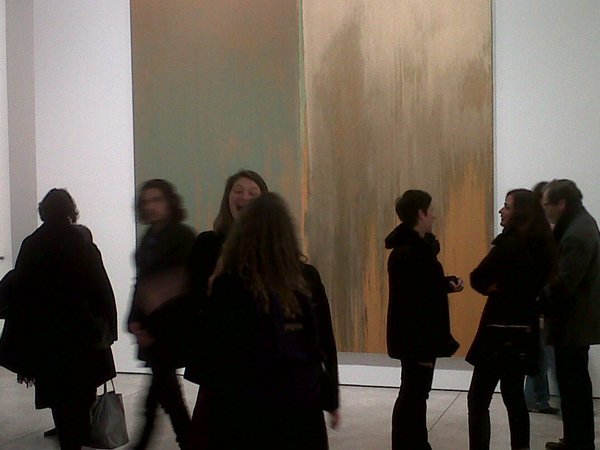 A new painting by Pat Steir at Cheim & Read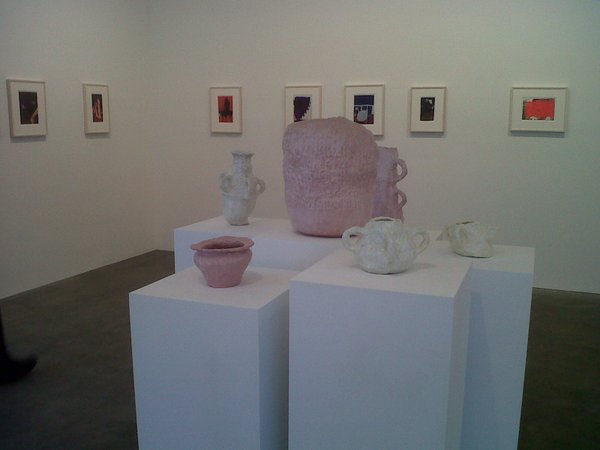 Beverly Semmes at Susan Inglett Gallery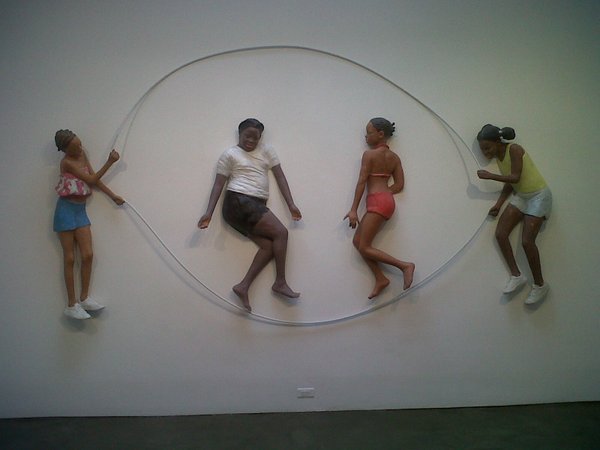 John Ahearn at Alexander and Bonin, a show that inspired Walter Robinson's latest column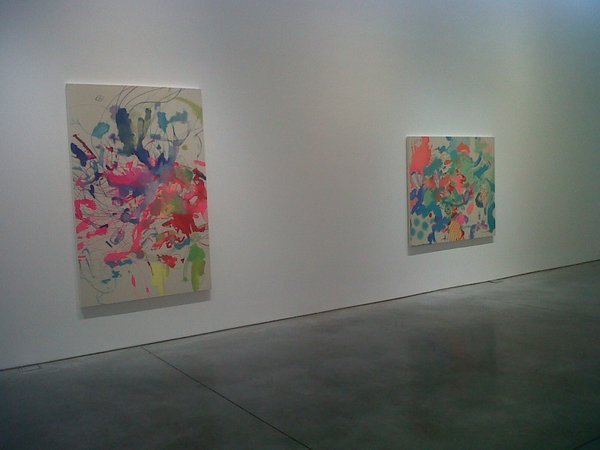 Sue Williams at 303 Gallery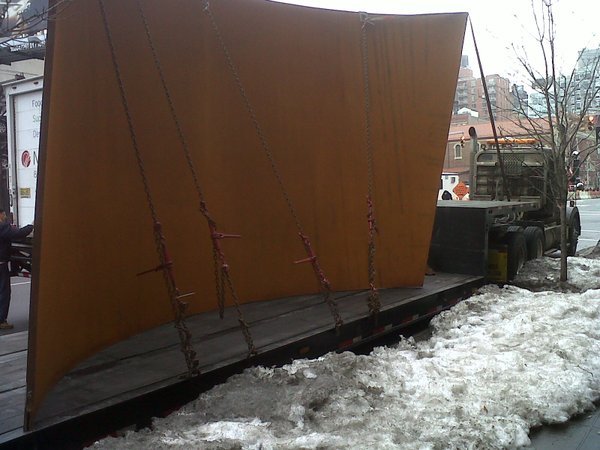 A slice of Richard Serra's 80-foot-long Inside Out sculpture departs from Gagosian, where it had been drawing crowds for weeks. Bye bye!