Here are five things you should know about artist Sara Magenheimer, and her 2015 work Your name stays the same objects around you change (Black Stone).
1) Working in a wide variety of mediums including sculpture, collage, installation, video, and performance, the up-and-coming New York-based artist is known for her manipulation and defamiliarization of language using combinations of text and image. 
2) Magenheimer's new video installation NOON is currently on display through mid-April at the New Museum in New York City, as a part of the Museum's new series of window installations. The artist's films will also be on view at the museum as part an ongoing Screen Series curated by Margot Norton.
3) Magenheimer's video work, Best is Man's Best Quality, a portion of the artist's 2017 solo show at The Kitchen Gallery, I Collect Neglected Venoms, explores abstracted narratives and explicates the dissassociation between body and verbal signifiers from the perspective of an ancient jellyfish as he contemplates his capacity to inflict pain on the human form. 
4) Magenheimer has also been the recipient of a number of awards and grants, including the Emily and Eugene Faculty Award; the Artadia Award; the Prix DeVarti Award at the Ann Arbor Film Festival; the Emerging Artist Grant from the Rema Hort Mann Foundation; and a grant from New York's non-profit art magazine Triple Canopy. 
5) Your name stays the same objects around you change (Black Stone) marks the artist's introduction to a letterpress. Magenheimer thinks of the lead typefaces, which are inked and used to print letters and numerals, as sculptural forms. This print continues her interest in the aesthetics of the written language—in how a simple compilation of letters can create a complex meaning. Says the artist, "In my work, words are always the shape of the letters that comprise them, the sound of their articulation, as well as what they mean."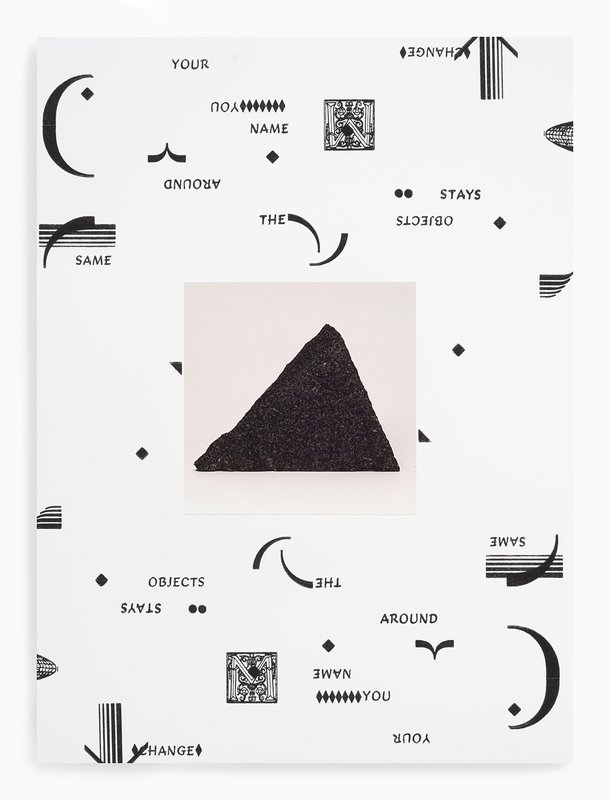 Your name stays the same objects around you change (Black Stone), available on Artspace for $500