What is Sanya Kantarovsky trying to say in his beautifully conceived, yet ultimately rather cryptic paintings?
The artist is best known for his figurative works, in which he employs drastic shifts in scale, paint application, and stylization. His work can be found in public and private collections around the world, including the Tate, the Hammer Museum, LACMA, the Hirshhorn Museum and the Whitney.
This month, Artspace is proud to announce a new limited edition silkscreen print by Kantarovsky, entitled Little Vera, 2022 the proceeds from which benefit New York-based nonprofit RxART.
Little Vera, 2022 marks Artspace's second collaboration with New York-based nonprofit RXArt. Proceeds from this sale support RxART's mission to help children heal through the power of visual art. RxART commissions established contemporary artists to transform sterile healthcare facilities and children's hospital settings into engaging and inspiring environments full of beauty, humor, and comfort. RxART has completed 56 projects with 65 artists in almost 40 hospitals across 20 cities in the U.S. since it first launched in 2000.
If you're interested in purchasing the work for your home, and it would be a smart move, then here are a few talking points which should open up this fast rising artist's work for you.
Like many other observers, you may detect echoes of the Viennese Secession. Kantarovsky is a highly cultured artist who is deeply familiar with art history and his works appear to reference a huge range of figurative painters, from Luc Tuymans to Édouard Manet; while also drawing from the worlds of cinema and literature. However, time and again, well-respected critics – including the New Yorker's Johanna Fateman, Artforum's Max Glauner and Frieze's Ella Fleck, no less – have drawn comparisons with Secessionist artists such as Egon Schiele and Gustav Klimt.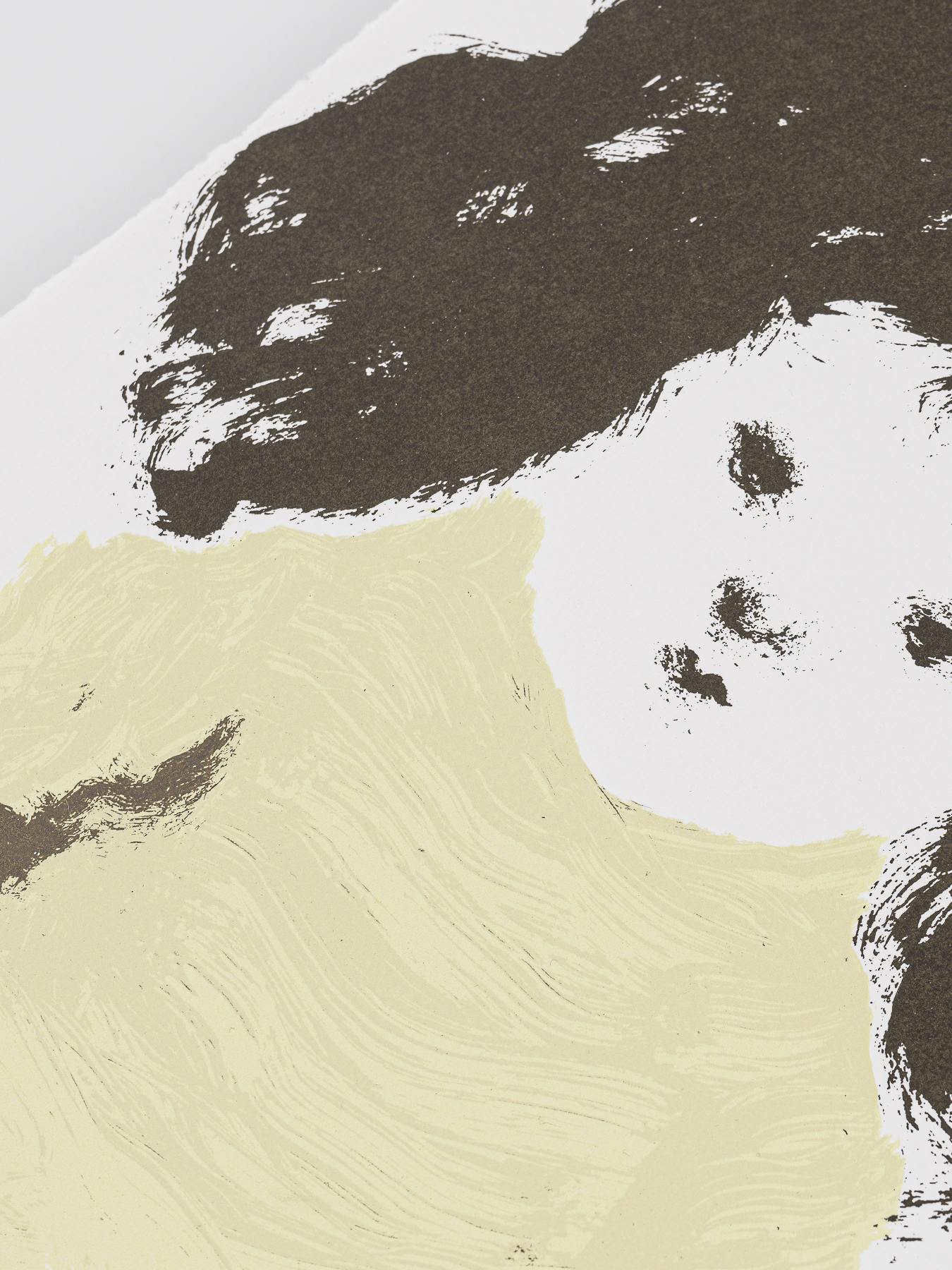 Sanya Kantarovsky - Little Vera, 2022. (detail) 15 3/8 x 11 inches (paper size) 6-color silkscreen on Somerset 300gsm paper. Edition of 30 plus 3 APs and 1 PP - $2,000 USD
Read the titles. In a 2016 interview, Kantarovsky likened his paintings to, "narrative fragments that imply some sort of problem, the exact conditions of which are rarely available to the viewer". While that inaccessibility is crucial, the artist sometimes offers us a glimpse of what's happening on the canvas via a work's title. Consider Little Vera, 2022 for example. Vera is the name of Kantarovsky's young daughter. However, Little Vera is also the title of a 2014 exhibition the artist staged with fellow painter Ella Kruglyanskaya, dedicated to the legacy of the prominent Soviet sculptor, Vera Mukhina. What's more, and this is where it gets really interesting, the title is borrowed from a hugely popular Perestroika-era movie, Ма́ленькая Ве́ра, which translates as both 'little vera' and 'little faith'.
Understand the mix of high and low cultural reference points. Kantarovsky worked for a time as an illustrator and commercial artist, and admires a wide range of artists - many of whom are commonly found on the funny pages. These include the satirist, children's author and illustrator Tomi Ungerer, and the New Yorker's Saul Steinberg, as well as cartoons from the pages of the ground-breaking Soviet-era satirical magazine Krokodil.
Don't forget the humor. Kantarovsky's paintings are stronger because they are funny, observes Jason Farago in the New York Times. "Mr. Kantarovsky's desolate humor, springing from Kafka and Soviet literature as much as American comics, is what gives these fantastic paintings their aesthetic and moral heft," writes Farago. "In Baba, two women in A-line skirts walk past a sooty, half-thawed snowman, its top ball studded with cigarette butts and wearing a human moue. It knows the melting of its frosty body - so amusing, so pathetic - is also the way of all flesh."
Feel the warmth of his works. Despite the acid humor, the high-culture references and the occasional wilfully smart obfuscation, Kantarovsky's work remains humane and deeply relatable. As the artist himself described it in a recent Vogue profile: "Art has never been about morality or about the pure and clean and correct. It's always been about the grime and pain and totally unfair contradictions of being alive - and humor, very much so, is a kind of pressure valve."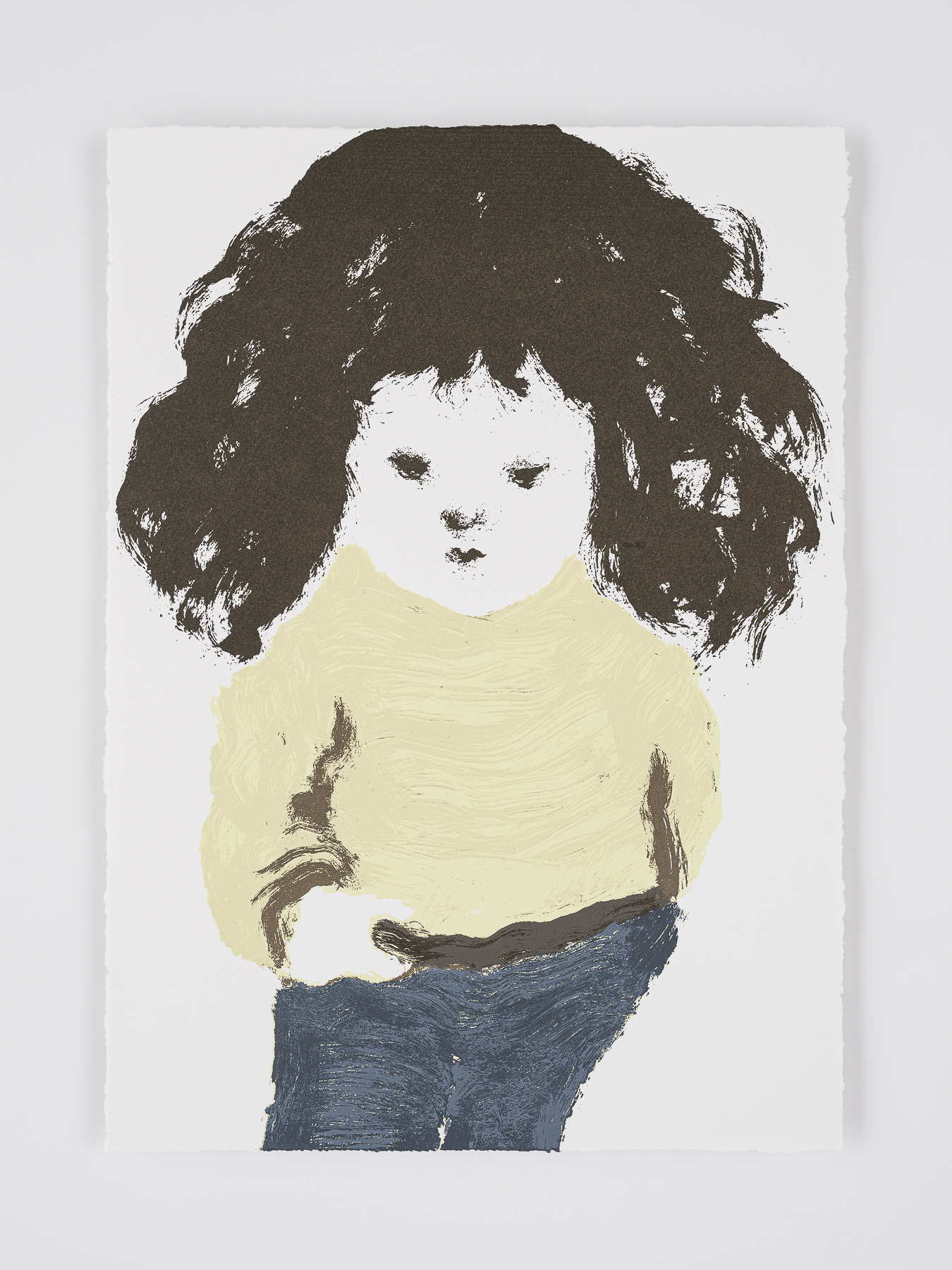 Sanya Kantarovsky - Little Vera, 2022. 15 3/8 x 11 inches (paper size) 6-color silkscreen on Somerset 300gsm paper. Edition of 30 plus 3 APs and 1 PP - $2,000 USD
Quoting Philip Guston, he's addressing the big issues. Little Vera made its first public appearance in a recent Berlin exhibition, which ran 28 April - 11 June 2022. In the notes for that recent show of new work in Berlin, Kantorovsky explained, "this group of paintings emerged out of my recent preoccupation with impermanence and the shared human drive to avoid it. The paintings in this exhibition reflect on death and our persistent reminder of it – the body.
To buy Sanya Kantarovsky's Little Vera, 2022, an edition of 30 plus 3 APs and 1 PP priced $2,000 USDgo here.