What happens when a immovable collector comes in contact with an irresistible artwork? Physics gives way to chemistry, pure and simple. Try it yourself at home with these irresistible artworks, half of which are more affordable than you have any right to expect, half of which are may inspire some frantic feeling around under the mattress.
 STEAL
ILYA KABAKOV
Drawing, 2014
Color pencil and offset print on Fedrigoni Tintoretto Gesso 200 g paper
Price: $1,711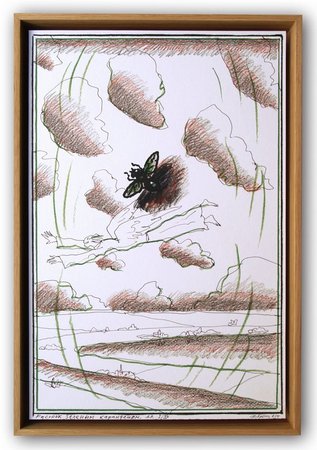 One of the most important contemporary artists of the Soviet era, the Ukrainian-born Ilya Kabakov was for 30 years a leader in Moscow's artistic underground—before leaving with his wife and collaborator, Emilia, in the late 1980s—during which period the fly became his most potent signature symbol. Why? Because, even under totalitarianism, flies are in the air everywhere, and no one can control their erratic flights. This splendid drawing, pairing a crude fly with a cartoonish angel, is a charismatic piece of intellectual history—at an unbelievable price.
SPLURGE
SANFORD BIGGERS
Study #6, 2015
Assorted textiles, kimonos, treated acrylic, spray paint, on archival paper
Price: $8,000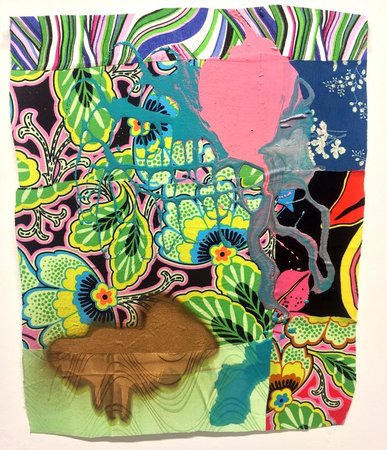 A onetime Whitney Biennialist who has shown everywhere from Tate Modern to the Studio Museum in Harlem, where he was a breakout star of the 2001 "Freestyle" show, Sanford Biggers explores the visual traces of the African-American experience and the black diasporic condition generally. In other words, he's a very serious artist—and yet, his work is often ravishingly beautiful. That is certainly the case with this textile piece, inspired by both the quilts of the Underground Railroad and Japanese kimonos and splattered with paint in a way that suggests a molten stew of identities in joyful flux. 
STEAL 
PARK MCARTHUR
Leads, 2016
5 C-type photographic prints
Price: $1,993

Since captivating the critical and curatorial elite with her stunning "Ramps" show at Essex Street in 2014, which crowded the floor of the Chinatown gallery with 20 of the wheelchair-access ramps from around the city that she needs to navigate on her daily rounds, the artist Park McArthur has been on a nonstop ascent—she was in MoMA PS1's Greater New York and the Jewish Museum's "Unorthodox" last year, for instance, and will now have a solo show at London's Chisenhale Gallery and participate in the São Paulo Bienal. This conceptually precise piece, which she made by photographing the terrain her wheelchair had to negotiate while setting up her Chisenhale show, is a powerful evocation of the empathic themes of her art, which addresses physical impasses in a intellectual mode that recalls Bruce Nauman.
SPLURGE 
ADAM MCEWEN
Soy Sauce, 2012
Graphite sculpture
Price: $10,000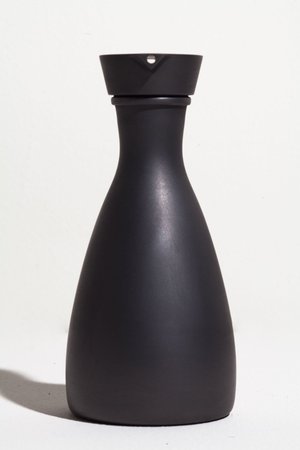 Adam McEwen's obsessive, remarkable, and endlessly protean body of work has won him both a seat at the peak of the market—he's represented by Gagosian—and the admiration of critics like New York Times grand dame Roberta Smith, who wrote of his current Petzel show that: "His work has a streamlined intelligence, attention to detail and austere beauty that make it seem transparent yet mysterious, straightforward yet perverse." This witty piece, a life-size replica of a soy sauce bottle machine-carved with spectacular fidelity from a piece of graphite, arises from McEwen's most coveted body of work. It's the perfect accompaniment to a no-expense-spared meal at Kappo Masa. 
STEAL
CHRISTOPHER WOOL
Portraits (b/w), 2014
Lithograph on Rives BFK White Paper
Price: $5,000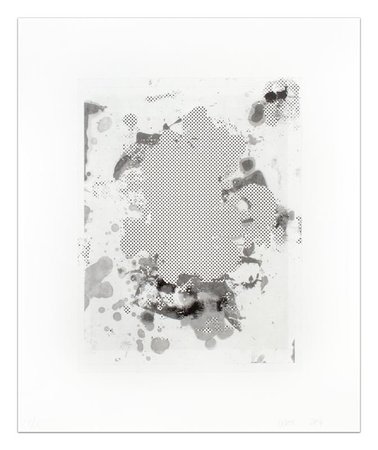 When is a $5,000 print a steal? When it's an utterly splendid, signature black-and-white piece by Christopher Wool, one of the top-five most expensive living painters—his work regularly sells for the ten of millions of dollars at auction—and among the most influential artists anywhere today. This is a sum you may be chuckling about spending a few years down the line.
SPLURGE
NEÏL BELOUFA
Appolo I, 2011
D-bond Photo/Cut wood
Price: $8,000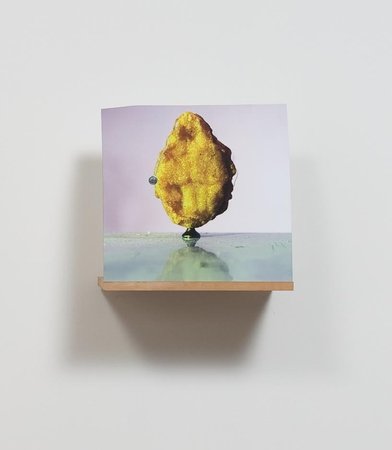 Misspellings aside, Appolo I is a pretty grand name for a photograph of a McDonald's chicken nugget framed to resemble a kind of lunar portrait, but the white-hot young artist Nëil Beloufa has a tendency to imbue his exercises in dehumanization with a good amount of humor. If you want to know why this artist—whose solo show at MoMA is currently on view—is so fascinating, just read our interview with him. It's called, "I Don't Think We Should Be Too Serious About Art": Neïl Beloufa on Making Images for a Post-Artist World.