On November 14th collectors will bid on Sotheby's Contemporary Evening Auction, which is brimming with artworks estimated to sell for as much as $12 million dollars. Luckily, Artspace has works available from the same artists as the ones paddles will be flung over—and for a fraction of the price. Here are six extraordinary pieces that are sure to tickle your fancy—some at a price too good to pass up, others of such quality that they'll inspire you to make an investment.
WAYNE THIEBAUD

Steal: Counter Woman (2015) is available on Artspace for $7,500
Splurge: Nude (1963) is estimated by Sotheby's at $1,500,000 - 2,000,000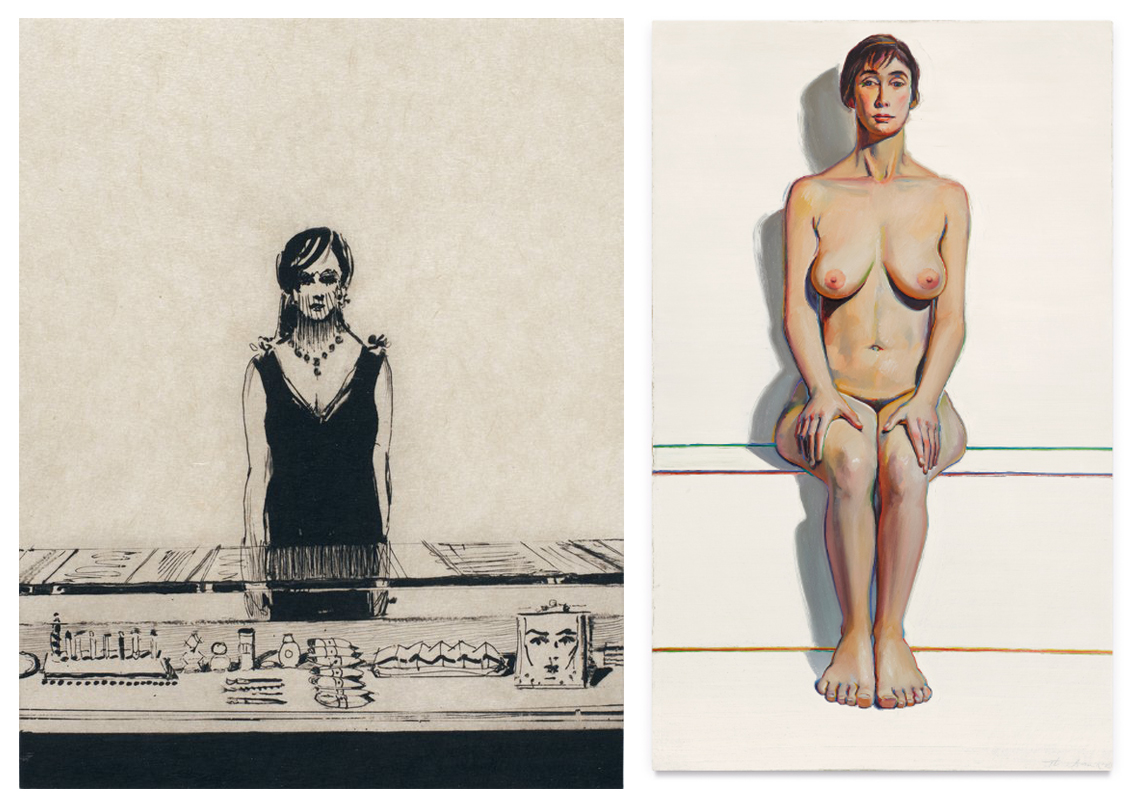 Wayne Thiebaud , who has exhibited at the Stanford Art Museum, The Pasadena Art Museum, Walker Art Center, San Francisco Museum of Art, The Contemporary Arts Center in San Francisco, among many others, made a name for himself painting consumer objects and confections as seen in drug store windows. Later, in the early 1960s, he shifted focus to the figure, albeit in compliance with his signature composition techniques: symmetry, frontally, and directness.
Counter Woman is a wonderful example of the artist's two interests—the figure and the shop display. (He even used an object in the counter display as an opportunity to render another face.) Though Thiebaud is known in part for his saturated paintings, printmaking has always played a large role in his creative process: "There's nothing really that I've ever found in other lines that is like an etched line—its fidelity, the richness of it, the density. You just don't get that any other way." This signed print (direct gravure with drypoint on gampi paper chine cola) is signed, and is part of a small edition of 25—a steal for $7,500.
RICHARD PRINCE

Steal: What We Lose in Flowers... (2012) is available on Artspace for $3,000
Splurge: UNTITLED (COWBOY) (2013) is estimated by Sotheby's at $1,200,000 - 1,800,000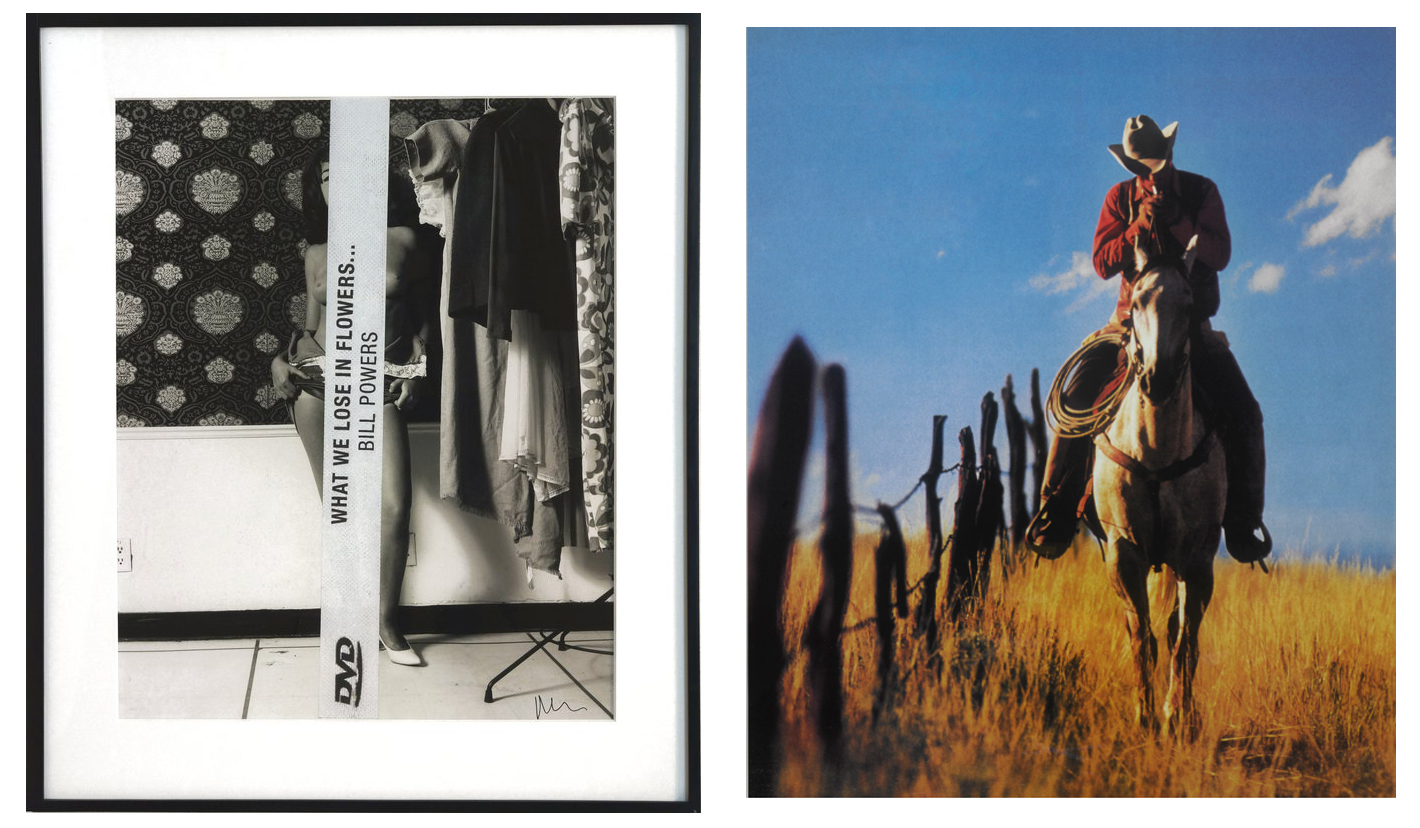 Richard Prince is best known for his appropriation of readymade images, from rephotographing an advertisement featuring the Marlboro Man to printing screenshots of images posted by users to Instagram. Over the years, the artist has been both lauded and criticized (even sued) for provocatively confusing the notion of authorship, censorship, and originality. What We Lose in Flowers brings these tensions to the fore. The artist has "censored" a classic pinup image by placing a DVD sticker over the woman's figure—before "rephotographing" the entire composition. The work is titled after a novel by gallery owner Bill Powers, which chronicles the dwindling fame of a fictional New York artist. This image was used for the cover of the novel.
KAWS

Steal: Companion (Flayed) Brown (2016) is available on Artspace for $934
Splurge: Companion (Originalfake) (2016) is estimated by Sotheby's at $800,000 - $1,200,000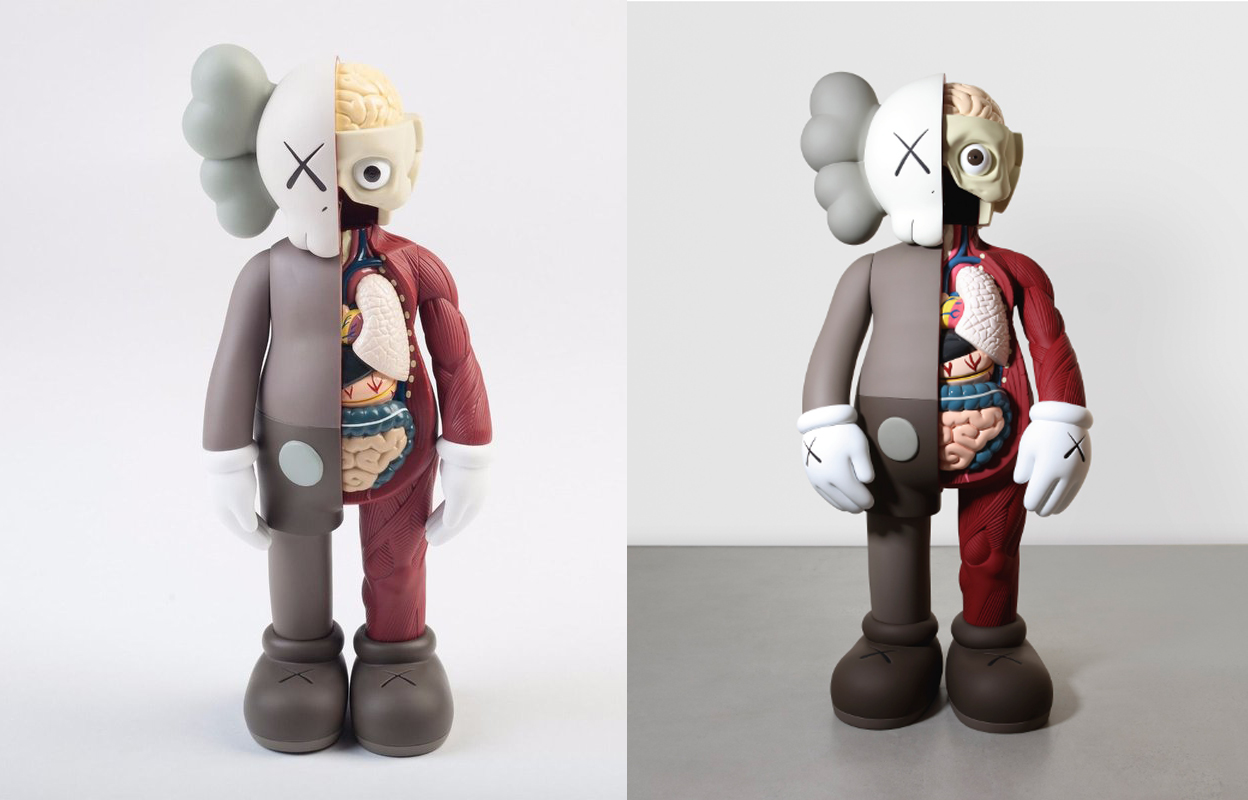 Well-known as a street artist, apparel producer, and graphic designer, KAWS blurs the boundaries between fine art and commercial art. His work is collected by the High Museum of Art in Atlanta, the Rosenblum Collection in Paris, and the Modern Art Museum of Fort Worth, and he's represented by major galleries Perrotin and Skarstedt. He has installed large-scale permanent public artworks at the Musemplein in Amsterdam and at the Modern Art Museum of Fort Worth. In 2017, the artist created an Air Jordan 4 shoe for Nike and a Peanuts -inspired T-shirt and plush toy for Uniqlo. In 2012, KAWS' Mickey Mouse-like figure was adapted into a balloon for the Macy's Thanksgiving Day Parade.
KAWS is most known for his Companion series of toys, which incorporate his signature style of smooth cartoonish figures, in some cases cut away to reveal a dissected human-like anatomy. KAWS produces his Companion figures in multiple scales. Life-size versions are reserved for collectors willing to dish out upwards of a million dollars (the one pictured above-right is estimated to sell for $800,000-1,200,000. In the past, his Companion sculptures have sold for as much as $411,000.) The smaller versions on Artspace pack a pint-size punch—for as little as $285. (For more color options and a variety of figures, see additional available works here .)
KENNETH NOLAND

Steal: Marron (1990) is available on Artspace for $3,500
Splurge: Flutter (1960) is estimated by Sotheby's at $2,000,000 - 3,000,000


Educated at Black Mountain College, Kenneth Noland was a Color Field painter celebrated by Clement Greenberg, the most influential critic and proponent of American Modernism. Said Greenberg of Noland's work, "Color counts by its clarity and its energy; it is not there neutrally, to be carried by the design and drawing; it does the carrying itself." Noland's etching and acquaint on Guarro paper (initialed and numbered) is illustrative of the artist's signature use of common geometric shapes and his exploration of soft color. Diane Waldman, distinguished art historian and author of the exhibition catalogue for Noland's 1977 Guggenheim retrospective,  writes: "The spare geometry of his form heightens the emotional impact of his color. The rational and the felt, distilled form and sensuous color intermesh to create a magic presence. His color is space. Color is all." Join the Whitney, Tate, Guggenheim, Stedelijk, Hirschhorn, and many other prestigious institutions in collecting Noland's important work.
ROY LICHTENSTEIN

Steal: Joanna (1968) is available on Artspace for $5,800
Splurge: Figures (1977) is estimated by Sotheby's at $6,000,000 - $8,000,000

Lichtenstein is regarded as one of the most influential artists of his day, and a seminal figure of Pop art. He invented the "comic-strip style" of painting, wherein the artist appropriated the "Ben-Day" dot pattern used in mass-media publications, such as newspapers. His work was virtually unknown until Lichtenstein, in his mid-30s, approached the famous Leo Castelli Gallery where his work was almost immediately exhibited to great acclaim. Since, his work has been celebrated at the MoMA, Whitney, Smithsonian, Guggenheim, and elsewhere.
Lichtenstein's Joanna was created for the Pop Art-inspired 1968 film of the same name. Directed by Michael Sarne and produced by Michael Laughlin, the film starred Genevieve Waite as Joanna and Donald Sutherland as Lord Peter. The work, which was used in newspaper adds, was never published as the official film poster. Joanna, which is featured in the artist's catalogue raisonné, is signed "rf Lichtenstein" in the lower right-hand corner.
ED RUSCHA

Steal: That Was Then This Is Now (2014) is available on Artspace for $50,000-70,000
Splurge: That Was Then This Is Now (1989) is estimated by Sotheby's at $1,500,000 — 2,000,000

From one of the most iconic American artists of the 20th century, That Was Then This Is Now is a meticulously executed photorealistic representation of an ominous night sky. The 1989 acrylic-on-canvas panting, which is estimated to sell for as much as $2 million, is described by Sotheby's as "emerging out of a tumultuous, stormy sky and emblazoned in crip white stenciled letters [with] the imposing phrase "THAT WAS THEN THIS IS NOW" [that] boldly confronts the viewer in a theatrical crescendo of text and image that recalls the opening and closing credits of a black-and-white film."
Influenced by the tropes of the Hollywood film industry, Ruscha once said, "If I'm influenced by the movies, it's from way down underneath, not just on the surface. A lot of my paintings are anonymous backdrops for the drama of words. In a way they're words in front of the old Paramount mounting… [The backgrounds are] just meant to support the drama." Ruscha appropriated text for this particular piece from the title of a 1985 film starring Emilio Esteves. The enticing title is as vague as it is seductive, alluding to an unknown past and present, while commanding an authoritative tone and wistful nostalgia.
For less than $75,000, the 34.5-inch-by-46-inch lithograph That Was Then This Is Now is signed and dated, and comes from a small edition of 75. Though it may be a heftier price than many of the other works on this list, it's a steal considering how iconic the work is, and the auction value of its corresponding painting.
RELATED ARTICLES:
5 Artworks You'll See Soon at Auction—And Their Much More Affordable Alternatives
12 Affordable Artworks by Artists in Sotheby's and Christie's May Auctions