A chapter in Phaidon's upcoming Andy Warhol Catalogue Raisonné, Paintings 1976-1978-Volume 5 documents three closely related bodies of work—the Piss, Oxidation, and Cum paintings. The Piss paintings were made by urinating and pouring or dripping urine onto primed canvases; the Oxidation paintings were made by urinating and pouring or dripping urine onto canvases prepared with either copper or gold-colored paint; the Cum paintings were made with semen ejaculated, poured, or dripped onto primed canvases. Andy Warhol produced these paintings during the second half of 1977 and 1978. Chronologically, they directly follow and partially overlap with the Torso and Sex Parts paintings of late 1976 through early 1978. Thematically, both groups of work are concerned with the body: the Torsos and Sex Parts are figural representations of the body's sexual attributes, whereas the Piss, Oxidation , and Cum paintings are process-based and abstract, relating to the body's elemental functions.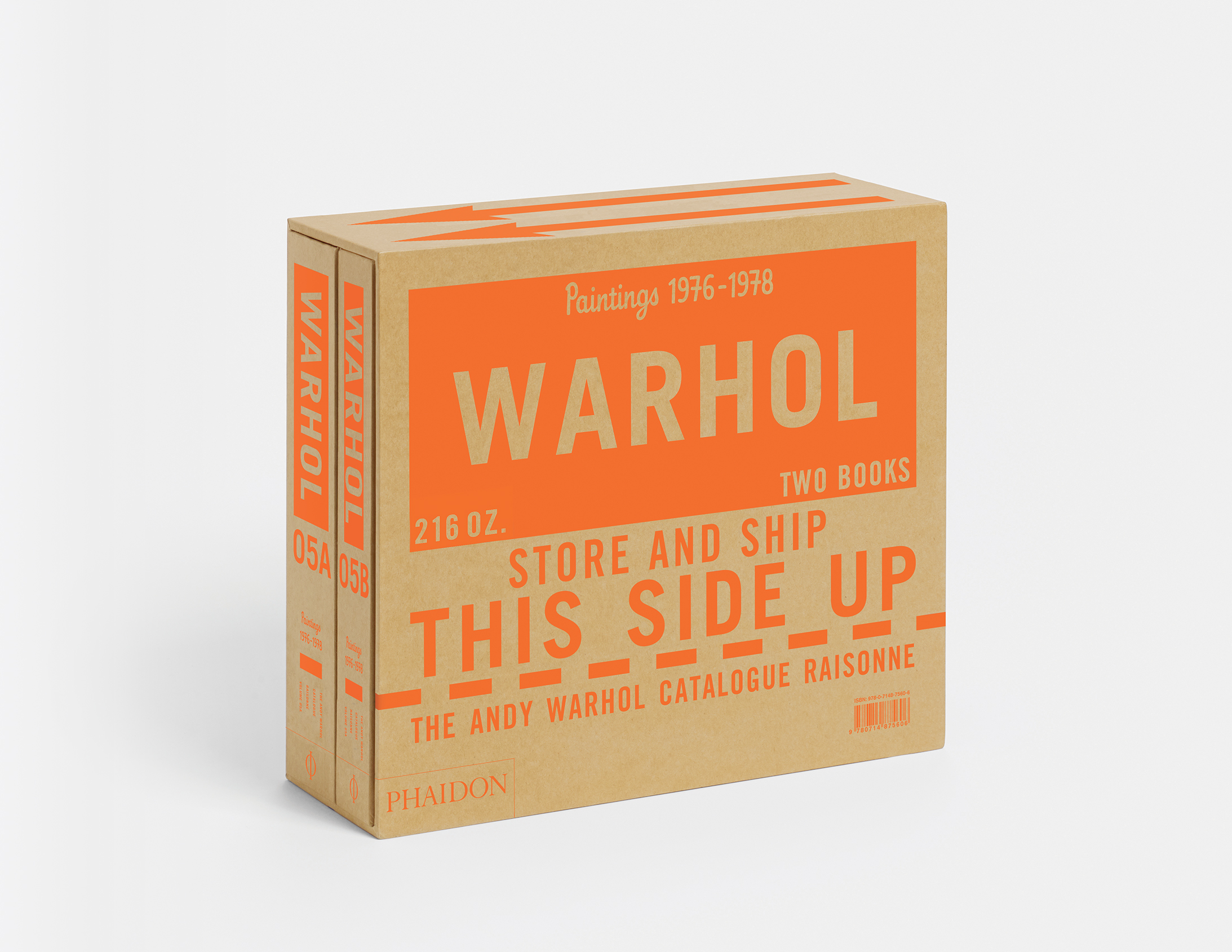 The Andy Warhol Catalogue Raisonné, Paintings 1976-1978 - Volume 5 . Available on Artspace for $750.
For a decade, beginning in late 1962, when he adopted the photo-silkscreen technique, Warhol had sourced his work almost exclusively from found photographic images, with the exception of the photobooth portraits. In 1972, when he acquired his first Polaroid Big Shot portrait camera, Warhol began to rely on photographs that he took himself or which were produced in the studio under his supervision. For the Piss, Oxidation , and Cum paintings, Warhol suddenly dispensed with the photograph for the first time in fifteen years. Their abstractness was surely one factor, although his Shadow paintings of the following year, which appear abstract, were based on photographs like most of his work. The Piss, Oxidation , and Cum paintings thus would occupy a singular position in Warhol's oeuvre until the early 1980s, when he produced the Rorschach paintings without the aid or intervention of a camera.
By Warhol's own account, his first Piss paintings had been made long before the late 1970s, probably circa 1961, although he provided no specific date. Only one example is known to have survived. When he revisited the idea in mid 1977, the initial works were probably comparable to the first Piss paintings, consisting of urine on primed canvases. His studio assistant Ronnie Cutrone referred to them as the "white paintings," and observed that they were "more experimental" but ultimately "too flat." Warhol would soon begin painting the backgrounds with metallic paints so that applications of urine oxidized their surfaces. He seems to have used metallic powders produced from copper and copper alloys for both the copper and gold-colored surfaces, which were mixed in the studio with acrylic medium and diluted with water. To maximize the corrosive effects of the urine, it was necessary to apply it while the paint layer was still wet. Warhol typically worked fast and painted wet-into-wet; working with urine on metallic paint, he was able to produce a wide range of stains, intricate shifts of color (especially tints and shades of pale, brilliant, and dark green, as well as black and pure white), and surfaces of shimmering optical complexity.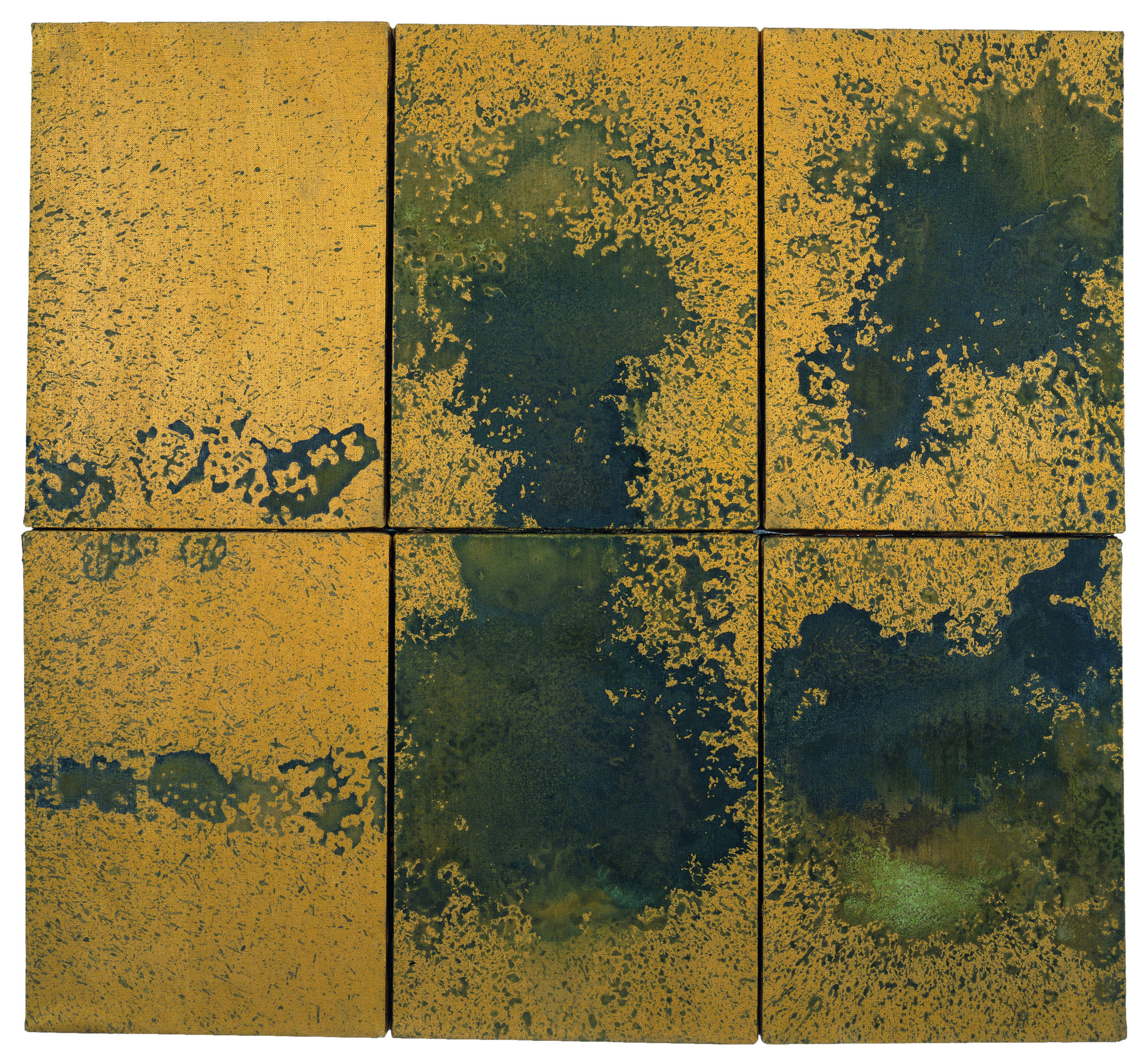 Andy Warhol, Oxidation , 1977–78, urine and metallic paint on linen, six canvases. Present location unknown © The Andy Warhol Foundation for the Visual Arts, Inc., NY, Photo by Phillips/Schwab
…
A little-known interview published in 1976 in the poetry and art journal Unmuzzled Ox includes the following remarkable passage:
OX: Do you have any old non-representational paintings around here that no one knows about?
AW: The only ones I have are the piss paintings; I have a couple. That was a long time ago. Then there were the canvases that I used to leave on the street and people used to walk on them; in the end I had a lot of dirty canvases. Then I though they were all diseased so I rolled them up and put them somewhere.
Accompanying the exchange was a black-and-white reproductions of a rather large, unstretched canvas, titled Piss Paintings . Its dimensions were given as 46 by 80 inches and it was dated circa 1961. The interview might have passed unnoticed in the Warhol literature if it had not come to the attention of the art historian Rosalind Krauss, who cited Warhol's comments and reproduced the painting in her book, The Optical Unconscious (1993).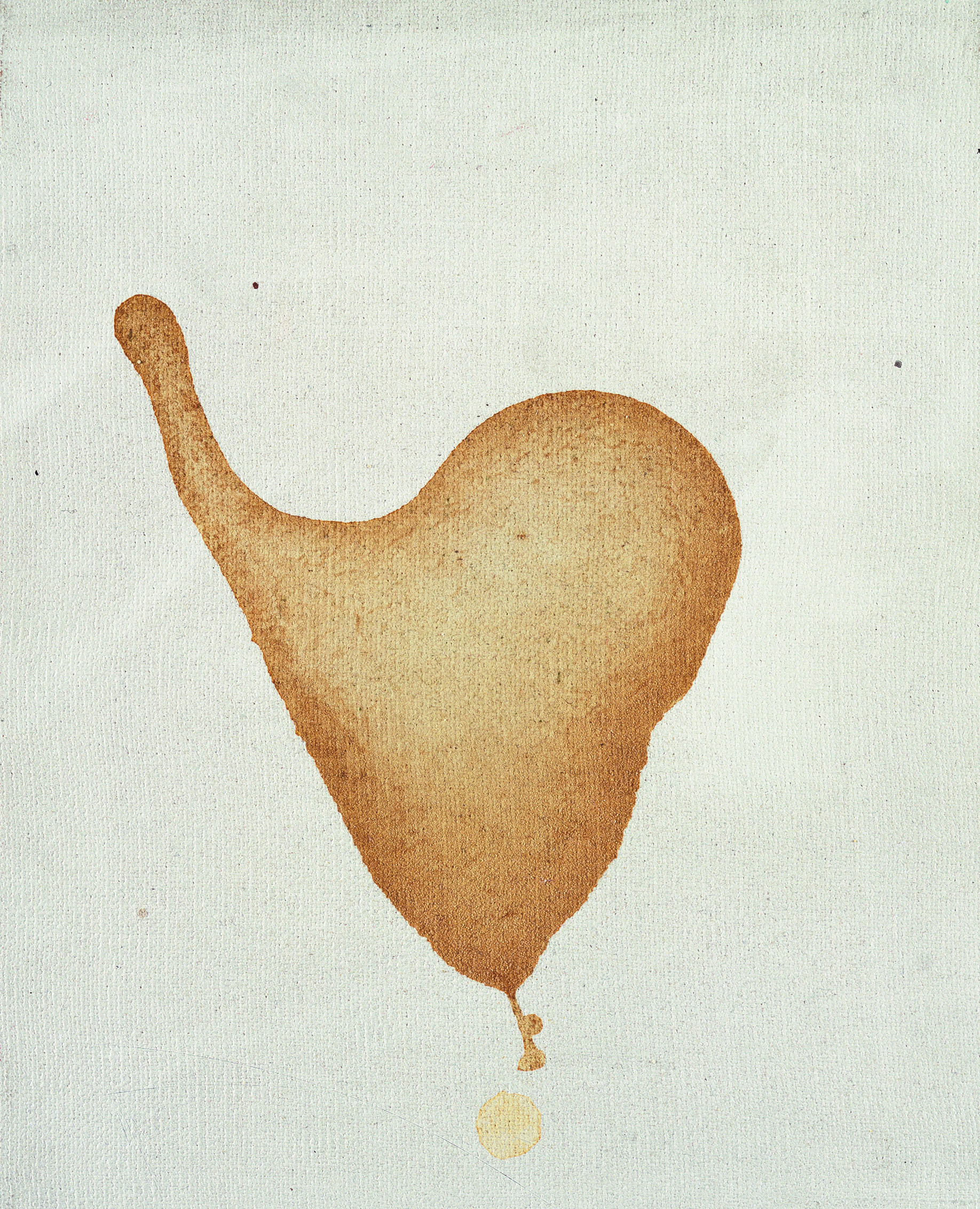 Andy Warhol, Cum , 1977–78, semen on cotton. The Andy Warhol Museum, Pittsburgh; Founding Collection, Contribution The Andy Warhol Foundation for the Visual Arts, Inc. ©The Andy Warhol Foundation for the Visual Arts, Inc., NY, Photo by Phillips/Schwarb
To begin to understand why Warhol suddenly changed his mind about paintings that he had previously characterized as dirty and diseased, it might help to turn back some ten months later to early December 1976. On the 9th, Warhol photographed Victor Hugo and the porn star Ken Harrison, initiating what was probably the first photographic session for the Torso series. By the end of December, a group of sixteen small canvases featuring Harrison's famously big cock had been painted; in a sense, Warhol was making "dirty pictures" again. Chronologically, the two bodies of work are parallel, slightly preceded by the Torso paintings. More than this, the patterns of behavior involved in producing the Torsos and Sex Parts —the nudity, sex play, and sex acts—seem to have enabled a matrix of transgression and secrecy in the studio in which the Piss, Oxidation , and Cum paintings could unfold.
The assumption that one body of work inescapably led to the other and that Victor Hugo was central to both underlies the two primary accounts that have come down to us from the studio—by Ronnie Cutrone [Warhol's painting assistant during the mid to late '70s] and Colacello [a model for Torsos ]. In Unseen Warhol , for example, Cutrone fuses them into a single, somewhat raucous scenario: "There was that period at the Factory when it was just boys and I would bring girls up to piss all over the Oxidation paintings. And there would be guys sucking and fucking, and Andy would be taking pictures. Later they euphemized the series and called it the Torsos … Still, there were times when, even in my opinions, things would go a little overboard… But overall, I loved it. We would set up a giant canvas in the back room against the wall, and guys would come in with their combat boots. Gay men at that time had suddenly turned butch… So they'd make their paintings with boot marks and urine stains." In Colacello's account in Holy Terror , it was more raunchy than riotous: "Victor claimed the idea [for "sex paintings"] as his own. He also said that he gave Andy the idea for the Piss Paintings . In both cases, Andy paid Victor to be his collaborator: He was Andy's casting agent and sometime model on the Torsos ; Andy's ghost pisser on the Oxidations . Ronnie Cutrone was a second ghost pisser… And there were many others: boys who'd come to lunch and drink too much wine, and fine it funny or even flattering to be asked to help Andy "paint." Andy always had a little extra bounce in his walk as he led them to his studio, which was fast becoming the back room in more than name only. Victor was showing up with ever larger numbers of "assistants," hired by the hour at the Everard and St. Marks Baths [gay male bathhouses]." Cutrone had characterized Warhol as a "very shy, coy voyeur," and one gathers from Colacello that Warhol's voyeuristic pleasure extended to the Piss and Oxidation paintings; in the end, it was all about sex.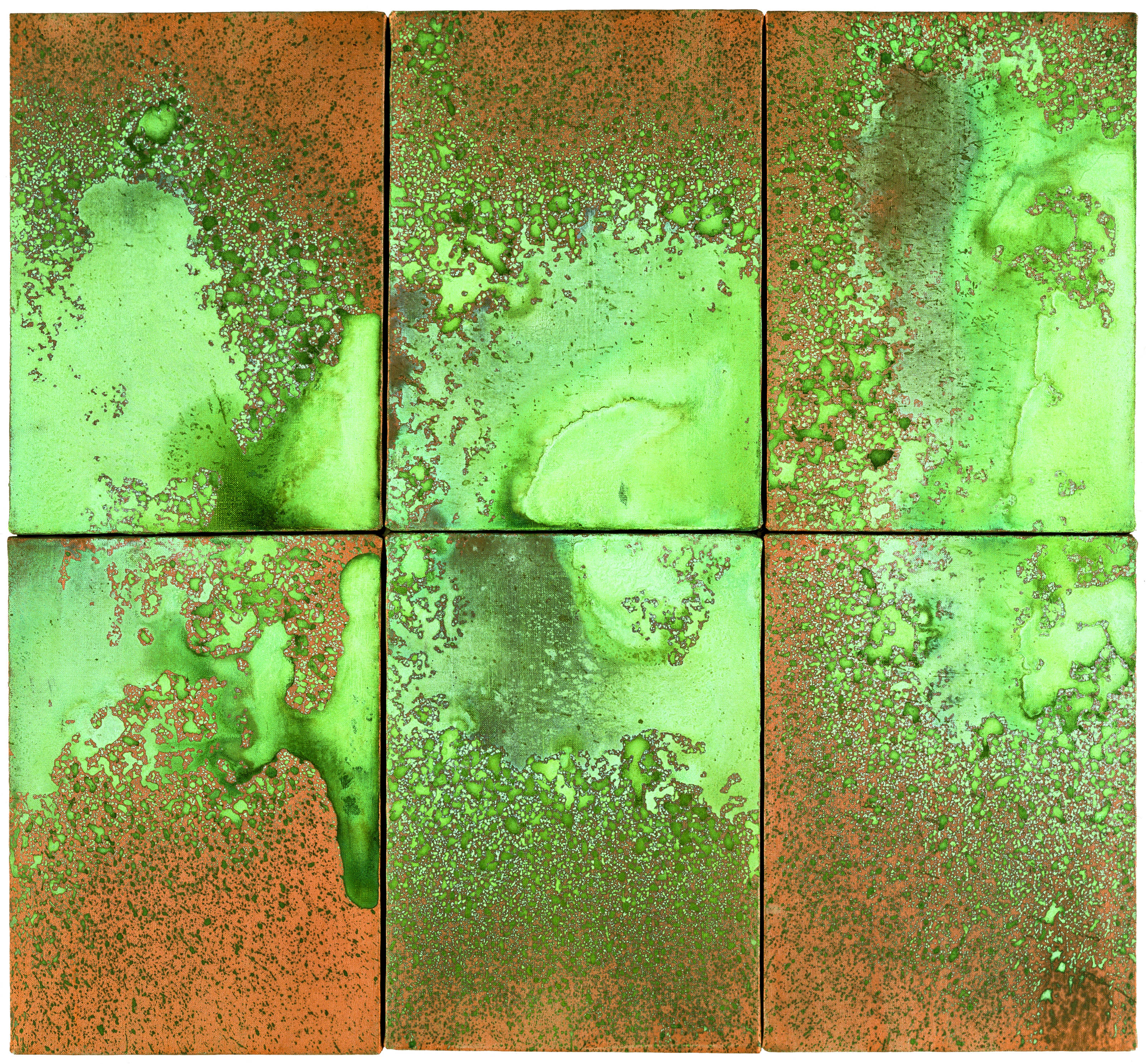 Andy Warhol, Oxidation , 1977–78, urine and metallic paint on canvas, six canvases. Collection Norman and Norah Stone, San Francisco © The Andy Warhol Foundation for the Visual Arts, Inc., NY, Photo by Phillips/Schwab
Colacello, in fact, locates both series in two subcultural phenomena: gay male sex clubs and leather bars, such as the Anvil, the Toilet, and the Eagle's Nest; and punk: "The Toilet featured tubs and troughs where naked men lay for the other naked men to urinate on them. It was like a Robert Mapplethorpe photograph come alive. This was what Andy's Piss Paintings and Torso Series were really all about: what was going on. He hadn't anticipated the times—Mapplethorpe did that. His specialty was sensing the times as they happened, and it enabled him not only to join the latest trend but to leap to the head of the line." Warhol may have been "sensing the times," as Colacello posits, but he was also sensing the competition—young artists like Mapplethorpe. Crucially, Mapplethorpe was a part of the scene, working from the inside; "Andy was the outsider everywhere," according to Colacello. At the Eagle's Nest, for example, he reports that Warhol was "fascinated" by a man who urinated in an empty beer bottle: "They were all fighting over it," he said, adding that all-purpose adjective for not making moral judgments, "It was so abstract." On other occasions, according to Colacello, he would repeat the refrain, "Sex Is So Abstract" like a "broken record." By making sex abstract, Warhol did more than indemnify himself morally and personally, he established the terms of aesthetic distance. Like his Polaroid Big Shot camera, the mechanism of abstraction allowed him to get up close, to be fascinated, while keeping him at a fixing distance, where an image would come into resolution and assume a distinct visual form.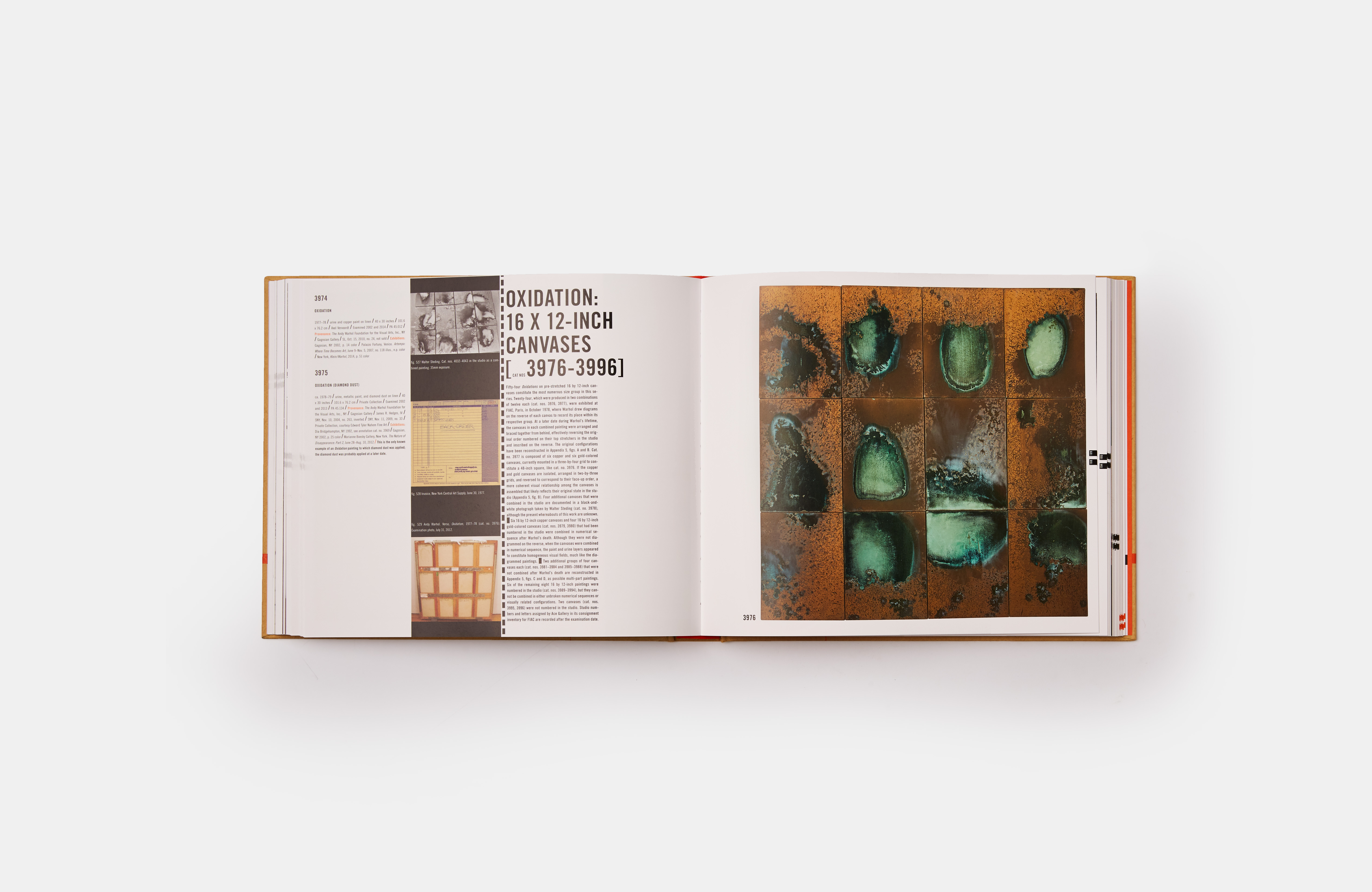 The Andy Warhol Catalogue Raisonné, Paintings 1976-1978 - Volume 5 , edited by Neil Printz and Sally King-Nero, Phaidon; volume 05B, open at pages 188-189.
This excerpt was taken from The Andy Warhol Catalogue Raisonne, Paintings 1976-1978-Volume 5 , published by Phaidon and produced with the Andy Warhol Foundation for the Visual Arts. It's edited by Neil Printz; and executive editor is Sally King-Nero.
RELATED ARTICLES:
What Was Warhol's Factory Really Like? See 10 Rare, Intimate Photos of Pop's Crucible by Stephen Shore
If You Like Andy Warhol, You'll Love These 5 Artists
Warhol Had a Wife? 10 Things You Didn't Know About the Pop Master
How Andy Warhol Used a Can of Soup and a Dead Starlet to Launch His Legendary Career
[related-works-module]