Sculpture has gone through a plethora of transformations in the modern era, from Rodin's emotionally charged, erotic figures in the 1880s, to Judd's geometric, stoic forms of the 1960s, to the current anything-goes approach of contemporary sculptors. Naturally, the best (or at least best-remembered) artists use their work to respond to the pressing political and emotional concerns of their time. In these first years of the new millenium, sculptors have focused on issues including the ever-growing modern alienation, contemporary notions of gender, rising tensions related to global conflicts, global forced displacement, and even the medium of sculpture itself.
For Part 2 of our list of must-know recent sculptures, we've excerpted 10 notable works from Phaidon'sThe Twenty-First Century Art Book that show how artists today are responding to our time.
GIUSEPPE PENONE
Albero porto-cedro (Door-Tree-Cedar), 2012
In the hallway of the Palace of Versailles stands the trunk of a large cedar. At its center is the form of a sapling, painstakingly carved by the artist who chiseled out the tree's growth rings layer by layer. For Penone a tree exists as a sculpture that memorizes its living in its shape. Through his carving he excavates its past, referencing the tree's humble beginnings and evoking the life force that exists within all living things. Trees have featured throughout Penone's work and he continues to maintain a close relationship with the natural world. Using everyday materials such as stone, resin, leather, and wood, he explores the relationship between humans and their environment and considers the nature of temporal experience. As a member of the influential Arte Povera movement that dominated the Italian art scene in the 1960s, Penone made important contributions to the development of installation, performance, and Land art.
DANH VO
Das Beste oder Nichts, 2010
Found objects and materials regularly appear in Vo's art, and are used by the artist as a means to express his life story. He was only four when he and his family left Vietnam by boat in an attempt to get to the USA. After becoming lost at sea they were rescued by a Danish commercial tanker and settled in Denmark instead. Vo's art investigates the impact the displacement from Vietnam had on their lives. In this piece he exhibits the engine of his father's Mercedes 190, which may look like an ordinary car engine, but is, for Vo, symbolic. The title, which translates as 'The Best or Nothing', is a Mercedes advertising tagline, but also represents his father's determination to succeed in the West. Vo has also exhibited other objects belonging to his family, particularly possessions of his father and grandmother, all of which are rich in personal history.
R. H. QUAYTMAN
Constructivismes, Chapter 13 (with Painting Rack), 2009
In certain past works, Quaytman has presented her paintings stacked like books on shelves or racks, so that viewers can pull out whichever work they want to see. The paintings themselves are, for the most part, screen-printed images on gessoed plywood panels; sometimes Quaytman bevels the edges of the wood in order to enhance their appealing tactile sense of objecthood. The idea that one painting always defers to another, or is interchangeable, is central to her work. In some pieces, as with the largest panel in Constructivismes, Chapter 13 (with Painting Rack) the painting is a screen-printed photograph of another artwork or gallery space. Frequently, however, the source images are degraded to the point of illegibility. Quaytman's reflection on the nature of the digital or broadcast image extends to many of her abstractions in which concentric circles or tight grids create the dazzling moiré effect familiar from magnified views of computer and television screens.
NAIRY BAGHRAMIAN
Class Reunion, 2008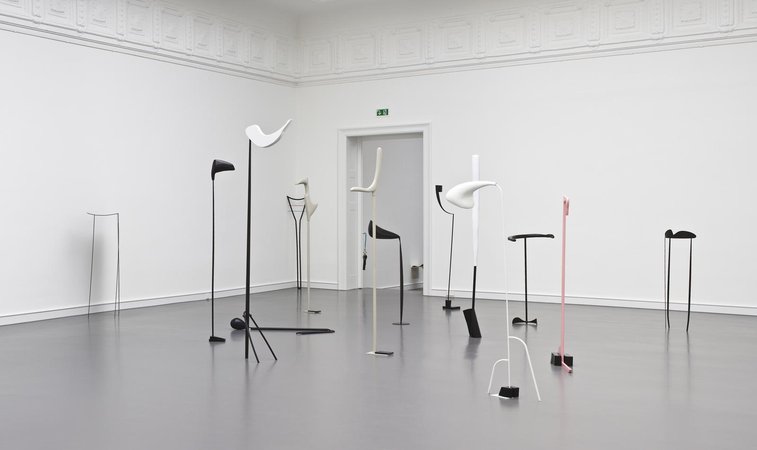 The eighteen abstract sculptures that comprise this work appear like designer lamp stands or hat racks. Made from painted metal and cast rubber, the slender forms are colored black or white, save for a single burst of flamingo pink. Baghramian has given each sculpture a name, endowing it with character and personality: there's the Dandy, the Slacker, and Mr Hunger. Positioned close together, their arrangement, along with the work's title, suggests a social gathering. Yet one notably stands in a corner by itself and another two lean against a wall, away from the crowd. With the simplest of gestures, Baghramian evokes important questions relating to social inclusion and exclusion. Based in Berlin, the Iranian-born artist is best known for her sculptural installations and photographs that examine the notion of display within the context of art and design history. Her refined and elegant works are rooted in Minimalism but also allude to furniture, interior design and architecture.
HUMA BHABHA
Bumps in the Road, 2008
A grotesque-looking head and a rudimentary pair of wooden legs sit atop a blackened platform. The figures are at once horrific and absurd, appearing as the victims of some violent attack yet also possessing a humorous quality. Constructed from rusty car parts, Styrofoam, newspaper, and other friable materials, the fragile sculpture appears to be either unfinished or disintegrating. The head is crumbling, exposing a chicken-wire frame beneath, while the striding legs balance precariously on a pair of metal feet. This is typical of Bhabha's approach, and though her works can appear slapdash, they are in fact carefully crafted. The Pakistani artist is well known for using cheap and salvaged materials; for her they contain a latent, mystical power that can be released as they are molded by the hand of the artist. Referencing the history of sculpture, from ancient to modern, Bhabha's works address themes of war, suffering, and displacement while commemorating the victims of conflict.
JIMMIE DURHAM
Encore Tranquillité, 2008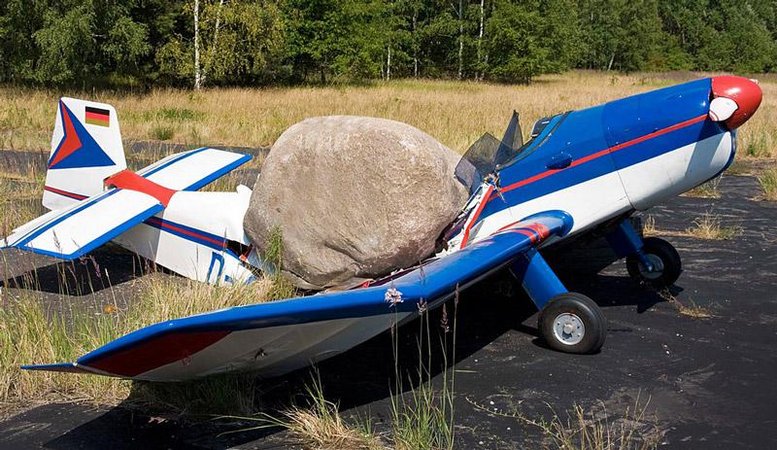 A small, single-seater airplane has been crushed by an enormous boulder that appears to have fallen on top of it. The crumpled aircraft lies testament to the destructive event that has now long since passed; this is further emphasized by the fact that Durham has replaced the stone with a fiberglass replica. The work is one of several in which different types of vehicle have been deliberately destroyed by falling rocks. Much of Durham's work relates to his Cherokee heritage and the history of the indigenous American people; here, the boulder refers to the power that the Native American people never had. Durham's intricate sculptures and installations are often laced with humor yet forcefully challenge prejudices and stereotypical representations of indigenous peoples. Durham has been active since the 1960s and, although working primarily as a sculptor, has also embraced theatre and performance, and published literature, poetry, and critical theory.
RACHEL HARRISON
Alexander the Great, 2007
An androgynous mannequin dressed in a red cape and carrying a wastebasket stands on top of a multicolored boulder. Wearing a mask of Abraham Lincoln on the back of its head, the figure recalls the two-faced Roman god Janus. Like the ancient deity, Harrison's work looks forwards and backwards, gazing simultaneously to the past and the future. It exemplifies the artist's fascination with the evolution of sculpture, from its earliest beginnings to its possible futures. In Harrison's flamboyant assemblages, references to popular culture, archaic statuary, and art history collide with mass-produced consumer items and hand-crafted forms made from chicken wire, polystyrene, paint, and other commercially available materials. Her approach is reminiscent of the Pop artists of the 1950s and 60s, who derived their imagery from mass media and consumer culture. However, Harrison's works transcend recent art history, bringing together ideas and imagery from around the globe and across the centuries.
REBECCA WARREN
Dark Passage, 2004


Working with raw clay since the mid-1990s, and more recently with painted bronze, Warren's art has included a substantial quotient of the female form, often perversely wrought with unexpected exaggerations and attenuations. In Dark Passage, the center of gravity seems to want to shift around. There are extra feet of stone offset with a high kick, limbs either bulky or as token joiners between heavier elements of boots, buttocks, and breasts. Its head is so diminished that it may only be another lock of hair, and any arms are entirely omitted. Often these fusions of magnified or missing parts relate to the sculptural convolutions of past masters, notably Picasso, Degas and Rodin. Warren's lithe or overblown presences also borrow certain curves and attitudes from photographer Helmut Newton and cartoonist Robert Crumb, and movies and songs often figure in her titles. At the heart of this maelstrom of pop and high art renderings there is a pressured space where Warren's forms powerfully come into their own.
RICHARD DEACON
Red Sea Crossing, 2003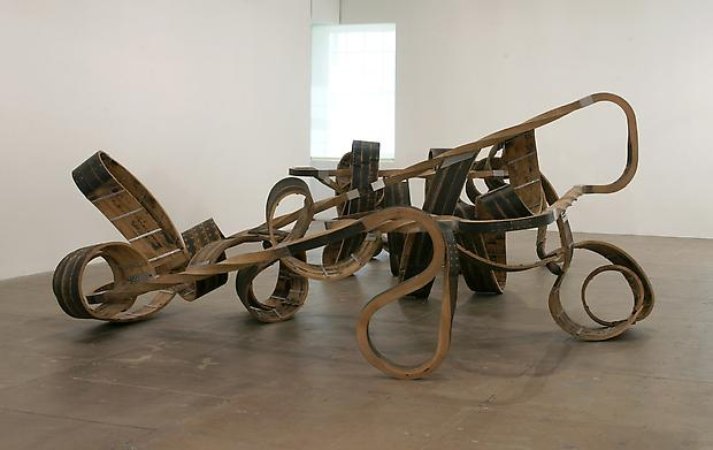 Two large forms made from oak and stainless steel twist and coil across the gallery floor. In each, thin, sinuous loops of wood are entwined with ribbons of oak that have been bent, rounded, glued, and pinned together. Deacon's title refers to the Bible story telling the Israelites' escape from Egypt and a narrow gap between the sculpture's two halves evokes the parting of the Red Sea. Deacon was a central figure of the New British Sculpture movement in the 1980s and is known for his large-scale works, many of which are sited in the public realm. The physical act of making is extremely important for him, though unlike traditional sculptors he does not carve or mold; rather, he constructs using techniques developed for the manufacturing industries. Working with wood, metal, and plastics, he softens and bends his materials to create works that appear abstract yet often carry metaphorical references.
IBON ARANBERRI
Gaur-Egun (This is CNN), 2002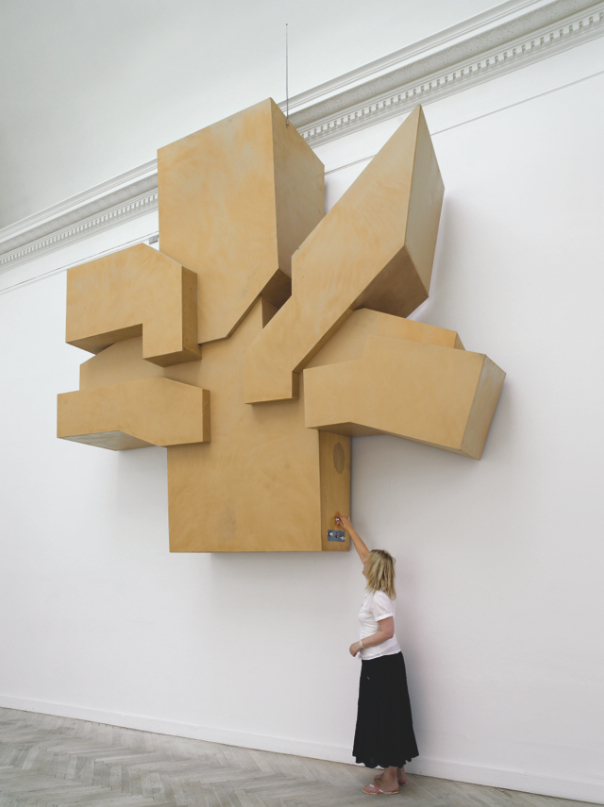 Created from memory, this wooden sculpture is a rudimentary copy of a work by Nèstor Basterretxea hanging in the assembly hall of the Basque parliament. Representing a tree of seven branches, Basterretxea's original oak sculpture is symbolic of the traditional meeting place of Basque political assemblies in Guernica and, since the early 1980s, has provided a backdrop for all political activity in the assembly. Aranberri's mental reconstruction speaks to the fact that the work has become ingrained in the popular imagination after being endlessly reproduced in newspaper photographs and television reports. Furthermore, the artist has transformed his version into a functioning radio with an AM/FM dial and speakers. The interface of the natural world and human culture is a central concern for the artist, whose sculptures and installations explore the relationship between politics, nature, and society. By decoding familiar images, signs and objects, he challenges popular values and questions societal preconceptions.
[related-works-module]