In her role as creative director of American Vogue for more than 25 years, the fashion impresario Grace Coddington is largely responsible for the distinctive visual identity of the publication, especially the complex and narrative-driven shoots that have become its bread and butter. Such involved (and expensive) productions naturally call for top-tier photographic talent, and Coddington knows where to find them. In honor of New York Fashion Week and the publication of Phaidon's monographGrace: The American Vogue Years, we've excerpted Coddington's thoughts on five of her most trusted fashion photographers. Note that these are just a few of her favorites—buy the book using the link above to read her take on all of them.
DAVID SIMS
David Sims first caught my eye in the early 1990s. He was one of the new band of photographers signed up by my friend Liz Tilberis, the freshly appointed editor in chief of Harper's Bazaar. Everyone was taking note of the radical changes she was making to the magazine. In particular, they talked about the influx of young photographers—Craig McDean, David, and Mario Sorrenti—with their cool, new attitude. I, too, found this interesting and not, in fact, dissimilar to the impression that young photographers such as David Bailey, Terence Donovan, and Brian Duffy made on 1960s London.
David has no interest in the superfluous and is instinctively inclined to strip down a fashion photograph to its minimum, leaving only what is strictly necessary, such as volume and silhouette. His pictures convey a sort of refined formality. His model is a woman with attitude. She has a realness about her and possesses a strong, boyish look.
Raquel Zimmermann in Chanel Haute Couture. Paris, October 2007
He is not too keen on accessories, although, strangely enough, he goes to great pains to show the shoes. This, of course, leaves me feeling extremely happy because, in my opinion, the shoes are all-important. They define the look and ground the picture.
When I began working with David, he was known to prefer shooting in the studio, where he had absolute control. After several seasons of backdrops, white through gray, he agreed to photograph the couture in a beautiful hôtel particulier. It was the year I was being followed by the director R. J. Cutler and his team filming The September Issue, and, much to my amusement, they arrived on our set (glimpses of which appear in the movie) while our model Raquel Zimmermann was stuffing herself with a plate of rich, creamy cakes.
Caroline Trentini in Rodarte. London, September 2014
Since that moment, getting David to work outside has been less of a challenge. For a story in the mood of Vita Sackville-West, he at first seemed awkward in the lovely formal garden we had booked. Then, just beyond it, he spied a meadow filled with wild poppies. He loved it. After shooting just one picture there, however, he moved on to the even simpler setting of an empty field beyond.
War Horse was a shoot that happened mostly because of Anna's love of theater. She very much liked Jeremy Irvine, the babyfaced actor who appeared in the play and the film. But, as I pointed out, it was hardly an ideal inspiration for a fashion magazine, since there were no women on the battlefield. We shot on Dartmoor, a sprawling country stretch creased with romantically ancient crags and studded with rocks caked in lichen. Ever the minimalist, David shot almost the entire story from very low angles so that much of what remained was a lowering gray sky over humps of rugged earth. Again, it was that rejection of location, but with just enough dramatic terrain included to draw you in.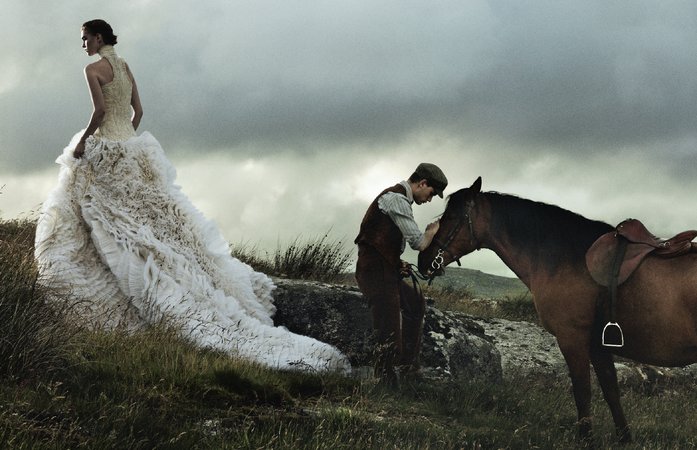 Arizona Muse in Alexander McQueen. England, November 2011
ANNIE LEIBOVITZ
Whether we're shooting models or actors—or Kim Kardashian and Kanye West— working with Annie Leibovitz is like making a major movie. And she is very much that movie's director. She has such a great reputation that even the most famous film stars fall over themselves to be photographed by her. She also likes to connect with the worlds of theater and art. So a wealth of planning is involved, which can be an agonizingly stressful process and often calls for an amazing number of situations to be created in just two or three days by the hardworking set designer, Mary Howard.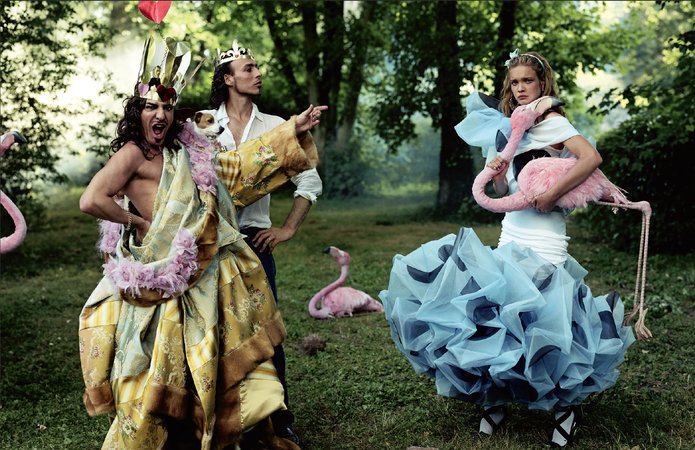 Natalia Vodianova and John Galliano in Dior Haute Couture. Paris, December 2003

Alice in Wonderland is one of the most important fashion narratives I have ever done. It was Anna who suggested that all the major designers should be the story's characters and incorporated into the photos, while Annie and I had fun matching them to their storybook counterparts. At the time, I found myself becoming so immersed in the project that I frequently felt as though I had fallen down the rabbit hole myself.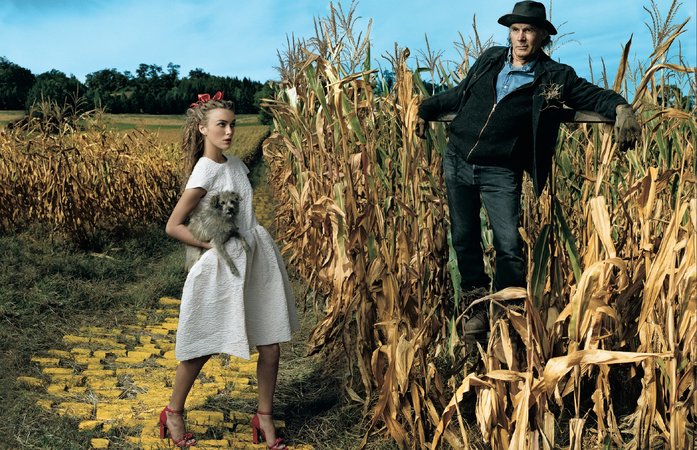 Keira Knightley in Balenciaga and Brice Marden. New York, December 2005
Keira Knightley made a memorable Dorothy in our remake of The Wizard of Oz, which also substituted a number of contemporary artists, including Jasper Johns, John Currin, Brice Marden, and Jeff Koons, for the story's familiar protagonists: the Cowardly Lion, the Tin Man, the Scarecrow, and the Winged Monkey. Keira is a pleasure to work with. She never complains or behaves like a superstar. And she has appeared in so many costume dramas that she's entirely comfortable being dressed up in fancy clothes.
For "Hansel and Gretel," the young actor Andrew Garfield, who was starring in The Amazing Spider-Man, flew in from London to shoot with Lily Cole. Once again, it was Anna who found our witch, Lady Gaga, who happened to be visiting the Vogue offices at the time we were casting. She showed up on set the next day wearing a long rubber coat with absolutely nothing underneath. No one knew quite what to say.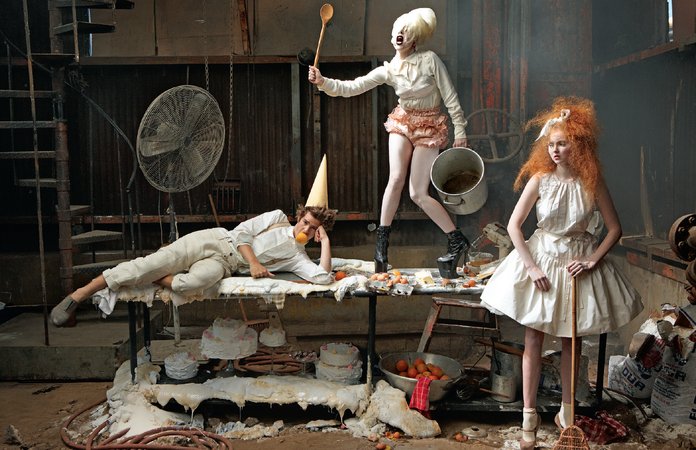 Lily Cole in Yves Saint Laurent, Andrew Garfield in Maison Martin Margiela and Ann Demeulemeester, and Lady Gaga in Marc Jacobs. New York, December 2009
MARIO TESTINO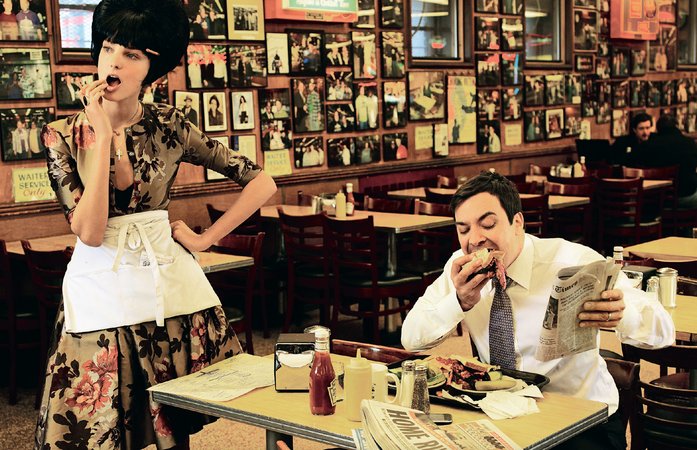 Daria Werbowy in Burberry Prorsum and Jimmy Fallon. New York, October 2009
Mario Testino loves traveling. His life is all about jumping off one plane and onto another. He knows the best restaurants in any given town, and always manages to keep the mood up, up, up. His pictures have an infectious sort of vibrancy, bursting with a love of life not often seen in fashion photography today.
He sometimes tries to persuade me to make my work look hot and sexy—not very me. But I adore his humor. He's totally comfortable shooting offbeat personalities—Jimmy Fallon munching on an oversize pastrami sandwich at Katz's deli, or the painter George Condo chasing Daria round and round a country meadow. This is where we very much connect.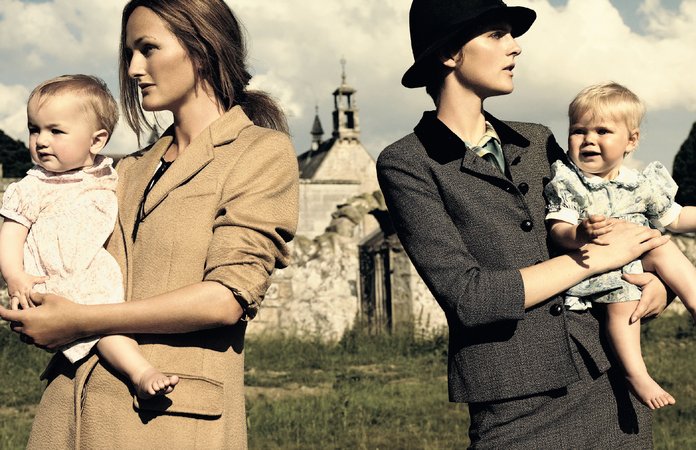 Stella Tennant in Anne Klein and Isabella Campbell, Lady Cawdor, in Max Mara. Scotland, October 2005
Mario can also photograph children very well because they think of him as a favorite uncle. He's great at family pictures, like our story with Natalia and her children and then husband on a summer's day in the English countryside, or Stella Tennant with her family, whom he photographed at home in the Scottish Borders. Having recently had her fourth baby, Stella was living in an idyllic little stone house full of unfussy furniture, perfect for young children running to and fro in muddy shoes. It had a really charming, familial feel about it, which Mario captured to perfection. Who else would be given such trust that he could witness Stella and all four children together in the bathtub?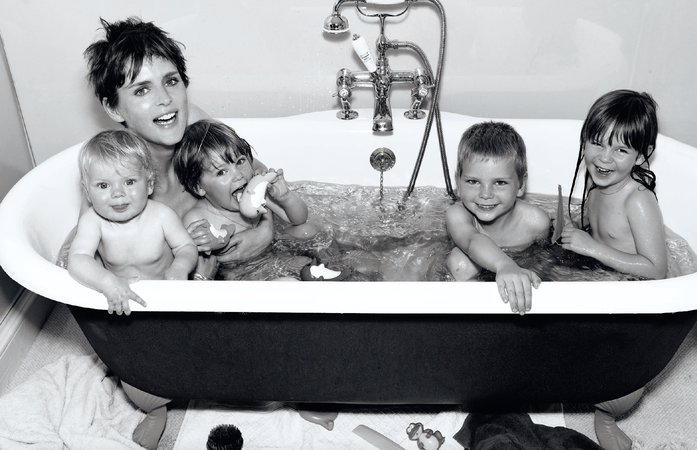 Stella Tennant. Scotland, October 2005
MERT ALAS & MARCUS PIGGOTT
Lara Stone in Louis Vuitton. New York, September 2010
Mert Alas and Marcus Piggott, the madcap Turkish/Welsh duo, specialize in flawless pinups, smoothed and lifted thanks to perfectly executed Photoshop. The sun always shines in their blue heaven, and their woman is a golden goddess. Their graphic eye and assured use of saturated color give their images an ultramodern look, yet their work can also be utterly romantic and painterly.
They have a preference for supermodels, whom they make even more glamorous by digitally exaggerating their silhouettes, re-creating hair, and minimizing waists in a technique that is almost like sculpting. They are obsessed with making everything look beyond perfect and a bit surreal. So when they say, "Do you want more hair to the side?" or "Do you want the breasts a little higher? C cup? D cup?" they literally mold the girl into what is desired.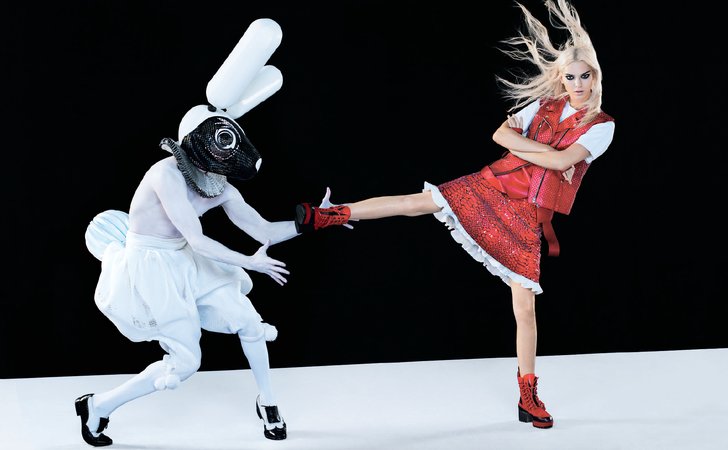 Kendall Jenner in Louis Vuitton. London, December 2015
Rather than forming part of an extended story, each of their pictures contains its own fragmented sort of narrative, whether it's a riff on the 1950s sweater girl starring the curvaceous Lara Stone, or a vision of the social media darling Kendall Jenner as a contemporary Alice in Wonderland, stepping through the looking glass into cyberspace with actors from London's National Theatre. (This was my second visit to the world of Lewis Carroll, though this time around it had a very "now" twist.) 
M & M are tremendous fun to work with, although it can be nerve-wracking when you get home and wait to see how they have transformed the shoot. It may come back virtually unrecognizable—though in a curiously compelling way. For example, we shot a psychedelic reworking of Little Red Riding Hood, starring Natalia, in a leafy green forest outside London on a summer's day. The pictures came back autumnal and Cocteau-esque, drenched in a scarlet haze, something I would never have imagined but that I absolutely love.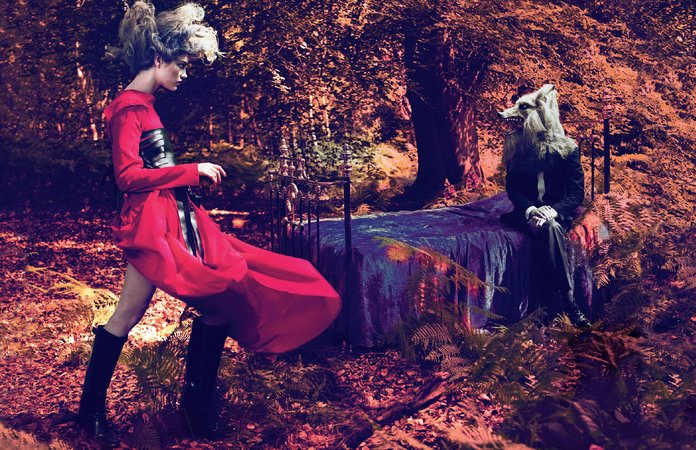 Natalia Vodianova in Ann Demeulemeester and wolf in Tom Ford. United Kingdom, September 2009
ARTHUR ELGORT
Arthur Elgort's pictures are about the moment. He just dives in. While I am very linear, with a tendency to line everything up—model, props, background, etc.— Arthur can break all this and still respect the creative narrative. He fills his images with life; there's an effervescence to them that lifts the spirits. His playful story shot in the mood of Lartigue, in Long Island with Karen—a particular favorite redhead of mine—is a case in point. I stole the idea of putting faces painted on brown paper bags pulled over the models' heads from a collaboration between Saul Steinberg and Inge Morath. I had my friend Michael Roberts do the illustrations for me.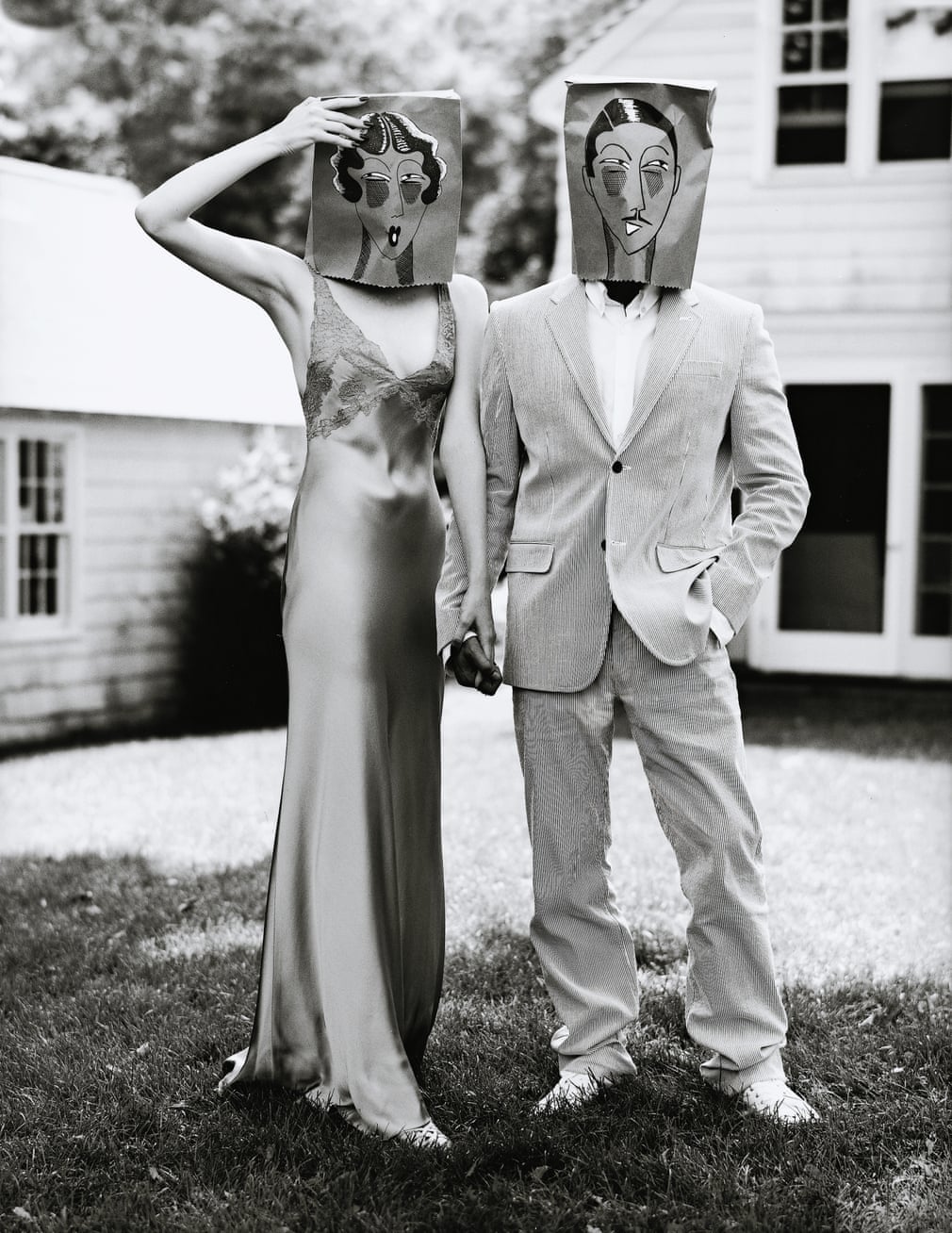 Karen Elson in Ralph Lauren Collection and male model in Marc Jacobs and Louis Vuitton. New York, November 2003
As someone with an eye for the spontaneous, Arthur is unique and irreplaceable. One photo session we worked on portrayed the weekend downtime of a modern American family in all its day-to-day mundanity. With wonderful ease, Arthur embraced all the details, reinventing Americana with a very contemporary attitude. Karlie Kloss, whom he adores, played a housewife in the blue-collar community of Atlantic Beach, and the children in the picture were borrowed from our makeup artist, Gucci Westman.
A classic Arthur shoot, reflecting his love of cowboys, was our trip to El Mirage, a dry lake outside LA, for a take on Arthur Miller's The Misfits starring Isabeli Fontana and her real-life baby and then husband. We even managed to squeeze Arthur, as our director, into a group shot, wearing his signature beret and neckerchief.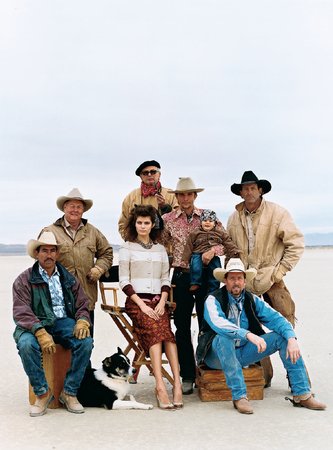 Isabeli Fontana in Moschino and Miu Miu, Alvaro Jacomossi, and Arthur Elgort. Los Angeles, February 2004
We invited the musician André 3000 to be the partner of Liya Kebede in a story inspired by the dance pictures of the Malian photographer Malick Sidibé. André proved to be not only a great dancer but also a fabulous model. He's a truly creative dresser and came with his own wardrobe, coordinating it with each of Liya's looks.
For another story, we photographed Keira Knightley "on safari" in Kenya. One snap showed her tending to a young, motherless pachyderm at David Sheldrick's elephant orphanage outside Nairobi. But not before we swapped its coverlet for a more fashion-forward Louis Vuitton blanket.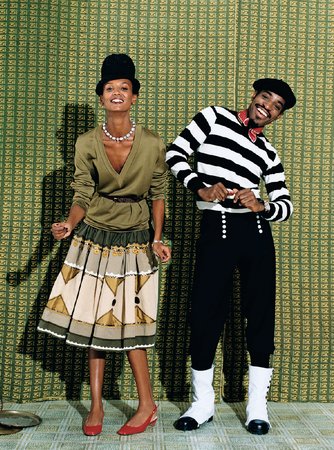 Liya Kebede in Bottega Veneta and André 3000. New York, January 2005
[related-works-module]