Alexander S.C. Rower, or Sandy as he is known to his innumerable friends in the art world, travels widely as the president of the Calder Foundation, the very plugged-in organization dedicated to the work and legacy of his grandfather Alexander Calder. Here, Rower shares his top five highlights from Art Basel Miami Beach 2016.
Without a doubt, my favorite booth in this year's Art Basel Miami Beach (which should come as no surprise to those who know me) is the Fondation Beyeler's Toiletpaper booth. An extravagant mishmash thrown together with obvious great care by the mysterious collective of Maurizio Cattelan et al., the booth is a fabulous reminder not to take it all too seriously. What follows are a few more of the choicest moments at the fair.
Derrick Adams
Girl in Soft Blue, 2015
Jack Tilton Gallery – New York
& 
Floater #5, 2016
Rhona Hoffman Gallery – Chicago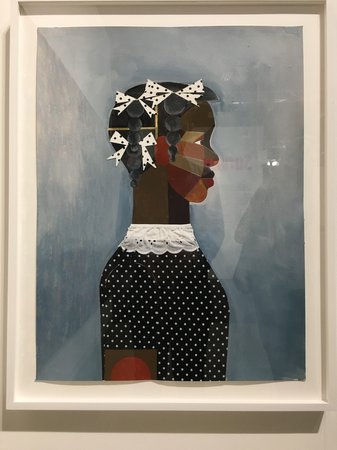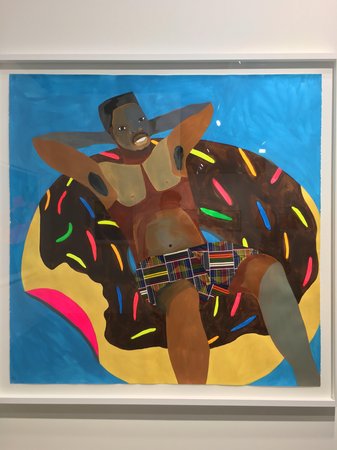 The quiet, collaged portraits by Derrick Adams in the Tilton booth have echoes of Giuseppe Arcimboldo mixed with Paul Klee, with the faces reduced to the planarities of Cubist ideals. This one in particular could almost be a young Harriet Tubman in a fictional, happier past. Another quite different series of portraits, called the "Floaters," hangs in Rhona Hoffman's booth nearby.
Adams' personal engagement with and proper repositioning of art history was one of the reasons we invited him to make a commission for Performa several years ago, and I have since continued to follow his work with great interest.
Judy Chicago
Multicolor Rearrangeable Game Board, 1965–66
Salon 94 – New York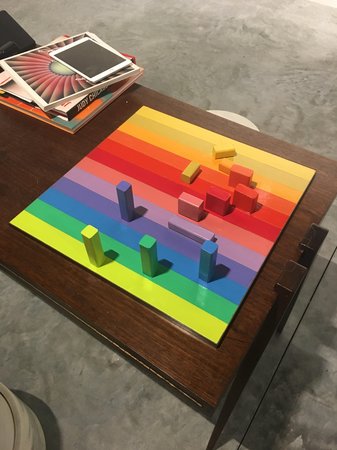 I have never really resonated with Judy Chicago's work, although her masterpiece The Dinner Party at the Brooklyn Museum is certainly worthy of reflection. It was therefore a real surprise to see this recomposable painting in the form of a "game board," which leaves a lot of questions unanswered. Your compositional intervention, unspecified by the artist, completes the painting. It's a model for a larger version that was exhibited at the Jewish Museum and no longer exists.
Takuro Kuwata
Untitled, 2016
Alison Jacques Gallery – London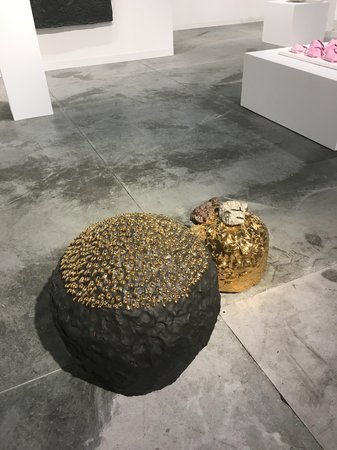 Takuro Kuwata is an artist I have come to deeply respect. His mastery of materiality is just the beginning. He makes sculptures that are hyperelegant, with grandiloquent planned accidents. It's a combination of foresight and the fluctuation of temperature in the kiln that creates their tremendous vibrancy. They expand the technical boundaries of ceramic, but, more importantly, they have this tangible aura about them—a presence of place. 
Opavivará!
Flora Tremer, 2016
A Gentil Carioca – Rio de Janiero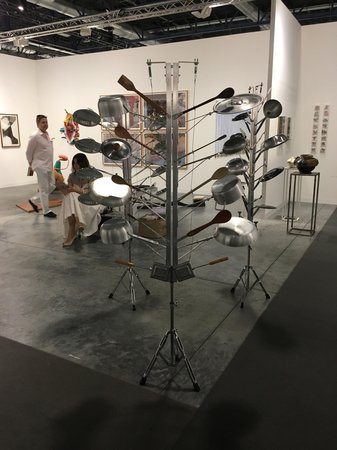 I first discovered the art of the Rio de Janeiro-based collective Opavivará! at the São Paulo Bienal in September, where their social/activist installations not far from the entrance created that signature Brazilian spirit of spontaneous, exuberant community. The bricolaged installation at A Gentil Carioca is called Flora Tremer, meaning trembling flora, but it is also a play on "Fora Temer," or "out with Temer," the rallying cry of protesters. (Temer was the default president who replaced an impeached Rousseff just days before the Bienal opened). These sculptures must be activated by the viewer to be fully part of the protest!
Robert Mapplethorpe
Man in Polyester Suit, 1980
Galerie Thomas Schulte – Berlin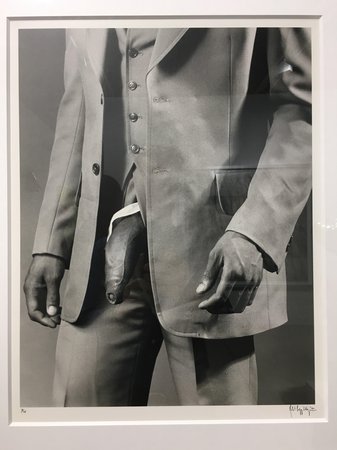 Although Robert Mapplethorpe was the darling crossover artist/photographer of the 1980s, I was not in those days enthralled with his work. It was only over time that I realized his vision was richer and deeper than I knew. 
This image has always been my favorite of his photographs, and it is one that has never ceased to disturb and make me uncomfortable. Mapplethorpe has an uncanny ability to both glorify beauty and question it at the same time. What really gets me is the unrumpleable polyester suit. At the time, it was some strange concept of "progress"—you could roll it up in a ball in your suitcase and take it out at your destination with no creases at all. In this image, it's a fancy three-piece suit, no less—but something seems to be emanating from its ceaseless creaselessness.