Alexander S. C. Rower, president of the Calder Foundation and grandson of the artist, has a wide-ranging but ineffably accute eye for the art of both his grandfather's day and today. Here, he shares a few of his favorite works from this year's edition of Art Basel Maimi.

1.
2 nus: un fort et un vite, 1912
Charcoal and graphite on paper
Galerie 1900-2000 (Paris)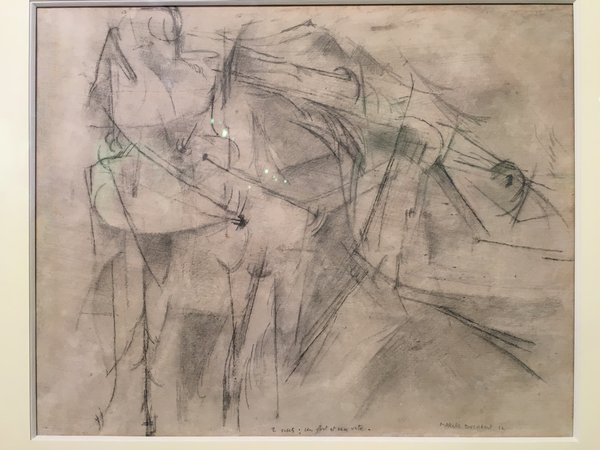 Wow! Duchamp's drawing of two nudes—one strong and one quick—is a killer. It is said to depict Picabia (strong) and Duchamp (quick), battling over the affections of Picabia's wife, Gabrielle Buffet (whom I also knew, before she died at age 104). When Duchamp conceived of his incredible miniature traveling exhibition of pocket-size facsimiles, Boîte-en-valise, he chose this drawing to be included. It's the best Duchamp drawing in private hands—I just wish those hands were mine!
2.
VkhUTEMAS WORKSHOPS
Untitled (Architectural Studies), 1920s
Gelatin silver print, printed 1920s
Kicken Berlin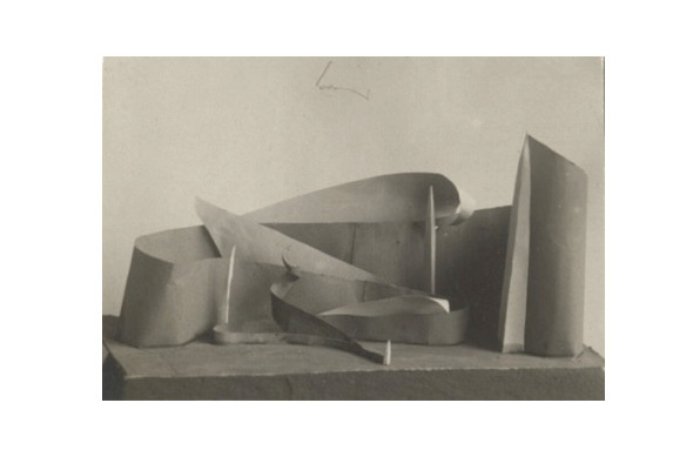 These often anonymous contact prints depict architectural student exercises from the VkhUTEMAS (essentially the Russian Bauhaus) of the 1920s. Even today, they project the optimism and excitement of the new. As studies of form, volume, and intuitive engineering, they are incredibly free of historic prescriptions.
3.
Eugene Von Bruenchenhein
Untitled, 1960-1980
Hand dug clay and paint
Andrew Edlin Gallery (New York)
Outsider art goes in and out of fashion, but I love discovering historic artists who devotedly toiled in weird materials, especially the ones who made complex and inaccessible icon-driven imagery. Eugene Von Bruenchenhein is a great new find (he died in 1983). Just the kind of eat-a-chicken-and-make-a-sculpture-from-the-bones artist I like. I later remembered I had seen a few of his paintings in the Venice Biennale in 2013.
4.
Ricci Albenda
yakkity, yakkity, yak!, 2014
Acrylic on wood panel
Andrew Kreps Gallery (New York)
Ricci Albenda did a residency at Atelier Calder in 2011. At that time, he was selected for sculpture, but he makes several diverse bodies of work. He considers his word paintings to be sculptures, due to his process of carving and caressing the paint into forms that are very sculptural, not to mention obsessing on his self-designed font in doing so. This work was sold within 10 minutes of the opening of the fair.
5.
The Canvas, 1973
Oil on canvas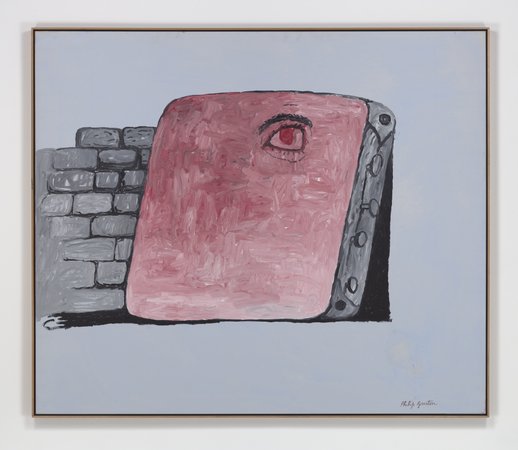 Philip Guston's iconography in creepy flesh tones always confuses me, nonetheless it draws me in. I'm awkward in approaching his work, and this spare meta-image of a large painting of an eyeball leaning against a stone block wall is especially confounding. Guston's rejection of abstraction and his return to storytelling in the late 1960s really upset the apple cart. Calder once said, "Above all, I feel art should be happy and not lugubrious," but maybe he wasn't always right?!