Even though many suspected digital markets would lead to the demise of physical bookstores, brick-and-mortar retailers have actually seen an uptick in sales in recent years—and boy are we grateful for it. There's nothing like browsing the shelves of your favorite store, having conversations with the staff, and stumbling upon a treasure you didn't know you needed. But when it comes to art and artists' books, Barnes & Noble just doesn't cut it.
We've scoured the United States to find some great art-centric, independent bookstores—from the DIY, closet-sized shop to the picture-perfect boutique (and everywhere in between). You can pick up that Phaidon book that's been peering at you from your wish-list, or a small-press zine by one of your favorite artists. Or maybe a limited edition Keith Haring condom holder is more your style? You can find all of these things, and more, at the shops listed below.
BING Art Books
Stony Island Arts Bank, 2nd Floor
6760 S. Stony Island Ave.
Chicago, IL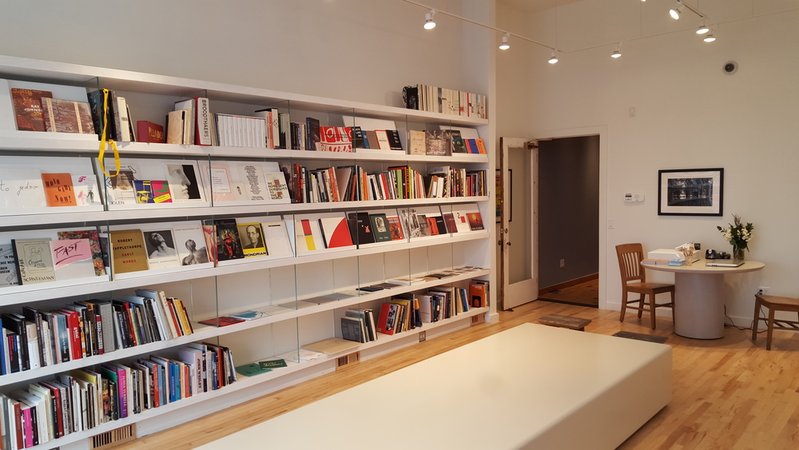 Co-founded by artist Theaster Gates and curator Hamza Walker, BING was originally conceived as an art bookstore, community event space, and bar all combined into one in Chicago's Washington Park Neighborhood. After a few months, however, the owners split the difference and moved Bing's bookstore section to the second floor of the Stony Island Arts Bank—a media archive and community center. Offering a selection that mixes the affordable and accessible with the high-priced and super rare, Bing encourages browsing above all. As Chris Salmon, the store manager, told DNAinfo, "It's not a library because you can't check things out, but you're welcome to come in and hang out as long as you want."
Cover Books
535 Means St. NW.
Atlanta, GA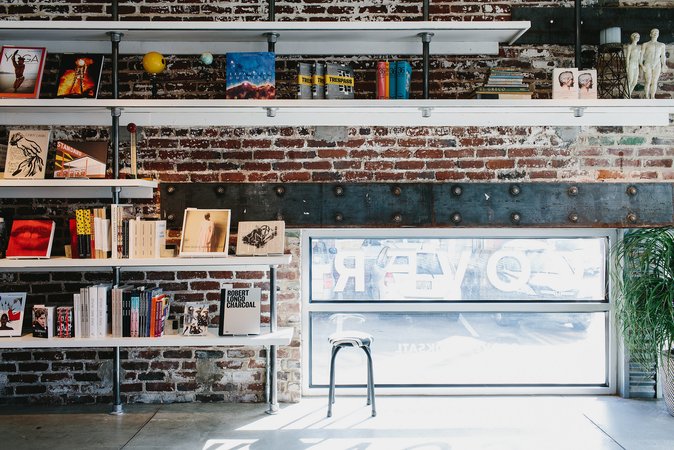 This small shop on the west side of Atlanta is cozy and chic; it feels less like a shop and more like an impeccably decorated living room. It comes as no surprise, then, to see that the store has been name-checked by Vogue and Gwyneth Paltrow's GOOP. Cover Books, however, is more than just a comfortable chill spot—they have an envious collection of books on art, design, and food along with a lengthy wall of hard-to-find periodicals. Katie Barringer opened Cover in late 2015, after stints at the magazine Art Papers and the boutique wine wholesaler Hemispheres. Her business has been going strong ever since—and now includes a pop-up shop at Atlanta Contemporary.
Exile Books
5900 NW. 2nd Ave.
Miami, FL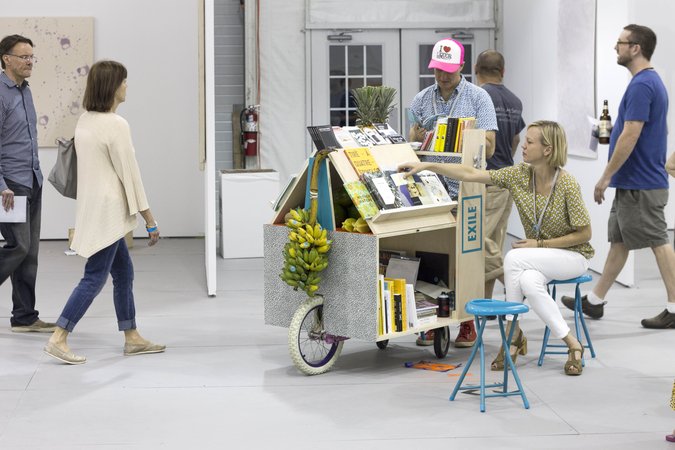 Before moving back home to Miami, artist Amanda Keely worked as a manager at Printed Matter in New York and helped Yoko Ono manage her extensive archive. She brought this wealth of experience back with her to the Sunshine State and opened up Exile Books, Miami's first artist-focused bookstore. Exile initially started as a roving pop up, setting up shop at over twenty locations throughout Miami. This month, however, Exile has set up permanent digs in the Little Haiti neighborhood, creating room for more books along with space for public readings and events.
Hennessey + Ingalls
300 S. Santa Fe Ave., Suite M
Los Angeles, CA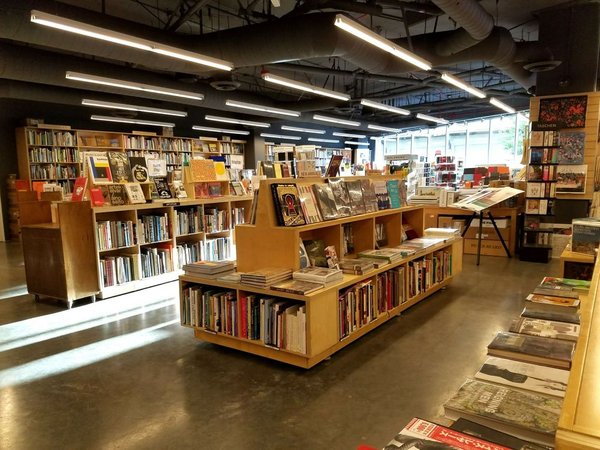 Smaller bookstores have their perks, but sometimes you want the thrill of a warehouse-like maze, where the possibilities for what you could find feel endless. Hennessey + Ingalls, the largest bookstore in the United States solely dedicated to art, architecture, and design, easily fulfills that wish. You could easily spend hours in this sprawling Downtown complex (the owners recently consolidated their two stores into one), sorting through new show catalogs, an array of magazines, or an extensive collection of out-of-print monographs. And don't worry, the conscious shopper in you can rest easy; while Hennessey + Ingalls is huge, it's not a big-box-chain-store. Reginald Hennessey opened the shop in 1963, and it's still family run to this day.
Monograph Bookwerks
5005 NE. 27th Ave.
Portland, OR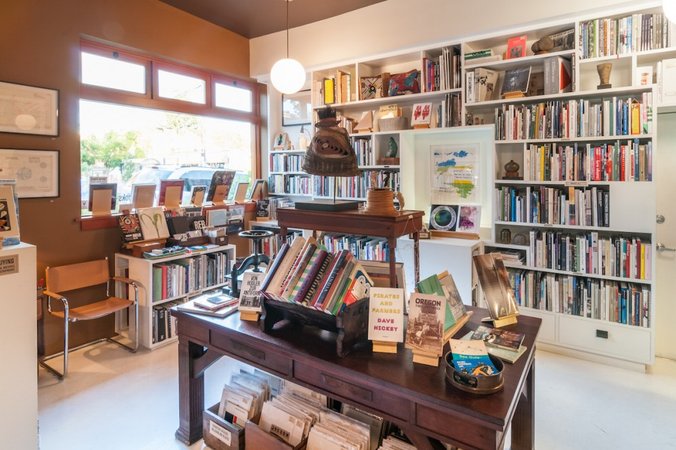 Tucked away in a vine-covered building in the Alberta Arts District, Monograph Bookwerks packs a lot into a tiny space. Owners (and artists) John Brodie and Blair Saxon-Hill stock an array of offerings, but they specialize in out-of-print books and rare ephemera. In addition to an impressive selection of vintage exhibition posters, they have quite a gem: a 1987 Keith Haring-designed condom holder that clips to your belt. Though there's enough here to make you want to stay a while, it's also worth heading down to Ampersand, another great art-centric bookstore just a few blocks away.
Ooga Booga
943 N. Broadway
Los Angeles, CA
&
Ooga Twooga
356 S. Mission Road
Los Angeles, CA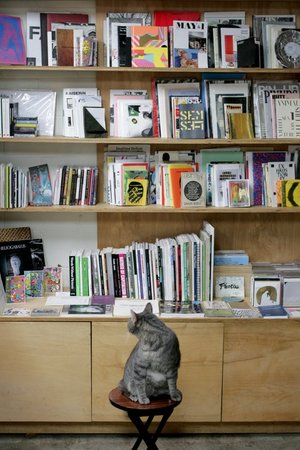 Wendy Yao opened up Ooga Booga over a decade ago to sell, as she says, "stuff I like by people I'm interested in." Similar to Printed Matter and Quimby's (profiled below), Ooga Booga focuses on artist-produced wares, offering a unique and cool collection that's unparalleled in the area. The shop's stock is smart and fresh, with a rotating catalog of artists' books, clothing, records, ceramics, and more. Yao recently opened up a second outpost of the shop, called Ooga Twooga, inside of 356 S. Mission Road, the exhibition space founded by Laura Owens and Gavin Brown—both are worth a visit!
[related-works-module]
Printed Matter
231 11th Avenue
New York, NY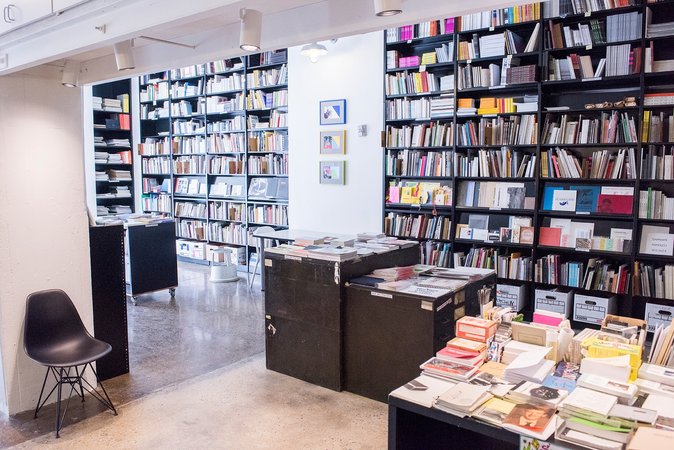 While not the first in the field, Printed Matter forever changed the game when it comes to the reception and distribution of artists' books. The shop was founded in 1976 by a group of artists and critics (including Sol LeWitt, Lucy Lippard, and Walter Robinson) and soon became a downtown hub. The crew was on a mission to elevate artist-produced books and ephemera, which were often used as disposable promotional materials by dealers. It's clear now that their original goal was accomplished. Printed Matter has been alive and well for over thirty years, transforming from small bookstore to formidable cultural institution. Also, they organize the New York and Los Angeles Art Book Fairs, a must-visit expo for anyone reading this list.
Quimby's Bookstore
1854 W. North Ave.
Chicago, IL
&
Quimby's Bookstore NYC
536 Metropolitan Ave.
Brooklyn, NY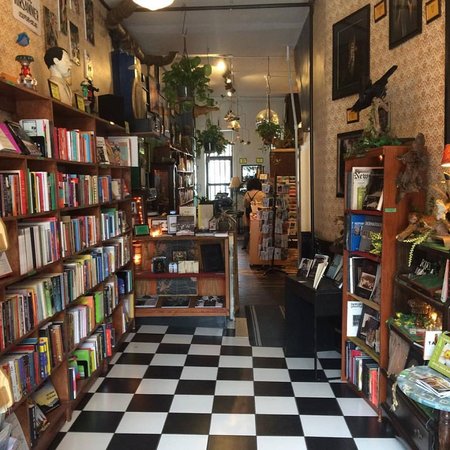 Quimby's Chicago outpost is almost a landmark at this point, selling an array of left-of-center books, comics, and zines that revolve around almost any topic you can think of. Their NYC shop, opened by Quimby's original owner, focuses more on art, photography, politics, and every other "cool, bizarre, strange, dope, queer, surreal, weird publication ever written." Both shops focus on self-published and small-press books, keeping their stock afforable and full of surprises. Refreshingly unpretentious, Quimby's is a great place to find an artist book by someone you maybe haven't heard of yet. If you're in NYC, check out Spoonbill and Sugartown while you're in the neighborhood—they have a great selection of newer art and criticism books and are only a subway stop away.
The Stacks
at The Contemporary Arts Center
900 Camp Street
New Orleans, LA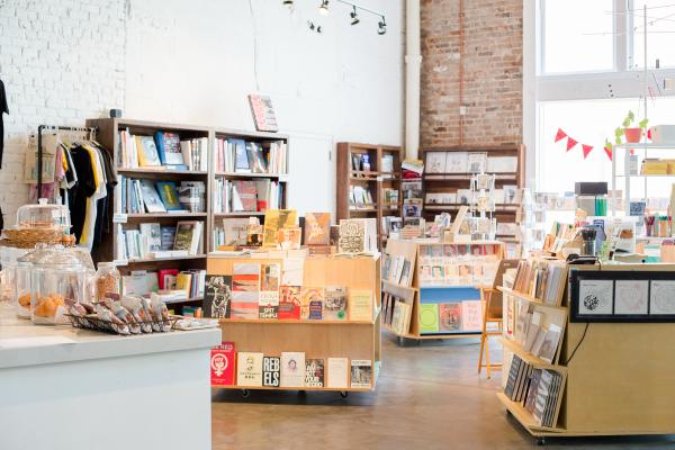 Emilie Lamy came to New Orleans from France and, after browsing the sparse shelves of local bookstores, realized her raison d'être. She opened The Stacks in 2014, originally as a pop-up inside of the popular vintage furniture store Sterling Provisions. Now, the bookstore is part of the Contemporary Arts Center New Orleans, offering art books of local and international interest. The shop also carries a small selection of stationary and artful children's books, offering a little something for everyone who wanders in.
Ulises
31 E. Columbia Ave.
Philadelphia, PA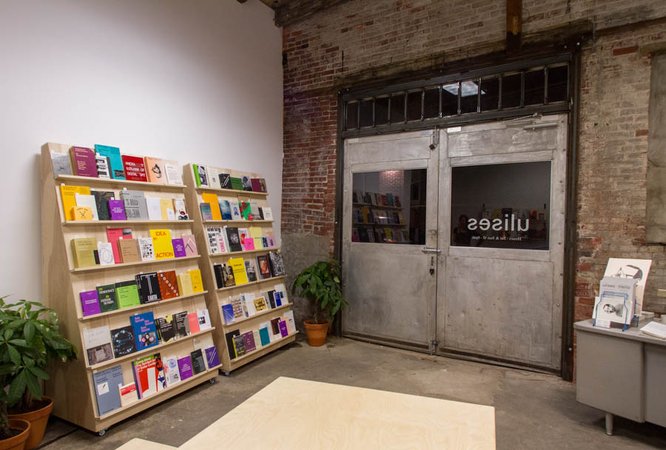 In 1975, Mexican-born artist Ulises Carrión opened the first bookstore in the world that was solely dedicated to artists' books and ephemera. Other Books and So, located in Amsterdam, became a hub for artist activity and contained an impressive archive of artists' books, mail art, small-run periodicals, and the like. In the spirit of Carrión, and as tribute, a group of six art professionals opened Ulises in Philadelphia late last year. In addition to an excellent selection of artists' books and independent publications, the shop offers a wide-ranging mix of programming. Acting like a quarterly magazine, each three-month event series tackles a single issue. Currently, the topic is "Migrations," and features screenings, readings, and works from well-known artists Marwa Arsanios, Tania Brugera, Banu Cennetoğlu, and Xaviera Simmons.
Honorable Mention:
Art Metropole
1490 Dundas Street West
Toronto, ON
https://artmetropole.com/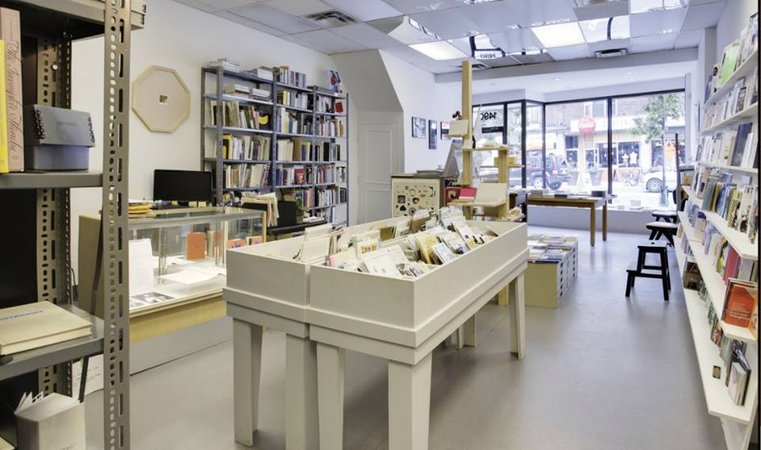 Okay, this one is technically in Canada—but hey, it's only a two hour drive from Buffalo. This shop is worth a shout-out and a visit, as they helped elevate the medium of the artist-book in Canada the same way Printed Matter did for the United States. General Idea, the Toronto-based queer collective founded the shop/archive/distribution center in 1974. In addition to publishing and distributing artist books and periodicals, they also managed an artist video rental service, mailing VHS copies of artists films across the country to interested parties. These days, Art Metropole is a not-for-profit bookstore and art gallery; there may be no more VHS tapes lying around, but their collection is full of other treats.