Artspace's Spring Auction opens today, which means collector's can bid on works otherwise unlisted on the site to potentially score great works by big-name artists for less than the price at retail. Though there's a slew of great works on offer (see them all here), we've highlighted a handful of our favorites below. Just be sure to get your bids in before May 29, 9 pm EST!


LORNA SIMPSON
Untitled, 1996
Starting Bid: $1,500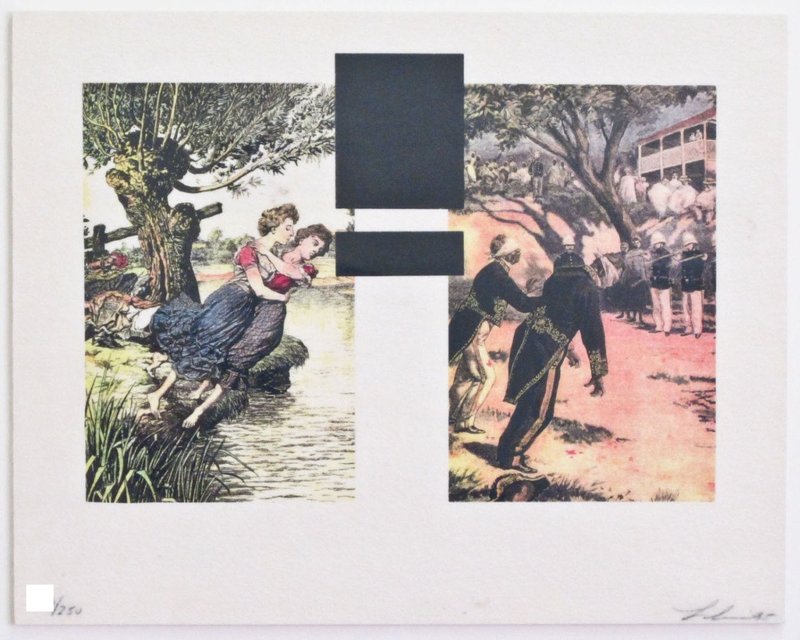 To say that Lorna Simpson's work is in high demand right now would be a gross understatement. In a Bloomberg article published earlier this month, advisor Candace Worth lists Simpson as one of five contemporary artists "who aren't going away anytime soon" that she recommends investing in, and it's not hard to see why. Simpson's powerful works explore race, gender, and African-American identity, and while she's best known for photography and video, she's just recently debuted her new foray into large-space painting at a solo show at mega-gallery Hauser & Wirth, who began representing her just two years ago (on view until July 26 at 548 West 22nd Street in Chelsea). This full color electrostatic heat transfer on wool felt is typical of Simpson's oeuvre; she began creating multi-panel photographs printed on felt in the mid-1990s.
JEFF KOONS
Balloon Dog (Blue), 2002
Starting Bid: $9,000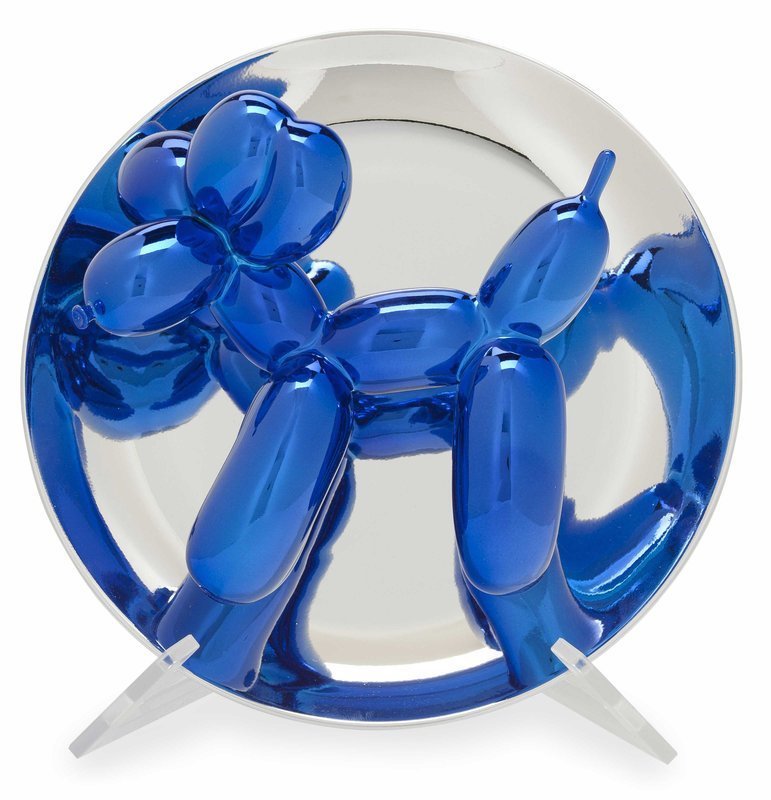 As we're sure you already know, a balloon sculpture by Jeff Koons officially became the world's most expensive work by a living artist when it sold for $91.1 million at auction last Wednesday at Christie's. According to Christie's, "At once cute and imposing," the stainless still sculpture is "reflecting us, incorporating us within the ever-shifting drama that plays out on its surface." The same can be said for Koons' Balloon Dog, which comes in its original box, only opened to check edition number.
JONAS WOOD
Parrot Pattern, 2016
Starting Bid: $6,000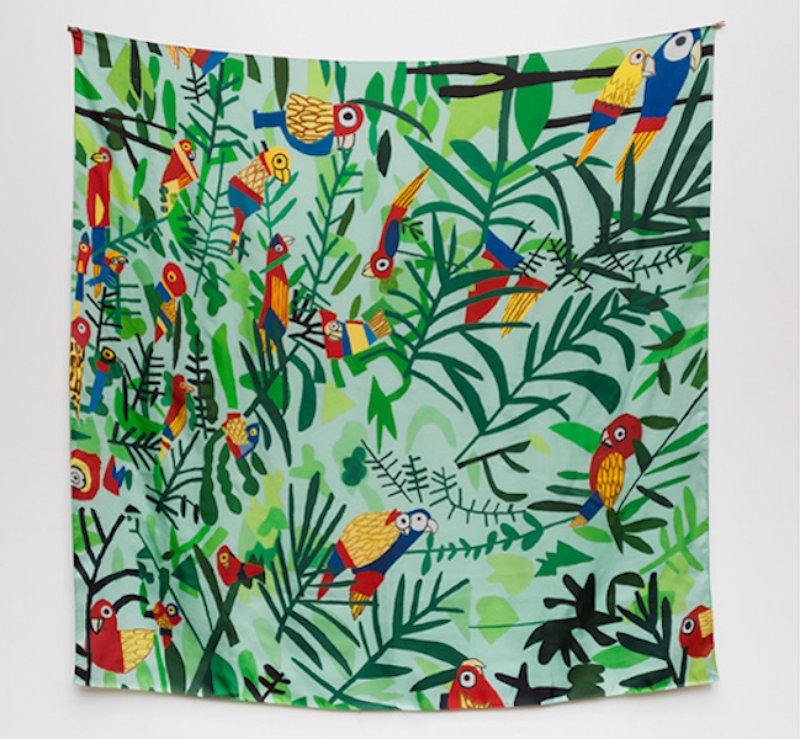 Jonas Wood recently joined the big leagues, becoming represented by Gagosian, which currently hosts the artist's highly anticipated solo show in its West 24th Street, Chelsea location. Meanwhile, the Dallas Museum of Art presents the first major solo museum exhibition for the young artist, which "traces the artist's fascination with psychology, memory, and the self to shed light on a practice that is both deeply personal and universal." (Wood's show at Gagosian is up until July 19, and at the Museum until July 14.) For the last several years, we've been describing the Los Angeles-based artist as steadily "on the rise" but at this point it's safe to say: Jonas Wood has risen. This limited-edition (100) silk scarf can be framed or draped (as pictured above)—either way it will surely add some quintessentially Wood-like color and joy.
VIRGIL ABLOH
SIGNED OFF-WHITE™ x RIMOWA Suitcase, 2018
Starting Bid: $2,500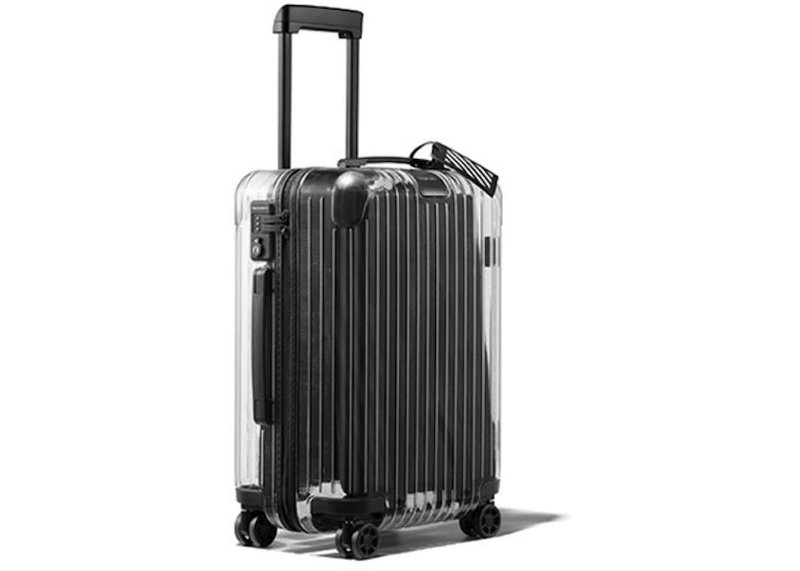 Named one of the 100 most influential people in the world by Time magazine in 2018, Virgil Abloh is the founder and CEO of Milan-based fashion label Off-White™, and is also serving as the artistic director of Louis Vuitton's men's wear. The virtuoso entered the fashion world when he forged a relationship with Kanye West, whom he met during an internship at Fendi in 2009; the two began an artistic collaboration that ultimately launched Abloh's career and the founding of Off-White™. The label is now known for its frequent collaborations with artists Takashi Murakami and Jenny Holzer respectively. This limited-edition transparent polycarbonate suitcase is a collaboration with Off-White and luggage label RIMOWA. Included with the case are the RIMOWA Flex-Divider system in black with white Off-White™ cross and stripes, a set of 3 "Miscellaneous" cotton dust-bags, a striped suitcase cover, a transparent amenity kit with a set of interchangeable orange wheels, an Off-White™ industrial luggage belt, and a striped leather luggage tag.
AARON YOUNG
Skid Mark (24Kt gold), 2010
Starting Bid: $10,000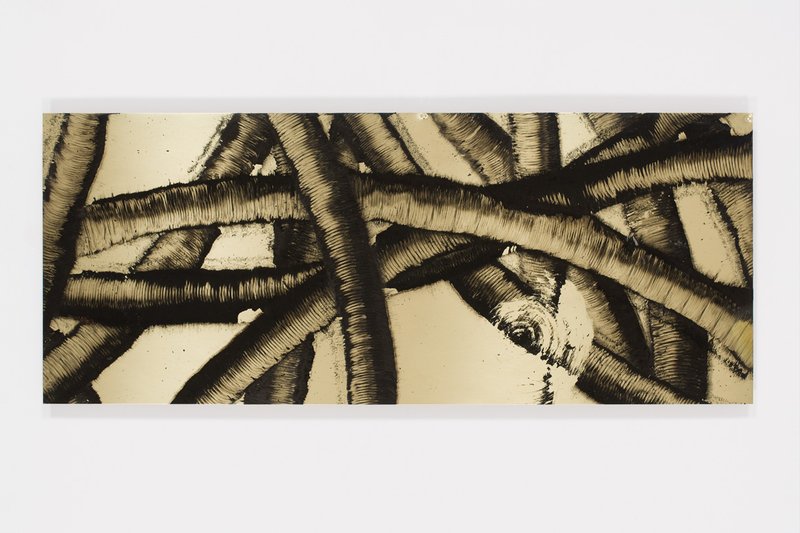 Aaron Young is known for his performances that enlist motorcyclists or skateboarders (in reference to subcultures or countercultures); the remnants are sculptures and wall pieces marked with skid marks. Skid Mark (24Kt gold) is typical of the artist's oeuvre, consisting of a brass panel plated with 24 karat gold, marked with burnt rubber and motor oil. Referencing Jackson Pollock's gestural action painting and Chris Burden's provocative and dangerous performances, Young has works in the collections of in the collections of the Los Angeles County Museum of Art, The Museum of Modern Art in New York, and Jumex in Mexico City, among others.
CARROLL DUNHAM
Untitled (10/1/05, 4/22/06), 2005-2006
Starting Bid: $15,000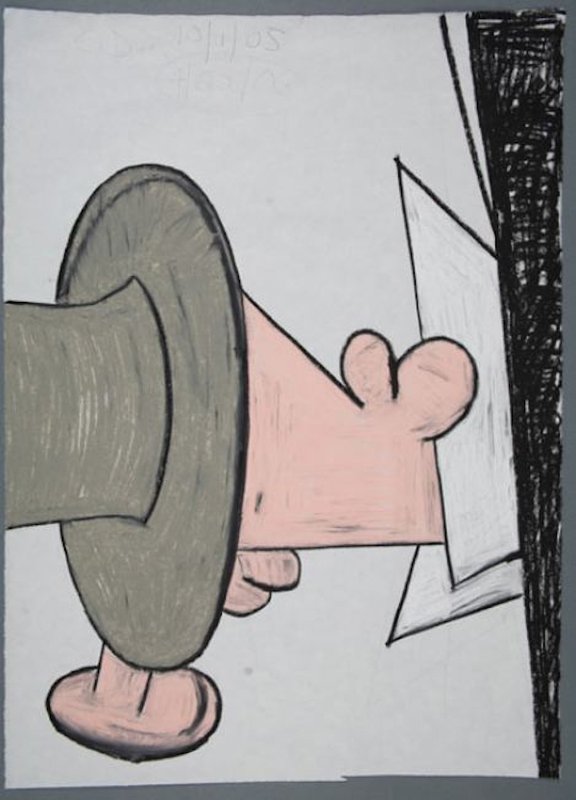 Though one of the more expensive works in the auction, Carroll Dunham's Untitled (10/1/05, 4/22/06) is an original, one-of-a-kind work on paper. The oil pastel drawing is very typical of his approach: cartoon-like forms with provocative yet indistinct motifs (like weapons or sexual organs) that blend abstraction and figuration. Dunham has long resisted prevailing stylistic trends and consequently carved out a space for American painters to explore the transcendence of aesthetic categories.
RELATED ARTICLES: