Often called the greatest living artist in America, if not the world, Jasper Johns created a bridge between painting and what was to become conceptual art with his mid-'50s portraits of what "the mind already knows"—maps, flags, targets, and other flat images that could be rendered so faithfully in paint that there was barely any sunlight between the depictions and what was depicted. (Is a painting of a target a painting or is it just a target?) Today one of the most valuable artists anywhere, he is still going strong, as evidenced by his recent MoMA show of new prints—a medium in which Johns is a master—that counts among his major achievements. This extraordinary recent print amounts to an epic catalogue of his late-career themes, as well as motifs that have preoccupied him for decades: optical illusions (look for the faces in the vases), philosophically freighted everyday objects (that ladder), a motley color scheme, and the notion of doubling and repetition that lies at the heart of printmaking itself.
As the wife of Jackson Pollock, the painter Lee Krasner endured his excesses, buttressed his achievements, and, critically, pursued a radical style of abstract painting that intertwined with his as completely as the loping lines of their canvases. While this creative partnership—which has been liked to that of the Cubists "mountain climbers," Picasso and Braque—is widely celebrated, Krasner's pioneering work remains far more accessible on the market, and this signed lithograph is an opportunity to acquire a piece of Abstract Expresionist art history before it recedes into private collections for perpetuity.  
MARK DION
Hunting Standards (2012)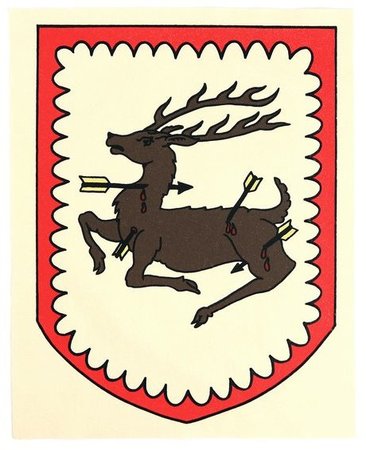 A riveting artist whose dual investigations of ecological issues and archival resources have yielded everything from large-scale installations—entire overgrown felled trees, greenhouses, etc.—to 19th-century-style cabinets of curiosity containing a richly macabre array of dead animals that operate as invocations of both death and practical knowledge. This series of four prints, executed on felt in a small-batch edition, carries Dion's concerns into the realm of hunting, where ancient skills wreak doom upon woodland dwellers while simultaneously providing us with food and deeply encoded traditions.
CECILY BROWN
The Crow and Kitten (2013)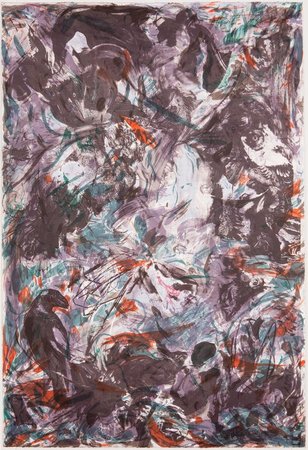 An heiress of pathbreaking abstractionists like Lee Krasner and Joan Mitchell, the British painter Cecily Brown updates the idiom of Ab-Ex painting by reaching back farther into history, summoning such figurative touchstones as the harrowing caricatures of Goya and the classical reposes of Poussin and Ingres. How does she combine these two disparate traditions? With a generous helping of sex—often, figures can be discerned coupling in her work as enthusiastically as her objective and non-objective elements meld. This dynamic piece, with its trademark hide-and-seek layers of imagery, will reward countless hours of visual exploration.
IONA ROZEAL BROWN
TRUE MAJESTY…'TRUE FAITH', by NEW ORDER (NO STATIC STATUS: THE STATICE, YOU AND I) (a study)" Song of Solomon 5:16 TRUE BELLISIMO TRUE TEARS COME I WEEP WHEN YOUR FACE COMES INTO VIEW (2014)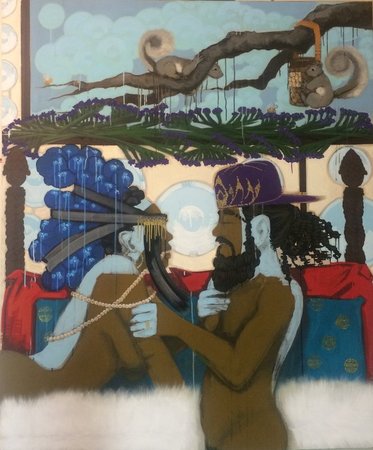 Included in the landmark "30 Americans" of work by contemporary black artists that toured from the Rubell Family Collection to the Corcoran, Iona Rozeal Brown has made a name for herself by making paintings that find an unexpected confluence between the iconography of Japanese ukiyo-e and kabuki and African American culture, from hip-hop to Afrocentrism. This newly created large painting—it's six feet high—evidences intriguing new directions in her work, from the incorporation of what appear to be classical Indian motifs to surreal shapes that lend an otherworldly dimension to the erotic encounter depicted. 
LAURE PROUVOST
Paradise On Line (2014)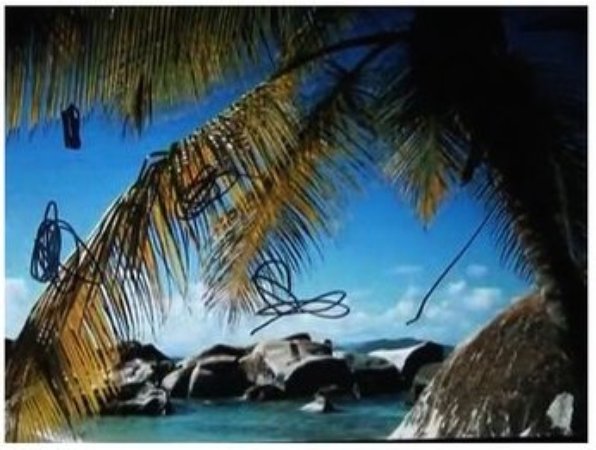 An undisputed rising star who snapped the world to attention by winning last year's Turner Prize with an elaborate yet funny and moving installation chronicling the quest of an old man (supposedly her grandfather) to dig to Africa, Laure Prouvost is lavishly talented across the scope of contemporary art-making, capable of creating sculptures as easily as short, YouTube-ready videos tailor-made for the flyspeck attention spans of the Internet generation. This entertaining bookshelf-sized piece is a tropical tribute to none other than the great avant-garde filmmaker Chris Marker (of La Jetée), made to accompany his posthumous show at the Whitechapel Gallery last spring.