With hundreds of exhibitors and countless works on view, Frieze encourages gallerists to pull out all the stops to lure overwhelmed fair-goers into their booths. And as a result, there are some pretty outrageous works to be seen. Some, like Gagosian's not-for-sale Murakami figures and Robert Therrien's oversized furniture, are luring eye candy for the selfie-loving fairgoer. While others, like Simon Fujiwara's installation at Esther Schipper, are definitely worth more than just a quick snap shot. Here are some of the most eye-catching works we saw at Frieze yesterday.
LUIS FLORES
Salon 94, New York
Powerbomb, 2018
$40,000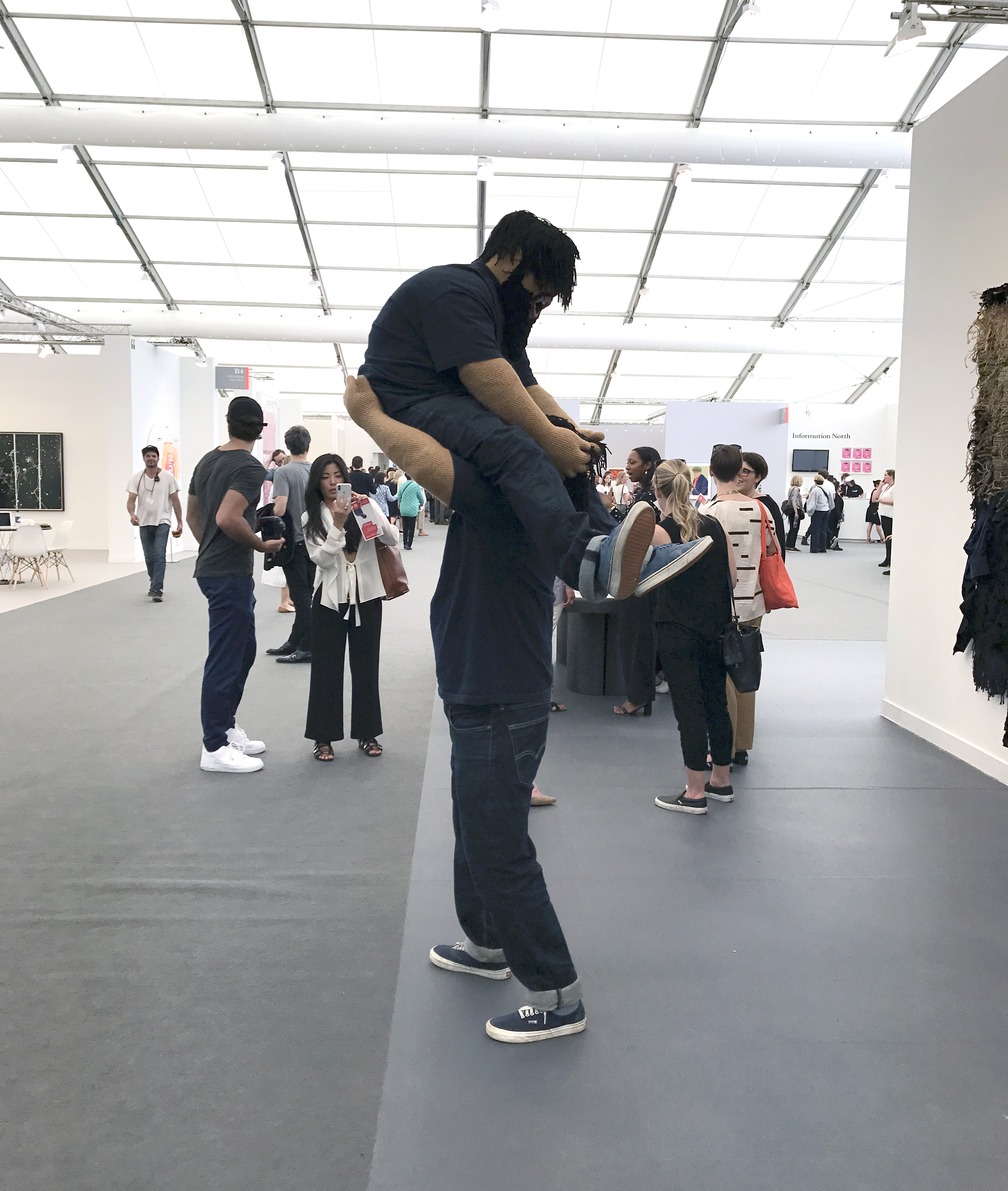 Double take and double take again. From afar this evocative sculpture can be quite startling in the context of an art fair (well, any context)—surely an intended effect on the part of the young emerging artist. Luis Flores "is… well, basically identical to the figures in his sculptures," says Salon 94's booth attendant. "So in a sense, this work is a self-portrait." The artist is no stranger to sexual innuendo—his video works and other sculptures (most of which are iterations of this figure) often involve references to his own member, which the artist seems quite confident about (the title of one piece: My Dick Is Bigger Than Yours.)
THEO TRIANTAFYLLIDIS
The Breeder, Athens
Nike, 2018
Between $10,000 and $20,000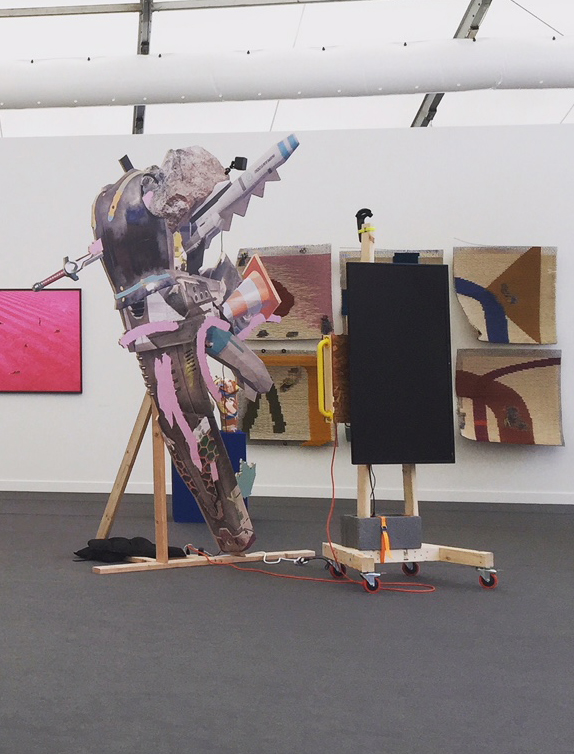 As a new media artist, Theo Triantafyllidis was "frustrated with the fact that new media artists are keyboard warriors—stuck behind their computers in the virtual world," says The Breeder's booth attendant. As a solution, the Los Angeles-based artist created a navigable virtual studio that allows the artist to "construct" a three-dimensional sculpture on his computer. On view is said sculpture in the proverbial flesh, next to a vertical monitor on wheels that, when rotated, offers visitors a 360-degree view of a studio space while the artist's avatar—a female blue ork from The Lord of the Rings (why not?)—animates the space.
SIMON FUJIWARA
Esther Schipper, Berlin
Anne Frank's Birthday Cake, 2018
Price upon request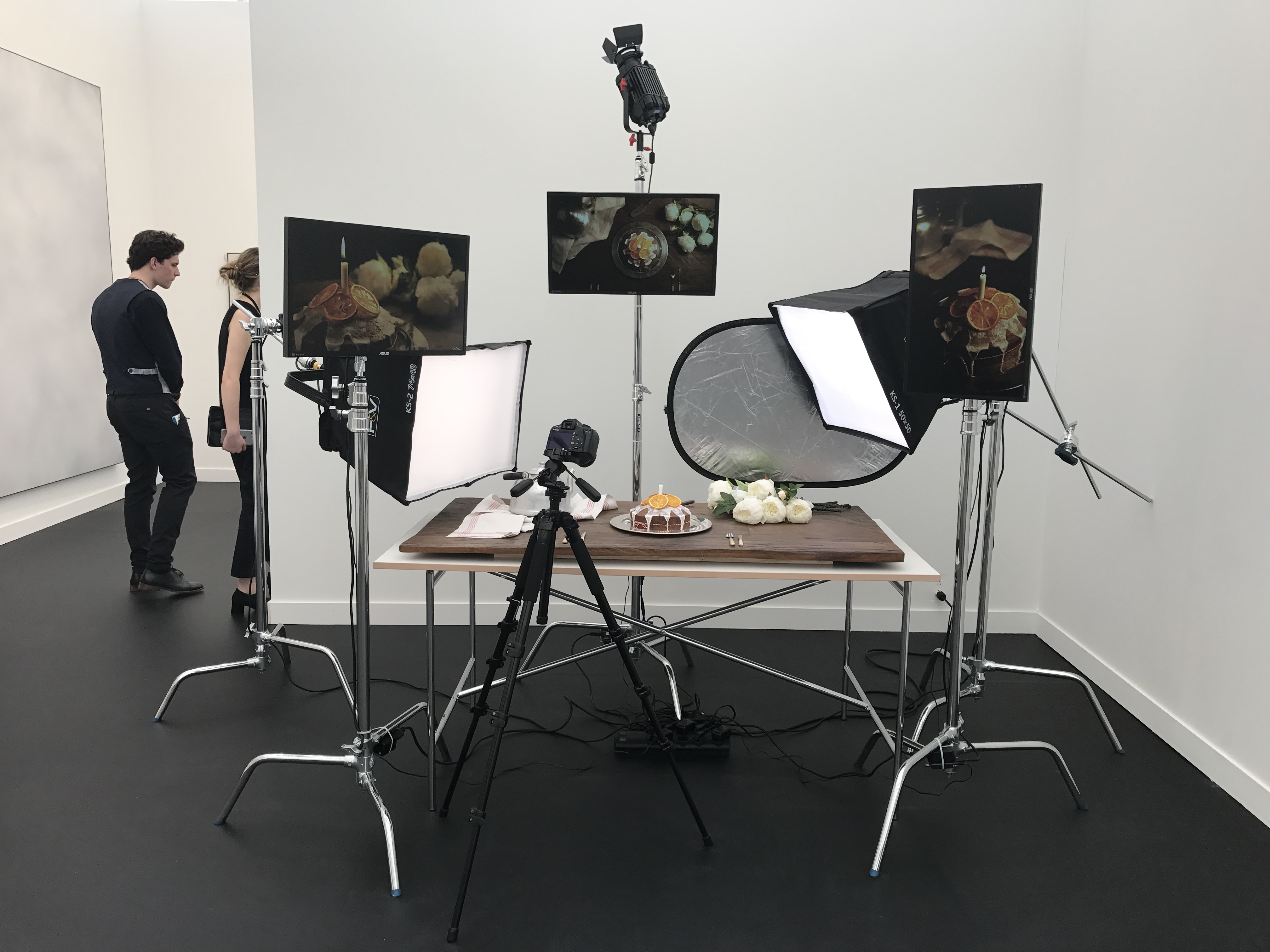 When artist Simon Fujiwara visited the Anne Frank Museum in Amsterdam, he couldn't help but notice the disparity between the original facets of the house and the many restorations, objects, and affects that were added and replaced over the years. Questioning the nature of authenticity and identity—especially within our current image-saturated culture where bloggers and advertisers use carefully orchestrated photoshoots to suggest "authentic" experiences and products—is a big part of what Fujiwara's work is all about. In this piece, the artist recreated a birthday cake as described by Anne Frank in her diary—a traditional cake for its time, which in today's world, looks ripped from the pages of Kinfolk or Martha Stewart Living—rustic, effortless, and homemade, despite the painstaking process of making it look that way on screen.
ROBERT THERRIEN
Gagosian, New York etc.
No title (folding table and chairs, green), 2008
Price unknown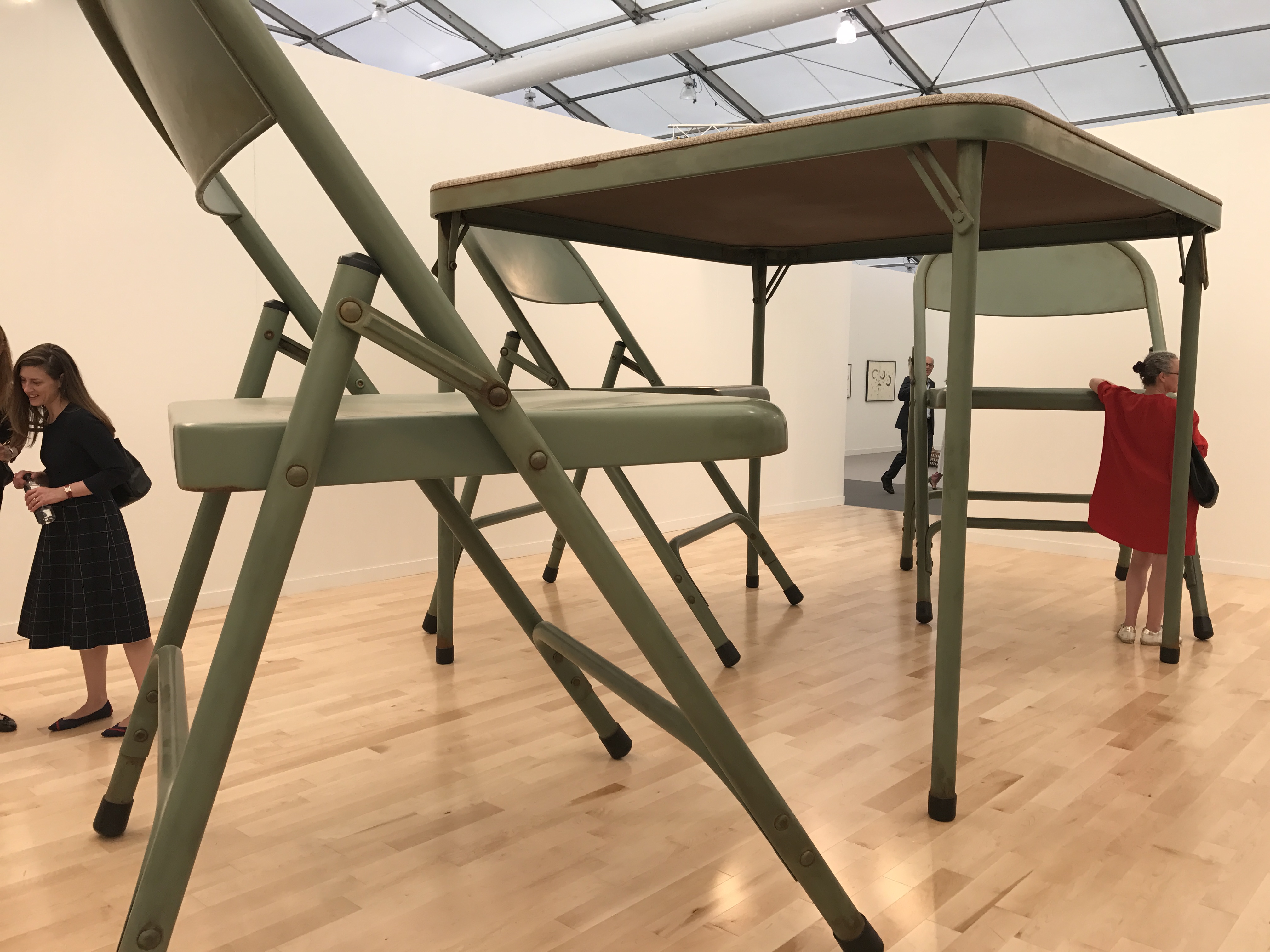 The most difficult thing about this work by Robert Therrien is that it's too big to fit into a selfie, so you have to have someone else take your picture with it. Otherwise, it's pretty easy to like. Jokes aside, the larger-than-life installation is quite impactful when you stand beneath it. It's like a time machine—suddenly you perceive the world as you did as a small child. Referencing Duchamp and the readymade, Therrien remakes ordinary objects in an unfamiliar scale. On the booth's adjacent wall, the artist's signature stacked pot works, as well as some drawings and wall works, are on display.
TAKASHI MURAKAMI
Miss Ko2, 1996
Gagosian, New York etc.
Not for sale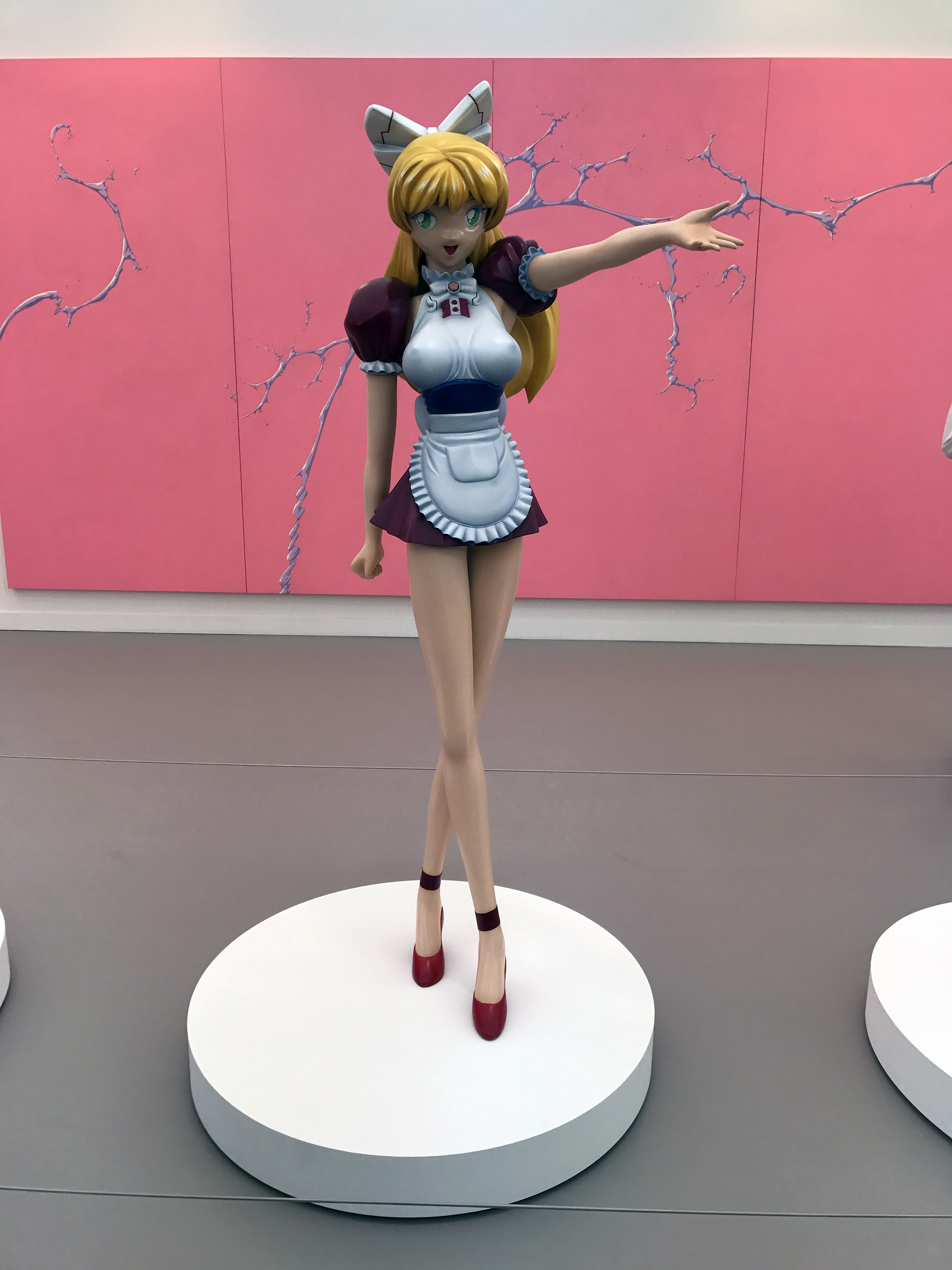 Nothing quite says "Look over here!" like a big-breasted, long-legged figure by Takashi Murakami. The work isn't for sale (the paintings behind it are)—but it surely draws a crowd. Murakami is known for blurring the lines between high and low art, appropriating imagery and characters from anime and manga comics. The sculpture pictured above is one of three in the booth. This work has sold at auction for close to $23 million—and is arguably Murakami's most well known piece.
LOUISE BOURGEOIS
Cheim & Reid, New York
Couple, 2004
$1,600,000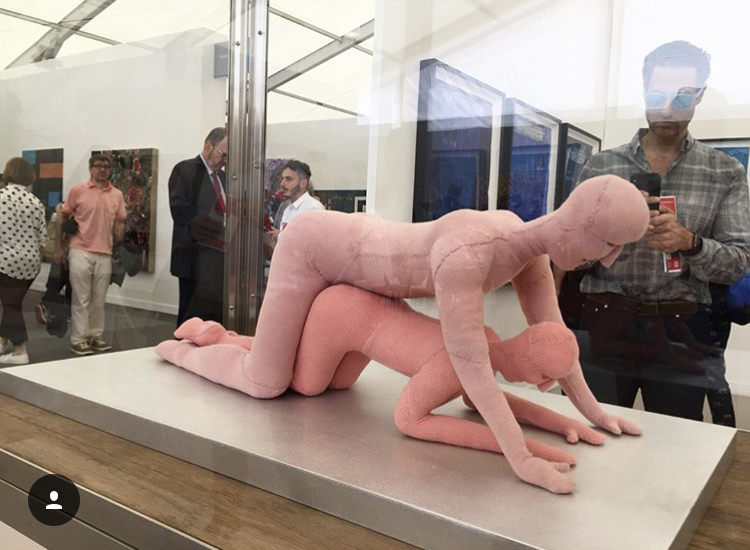 In a booth predominantly filled with a new series by Tal R, this Louise Bourgeois soft sculpture can't be ignored. It comes from a series of small-scale, hand-sewn fabric works that the late artist made from 2001 to 2004, iterations of much larger figures she made in the late 1990s. Bourgeois is known for using materials that were unconventional at the time to explore themes of frustration, vulnerability, sexual desire, and love. (Read an interview with the artist that is just as bold and idiosyncratic as the work itself, excerpted from Phaidon's 2003 monograph.)


RELATED ARTICLES:
9 Artworks Not to Miss at Frieze
5 Rising Stars to Discover at Frieze London 2016
Star Painter Jamian Juliano-Villani's Favorite Works from NADA New York's 2018 Preview
[related-works-module]