If either of the two political parties in the United States could be considered patrons of the arts, it's probably the Democrats. They tend to land on the right side, at least of history, in debates around NEA grants, public artworks, obscenity laws, and the like. The Obamas swept aside the White House's historic avoidance of new art by bringing in contemporary and Modern art, placing a work by the president's friend Glenn Ligonin their private quartersalong and spreading other loans by Ed Ruscha, Nicolas de Staël, and Jasper Johnsaround the building; Michelle Obama, meanwhile, has made waves (and lasting impacts) with her school arts program.
In Part 2 of our special feature on the aesthetic preferences of the current presidential hopefuls, Alexandra Peers takes a deep dive into Democrat Hillary Clinton and Bernie Sanders's respective engagements with art. 
Read Part 1: The Art History Of Donald Trump, From Disappointing Christie's To Becoming Warhol's Bête Noire
Hillary Clinton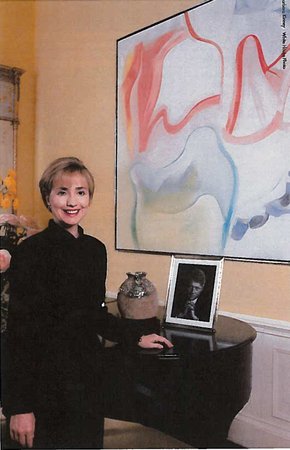 At first glance, it's hard to get a read on the art tastes of the former First Lady/Secretary of State. Interiors of the Clinton family's Chappaqua, N.Y., home are rarely photographed, and the pictures that do exist show no art. Their East Hampton home is a rental.
But decades-old White House brochures and interviews early in her career as First Lady in fact show a woman with a penchant for Modern art. (The couple's first date, she has said, was to the Yale Art Gallery, which was featuring shows of Mark Rothko and Henry Moore.) The couple famously put an 1983 Willem de Kooning (interestingly, from his disputed late period) in their private living quarters upon taking office. 
It so happens that among Clinton's biggest initiatives in her early year in office was the creation of a series of sculpture exhibitions, each curated by a museum in a different region of the U.S. These were not minor shows: The Northeast exhibition, for example, was curated by legend and New Museum founder Marcia Tucker, MFA Houston's Peter C. Marzio did another, and National Gallery director emeritus J. Carter Brown was also heavily involved. The shows filled the 120-by-60-foot Jacqueline Kennedy Onassis garden with works by Alexander Calder, George Segal, Louise Bourgeois, Donald Lipski, and a huge bronze nude by Gaston Lachaise (Standing Woman, 1932). 
In a long interview with Sculpture Magazine nearly two decades ago, Clinton discussed her favorite works from that program, noting that she and Bill used to eat breakfast by their George Rickey, and enjoyed watching the kinetic piece—"I love the whole idea of moving sculpture," she told the magazine. But she fretted about the potential impact on Calder's 1964 mobile Five Rudders from the breeze unleashed by the presidential helicopter as it landed on the South Lawn. (The sculpture held up.)
New York sculptor Carole Feuerman was a three-time visitor to the White House after first meeting president-elect Bill Clinton at a "Woman of the Year" luncheon in New York. ("I was leaving and the elevator door opened and he said 'So nice of you to be here!' and took my arm. So I went back into the luncheon.") Over the years, Feuerman had several conversations with the presidential couple about sculpting them, and a couple of years into Clinton's first term she gave Hillary LittleIslamorada, a hyper-realist sculpture of a child swimming made of oil and resin, that was added to their private collection. Hillary, she said, told her she loved it, and apparently really was a fan because a couple of years later the First Lady invited her back. After hemming and hawing over a long lunch and tour of the gardens—("It was wonderful, but I was wondering why were we meeting?" says the artist), told Feuerman that the eyelashes on the sculpture were loose "and could I fix them?" An aide was dispatched for material, and the matter resolved. 
Feuerman's one regret: on her second visit, she brought another sculpture for the couple, and realized with dismay it featured a young woman with a beret—the trademark look of Monica Lewinsky.
During her tenure, to her credit, Clinton hosted many artists, including Ellsworth Kelly and Segal, at the White House, some for the first time. And when it came time for the Clintons to chose an artist for their official portrait, they chose Simmie Knox, the self-taught son of an Alabama sharecropper who became the first black painter to fill the prestigious role—anticipating the current widespread embrace of self-taught African American art.
While Clinton appears far more sensitive to the allure of contemporary art than her likely general-election adversary Donald Trump, it's worth noting that they share an aesthetic distinction: both own a painting by the singer Tony Bennett. Wonder who he is voting for?
Bernie Sanders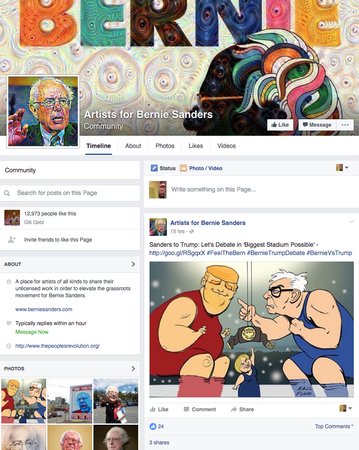 The Vermont Senator's personal taste in art is not very well known; while he has enthusiastically supported arts programs, they have mostly been music-based and his home is decorated with family photos. But, before conceding the nomination to Clinton, he flatly stated, "You have my promise that as President, I will be an arts President. I will continue to advocate strongly for robust funding of the arts in our cities, schools and public spaces. Art is speech. Art is what life is about."
That said, the onetime candidate's planned overhaul of the tax system would have trimmed charitable deductions for works of art donated to museums and limits the use of "like-kind" exchanges for art and collectibles, proposals which would have a negative impact on art lovers.
Nonetheless, artists favored his cause. Shepard Fairey, who designed the iconic "Hope" poster that became a symbol of the Obama 2008 campaign, formally endorsed Sanders and designed an elaborate $30 "Feel the Bern" T-shirt to raise funds for the campaign. A Facebook site "Artists for Bernie Sanders" created "a place for artists of all kinds to share their unlicensed work in order to elevate the grassroots movement" for the candidate; some works featured the Senator with a halo. A traveling exhibition, "The Art of a Political Revolution: Artists for Bernie Sanders" toured Los Angeles, Boston, New York and Austin.
Beyond that, Sen. Sanders had this to recommend him: According to the Congressional Arts Voting Record, between 2004 and 2014 Sanders earned an A+ score on all of the Americans for the Arts Action Fund Congressional Arts Report Cards for his votes in support of the arts in the U.S. Senate and U.S. House of Representatives, respectively.
As far as collecting goes? We have the feeling he's a public-art guy.