So, you've invested in an excellent Jenny Holzer print. Well done you! It's framed, up on the wall, and your friends are coming over to admire the new work. Do you know what you're going to say? Do you understand how the artist came up with her famous word series? Did she paste up her early posters herself? Is it OK to get her confused with Barbara Kruger ? Does she even write all her own words? And which Hollywood star played a version of the artist in a 1990 feature film? What do you mean you don't know? Read this piece, and you won't be stuck for conversation around this important, contemporary artist when friends want straight answers.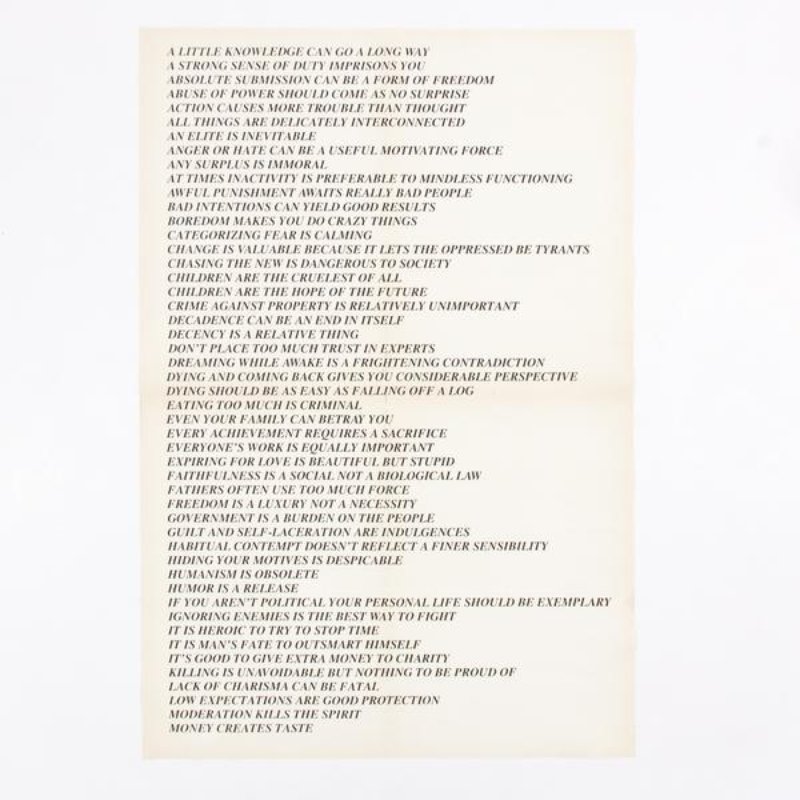 Truisms (Toronto) 1982, by Jenny Holzer
Jenny Holzer, I know this one. The slogan posters from late '70s New York? Well, that is certainly her best-known work. Jenny Holzer is a 69-year-old, Ohio-born, New York-based artist who found fame via her text works. Her most famous series was a set of diamond-hard philosophical sayings, Truisms – well-known lines include 'Abuse of PowerComes as No Surprise', 'Money Creates Taste', and 'Protect Me From What I Want' – which the artist printed onto handbills and pasted up around New York City in the mid-to-late 1970s. From that early beginning, she has moved on to produce text works for digital read outs, skateboards, metal plaques, condom wrappers, and stone benches, among other media; her slogans have been projected onto buildings, run across LED readouts in sports stadiums, flashed onto the digital billboards in Times Square, and even carved into the rocks of the Mediterranean island of Ibiza.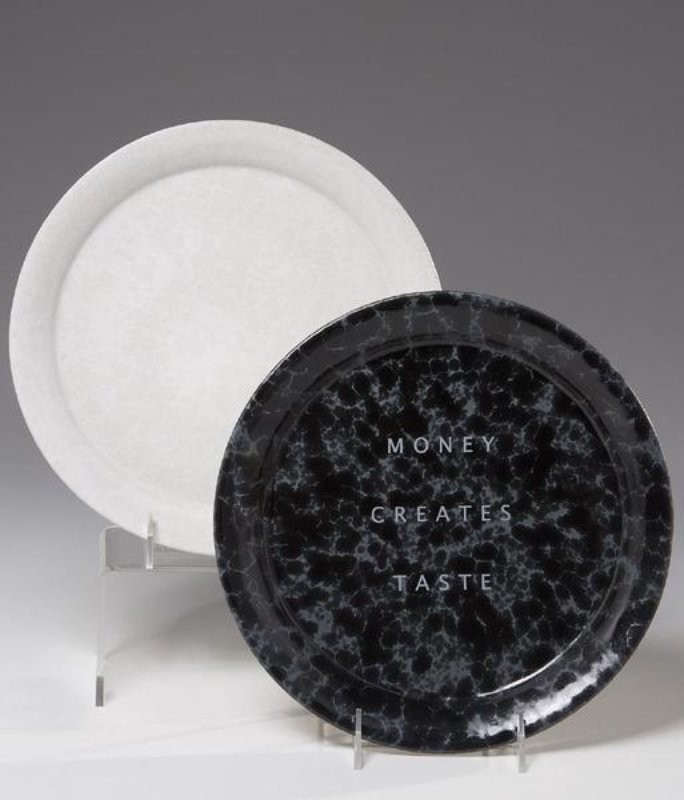 Ceramic Charger , 2002, by Jenny Holzer
How did it all begin? With Holzer there are a couple of origins. The artist began as a painter, and she credits a project she undertook at the Rhode Island School of Design, creating pictures based in scientific diagrams, as the start of her text-art interests.
At the time I thought that diagrams were the "most reduced, truest way of visual representation," she recalled. However, she ultimately took more interest in their accompanying captions.
Holzer also attended the Whitney Museum of American Art's Independent Study Program in New York, where students learned critical theory, among other subjects. The program's founder Ron Clark issued his pupils with a fairly substantial reading list. Working through these weighty texts, Holzer began boiling some of the most pertinent points down into one liners; and so began her Truisms series.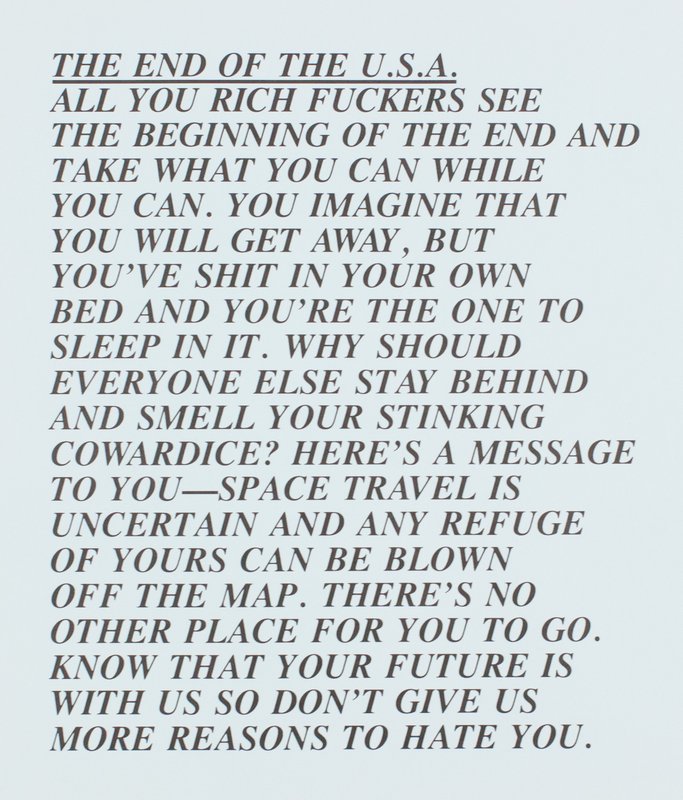 "End of the USA" (Inflammatory Essays) , 1982, by Jenny Holzer
Did Holzer paste the first few posters up herself? She did paste them up around New York, and would even return to the scene of her crime to gauge reactions. "Sometimes I would come back around and stand close enough to listen to people argue over them," she once recalled.
Did she ever get caught? The police only cornered her on one, single occasion, late at night, in Manhattan's SoHo district. "I launched into a rambling explanation and they decided I was not worth keeping," she later remembered. "I was dripping with so much wheat paste they probably didn't want me on their back seat much longer."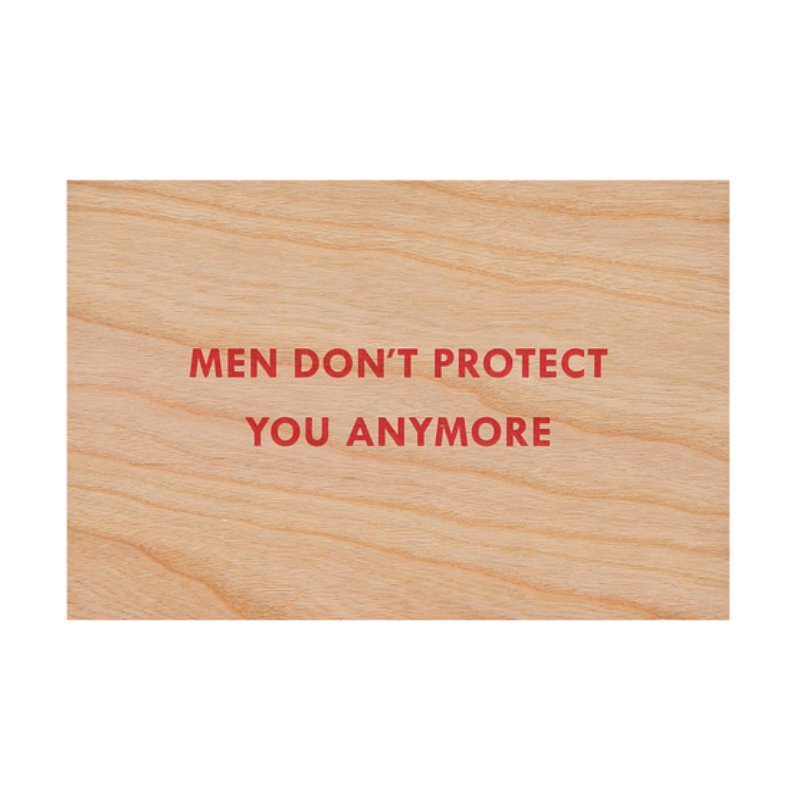 Men Don't Protect You Anymore, 2018, by Jenny Holzer
When did the gallery system start paying attention? Pretty soon after. In 1982, she was featured at the documenta 7 arts event in Kassel, Germany; she was also included  in the 1983 Whitney Biennial; and over the following years she received solo shows at prominent galleries in Paris, Cologne, New York and Los Angeles, before being invited, in 1990, to represent the USA at the Venice Biennale. Holzer was the first woman to represent her country (though other female artists had been included in group shows in the American Pavilion at the Biennale). She also received the Biennale's Golden Lion prize that year.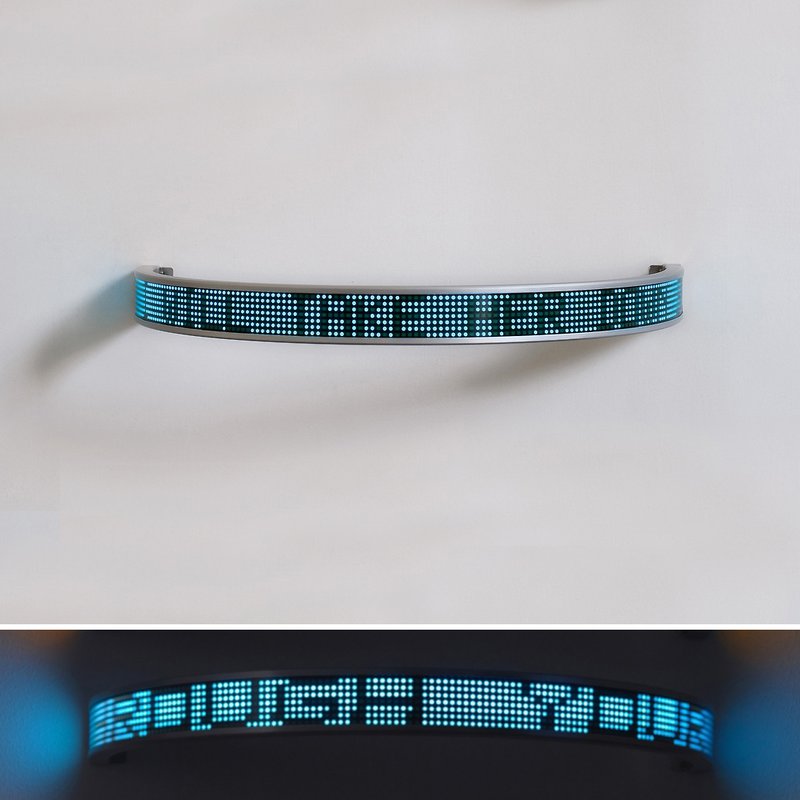 Blue Laments Arno , 2008, by Jenny Holzer
How about the art market? How have her prices fared? They have risen exponentially. In the late 1970s and early 1980s, fine-art book shops in New York would sell leftover posters from her early street-art campaigns, in job lots, for as little as a dollar each. How times have changed!
Back in November 2011, Christie's New York sold a marble bench incised with a series of her Truisms for $410,500; in November 2017, Holzer's Red Tint series of electronic signs achieved $435,000 at Sotheby's auction house in New York; while in March Phillips in London sold one of Holzer's more recent paintings based on redacted government documents, TOP SECRET NOFORN 11 U.S., for £100,000.
A painting based on redacted government documents? What's that about? Following the Sept 11 attacks and the ensuing War on Terror, Holzer turned her attention away from words, and towards official documents, where key words were sometimes obscured. "After 9/11 and the invasion of Iraq, I wanted to understand what happened and why," she has explained. "Many news outlets were cautious or consistently positive at the time, and it occurred to me that formerly secret documents could offer more complete and unmediated information."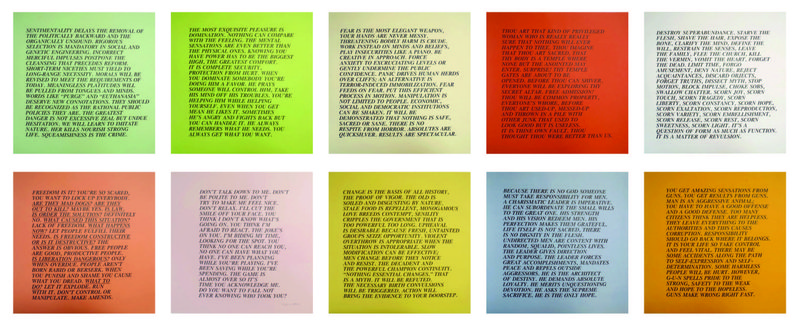 Inflammatory Essays I, 2002, by Jenny Holzer
How do I tell Holzer's series apart? It's not actually that easy. However, here's a few pointers. Truisms are one-liners. Inflammatory Essays, a series which she produced soon thereafter, are 100 word works in twenty lines, inspired by political figures and theorists such as Mao, Lenin, and Trotsky. However, it's easy to confuse these two series at first glance, as the first Truisms posters featured 30 to 40 of her best one liners.
From there on it gets a little clearer. Her War series (1992) was influenced by the Gulf conflicts of the 1990s; Laments (1988-89) responds to the AIDS Crisis; and Lustmord (1993-94), a German word for rape killing, was drawn up partly in response to the war in Bosnia.
Here's quick, partial, chronological rundown: Truisms (1977-79); Inflammatory Essays (1979-82); Living (1980-82); Survival (1983-85); Under a Rock (1986); Laments (1988-89) Mother and Child (1990); War (1992); Lustmord (1993-94); Erlauf (1995) and Arno (1996-97).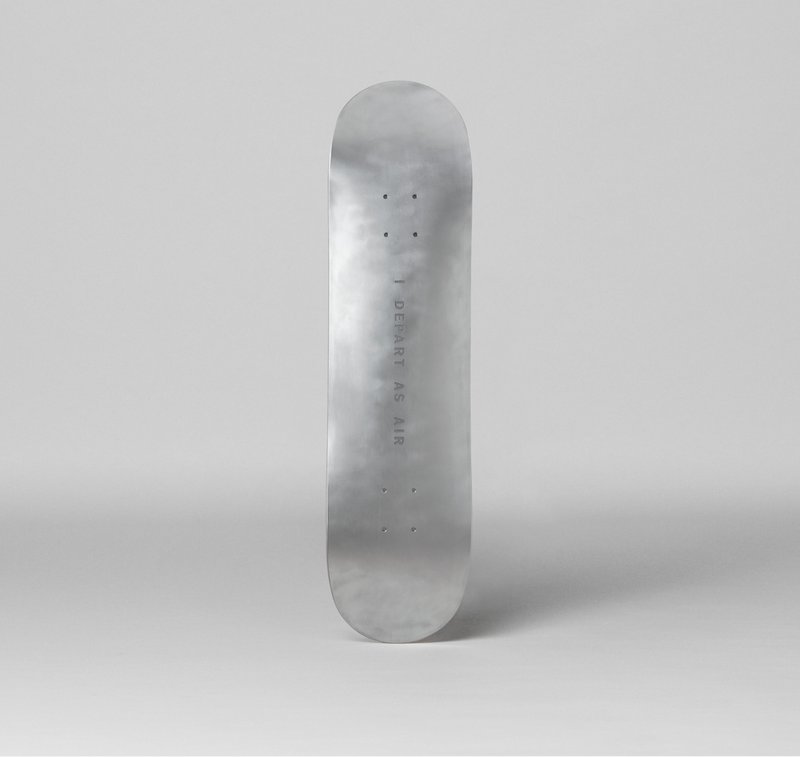 Does she still write all the words herself? No, in recent years, Holzer has taken to appropriating other authors' texts. Her inscriptions for the new AIDS Memorial in New York, and her accompanying limited-edition skateboard (above), are drawn from the poetry of Walt Whitman; a 2017 tribute to Leonard Cohen staged in Montreal featured the singer's words; and her 2016 etchings on to the rocks of Ibiza included verses from the American Imagist poet Hilda Doolittle, the French writer Arthur Rimbaud, the Mexican poet and diplomat Octavio Paz, and the English novelist DH Lawrence.
Can I see some of Jenny Holzer's art in Ibiza? You can. Holzer's love for Europe's leading party island goes back decades. She first visited in the late 1990s, while installing works at the Guggenheim Bilbao. "I saw smiley nude and half-naked old people, babies and hotties," she told the New York Times. "There was much to love." In 2016, she was invited to show at a gallery on the island, and also created a number of seaside etchings, on to the rocks of Ibiza's southwest coast.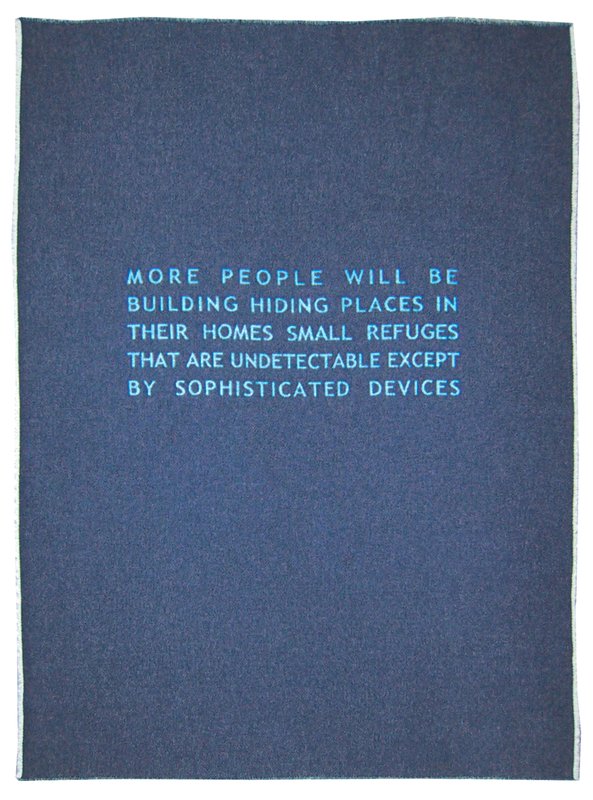 Untitled , 2003, by Jenny Holzer
I heard Jodie Foster played a version of Holzer in a movie? Is that true? Sort of. Dennis Hopper directed and starred alongside Jodie Foster in the 1990 movie, Catchfire (the film was subsequently released, in a slight different cut, as Backtrack). Foster's character, Ann Benton, is a contemporary artist, producing text works on digital readouts. Holzer made artworks for the movie, and is listed as 'art creator' in the film's credits.
I have to admit that I sort of get Jenny Holzer confused with Barbara Kruger . Is that bad? It isn't great, but it is understandable; they both work with words, and both came to prominence around the same time. However, Kruger is about five years older, and comes from more of a graphic design background. Nevertheless, Holzer admires Kruger, the two artists have exhibited together, and Holzer and acknowledges some level of influence.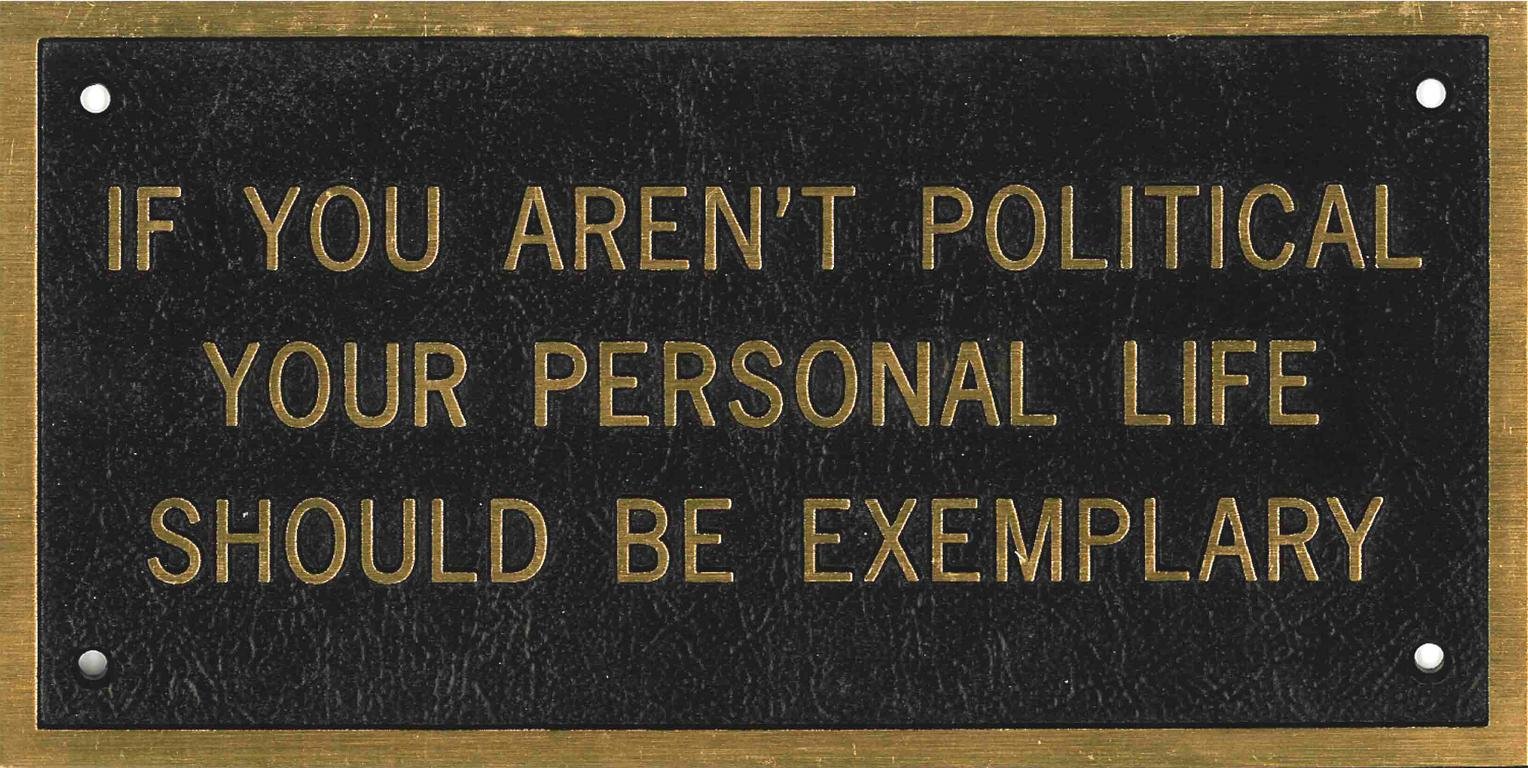 If  You Aren't Political Your Personal Life Should be Exemplary, 1988, by Jenny Holzer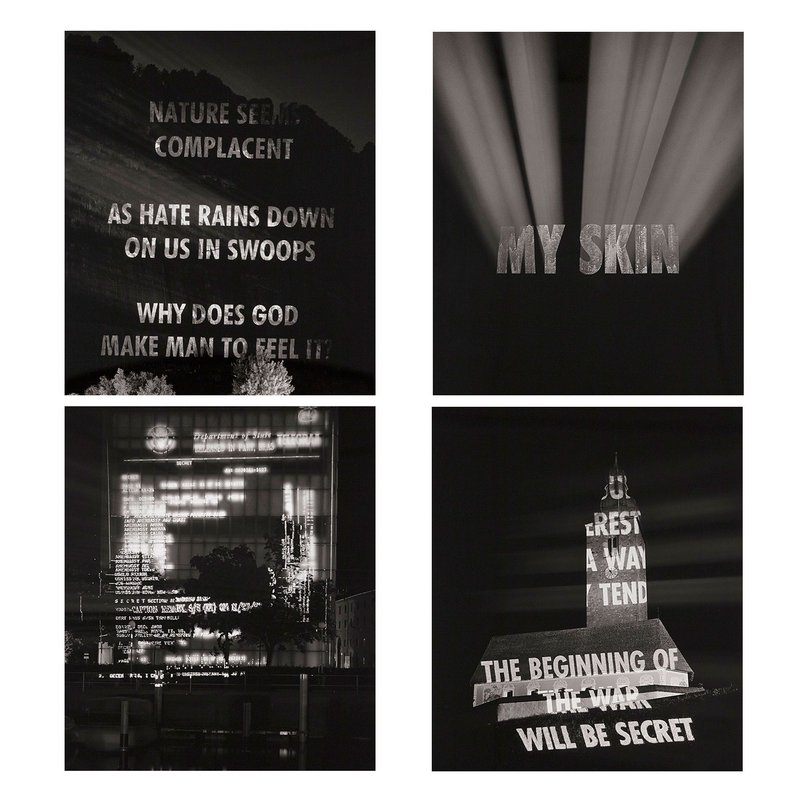 Truth Before Power, 2004, by Jenny Holzer
What should I hang Holzer next to? For a period-correct hang, try Kruger , Cindy Sherman , Louise Lawler , and Sarah Charlesworth. To accentuate the knotty words, try Lawrence Weiner , Judy Chicago , Ed Ruscha and Christopher Wool . Hark back to the spikier side of the eighties with the Guerrilla Girls and David Wojnarowicz ; or bring things right up-to-date with Ellen Lesperance , Celia Hempton and Jenny Saville .
RELATED STORIES
'Some Died, and the Rest of us Were Changed' - Jenny Holzer
Jenny Holzer Describes the First Artworks she Made as a Young Artist
Jenny Holzer's 'Feminist Sex Murder'
[JennyHolzer-module]