It's a great time to see art in New York's reigning gallery hub—here are the pieces that caught our editors' eyes.
JONAS WOOD
Spiritual Warrior (2016)
Anton Kern
Prices range $70,000 - $320,000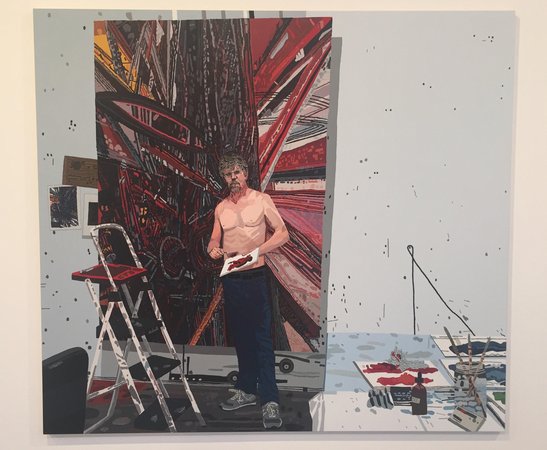 The tradition of painters portraying their fellow artists at work is old and distinguished one, encompassing John Singer Sargent's sun-dappled view of Claude Monet painting au plein air and Gauguin's rendition of van Gogh turbulently laying down a sunflower. In Jonas Wood's new show at Anton Kern, he joins this lineage with a mammoth view inside the studio of his friend, fellow basketball superman, and sometime collaborator Mark Grotjahn.
Built up from tiny Impressionistic dashes—which cheer up Grotjahn's own intense, "Spiritual Warrior"-worthy brushwork—and angled in Wood's precisely awkward signature style, it's anchored by the contrast between the market star's athletic physique and his spooky, faraway stare. – Andrew M. Goldstein
JEFF ELROD
Untitled (2009)
Luhring Augustine
Price ranges $150,000 - $175,000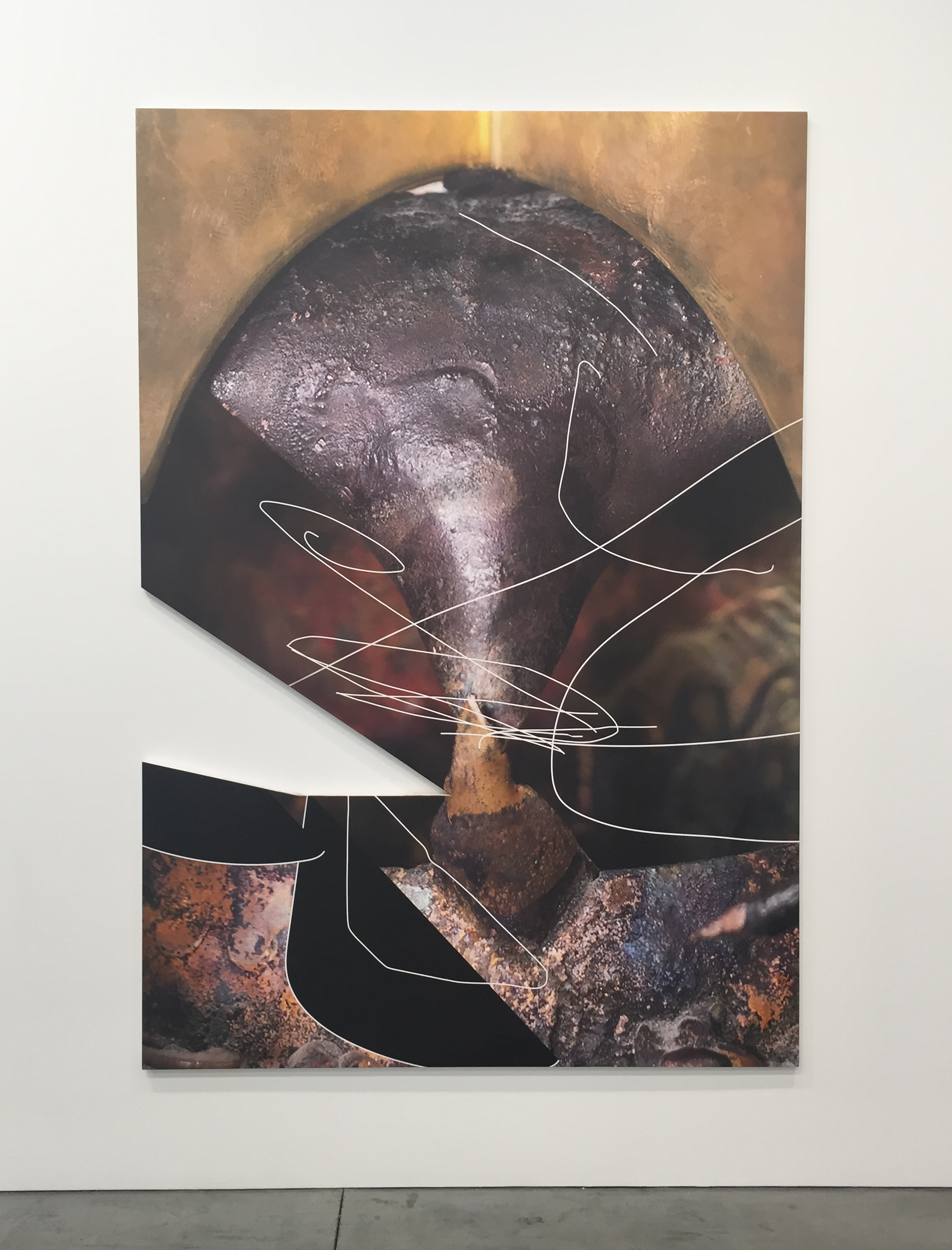 As a stable mate of the influential painter Christopher Wool, Jeff Elrod has managed to hit the sweet spot between Wool-like gestural abstraction and the cool, computer-generated mark-making that has come to define his work. Using a mouse to facilitate what the artist calls "frictionless drawing," Elrod UV-prints compositions rendered in Adobe Photoshop and Illustrator directly onto his canvases, a few of which also have pencil or acrylic paint carefully applied using tape.
This Untitled work is one of several in "This Brutal World" that have irregularly shaped canvases—a new technique for the artist in his attempt to depict a kind of "screen space" that references virtual digital space within traditional painterly space. Other pieces in the show look as if they are blurry, inspired by the "Dream Machine," a device that simulates the optical nerves while a viewer's eyes are close, invented in 1959 by artist and poet Brion Gysin. – Loney Abrams
SUELLEN ROCCA
Chocolate Chip Cookie (1965)
Matthew Marks
On reserve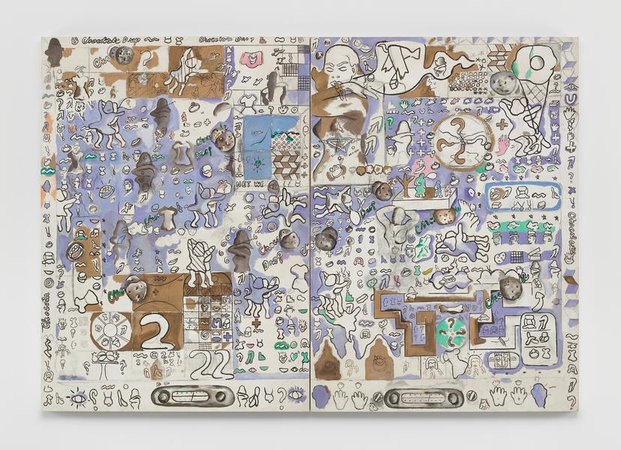 It's become something of trend in recent years for otherwise of-the-moment gallerists to take up the cause of relatively unsung artists from years past, often women and people of color who have been glossed over in favor of their whiter, maler counterparts. It's a rare example of an art world fad that pays real dividends for viewers (not to mention future students of art history), and Matthew Mark's show of works by Suellen Rocca from 1965-69 is just the latest example of how it's done.
As one of the first Chicago Imagists and a member of the seminal group the Hairy Who, Rocca is hardly unknown, but the freshness of her large canvases makes one wonder why she isn't more of a household name. Her compositions like Chocolate Chip Cookie (1965) tend to focus on images of femininity and the objects that go along with its performance, all arranged in patterns equally reminiscent of Egyptian hieroglyphics, Sunday cartoon strips, and—to make one very anachronous comparison—grids of emojis on an iPhone screen. – Dylan Kerr
CAROLEE SCHNEEMANN
Interior Scroll (1975)
Maccarone
Private collection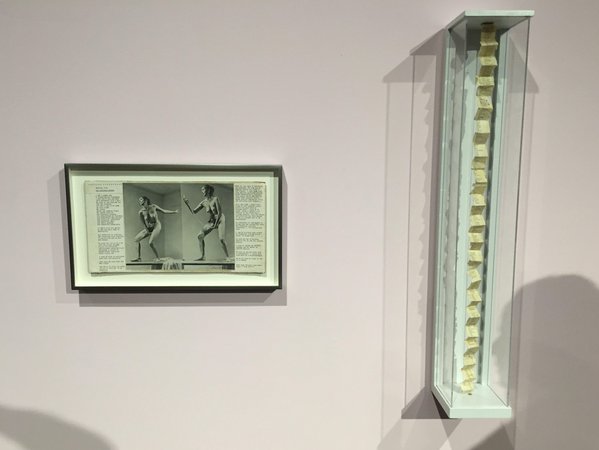 As we all know, the performance artist Carolee Schneemann created a masterpiece of feminist art when, on August 29, 1975, she climbed a table in East Hampton, dropped a bed sheet from her naked body, and slowly pulled a long scroll from her vagina while reading aloud its contents, a text written from the perspective of a cat. Now, at Maccarone, have the very rare opportunity to encounter this historic piece—part artwork, part secular-religious relic—as part of the group show "Coming to Power: 25 years of Sexually X-Plicit Art by Women."
On loan from the private collection of Cincinnati art patrons Sara M. & Michelle Vance Waddell, the accordion-folded icon is accompanied by photo documentation of the only other version of the performance from 1977, at the Telluride Film Festival, which proceeded much the same with the exception of the text, which was then a (rather) open letter to the film critic Annette Michelson. – AMG
[related-works-module]
RASHID JOHNSON
Falling Man (2015)
Hauser & Wirth
Prices Range $175,000 - $215,000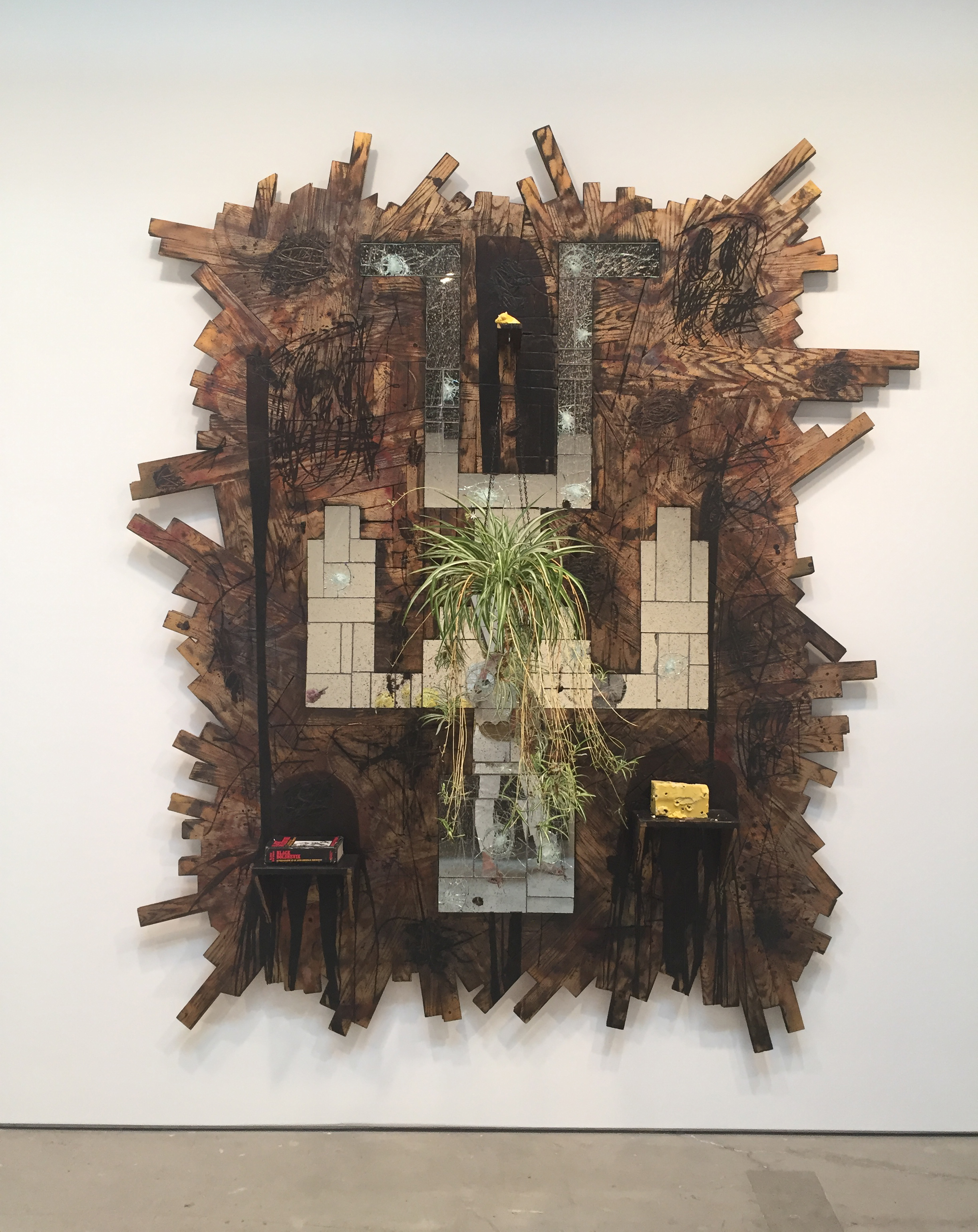 Rashid Johnson's show "Fly Away" is rewarding at every turn in Hauser & Wirth's
meandering, multi-gallery space on West 18th Street, climaxing with Antione's Organ—a large rectangular grid of minimal scaffolding filled with a variety objects (mostly plants) and periodically, a performing pianist.
But while the large, glowing architectural mass emanating original jazz compositions can't not steal the show, equally powerful knockouts speckle the walls, including Falling Man, an imposing wall piece made of burned red oak flooring, tiled mirror (in the shape of an upside-down man reminiscent of early video games), black soap, Shea butter, a hanging plant, spray enamel, and the book Black Bolshevik by Harry Haywood.
The wood acts as a substrate for frenzied gestures scribbled in black soap and paint, but also as a display wall for shelves that hold coded objects referencing the African diaspora, escape, and identity—themes that continue to permeate Johnson's oeuvre. – L.A.
ALLISON SCHULNIK
Two Long Unicorns (2016)
ZieherSmith
$43,000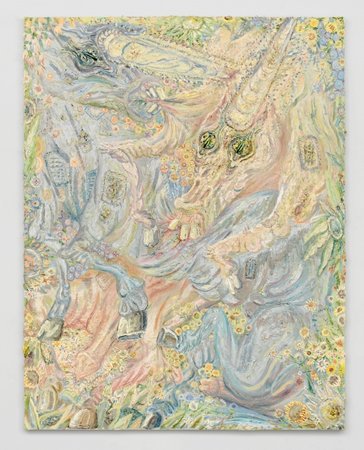 The first thing you'll notice about Los Angeles-based painter Allison Schulnik's works at ZieherSmith is the primacy of texture—at times, her approach seems more akin to relief sculpture than oil painting. It's hardly a new development in the history of painting, but Schulnik's apparent delight in the gooey, frosting-like quality of her paint, coupled with her chosen subjects of unicorns and centaurettes, make these paintings resonate with a childlike intensity.
Within this group, Two Long Unicorns sticks out from the rest; while at a distance it appears little more than a swirling abstraction in pastel colors, a closer approach gradually coheres into a riotous, almost scatological depiction of the titular mythical beasts, whose eyes and buck teeth bulge out from the canvas as they bite and tear at one another among tiny, almost three-dimensional flowers. - DK
LYNDA BENGLIS
TREE NEST and two other works
Cheim and Read
Prices range $65,000 - $125,000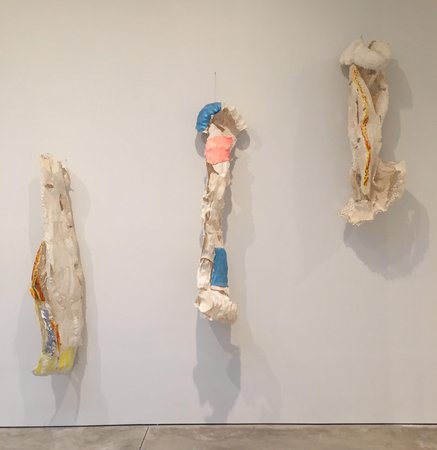 Lynda Benglis kicked off her career with sex, with the splashy provocation of her dildo-enhanced Artforum ad, and her latest work is mining the other end of the biological cycle. Inspired by the skins and bones she comes across in the mesas of Santa Fe, these sculptures are made from handmade paper stretched around chicken wire and uncannily resemble the bleached husks of snakes. Full of bleak beauty, the sculptures hang in profusion at Cheim and Read, bringing along a whiff of the dry desert air. 
SIMON DENNY
Blockchain Risk Board Game Prototype: Capital Markets Digital Asset Edition (2016)
Petzel
€45,000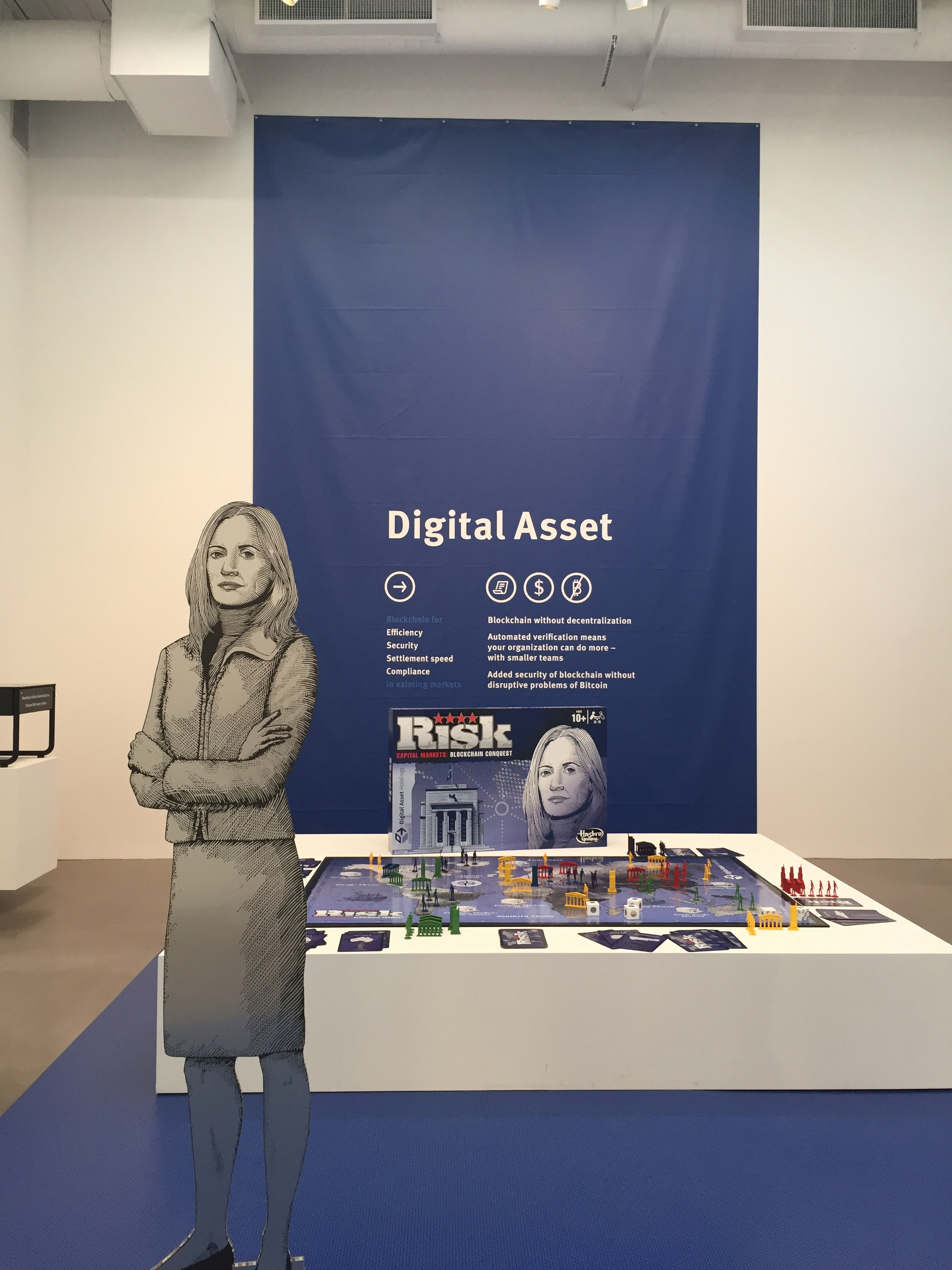 It's hard to isolate one single work to highlight from Simon Denny's Blockchain Future States at Petzel, a cerebral show that relies on each piece to additively build its complex geopolitical narrative. The crux of the display's conceptual circuitry revolves around three financial companies "at the forefront of Bitcoin technology and the application of the blockchain, a decentralized transaction database that functions as the backbone of this crypto-currency." (Confused as we are? Stay tuned for an upcoming primer on what you need to know to understand this dense show.)
The exhibition situates global governance as a strategic game replete with winners and losers, which is perhaps best exemplified by Denny's oversized Risk board games, which come in various different editions like "Capital Markets Digital Asset Edition" and 'Crypto/Anachrist Ethereum Edition." – L.A.
LEONARDO DREW
Number 190 (2016)
Sikkema Jenkins and Co.
$200,000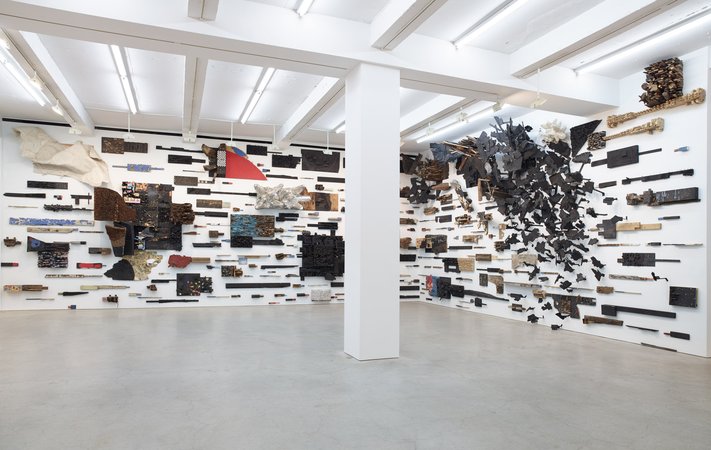 Walking into Sikkema Jenkins and Co., one is immediately greeted by what might be considered a "typical" piece by Leonardo Drew: large, imposing wooden structures, here painted black to give them the impression of having been salvaged and then stacked after a particularly devastating house fire. Turning the corner into the main gallery, however, reveals an installation of a different kind. Taking up the entirety of two (sizable walls), Number 190 finds the artist repurposing pieces from previous old or unsold works (a recurring theme in his method), organizing them into a roughly linear format that occasionally sprouts new growths into the space.
While at first impression these may appear to be little more than worksite detritus—Drew cites the experience of growing up next to a junkyard in Bridgeport, Connecticut as an inspiration for his choice materials—a closer inspection reveals that each scrap has been carefully worked and fit into his overall composition. Standing near the wall, one is left with a feeling not dissimilar to visiting an ancient temple or ruin; there is a history behind each piece of the puzzle, but one that remains just out of reach. (If all this becomes a bit overwhelming, Jennie C. Jones's understated paintings on acoustic absorber panels—on view in the rear gallery complete with an accompanying sound piece—should provide a calming respite.) - DK
MATTHEW BARNEY
TRANSEXUALIS (decline) —HYPERTROPHY (pectoralis majora) H.C.G. —JIM BLIND (m): hypothermal penetrator OTTO: Body Temp, 66 degrees (1991)
Barbara Gladstone
Collection of Oslo's Astrup Fearnley Museet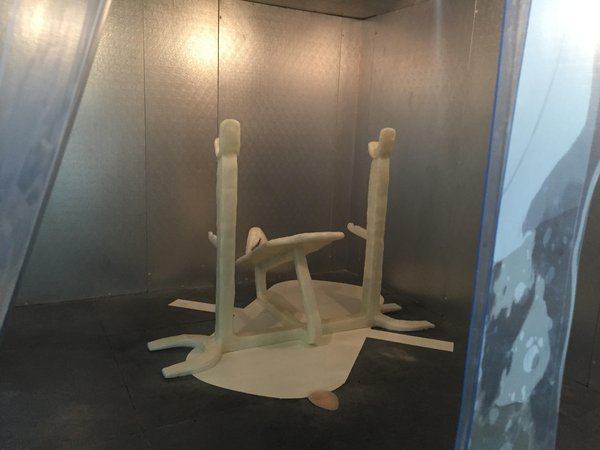 A monument to the transcendent weirdness of Matthew Barney—the very quality that fuels his genius—this extraordinary sculpture makes itself known as soon as you step into Gladstone, its whirring motor humming throughout the gallery. It's an inclined weight-lifting bench made entirely out of Vaseline, chilled to a marmoreal firmness by a walk-in refrigeration unit (the source of the hum) and displayed alongside a "silicon-gel pectoral form" in honor of the fearless Oakland Raider Jim Otto, who became a legend for mercilessly employing his body as a blunt instrument on the gridiron, injuring himself dozens of times in pursuit of glory.
Barney, a former Yale football player, idolized Otto (whose jersey number was 00) both for his extreme physicality as well as the palindromic nature of his name, bracketed by twin "o"s that evoke orifices or gonads. Here, you can see the bench situated atop a version of the artist's football-field logo, which became the central symbol of his 1994 "Cremaster" trilogy, using its 50-50-yard layout and binary associations as a symbol for the sexual indeterminacy that preceds the dropping of the testicals in the womb. – AMG
[related-works-module]