Held in the impossibly stately Grand Palais, this year's edition of FIAC presented two narratives. One was about art: the work on view was almost without exception of exceedingly high quality, with a pronounced Eurocentric focus convening art rich in elegance, art-historical interest, and cerebral taste. One was about culture: the brutal attack of the artist Paul McCarthy in the days before the fair—by an assailant who shouted that the artist was not French—and the subsequent vandalism of his 80-foot-tall inflatable Christmas tree/butt plug in the Place Vendôme set a pall over the proceedings, as did the resurgence of xenophobia and nationalism visible in marches around the city and chilling headlines.
It did not help, for instance, that the international edition of the New York Times blared "An Old Demon Stalks Europe" as the front-page headline the day before the vernissage for a story detailing a rise in attacks on Jews across France, quoting French Prime Minister Manuel Valls (who visited FIAC the following day) characterizing it as "the new anti-semitism." Thousands of Jews have left France in recent months, and several Jewish dealers, advisors, and art professionals visiting the fair said the atmosphere, while not evidenced at the fair, was nonetheless palpable. "I can't wait to fly out of here tomorrow," one American dealer said at the vernissage. "It's unnerving."
But, back to the art. Here are a few of the most absorbing works on view at the fair.
MARCEL BROODTHAERS
Section XVIIe Siècle (1970)
Galerie Chantal Crousel
€120,000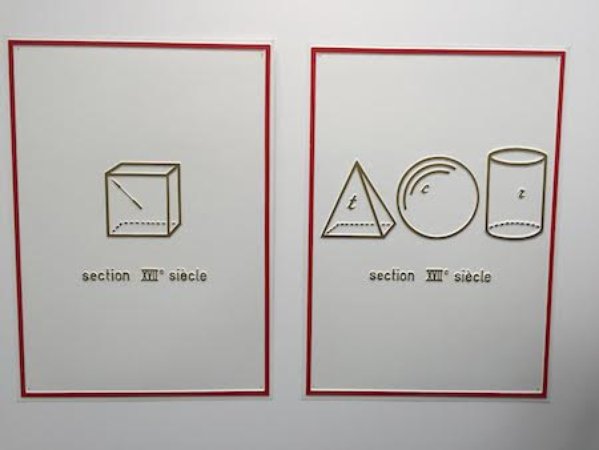 A challenging artist whose remarkable and diverse body of work is lesser known outside of Europe, Marcel Broodthaers began his creative life as an author then, encasing his books in while plaster to create impenetrable, hermetic sculptures, transitioned into a carer of making art exploring the gaps between language and communication. This diptych, out of an edition of seven, comes from a series of vacuum-formed plastic panels from the early 1970s, and they seem distinctly fresh today. His relevance has not gone unnoticed: the artist Danh Vo is curating a show of his work to debut at Le Monnaie de Paris in the spring, and MoMA is working on a Broodthaers retrospective that promises to be as revelatory as the museum's recent Sigmar Polke and Isa Genzken shows.
MARTIN KIPPENBERGER
Copa III (1986)
Gladstone Gallery
$320,000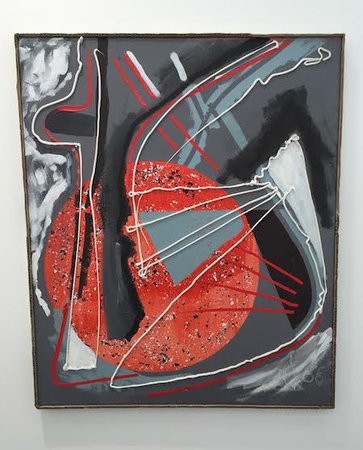 It's no secret that Martin Kippenberger was a relentlessly protean innovator when it came to painting, dishing out work in so many styles—from photorealism to Baconesque expressionism to pure abstraction—that the only real constant is the sense of ironical relish that imbued into his canvases. These paintings are exceptionally odd even by Kippenberger's standards, and formally very interesting. Framed by corrugated strips of cardboard cut from cheap fruit crates, the paintings have an overabundance of surface texture: dried paint flakes are scattered across the painting like confetti, ashen swaths of flat acrylic—Photoshop-y, avant la lettre—recede into the background, and gloopy strings of while, toothpaste-like paint pop out toward the viewer. It's the work of an artist having fun, and it's infectious.
JAMES SIENA
Untitled (2013)
Xippas
€43,000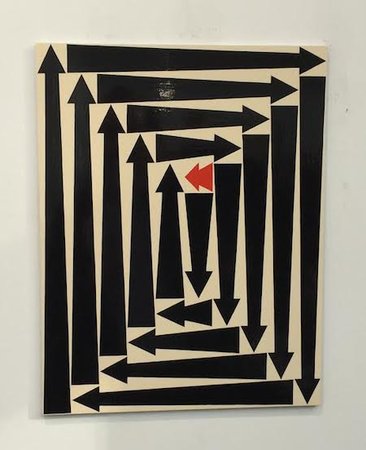 Art has long been a meditative process for James Siena, whose paintings and drawings tend to begin with a simple shape or pattern that he repeats, building it out into a rhythmic, bristling ecosystem. But while the artist has often worked with arrows in the past, this painting is something of a departure from his typical style—it's less aleatory and more graphic, even figurative, with the arrows seeming to float in space and the Constructivist-style color scheme resolving with a satisfying red pop in the middle. 
LAURENT GRASSO
Studies Into the Past (undated)
Alfonso Artiaco
€22,000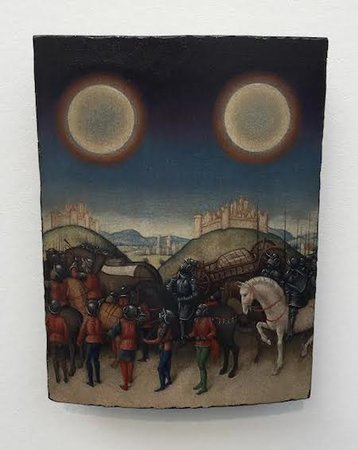 One of a new generation of young French artists that is lending new vitality to that country's artistic profile, Laurent Grasso cloaks his work in an aura of mystery—what you're about to read below may contain spoilers—but it revolves around the indeterminacy between myth and reality, real and fake. This painting comes from a body of work, shown with spectacular élan in his current show at Perrotin's Paris gallery, for which the artist solicited art restorers to create beautiful and absolutely credible oil-on-panel paintings in an early-Renaissance style that seem to document a mystical event in which two suns appeared in the sky, possibly causing the destructions of cities and other calamities. The Perrotin show also includes a ravishing video of Pompeii and Mount Vesuvius that Grasso shot with a drone, so the notion that the artist is preparing a show of new work for Naples's Alfonso Artiaco gallery offers hope that he might continue to plumb the region's classical past. 
PAUL MCCARTHY
Santa (Silicon) 2002
Van de Weghe Fine Art
$525,000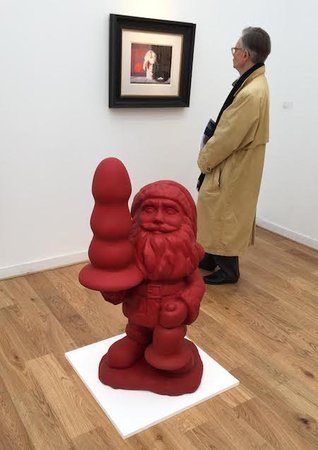 "Your work is degenerate!" shouted one of the mob of protesters who surrounded Paul McCarthy prior to the vandalism of his Place Vendôme butt plug sculpture. "You dirty American" and "You shouldn't be here" were among the other invectives, but "degenerate," as any good fascist art critic would know, has a particular ring to it in this neck of the woods, and Paul McCarthy became the unlikely hero of the week when he used his new "Chocolate Factory" show at Le Monnaie de Paris as the opportunity to debut a hastily assembled video striking back at his antagonists. In it, scrawling the epithets hurled against him in the city compulsively around a room, he groans with greater and greater bestial fury a phrase used immediately prior to his attack: "Are you the artist?"
So it was nice to see a sculpture related to the "Chocolate Factory" body of work—which involves a perverse Santa overseeing a shop of elves making butt-plug-referencing chocolate sculptures, a typical commentary by the artist on food and bodily functions, pleasure and shame—at Van de Weghe Fine Art. The gallery had previously sold this piece to a collector eight years ago but, two weeks before the fair, convinced the collector to allow them to use it as the centerpiece of their FIAC booth. At the fair, the choice seemed prescient. 
RAYMOND HAINS
Saffa  (1971)
Galerie Max Hetzler
€200,000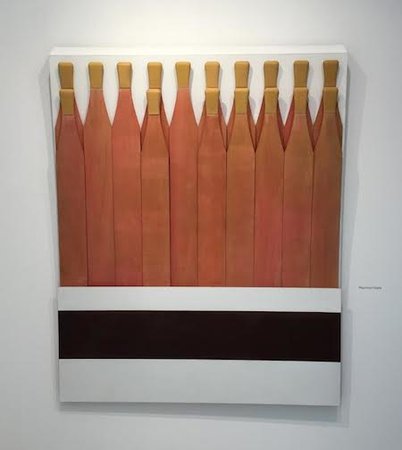 A French artist who was particularly active in the '50s, '60s, and '70s, Raymond Haines emerged as part of the Nouveau Realisme moment, transitioning early on from abstract photography to peeling torn posters off city walls and presenting them as-is in the gallery. (He teasingly called himself an "inaction painter.") This changed when he encountered the work of Claes Oldenburg at the Venice Biennale in 1964—the seminal year in which Pop art is said to have arrived in Europe, and when Robert Rauschenberg won the Golden Lion. Hains immediately decided to blindly follow Oldenburg and the other Pop artists—"faire l'ane" was the expression he used—and, looking down at a matchbook he was using to light a cigarette, he decided to make that object his muse.
To this strain of French Pop, he also added a dash of conceptualism: after singling out matchbooks by the French company Seita and the Italian manufacturer Saffa, he began to present his sculptures as the work of those companies, crediting them as the real artists and not signing the pieces himself. This large sculpture (which sold at the fair) was part of a series shown at dOCUMENTA 4 in 1964, and today, as younger artists return in droves to working with objects found in commercial culture, Hains and his generation are enjoying newfound relevance. 
ROBERT GOBER
Study for Arms and Planks (2014)
Matthew Marks 
$350,000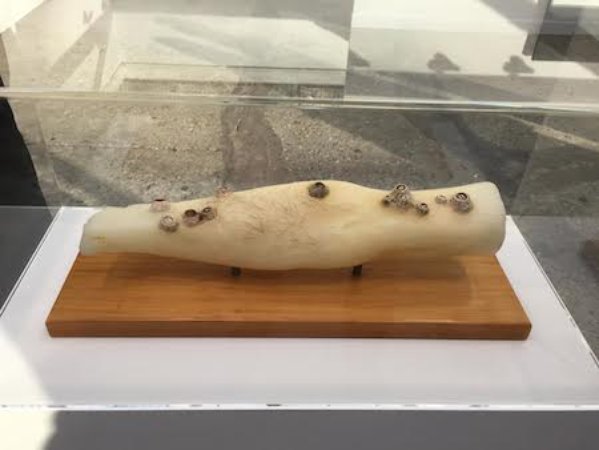 Robert Gober has gotten plenty of exposure this fall, to be sure, what with his unforgettable MoMA survey casting new light on his surreal, disquieting body of work. But this piece at Matthew Marks is so unbelievably queasy-making that it demands to be addressed. It's beeswax arm of deathly pallor supported on a small wooden stand and sprouting human hairs (carefully snipped from the beard of one of the artist's assistants, whose hirsuteness is encouraged to provide a constant supply) and barnacles grotesquely protruding from the skin. A new sculpture that apparently freaked out the MoMA curator when she spotted in in his studio, it marks the first time Gober has brought together barnacles and body parts (both longstanding themes), and will likely take certain viewers back to the artist's epic installation in Basel's Schaulager museum featuring obscured figures holding babies in a watery underground cavern.
CHRISTIAN ROSA
Untitled (2014)
Almine Rech
$30,000-50,000 range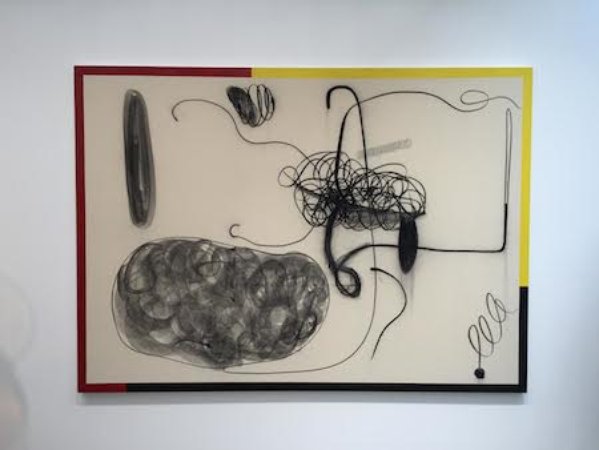 Born in Rio di Janeiro and having studied under '90s bad-boy painter Daniel Richter at the Akademie der Bildenden Künste, Christian Rosa has generated a continuous upswell of buzz in the art market despite having only had scant showings in the United States (in New York he appeared in the 2012 Brucennial, and that's it). Instead, word of mouth has mainly originated from his art-fair appearances and the promotion of certain speculative collectors, who have used Instagram and other platforms to blow him up—so this, plus his evident debt to Cy Twombly, has led some to view his work slightly askance. Seeing it in person, however, one can start to buy into the hype: tapping into the visual vocabulary of Twombly, Kandinsky, Klee, Miró, and other artists, Rosa succeeds in making these lines his own, like a rapper quoting pioneering precursors to espouse a personal style.
The eloquent use of space in his acrylic-and-charcoal paintings also impresses in person, and this canvas additionally contains a new shift in his work, in which he pushes the colors from the interior of the composition to the periphery to form a kind of frame (which here is in the hues of the German flag). Any artist who can dip into art history and still so quickly develop an instantly recognizable style is one to watch; he'll have a show of fresh work at Ibid Projects in L.A. next year.
ROBERT FILLIOU
Video Jour – Video Nuit (1980-82)
Peter Freeman Inc.
€47,000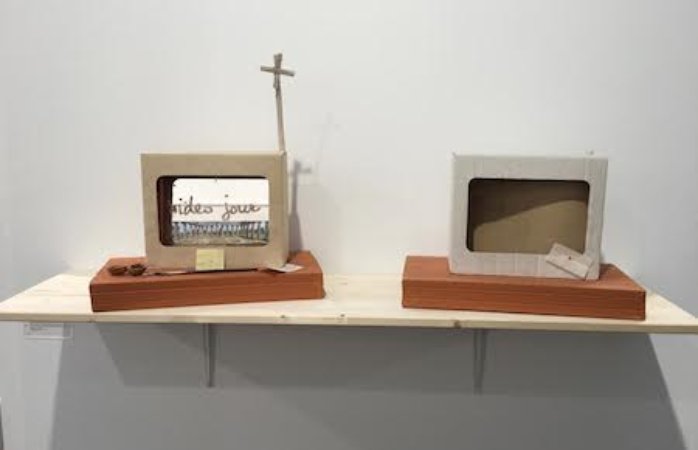 A playful French Fluxus artist, Robert Filliou stood alongside Emmett Williams and Daniel Spoerri in using language and objects to tell jokes—jokes that, like a good poem, always leave the audience in a state of considered reflection. This piece, a riff on new technology that now looks almost ancient (it includes a 25-year-old cigarette paper), is a perfect example of what FIAC excels at showing: art-historical work of premier quality that has yet to cross the Atlantic in a meaningful way. In the case of Filliou, who often incorporated words, this is in large part a language issue. But ever since MoMA received the Gilbert and Lila Silverman Fluxus Collection in 2008, giving the museum extraordinary holdings by the movement's artists, this lacuna has begun to gradually be addressed.  
DEBO EILERS
Untitled (2014)
On Stellar Rays
$2,200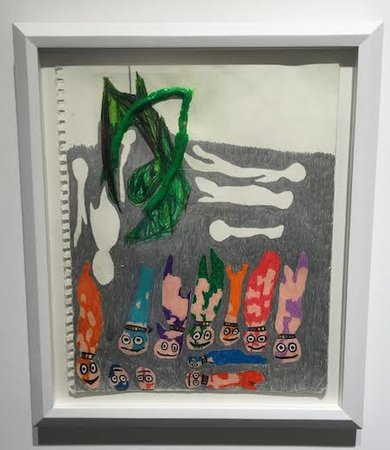 A Texas-born artist whose sui generis work has struck a chord among his peers—he has appeared in an unusually large number of artist-curated shows—Debo Eilers makes sculptures, installations, and drawings that seem to be beamed in from another world. At FIAC, the centerpiece of his booth was a large vertical sculpture that he made by climbing inside of it, embellishing it with bondage-y studded belts from Canal Street and other detritus, and coating it with black epoxy. Drawings, too, lined the walls, and may have been a surprise to his admirers—colorful and with unpredictably built-up surfaces, they create an intriguing dialogue with his better-known sculptural works. This drawing, for instance, refer to a 2012 show at the Palais des Beaux-Arts de Lille in which he presented several bodybag-like sculptures with wide-eyed grinning cartoon faces and leashes around their necks that visitors were encouraged to pick up and pull behind them, like a friendly new companion. This playfulness with a note of implied violence courses through Eilers's work, and it's hard to look away.