Displaying art by contemporary masters next to the silverware might seem out of place, but these days more artists are making tableware than ever before. Cindy Sherman, Sophie Calle, Rudolf Stingel, and David Lynch are just a few of the unexpected names to have gotten in the game of artist-designed china, which is most often produced in limited editions. 
What made these artists choose to make work that fits in on the dinner table as well as on a museum wall? And what makes their designs so special anyway? To answer these questions, we offer a history of the art form. But, if you are tempted to pick up a few pieces just remember, you are not going to want to put that Ed Ruscha through the dishwasher.
 PLATE-ONIC LOVE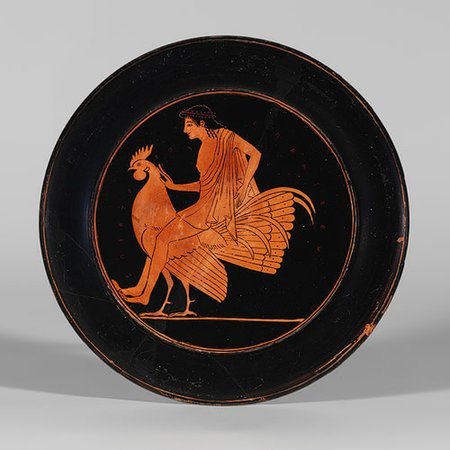 An Epiktetos red-figure plate (520-510 BC)
Ironically, ancient Greeks valued crockery so much that they would sometimes break it. The ceremony of plate smashing, intended as a display of mourning for a loved one, offers proof that the Greeks felt special esteem for their dishes. To let a plate break was truly a sad event.
The Greeks undoubtedly cherished ceramics because of the skilled painting decorating their surfaces. Black-figure painting (which appeared on a red background) and red-figure painting (on black ground) became two major movements in Greek painting. Individual artists were so revered and sought after that for the first time they began to sign their work. Epiktetos of Attic, one of the most famous Greek practitioners, left behind many bowls with his signature on them, providing scholars with an early record of artistic influence. Epiktetos's plates show a common technique of the time of highlighting the figures—which are often drunk and/or nude—through a strong graphic contour line. The style was so prized that centuries later, the Romans sometimes copied it when they made technically difficult gold-glass bowls.
CHINA FROM CHINA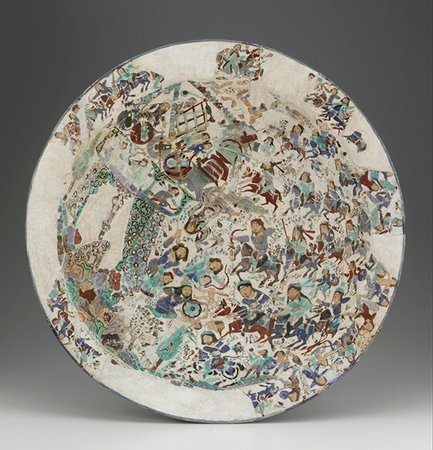 A minai bowl showing a battle scene (late 12th century-early 13th century)
Artists in Asia had been making tableware for centuries before the Greeks, with archaeological finds of colorful Chinese ceramics dating as early as 1600 BCE. It was around the 7th century CE that Chinese potters discovered how the make porcelain by firing a fine white clay called kaolin at high temperatures. For centuries Chinese wares were so highly desired that they were widely traded in the Islamic and Byzantines empties, eventually making the name "china" synonymous in the West with the best ceramics.
Islamic artists admired the translucence of porcelain, but they didn't have access to kaolin in the Middle East. As a result, Islamic potters developed fritware, made of a mixture of sand and glass that can achieve a delicate look similar to porcelain. In an effort to outdo their Chinese counterparts, the Islamic artists used elaborate calligraphic inscriptions to ornament their bowls.
 PLATE-ONIC LOVE REDUX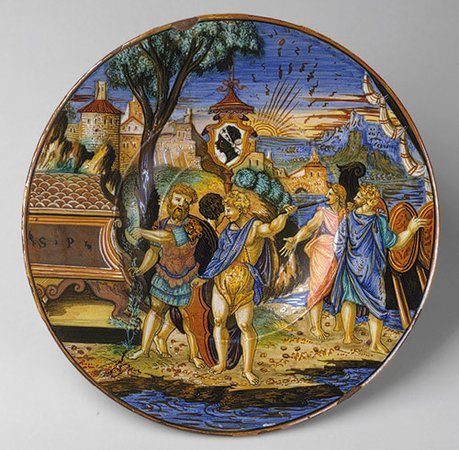 A Franco Xanto Avelli di Rovigo maiolica plate (1532)
Though wealthy Byzantines loved to collect Asian tableware, they were also producing their own tableware at this time. Royal scenes make an appearance on many of the silver plates and spoons from 7th century Byzantium, but perhaps even more important are the biblical references. Done in a style that drew on the Greco-Roman tradition, these pieces brought a religious aspect into the decorative arts that had previously not existed. The religious nature of these plates was ultimately dropped in favor of secular themes, but the classical styles still remained. Maiolica, a type of white-glazed pottery that had a clear second glaze, came into popularity during the Renaissance and remained a hot commodity in Europe through the 16th century.
VANITY AT THE DINNER TABLE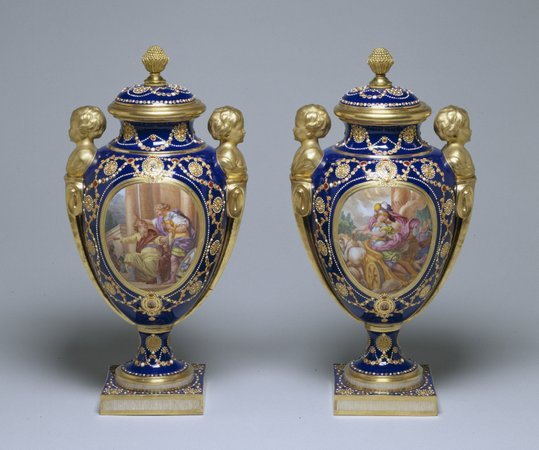 A pair of Sèvres vases (1778)
Sofia Coppola fudged a lot of history to make Marie Antoinette, but one thing she didn't make up was the decadence of the art that surrounded the titular French queen in Versailles. In the film's many drinking and partying scenes, Coppola shows Marie Antoinette and her court using elaborately designed porcelain dishes. This kind of pottery would have been made in Sèvres, a French city that became known for its elaborate, technically superior, and colorful porcelains. The production values allowed an exuberance in the decorative arts that previously hadn't been seen in Europe. 
Elsewhere in Europe, the Dutch began producing Delftware, blue-and-white pottery that used a white background glaze to emphasize the darkness of its blues figures and landscapes. Unlike Sèvres ware, Delftware was not only for wealthy patrons—lower prices made it affordable for the households of the emerging middle classes as well—but in its finest examples, Delftware also brought aesthetic vitality to the decorative arts. Delftware ultimately became so popular that the blue-on-white style spread throughout Europe. Europeans loved Delftware so much that they even brought the technique to their colonies. When Spain conquered Mexico, they brought Delftware with them. Today, Mexico continues to make talavera, tourist items that incorporate the Delftware process into their geometric designs. 
PABLO'S PLATES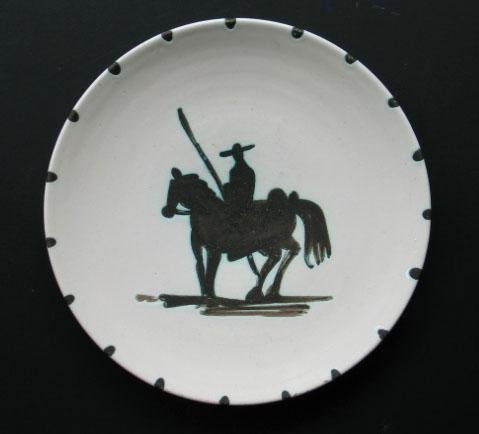 Pablo Picasso's Picador (1952)
During the first half of the 20th century, even radical modernists found themselves drawn to the medium. In 1946, Pablo Picasso made his first terracotta ceramic at the Madoura Pottery Factory. He went on to make over 3,000 more plates, bowls, vases, and pitchers. Like Picasso's paintings, these ceramics incorporated styles he absorbed form other cultures and traditions. Collectors loved Picasso's pottery, and today, his ceramics are still hot commodities. In recent auctions at Christie's and Sotheby's, Picasso's plates have sold for up to £92,000 (or about $151,000) each.
THE DINNER PARTY'S INVITATION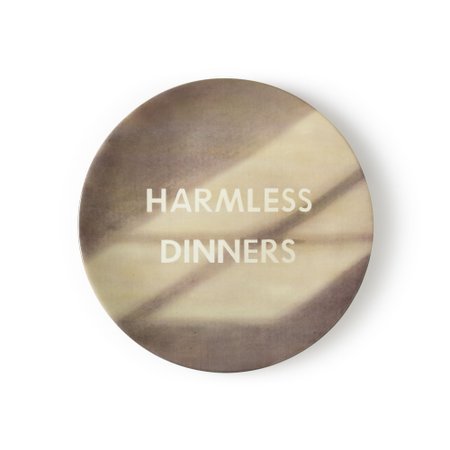 Ed Ruscha's plate for Azuero (2012)
In 1979, feminist artist Judy Chicago updated the concept of artist tableware forever. For The Dinner Party, Chicago made a large-scale installation in which 39 great historical women were both the ivitees and the celebrants at a dinner party. Each woman, from Sappho to Virginia Woolf, was represented by a plate whose imagery seemed to evoke female fertility. In addition to igniting controversy with her feminist framework, Chicago gave the format of artist tableware a new dimension. The installation is now housed permanently at the Brooklyn Museum. 
Making plates as extensions of an artist's style seems to be a major interest of contemporary artists. Earlier this year, Bernardaud commissioned Sophie Calle, Marco Brambilla, Jeff Koons, and even David Lynch to make plates for them. Each bears the stylistic stamp of their artist. Other artists borrow from the past to make plates. Cindy Sherman's Madame de Pompadour set specifically refers to Rococo porcelains, while Eduardo Sarabia even uses talavera in his works for a political purpose. In an age when artists have branched out into just about every medium, it only makes sense that pottery has become another outlet for ptheir expression.