When Fernand Mourlot became one of the heirs to his father's Paris print shop in the early 1920s, printmaking was changed forever. As the shop's artistic director, Mourlot brought in the greatest Modernists of his day to produce color lithographs, a variety of print that had gone out of style during the 19th century due to a complex process that involves using a stone plate to offset an image. French painters Maurice de Vlaminck and Maurice Utrillo were among the first to be engaged by Mourlot, though it was not long before the atelier began to reach an even broader crowd that included Pablo Picasso, Alexander Calder, Georges Braque, and Fernand Léger.
By the end of the 1960s, even the Pop artists, notably James Rosenquist and Claes Oldenburg, were stopping by for a visit. So the print shop expanded to a second location in New York, working with a whole new generation of artists. The lithographs produced by Mourlot, used to make fine art books and museum exhibition posters as well as prints, have been credited with making the work of the most important artists accessible to a broad audience. Here are five of the foremost talents that helped Mourlot to bring art prints to the masses.
HENRI MATISSE
It took some convincing to get Matisse, a longtime enthusiast for printmaking and art books, to make his first work for Mourlot, a poster of his 1935 painting La Rêve for a museum exhibition—and even when Fernand finally got the artist to help him with a lithograph, Matisse was highly critical throughout the process. By the time the poster was finished, however, Matisse told Fernand that he was thrilled with quality of the result and immediately agreed to make another. Vibrant and colorful, the prints feature Matisse's handwritten name in black ink, a stylistic touch that soon became adopted by other artists working with Mourlot, giving the shop's lithographs a tell-tale flourish.
Matisse approves a print for Mourlot
At the recommendation of Matisse and Georges Braque, Picasso worked with Mourlot for the first time in 1945. Before he even got to the shop, Picasso knew that Mourlot's lithography would become an important part of his oeuvre—"He came like he was going to battle," Mourlot once said. Twenty years later, Picasso had produced over 400 lithographs for Mourlot as a way of exploring his creative process, making a print in 15 to 20 different states and watching its evolution before creating a finished product.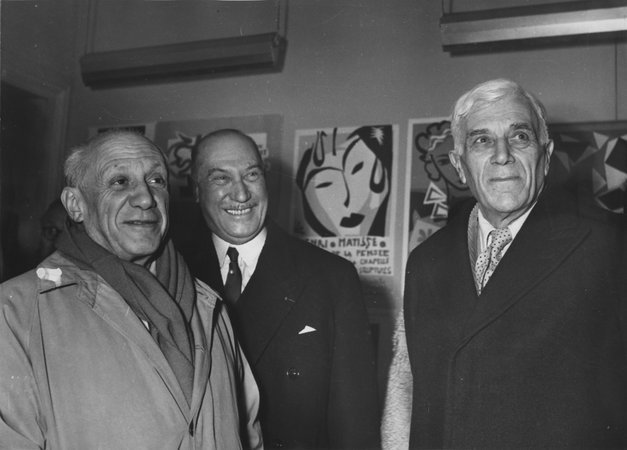 Pablo Picasso, Max Pelleqeur, and Georges Braque at an exhibition at Atelier Mourlot
Miró began to assist Mourlot's production of his books of Surrealist compositions after World War II. Because books were among some of were some of the shop's finest offerings, the lithographs from Miró's volumes—collections of the painter's playful and colorful abstract compositions—have become prized works for museums and collectors alike.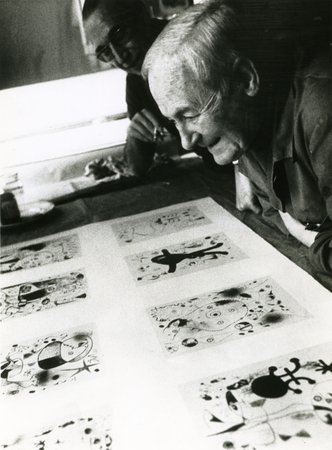 Joan Miró looking at his prints
After having escaped from Nazi-occupied France to New York, Chagall made a special trip back to Paris to supervise Mourlot's editions of his work in 1956. Chagall's lithographs were a series of biblical scenes inspired by a spiritual experience he had when he visited Palestine. In the years to come, Chagall continued working with Mourlot, ultimately making 300 more lithographs with the atelier.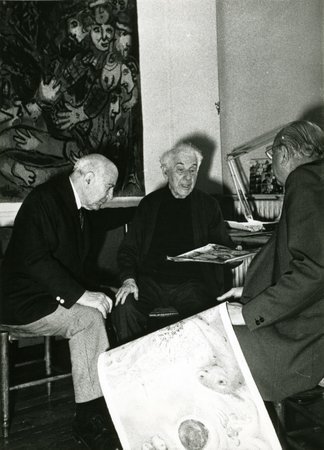 Chagall and collaborator Charles Sorlier review their prints
By the late '60s, it became fashionable for artists to stop by Mourlot's New York location and make a print or two. One of the artists who paid a visit to the West Village shop was Alex Katz, a member of the Pop art scene known for making prints based on his paintings. Katz's lithographic portraits, done in a reductionist, almost Etruscan style typical of his work, are fine examples of the hotly sought-after, avant-garde prints that Mourlot was able to produce when it crossed over to America.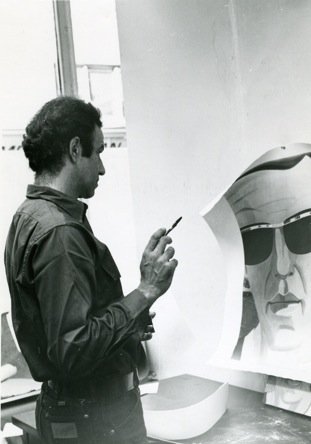 Katz beginning work on a print at Mourlot's New York location