If the booths at the Armory Show and Independent are any indication, the art world's dominant point of reference has shifted from Dada to Surrealism, with the conceptually-driven antics of years past giving way to uncanny, materially-driven figuration. Attention-grabbing gimmicks were, thankfully, few and far between, though not entirely absent, while modestly sized sculpture seems to be experiencing a minor resurgence. Much like the original Surrealists, today's artists seem particularly taken with the aesthetic of artifacts—many of the works on view at the fairs seemed as if they had been recovered from an archaeological dig rather than crafted in a contemporary studio.
At the Armory booth of Tokyo-based gallery Kaikai Kiki (owned by artist Takashi Murakami), Los Angeles-based artist Matthew Monahan exhibited two new bronze sculptures that resembled Frankensteinian agglomerations of pieces of antique statuary.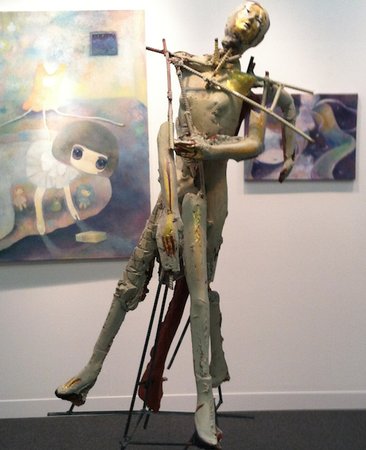 Likewise, his fellow Angeleno Nathan Mabry exhibited modified reproductions of African and Mesoamerican relics at the booths of New York's Sean Kelly Gallery and Paris-based Praz-Delavallade.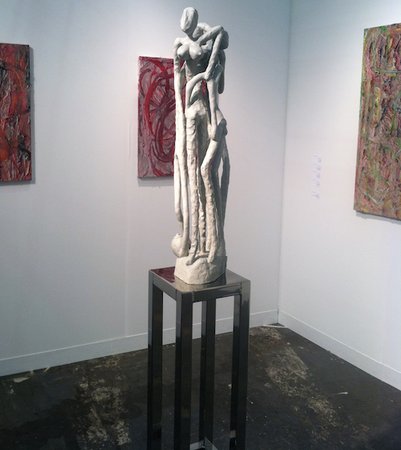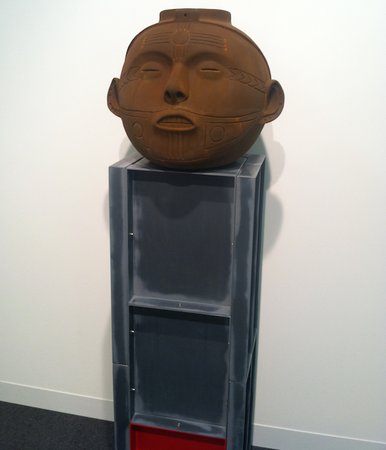 Milan's Cardi Black Box brought several small, totemic figurines from the mid-1980s by German Neo-Expressionist A.R. Penck, whose so-called "neo-primitivist" aesthetic anticipates much of the newer work elsewhere at the fair.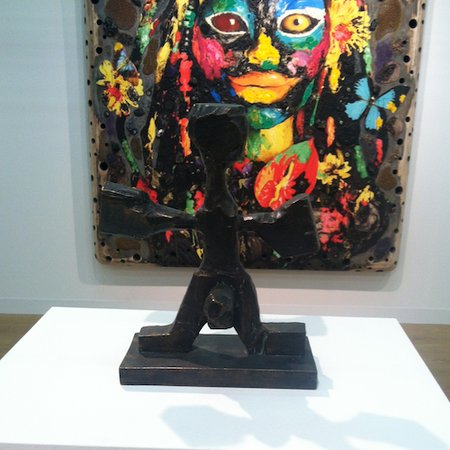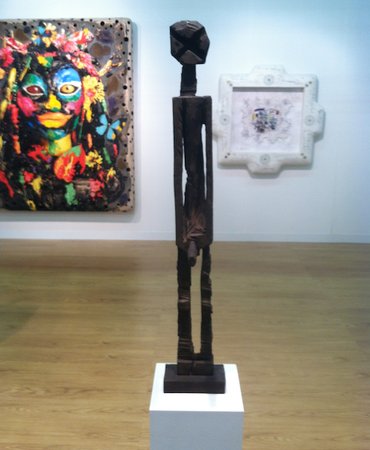 Other artists seemed to take inspiration from the Surrealist preoccupation with the body-in-pieces, presenting the human form as a series of dismembered fragments. At the booth of Edinburgh-based Ingleby Gallery, a 17th-century carved stone roundel of Christ in profile had been sanded down by artist Jonathan Owen, leaving only a carefully-hewn ear, while Amsterdam's Grimm Gallery displayed a floor-bound vitrine by Jonathan Marshall bearing nothing but a cast pair of shoes.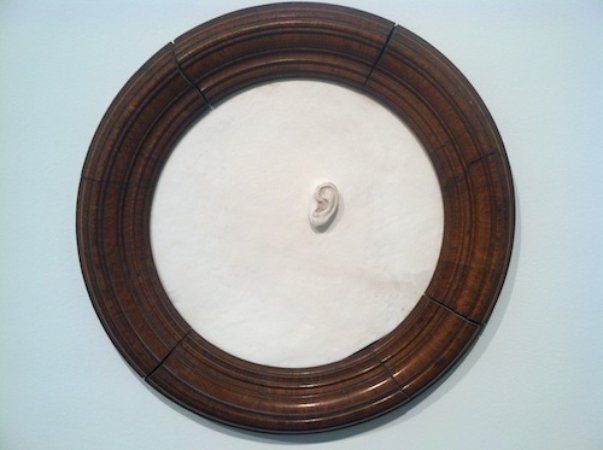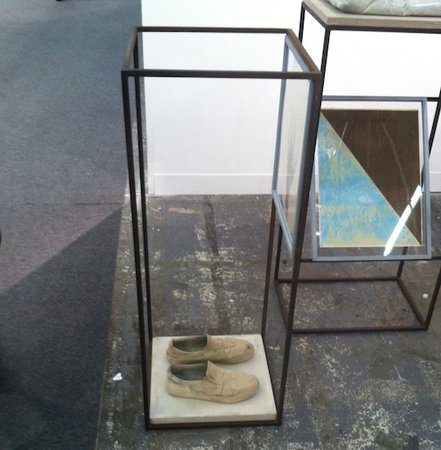 Ears were likewise highlighted over at Independent, where Copenhagen's Christian Anderson gallery brought small tabletop sculptures in wood by Norwegian artist Lina Viste Grønli.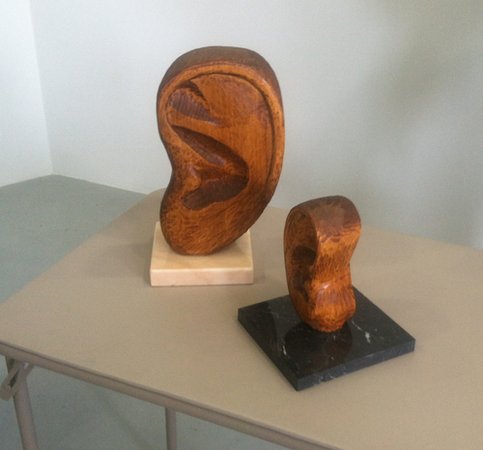 Jack Hanley's booth included bizarre wooden figures by Bjorn Copeland decorated with thickly dripped paint and bulbous appendages.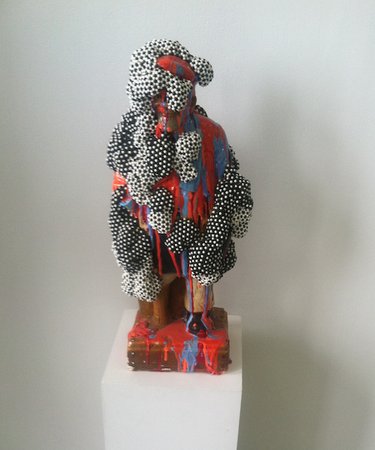 At Galerie Jocelyn Wolff, there were works by Portuguese artist Francisco Tropa, who drew on funerary rites, displaying an unsettling representation of mummification, and a large installation by Guillaume Leblon featuring a pair of ceramic legs dangling precariously from a drying rack.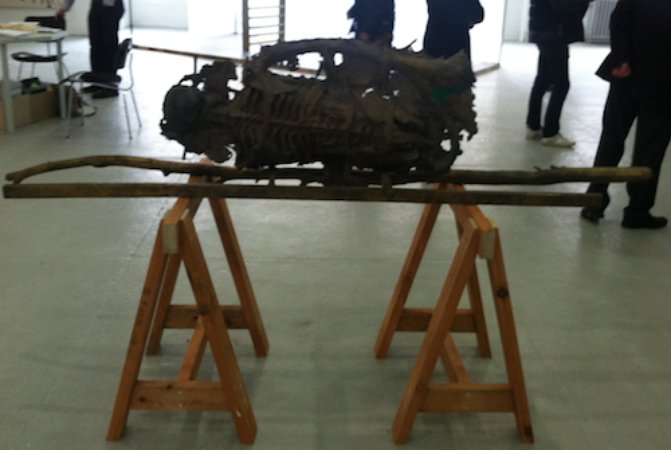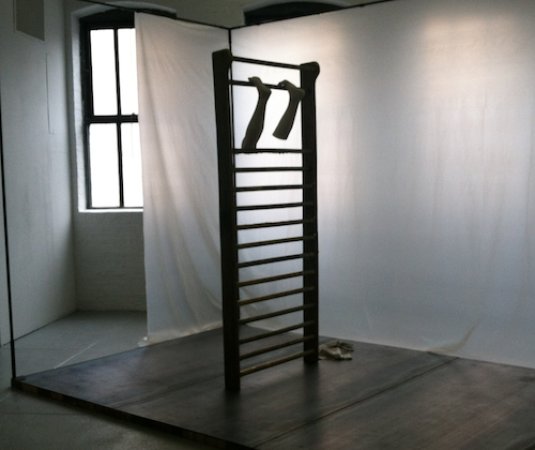 Also exhibited at both fairs were works making use of outmoded technology, another Surrealist trope. At DODGE Gallery's Armory booth, in the fair's Eric Shiner-curated "Focus" section devoted to American art, Dave Cole exhibited an industrial sewing machine made in 1920 that appears to operate itself.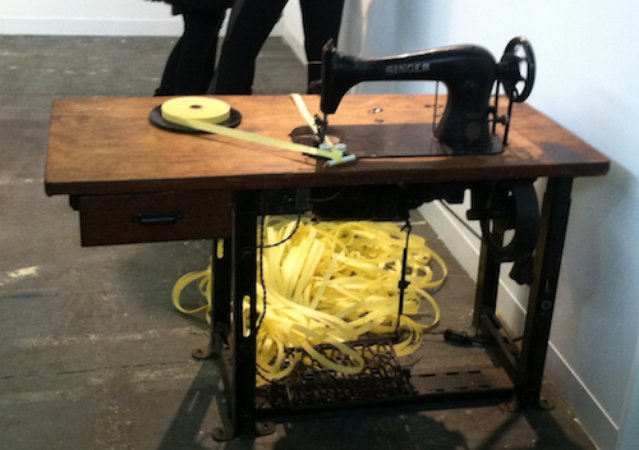 Dusseldorf's Sies + Höke featured sculptures by Kris Martin that made use of multiple antiquated modes of communication, from typewriters to illuminated manuscripts.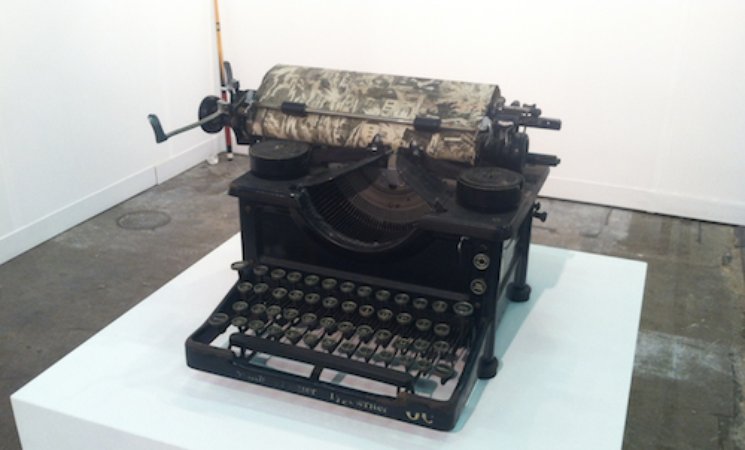 Another well-represented trend at the fairs were works making use of craft techniques. Textile-based works were ubiquitous, from wall-bound tapestries and sewn canvases to crochet-covered sculpture. At Independent, Vienna's Galerie Meyer Kainer brought brightly colored, sculptural arrangements of cross-stitched panels by Verena Dengler, and McCaffrey Fine Art displayed sculptures by the Benin-born artist Meschac Gaba involving loaded symbols, like the hammer and sickle, covered in artificial braids.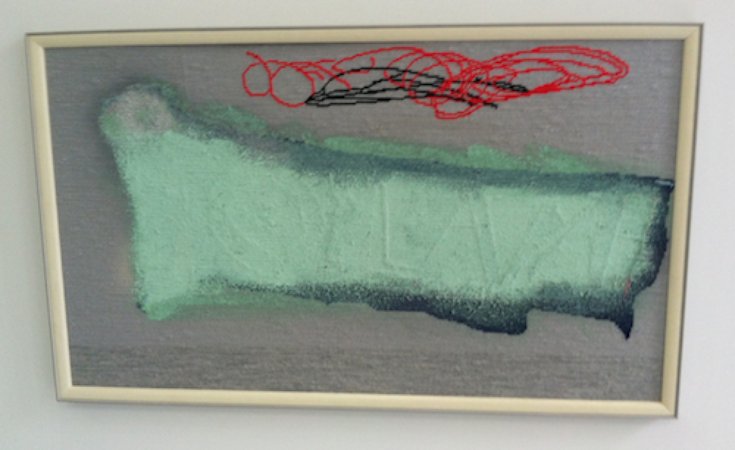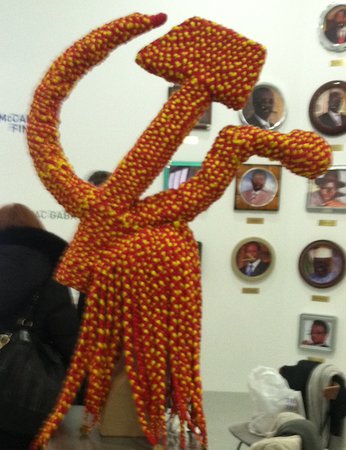 Peres Projects' booth featured a large-scale abstract canvas by Brent Wadden made from hand-woven fibers.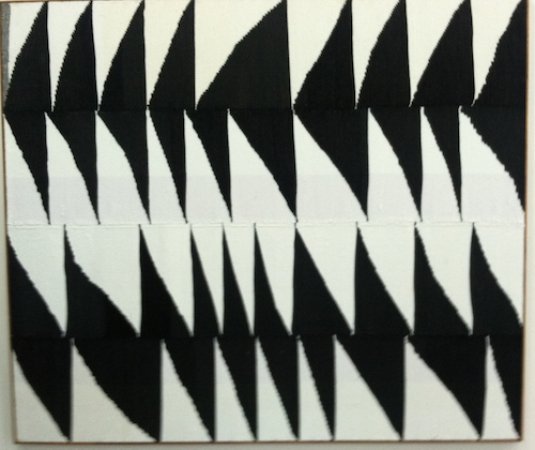 At the Armory, Rome-based Galleria Lorcan O'Neill brought an embroidered gestural nude by Tracey Emin, and Johannesburg's Goodman Gallery featured an imposing mohair tapestry by William Kentridge in collaboration with master weaver Marguerite Stephens.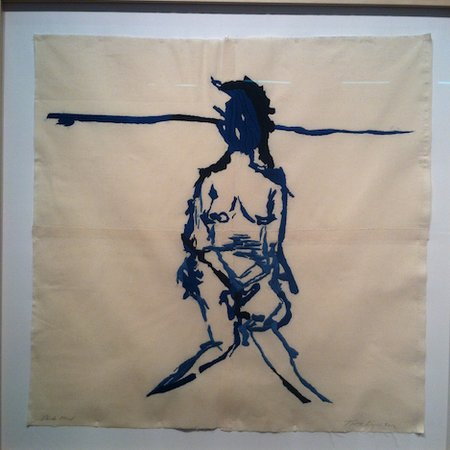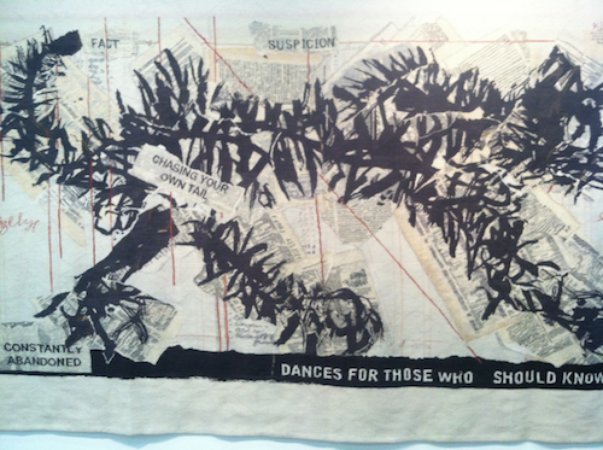 Even Damien Hirst entered the mix, with London's Other Criteria featuring a wall-mounted wool rug based on one of the artist's spin paintings.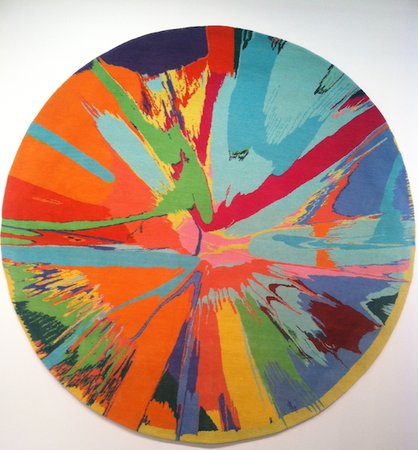 A curiously widespread trend this year was artist-designed wallpaper, which covered the booths of multiple galleries. The most prominent of the bunch was Gagosian's Armory Focus display of Warhol outtakes, which set works from his 1986 Camouflage series against the artist's Lavender Self Portrait wallpaper, designed in 1978.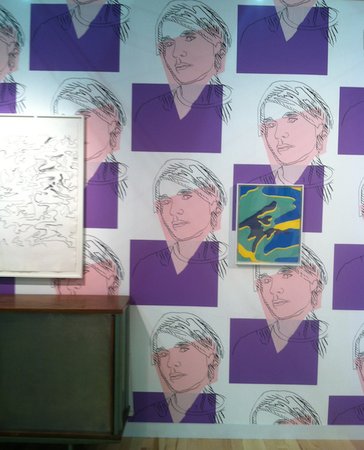 Magnan Metz papered the walls of their booth with Duke Riley's signature scrimshaw-inspired patterns, while the Suzanne Geiss Company displayed a dizzying, candy-colored background by assume vivid astro focus.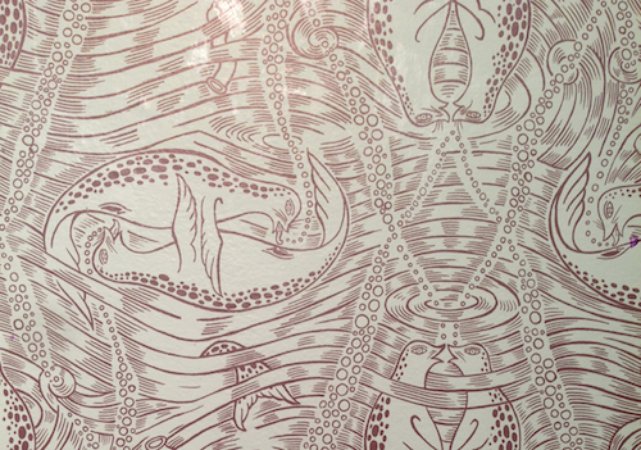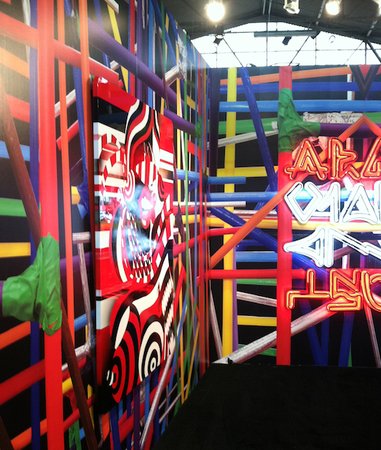 At Independent, Gavin Brown's enterprise brought vintage wallpaper by Thomas Bayrle, reflecting the artist's interest in mass culture, consumerism, and seriality.