So, you've pulled the trigger and invested in a Robert Longo work. Really, you have excellent taste. But what are you going to say when friends ask questions about it? Where does Longo fit into NYC art history? How does he do in the art market? (clue: he does pretty well). Do you know which music videos he shot, or which Hollywood film he directed? And do you know which latter-day art stars appear in his best-known series of drawings? If the answer to any of the above is er...., we can fix that for you. Read this, and you won't be stuck for conversation around Longo and his work when friends (virtually) visit.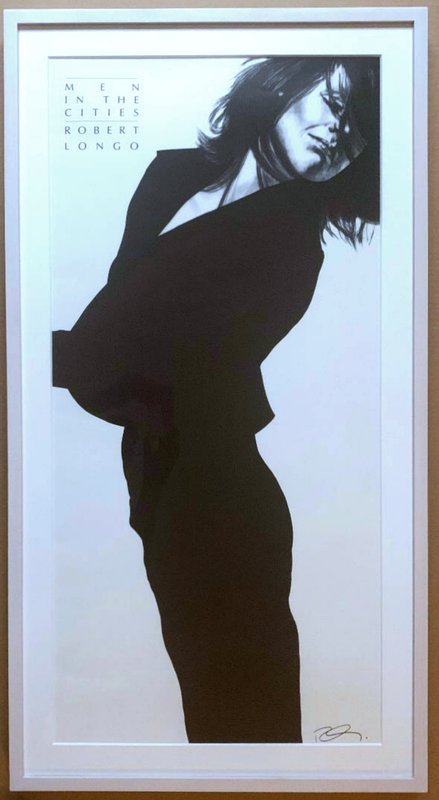 (Wo)Men in the Cities (Gretchen), 1994 by Robert Longo
Robert Longo. He's the artist who made Men in the Cities, correct? That's right. Longo is probably best known for this series of charcoal and graphite on paper drawings, created between 1979 and 1982 (though Longo has continued to reproduce prints and photographs from the series throughout his career), which depict (despite the title) both men and women, in stark, stylised poses, as if struck by a bullet, or splayed out on a pavement. Inspired by classic movie death scenes, Longo created his source materials by inviting his friends on to the roof of his studio, where he tossed tennis balls at them and pulled on ropes, contorting their bodies into the required poses. He then photographed the results, and transferred these to paper.
What's his back story? Robert Longo was born in Brooklyn in 1953 and raised in Long Island, the youngest of three siblings in a middle-class Italian-American family. His father was an accountant, with whom Robert had a fractious relationship. "As a kid, I was real bright, but a brat," he told the New York Times in 1985. "I couldn't learn to read - I was dyslexic but no one knew it - and I was always in trouble at school." Drawing was 'my escape', he went on to explain. "I did it all the time - in the football season it was football; if I saw 'Spartacus' I was drawing knights."
In 1972 he won a grant to study restoration and art history in Florence, Italy, and, though he chose to create his own works rather than preserve the works of others, Longo credits the trip with deepening his understanding of Old Masters. On returning to the US, he enrolled at State University College in Buffalo, where he befriended fellow student and future art star, Cindy Sherman, and helped found the renowned Buffalo exhibition space, Hallwalls, before moving to New York in 1977, to work as an assistant to Vito Acconci and Dennis Oppenheim.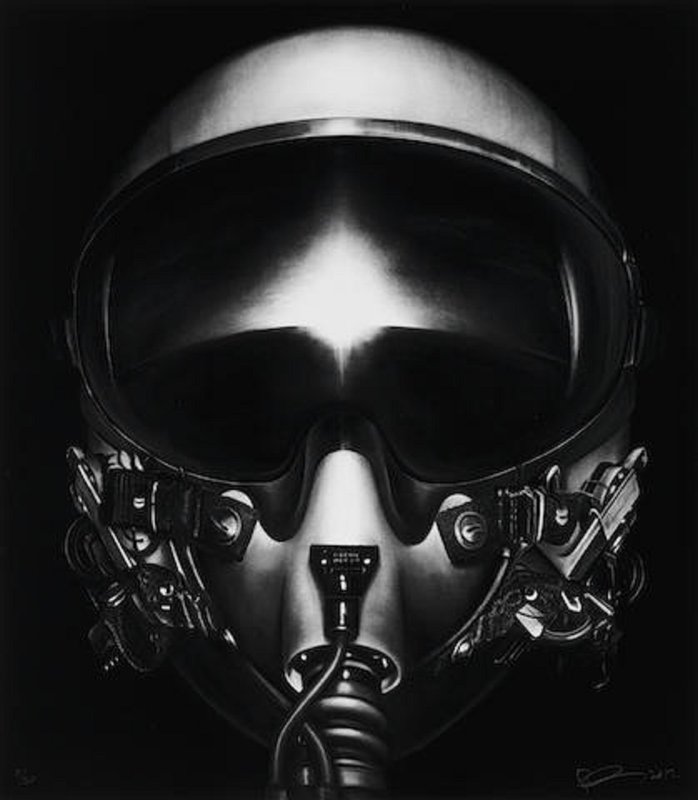 Untitled (Adam), 2012 by Robert Longo
Where does he fit in to New York City's art history? Longo himself identifies with the Pictures Generation, the punky, appropriative group of young artists, who, during the late 1970s and early 1980s, drew on commercial images (films, advertising, newspapers, magazines and newspapers, among other sources) to offer slick, seductive critiques of the American Dream.
More recently, his work has drawn from current affairs and news imagery, with large-scale, exquisitely executed works on paper depicting riot police, endangered species, migrant boats on the Mediterranean, and sportsmen taking the knee.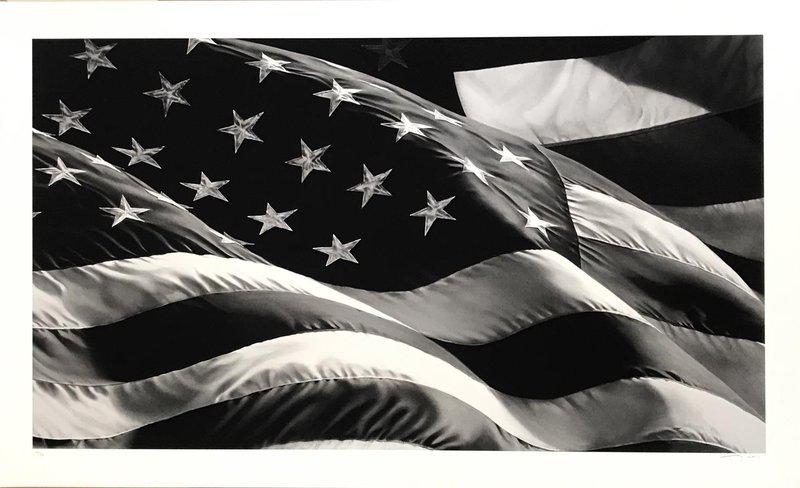 Untitled (Flag), 2013 by Robert Longo
How has the market responded to his work? Today, the art market loves Robert Longo but when he first moved to New York after graduating, in 1977, he found it hard to get started. His first sale – a drawing – went for just $50. However, his first gallery show, in 1981 at Metro Pictures, sold out, and today collectors prize his beautifully executed, hard-hitting works. Back in May 2013, his drawing, Untitled (Leo) sold for $1,575,000 at Christie's in New York; while a single, figurative drawing, entitled Untitled (Tillman), achieved $200,000 at the same auction house in November 2019.
It seems like there's almost something minimalist about his work? That's very perceptive of you. During his early years, Longo cited Minimalism as a strong influence. As he said in 1985, "I was fascinated by the work of [Donald] Judd and [Richard] Serra. I took out a book in the library on Judd and said to myself, this is art? These cubes? The stuff looked so easy to make; why was it important? You get an education thinking about things like that.''
Cinema, too, seems very important. So important, in fact, that Longo has branched out into directing. He has overseen music video shoots for bands such as New Order and R.E.M., and directed the 1995 feature film, Johnny Mnemonic, starring Keanu Reeves and Dolph Lundgren.
That's a wide and varied career. What's the secret to his success? An early interview with Longo reveals him to be a remarkably focussed artist, with a strong grasp of where his audience lies, and what can go wrong if an artist doesn't bear in mind the kind of people likely to be lining up in front of a work. "The most important thing about being an artist is to figure out where you're supposed to be, and who's your audience,'' he told the New York Times back in 1985. ''Then you sort of catch your time. You have to know and understand the realm of high art and what the boundaries are. Most artists just flounder around and read too many art magazines.''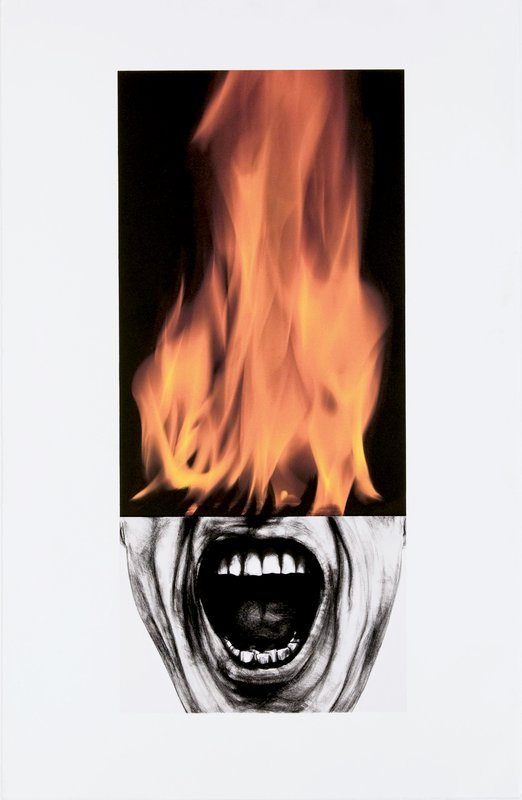 Arena Brains, 1986, by Robert Longo
He doesn't mess around, does he? Is the directness of his work part of his appeal? Absolutely. For Longo, didacticism has never really been a problem. As he told the Guardian newspaper in April 2019, "I think my art is a head-butt, a punch in the face, a kick in the balls, a kick in the ass. I am preaching to the choir. But I'm not preaching, I'm fucking screaming to the choir. What the fuck are you going to do about this?"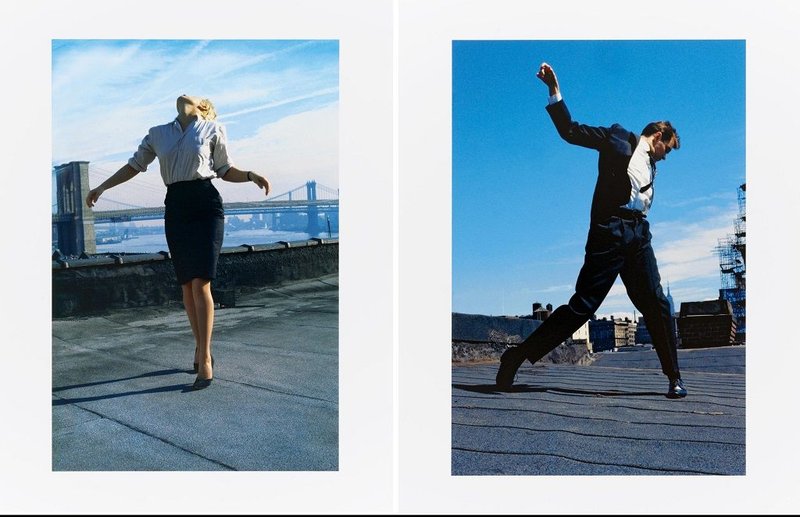 Cindy And Eric, 2014 by Robert Longo
That's great. OK, may I have one final anecdote? A couple of famous art stars posed for Longo on his roof back in the day, though they weren't well known at the time. Look out for fellow Pictures Generation artist, Cindy Sherman, and international gallerist Larry Gagosian, among Longo's models.
Who should I hang him next two? For a strong, Pictures Generation wall, try Richard Prince, Cindy Sherman, David Salle and Sherrie Levine. Longo looks great next to sharp black-and-white photography; take a look at Osiris Cisnero. For other masters of the (largely) monochromatic, try Rashid Johnson, Richard Serra or Christopher Wool. And if you'd to channel the photorealist side, offset him with something more colorful, by, say, Ralph Goings.
[LongoWorks-module]