So, you've invested in a KAWS work. That is actually a very good choice. It's on display, and your friends are coming over to admire it. Do you know what you're going to say? Do you know the artist's real name? Or how he first found fame? Do you understand how his commercial collaborations sit with his (frankly incredible) auction record? Do you know which Disney series features a little of his work in the background? Or when he quit doing graffiti to concentrate on fine art? What do you mean, 'no'? OK, OK! Read this piece, and you won't be stuck for conversation around this important, contemporary artist when friends want straight answers.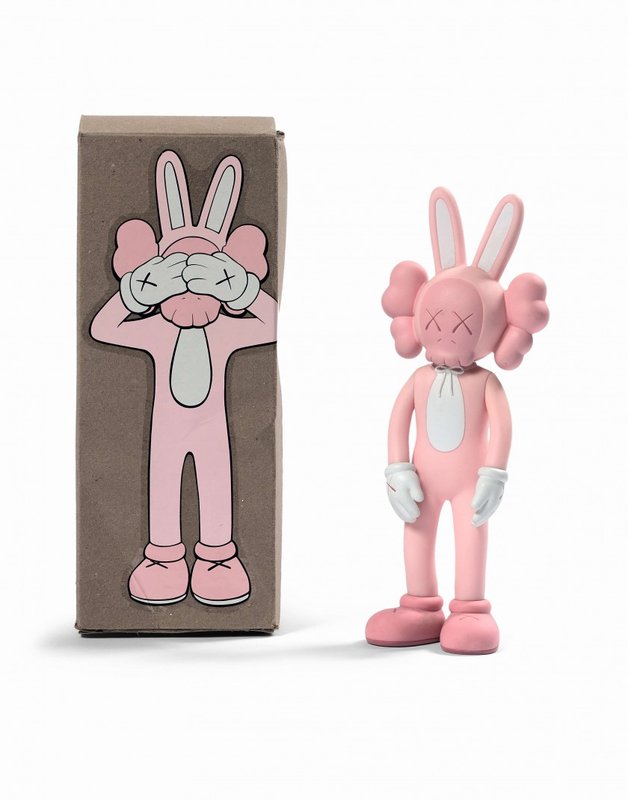 KAWS - Accomplice (Pink) , 2002
KAWS, I know this. He's the New York graffiti artist who's made it big in the art world, right? Well, to an extent. His real name is Brian Donnelly and he was born on November 4, 1974 in Jersey City, New Jersey. He actually graduated from the School of Visual Arts in New York City in 1996 with a Bachelor of Fine Arts, and he began to find fame first as a graffiti artist, though he hasn't produced proper, - read illegal - graffiti since about 2001. To begin with he sprayed up conventional tags - his tag was, of course, 'KAWS - then later he tried more innovative methods of working his pieces into the urban environment: with his 'subvertising' works, which saw Donnelly repaint his poppy, ghoulish motifs into late nineties billboard adverts.
"When I started painting on advertisements, it occurred to me that the ad really set the work in a specific time," he has since said. "When you paint over ads, it clicks, especially with the phone booths I was doing. There were these Calvin Klein ads of Kate Moss or Christy Turlington. I think that's when I realized it was more about communication."
The fashion world looked on admiringly and, on trips to Japan in the late 1990s, KAWS managed to repay the compliment, by launching his own line of merchandising.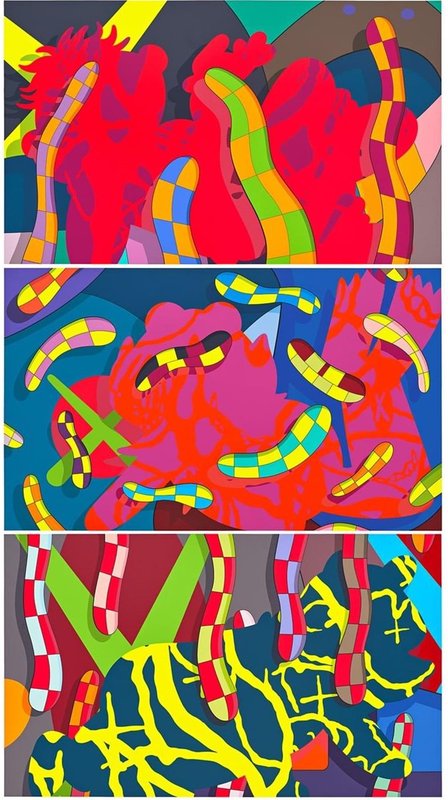 KAWS - Lost Time, Alone Again, and Far Far Down , 2018
Ah, what's that main character of his called? The Companion. KAWS produced his first stand-alone version of the figure in 1999, with the Japanese firm, Bounty Hunter. The figure looks quite a bit like Mickey Mouse, albeit it with cross-bones for ears, a skull for a face, and zonked-out 'X's where its eyes should be. Initially sold as a vinyl figure toy for adults, late 90s versions of the Companion now go for the kind of money you'd more readily associate with a fine-art print.
Since debuting the fully formed character in 1999 (earlier, less fully formed iterations appeared in his street art), KAWS has seen his Companion join the Macy's Thanksgiving Parade as a parade balloon, floating alongside Mickey Mouse and Sonic the Hedgehog; brave Hong Kong's Victoria Harbor, as a massive 121-foot inflatable, during Art Basel Hong Kong; and impose its features onto almost every popular cartoon franchise, from Snoopy to SpongeBob SquarePants. As Christie's New York Specialist in Post-War and Contemporary Art Noah Davis puts it, when it comes to KAWS, "no cartoon is safe."
How has the art market responded to KAWS? With remarkable enthusiasm. According to a 2019 art market intelligence report, KAWS' average sale price almost doubled since 2017, rising from $42,272 to $82,063. Though those numbers don't really reflect the enormity of a few recent sales. The artist's 2005 piece, THE KAWS ALBUM, a mash-up of The Simpsons and the Beatles' Sgt. Pepper's Lonely Hearts Club Band cover, sold for $14.8 million at Sotheby's in Hong Kong, almost fifteen times its original estimate; in May 2019 the artist's work In The Woods went for $2,855,000 at Christie's in New York. That blue-chip status is only likely to harden over the next few years. KAWS shows with two highly respected galleries, Perrotin and Skarstedt, and Brooklyn Musuem is planning a retrospective in 2021.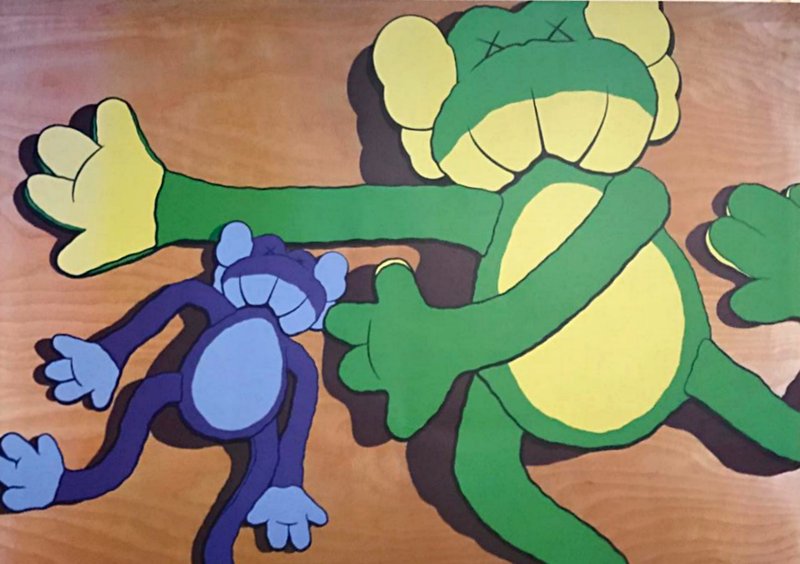 KAWS - KAWS x A Bathing Ape , 2003
How about KAWS' merchandising tie-ins? How do they fit into all of this? They've been part of the artist's practice, more or less since the beginning, and fit in quite nicely. For example, KAWS met Nigo, the menswear designer and founder of A Bathing Ape, in Japan during the late 1990s, and remained in touch. When Nigo took up a position at the high-street brand Uniqlo, he tapped KAWS for a collaboration, enabling the artist to produce fully licensed versions of his Sesame Street and Peanuts reworkings on Uniqlo's garments and accessories.
In other instances, KAWS gets a call when a fan of his early work ends up in a high-powered role. For instance, when the British designer and streetwear aficionado Kim Jones took up his position as creative director of Dior Homme in 2018, he more or less immediately called on KAWs for a collaboration.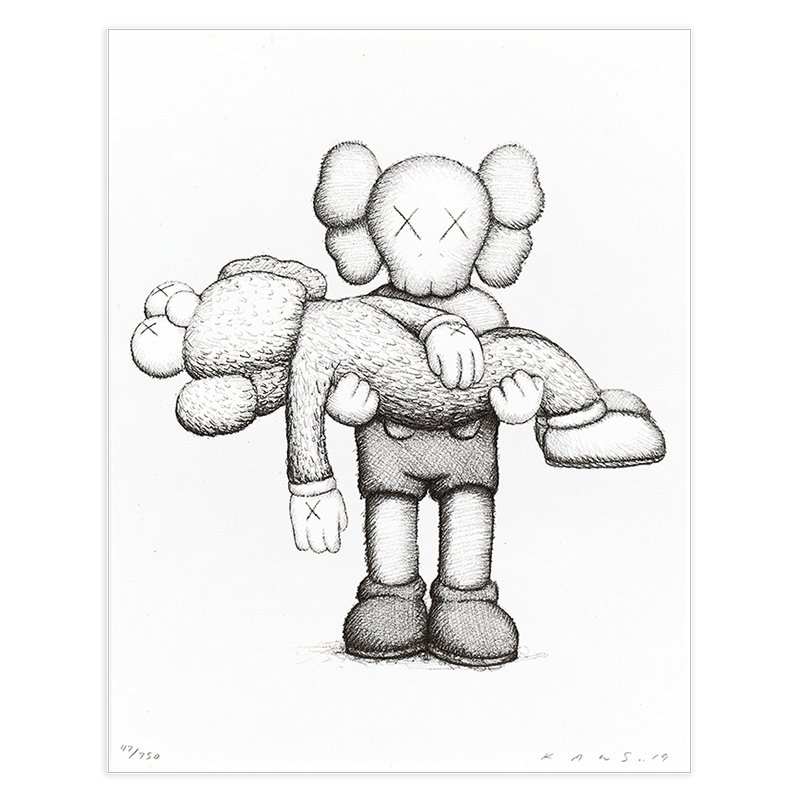 KAWS - Companionship in the age of lonliness, 2019
Who else likes his work? There are quite a few famous collectors. The hip-hop producer Swizz Beats owns KAWS pieces, as does the recording artist Pharrell Williams, and K-pop megastars BTS. David Beckham also bought a piece at his recent London show after turning up with Victoria and the kids.
Does KAWS himself collect? Oh, yes. He owns works by such painters Peter Saul and Martin Wong, comicbook panels by the legendary underground comix artist Robert Crumb, and classic sketchbook illustrations from graffiti artists including Phase 2.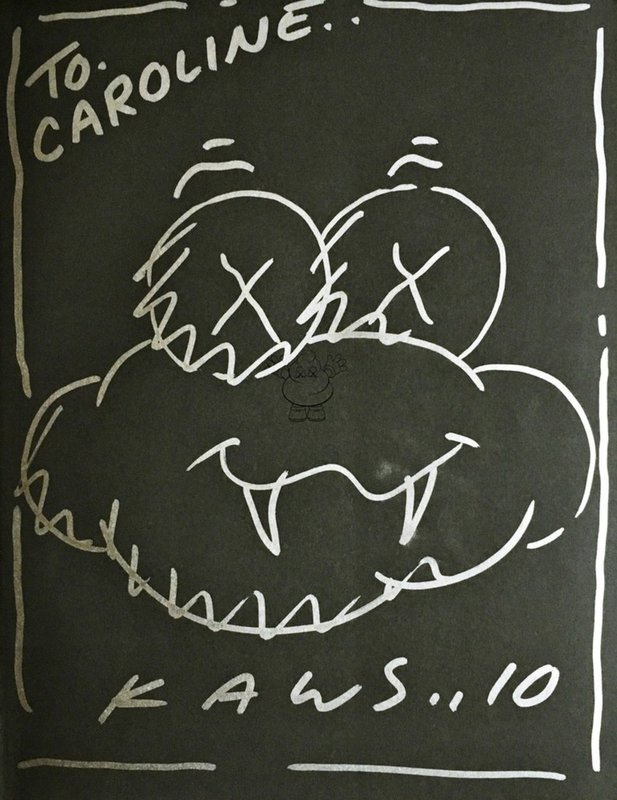 KAWS - Unique hand signed and inscribed original drawing, 2010
I really love the colors in his works. Do you think I could perhaps paint the walls to complement those shades? Unfortunately, no. KAWS has his pigments custom-mixed by Golden Artist Colors, the New York paint company.
OK, can I get one last anecdote? Sure, before KAWS could support himself with his art, he created background art for Jumbo Pictures, a New York animation studio. You might be able to catch his work on the Disney series 101 Dalmatians, and the Nickelodeon show, Doug.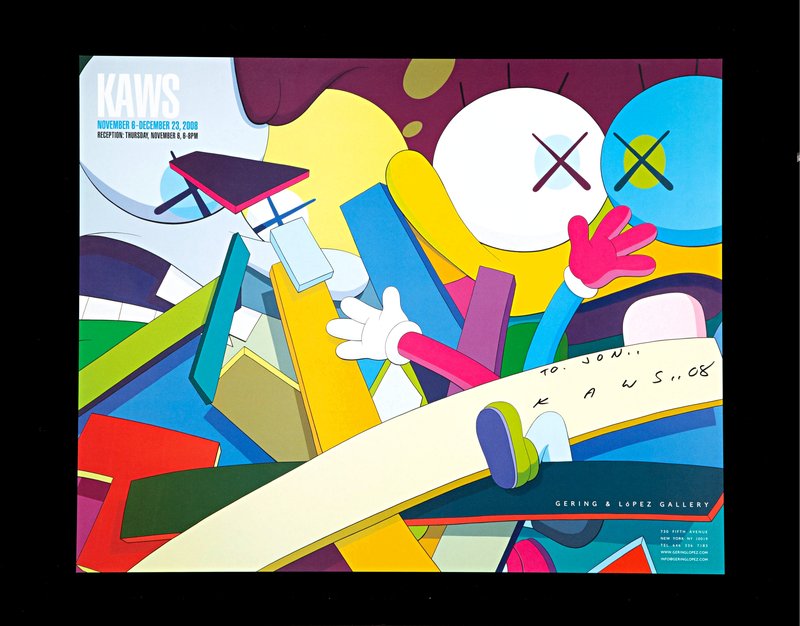 KAWS - Gering & Lopez Exhibition (Hand Signed and Inscribed ), 2008
What should I hang KAWS next to? For a powerful tribute to the guys who made it out of the graffiti scene, try Keith Haring , Jean-Michel Basquiat or Lee Quiñones ; accent KAWS' East Asian appeal with some Takashi Murakami or Yoshitomo Nara ; get the hypebeast in your social circle all excited by placing KAWS next to Daniel Arsham or Banksy ; or offset it with some classic pop art courtesy of Roy Lichtenstein , Ed Ruscha or, of course, Warhol .
RELATED STORIES
What to Say About Your New Jenny Holzer Print (or Skateboard or LED)
What to Say About Your New JR Print
What to Say About Your New Katherine Bernhardt Print
What to Say About Your New Frank Stella Print
What to Say About Your New David Salle Print
What to Say About Your New Nan Goldin Print
[KAWS-module]