Socialising is, in many ways, a fine art. Andy Warhol displayed his maximalist tendencies when, in a 1963 interview with the critic Gene Swenson, he declared, "I think everybody should like everybody." Christo and Jeanne-Claude almost put Warhol's words into practice, hosting hundreds of figures from the New York art world at their loft, close to Canal Street in Manhattan, three nights a week, for years.
Today, in contemporary art circles, the point at which the social engagement meets the fine-art project has not one but, in fact two names. Enjoy one of Rirkrit Tiravanija's white-cube cookouts, or Tino Sehgal's open-ended, gallery encounters, and you can call it either social practice, or relational aesthetics.
And you needn't assume that fine art and fine socialising can only come together in a gallery setting. This selection of apt Christmas gifts, all drawn from Artspace's inventory, are the perfect way to introduce a cosy, contemporary theme to your loved-one's lounge. These blankets, armchairs and rugs funish a social space, and burnish a gallery-goer's credentials. Bring additional good taste to the season of goodwill, by adding these to your gifting list.
BRIAN CALVIN – 100% lambswool blanket, 2018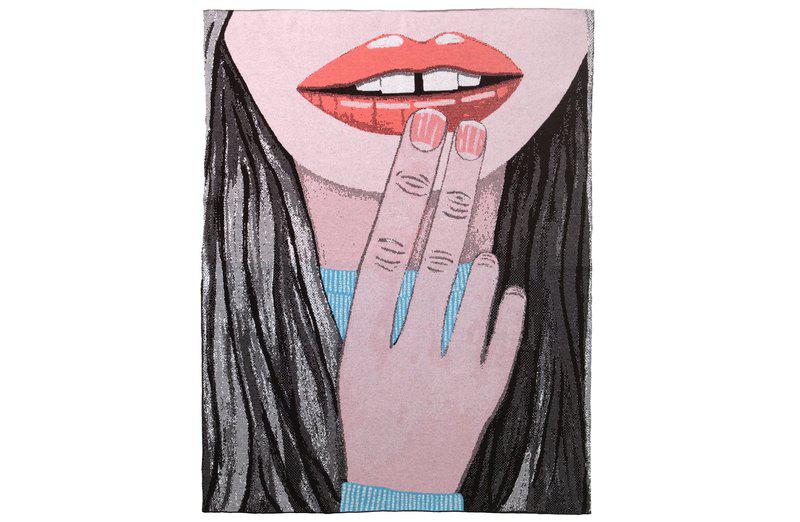 Brian Calvin's painting is steeped in the bubblegum colors and sun-soaked light of his native California, with his portraits of beachside bohemians, beauties and burnouts conjuring up the spirit of the west coast. However, for those of us seeing out winter in slightly less agreeable climes, this new blanket edition means you can enjoy Calvin's work while keeping the cosiness levels at maximum this Christmas.
Focusing in on his figure's mouth (a regular visual fixation in Calvin's work), this piece sees the image rendered in 100% Geelong lambswool by master Scottish craftspeople using a double-sided knitting technique which showcases the artwork on the front side, while the reverse is a 'birdseye' knit pattern. The blankets have a soft, cosy handle and a luxurious feel making them the perfect Christmas gift (they're also machine washable). Each edition of this Brian Calvin piece is made to order in Scotland.

PATRICK CHURCH – Matilda, 2019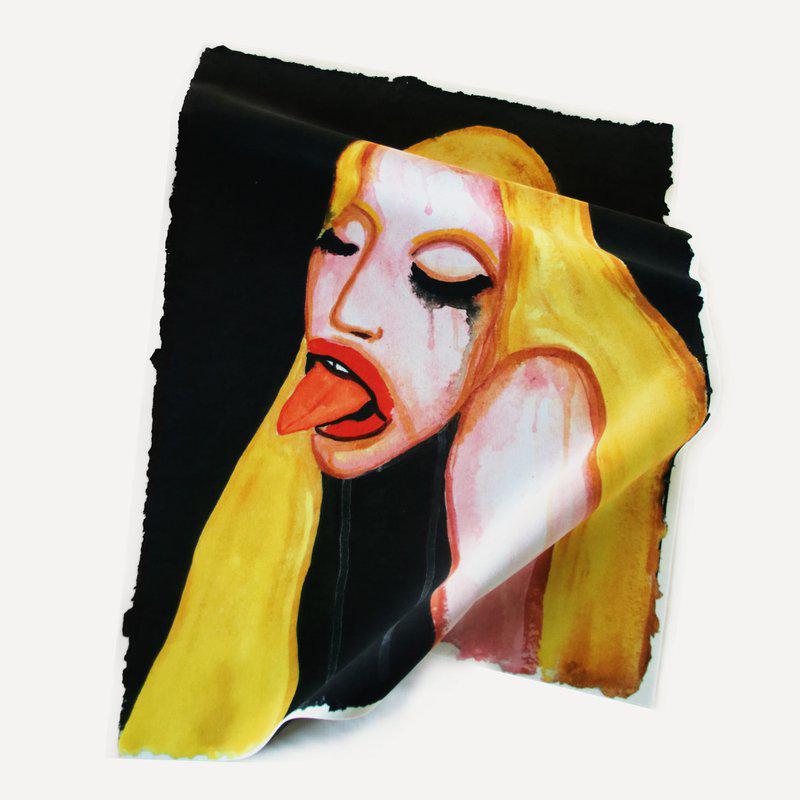 Even an avowed minimalist needs something a little more comforting underfoot, and this rug from British multimedia artist Patrick Church is the perfect addition to a hardwood or concrete surface. Now based in New York, he has effortlessly moved between the worlds of art and fashion, producing clothing, paintings, and collaborations with Amanda Lepore. 'My biggest inspiration is always the idea of love and longing and being in love,' he says. 'And, everything is autobiographical. Even if I'm not painting myself, the artwork is always about me. It's a diary of my life,' he told Hypebeast recently. His creations are deceptively complex, using layering, texture and subtle manipulation to build up surfaces, an anarchic sense of humour coursing through the work. This singular world that Church has created has seen his work collected by the likes of Madonna, Kendall Jenner and Katy Perry and celebrated everywhere from Vogue to Harper's Bazaar. This piece is a tufted velour carpet fabric, cut-pile for a more luxurious finish and dye-injected. It measures 66.93" x 47.24" and comes from an edition of 10, each accompanied by a certificate of authenticity.


MICKALENE THOMAS – Clarivel Centered, 2014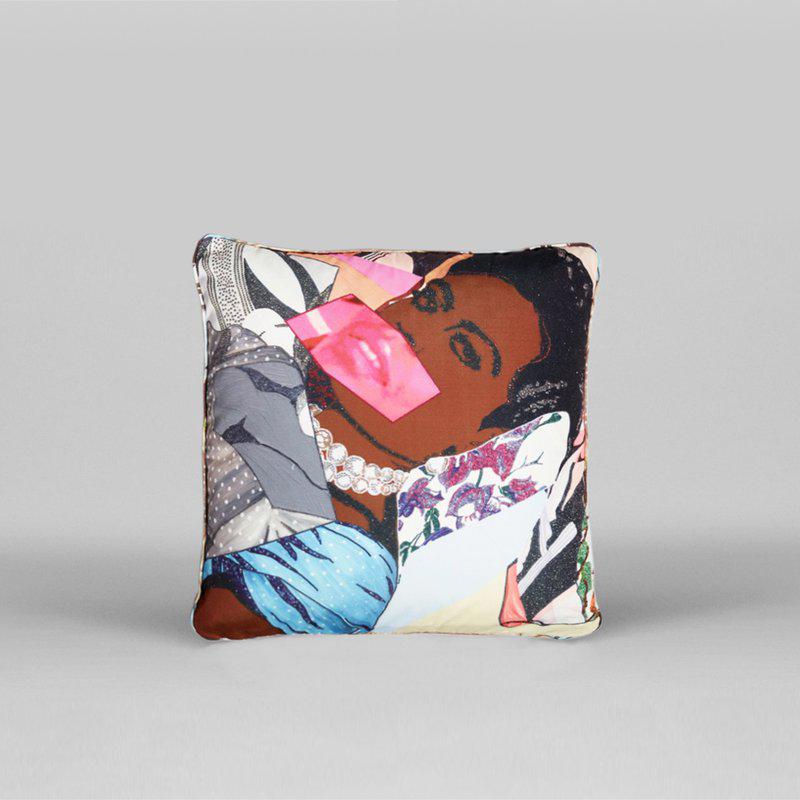 Mickalene Thomas was born in New Jersey in 1971, graduating from Pratt Institute and Yale University in turn before participating in the Artist-in-Residence program at the Studio Museum in Harlem. Her work re-examines the history of female portraiture and how black women were frequently written out of the history of western art, with figures from her own contemporary life being inserted and added to iconic paintings. Her best known work is a radical reimagining of Edouard Manet's Dejeuner Sur L'herbe produced with and displayed at New York's MOMA in 2010. This cushion depicts a detail from her 2014 piece Clarivel Centered, originally produced from rhinestones, acrylic, oil and enamel on wood panel but here printed on cotton, with the same image reversed on the other side. Produced in collaboration with Henzel Studio, this cover is one of an edition of 999 and comes with a certificate of authenticity.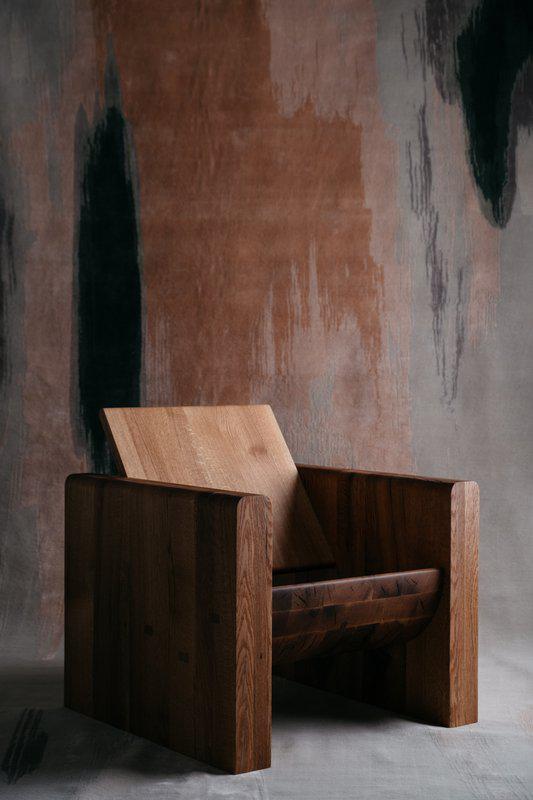 Odami is a Toronto-based design studio, founded in 2017 by Spanish architect Aránzazu González Bernardo and Canadian designer Michael Norman Fohring, with a mission 'to create buildings and spaces that belong to their place and its story, and to their clients.' They've since designed everything from restaurants and housing to primitive woodland shelters built from spandex-and-concrete 'bricks'.
This project has seen them producing a beautiful, heavy wooden armchair made from a 130-year-old red oak tree. The tree was discovered deep in the woods on a relative's property – the earlier loss of a major limb had left the tree unbalanced and under major stress, and an 8 month operation was undertaken to safely fell it with as much of the tree preserved as possible. Each part of the chair was put through a lengthy process of milling and drying, with the natural warping and shifting of the wood factored into the design process. The end result is a beautiful new life for the material, and a chair made up of solid surfaces, rigid lines and softened edges. A timeless classic, this chair is made to order and comes with a certificate of authenticity.
BARBARA KRUGER – Untitled (KISS)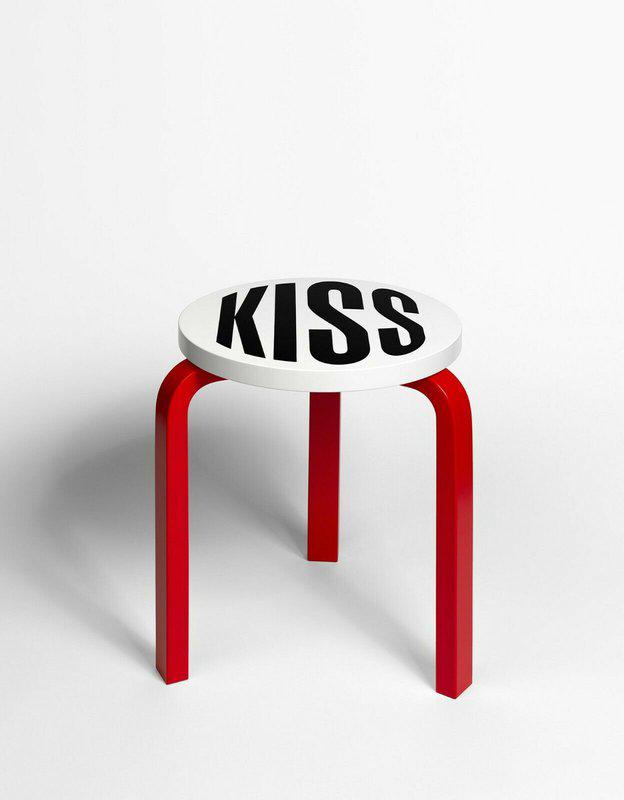 With her ability to combine graphics, typography, political ideology and the language of marketing, Barbara Kruger has summed up and critiqued modern communication like few other contemporary artists. Originally working as a magazine designer, she applied the tactics of mass communication to her art practice, leading to a career including solo shows at the Whitney, MOCA LA, LACMA, MoMA PS1 and the ICA London along with featuring at multiple biennials. This 2019 piece allies Kruger's typical typography to her signature red, white and black colour scheme on a solid birch, birch plywood and laminate chair. Sold in the original packaging box per its original issue, this was produced in an original multiple of 300, with a final continuation of a further 300. Each piece is hand numbered and comes finished on the underside with the artist's stamp of authenticity.
To view these gift choices, and many more, browse Artspace's 2021 Holiday collection here.