At this year's exceptional edition of Art Basel, two major and mirroring trends can be discerned. The first is that the influence of the contemporary top floor is gravitating down to the more historically oriented ground floor, with recent works cropping up amid the secondary-market presentations. The second is that the secondary-market galleries, facing a dearth of truly world-class works by the canonical Modernists, etc., is delving into the recesses of art history—the remainder bin, essentially—to come up with art that looks terrifically fresh to our unaccustomed eyes.
The result of these two tendencies is a salubrious tilling of the artistic soil, an overturning of the crust—and a reason to celebrate. Here are 10 standout works from the fair.
FRANCIS PICABIA
Apollo (1928-30)
Galerie 1900-2000

With his much-anticipated MoMA survey coming up next year, Francis Picabia probably stands at the top of the heap of underappreciated Moderns having megawatt comebacks. His effervescently creative mind, which turned out one radically divergent hit series after another in the manner of Picasso and few others, ensures that there will be plenty for collectors to moon over for years to come. This piece, part of a suite of four paintings on board that were commissioned for the boudoir of Mme. Lucienne Rosenberg (the wife of the artist's dealer), stems from his famed "Transparencies" period. The fusion of the women's lovely faces and flowers suggests an impressionistic retelling of the myth of Apollo and Daphne. Priced at €650,000, it's a testament to his already-robust market—which can be expected to strengthen, in part due to his powerful influence on influential artists of the present day (from Julian Schnabel and David Salle to Danh Vo, Jana Euler, and Urs Fischer). 
LOTHAR HEMPEL
Slowdance (2015)
Stuart Shave/Modern Art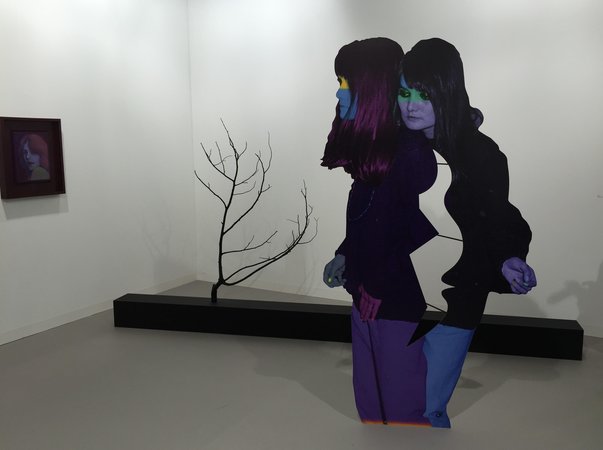 Based in Berlin, the Kunstakademie Düsseldorf graduate Lothar Hempel makes extraordinary sculptural installations that grab the viewer by the lapels and head-butt them with high-concept beauty. Melding scenography (he does performances too) with mashed-up imagery from a range of epochs and subcultures, his pieces borrow the cut-out precedent of Cady Noland and Alex Katz. Here, two girls (or one girl in motion?) appear to groove in place while sporting haircuts that suggest the 1960s, even though the DayGlo colors enlivening the composition seem to have been beamed in from the rave scene of a different era (or maybe from a Kenneth Anger film). The piece (priced at €40,000) looks toxic and alluring, with the branch-sprouting minimalist beam in the background providing a melancholic, even spooky touch. 
GIACOMO BALLA
Marombra (1919)
Galleria dello Scudo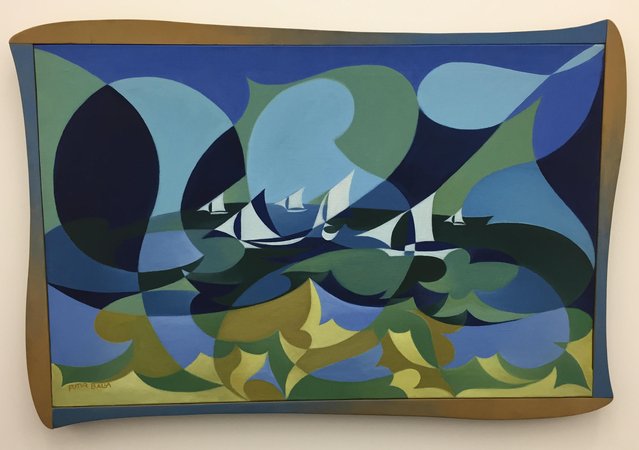 A signatory of the 1910 Futurist manifesto, Giacomo Balla was a central member of that Italian fascist-influenced art movement (if one who has receded a bit from the limelight, compared to peers such as Boccioni and Severini.) Balla's take on the speed and repetition of the machine age has a superior lyricism, however; often, it's as if he's pausing on the battlefield to explore color and shape. This painting, undulant even in its shaped-and-painted frame, gives us an almost Impressionist view of the seaside. It makes us imagine the artist standing en plein air by the harbor, taking down the placid ships while the clamorous wheels of industry crank away in his brain.
TERRY HAGGERTY
Sudden Pull (2015)
Von Bartha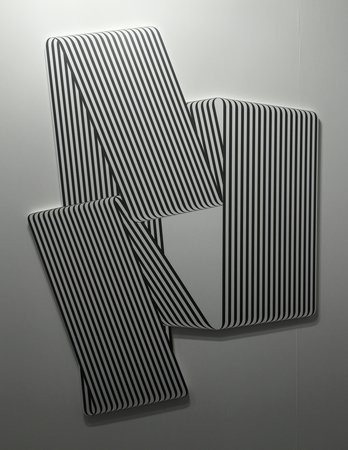 The canvases of Terry Haggerty, on view at Von Bartha's ground-floor booth, at first seem to be riding the wave of trendy neo-formalist paintings inundating the emerging market. Upon closer inspection, however, they present a certain fusion of art-historical savvy and good-design verve that makes them particularly covetable. The artist makes these pieces by designing the compositions on his computer and then printing them onto canvas—with contours of the canvas cut to conform precisely to the digital original—before varnishing them many, many times to generate a crackling tension between objecthood and the 2-D image. This candy-stripe painting, which should put you in mind of Ellsworth Kelly and Roy Lichtenstein, sold on the first day for 42,000 CHF.
AGNES MARTIN
Self-Portrait (c. 1947)
Galerie Thomas Zander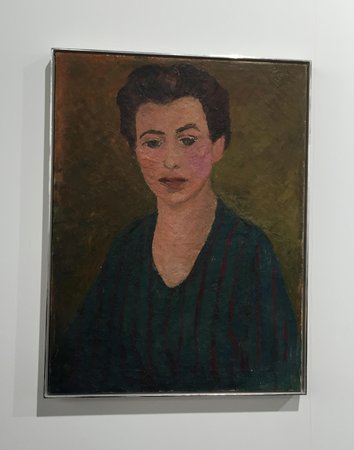 Before the great Agnes Martin ventured into the obsessive, evanescent linear abstraction that consumed the vast bulk of her career, she was a questing artist. As we see from her new Tate Modern retrospective, she explored the same kinds of biomorphic forms that Pollock and Rothko pursued in their early careers. Even before that, though, she painted this mottled self-portrait with its confident gaze and imperious raised eyebrow. The only clue to her future direction is the striped pattern of her dress—a sartorial preference that would persist throughout her life, as can be seen in the photographs in the Tate Modern show catalogue (which includes this rare €250,000 painting).
AI WEIWEI
Crystal Cube (2015)
Lisson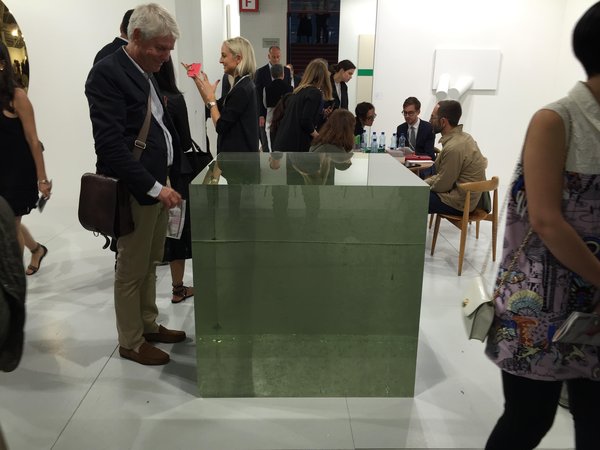 A lover of American Minimalism since his New York sojourn in the 1980s, Ai Weiwei has been importing its vocabulary to China for a while now—notably in his series of cubes, nods to Tony Smith's 1962 steel sculpture Die, which he has made from tea, ceramic, marble, ebony, and other materials associated with Chinese tradition. This one, in glass, was the most difficult to achieve; every time the artist tried to make it, it would explode. Finally, after much trial and error, he arrived at a method of slowly cooling the cast molten glass over a six-month period. (The process resulted in some chipping at the corners, but Ai has embraced these small defects). It weighs two and a half tons, and costs €500,000, so prospective buyers might want to make sure that shipping is included in the price.
EGON SCHIELE
Reclining Nude (1918)
Richard Nagy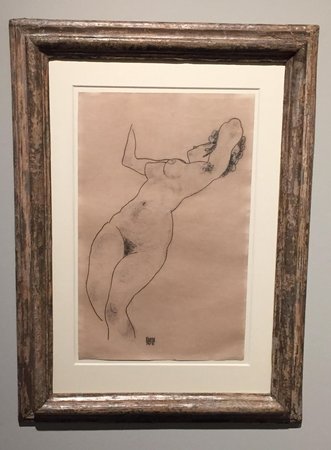 When an artist is as popular as Schiele but his best paintings are gone from the market, what's a gallerist to do at a fair like Basel? Bring drawings, of course. And because the Austrian artist was such a seductive master of the medium, the fair is rife with his works on paper this year—particularly at the booth of Richard Nagy, where they are presented in almost-overpoweringly carnal profusion. This drawing, made in the last, awful year of Schiele's unenviable life, when he died at 28 of the Spanish flu after the pandemic took his pregnant wife, is somewhat uncharacteristic of the artist: rather than portraying a scrawny waif of the demimonde whose sickly skin and raw limbs only intensify the erotic life force she exudes, this truncated portrait of a full-figured young woman seethes with healthy sensuality.
FRANZ ERHARD WALTHER
Ort Fuer Koerper (Place for Body) (1985)
Peter Freeman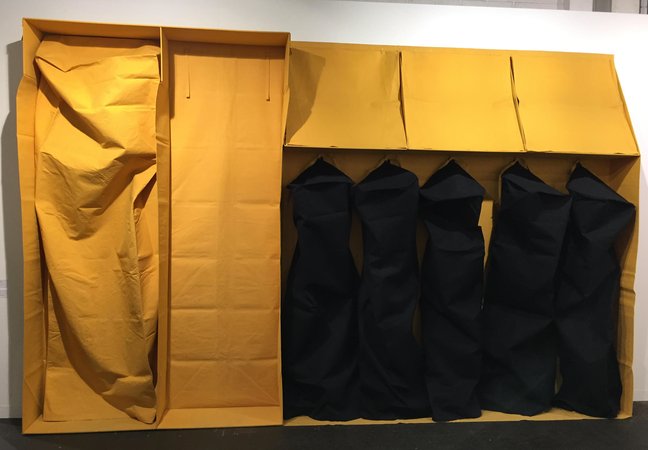 A very, very interesting artist who is not well known in the United States despite an avid international curatorial following, Franz Erhard Walther took a novel approach to sculpture in the 1960s. He saw physical interactivity as a part of the work's form, with "the hand as pedestal"—and he has continued to develop that idea for the past half century. A key shift in his work occurred when he picked up the materials used by his seamstress girlfriend (later wife) and began creating hand-sewn canvas sculptures that people could wear or otherwise play with. (MoMA and Dia now own complete runs of these editioned "Work Sets.") This €185,000 piece—shown at dOCUMENTA 8 in 1987—stems from his later series of "Wall Formations." These giant installations invite viewers to nest in them and romp around—in this case, asking us to crawl into ominous black body bags or curl up in a yellow rectangle. The 76-year-old artist—who also "activated" a piece the gallery has in Unlimited during the fair—is an undeniable eminence: a peer of Joseph Beuys, a precursor to Franz West, and a teacher of Gerhard Richter, whose continuing influence will be made clear in 2017 when he has a sweeping retrospective at the Reina Sofia.
JANA EULER
Equilibrium (2015)
Cabinet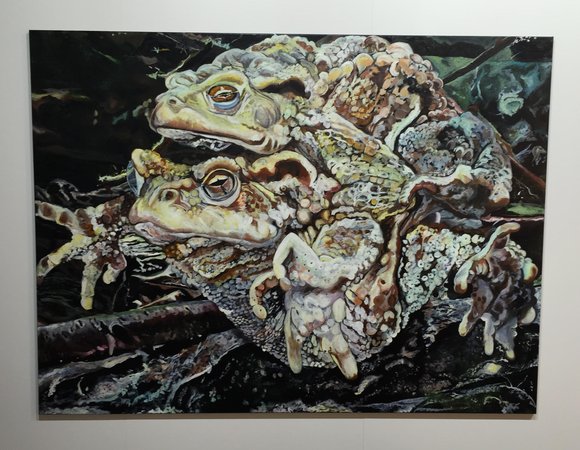 The 33-year-old German artist Jana Euler has been building a reputation as a hard-thinking painter, developing a conceptually brazen and, at times, deliberately ugly style of figuration perhaps best exemplified by our friend Francis Picabia. This €52,000 piece captures her multilayered approach: taking its lead from a German slang-term for money (a recurring preoccupation in her work) that translates as "toads," the painting shows two amphibians in an NSFW embrace and derives its ghoulish hues from Euros and dollar bills. The work, with its realistically rendered creatures floating in an indefinite space, provides ample reason to look forward to Euler's solo show at the Portikus later this year; a gallery show at Cabinet is also in the works. 
JEFF KOONS
Cat on a Clothesline (Orange) (1994–2001)
Gagosian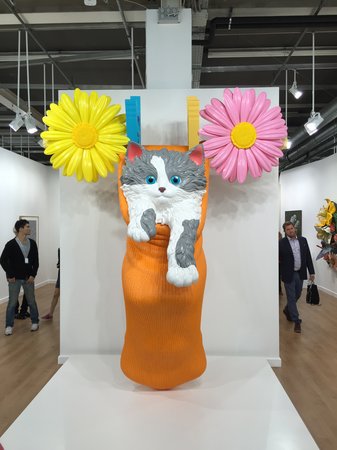 Remember when Gagosian brought Jeff Koons's Cat on a Clothesline to Frieze London two years ago along with two "Celebration" series pieces as a grand geste, and the cat was so hypertrophically odd that you couldn't figure out what the heck was going on with it? Well, now the gallery has trotted out another edition of the same piece (with flowers of different colors), and—after hearing Koons discourse on his work at length in Bilbao—it's finally clear what's afoot. The kitty… is… a penis! What the artist has done here is take a totally banal, cutesy bit of animal kitsch and transform it into a meditation on sex and gender, with the pussy filling the sock to form a phallus and the bright little flowers (symbols, for Koons, of genitalia) standing in for testes. This multimillion-dollar piece has never appeared at auction, but it would be intriguing to see what the market makes of such a wackadoodle Freudian conceit.