Do we truly enjoy free will, or are some things in life simply predetermined? You might be asking yourself that question when you see these works of art, some so mercilessly affordable that they seem destined for your wall, the others so compelling you'd be sure they're yours already, waiting for you at home. Breathe, relax, and accept your fate. 
STEAL
JACK PIERSON
Untitled, 2008
Color Photograph
$281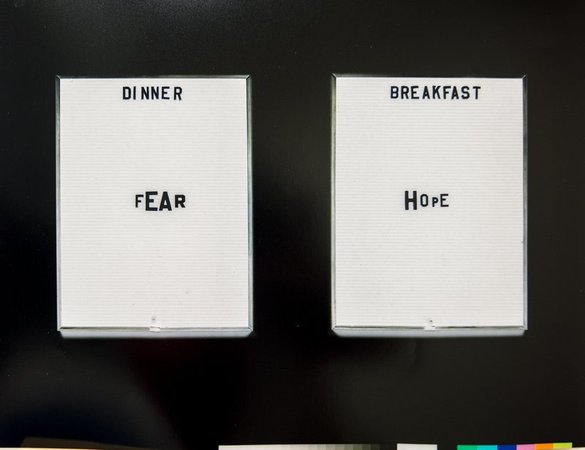 A conceptual artist known for his keenly sought-after works involving poetic uses of found lettering, often from vernacular marquee signage, Jack Pierson can conjure a romantic—or dramatic—ambiance with just a few well-chosen pieces of flotsam typography. An easy way to explain part of his universal appeal? Imagine an Ed Ruscha text painting, and remove the painting. Evoking the reconfigurable menus of regional diners, this moody, exceedingly affordable edition thrusts the viewer into a classic space of American on-the-road noir.
SPLURGE
CHRISTIAN MARCLAY
Skssh Clang Whssh, 2011
Photogravure with chine collé
$4,000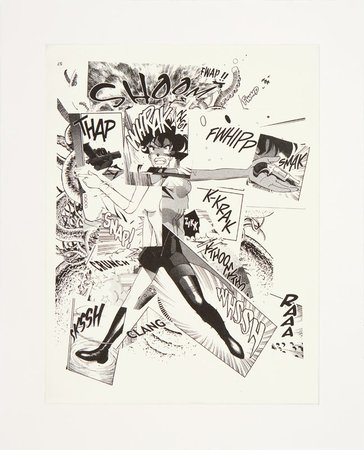 Christian Marclay is the world's most famous living sound artist, and that's probably because he's endlessly creative in figuring out ways to make work about the aural that is vividly, resolutely, and entertainingly visual. For this irresistible series, the artist mined the pages of comic books and manga for sound effects rendered as onomatopoeia, from the classic "BANG"s to the more creative "Fwwp"s, to build a composite character wreathed in a sonic maelstrom. Unmistakably Marclay, it's an excellent find at $4,000.
STEAL
ADHAM FARAMAWY
Feel Good, 2013
Digital photographic print
$257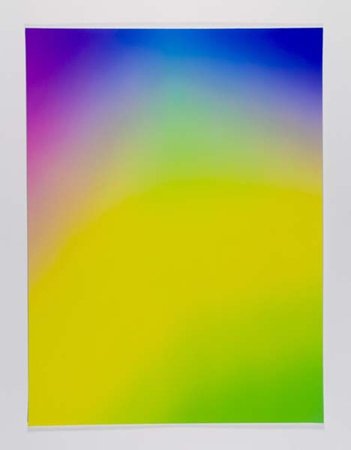 The color gradient is one of the more beautiful "natural" wonders to emerge from digital technology, created through computer-graphics programs that create seamless transitions between colors designated in the software—they're a bit like sunsets that you can make with a few clicks on your laptop. So, it's no wonder that they've become visual catnip to digitally inclined contemporary artists like Cory Arcangel and Eddie Peake. This accessibly priced version is by an up-and-coming Dubai-born artist who has been included at London's ICA as part of the Bloomberg New Contemporaries, and it will make its owner comply with the artwork's title.
SPLURGE
SEAN SCULLY
Gray Robe, 2008
Aquatint
$3,313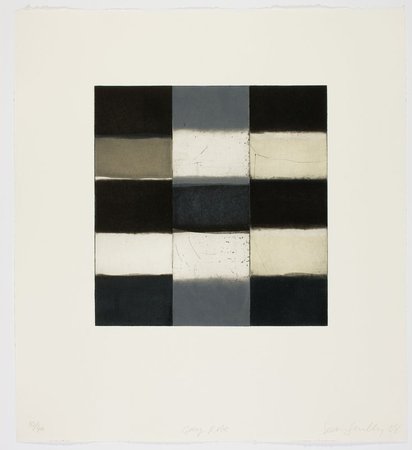 Twice nominated for the Turner Prize, the highly regarded Irish-British painter Sean Scully has enjoyed a steadily building market moment these past few years—in part because of his savvy positioning under the ace dealer Robert Mnuchin, and in large part because his work has been seized upon with uncommon fervor by China's surging collector community. A show of his just opened in Guangzhou this month, following other successful showings in Nanjing, Shanghai, and Beijing, and the attention can only mean positive things for the 71-year-old abstractionist's long-term value. This piece, with its elegant black and white recalling sunlight raking across an urban landscape, is vintage Scully at an affordable buy-in price.
STEAL
JULIA WACHTEL
Untitled (rectangle with hat and arm), 2015
Silkscreen print onto Somerset Tub Sized 410gsm
$198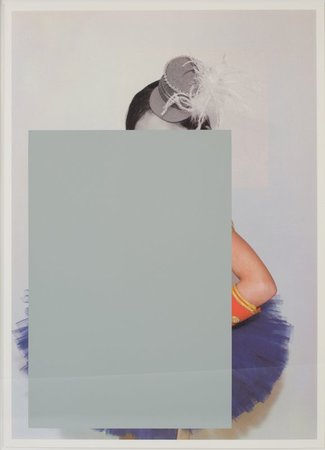 These days, you often find Julia Wachtel's art shown alongside the latest provocations by hot young artists on the art-fair circuit, and her mashup of naive cartoon imagery with racy or raucous photography—often at large scale—utterly hits the Internet-flattened moment. That's why it might surprise some of her casual fans to know that she's been at this for four decades now, making her a contemporary of Cindy Sherman and the Pictures Generation. The thing is, she vibes as well with them as she does with newer "it" artists like Oliver Osborne, and this affordable piece—produced in conjunction with London's avant-garde Zabludowicz Collection—displays both her continuity with the postwar artists and contemporaneity at once.
SPLURGE
HERNAN BAS
Moon Shower, 2008
Charcoal and graphite on paper
$8,000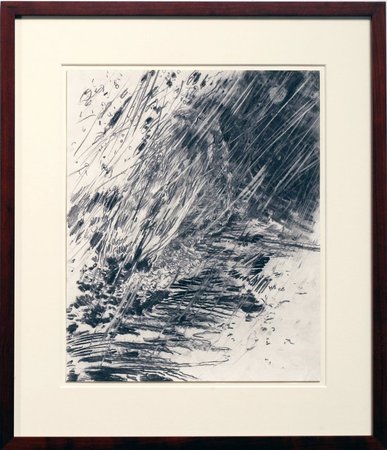 Hernan Bas is famous these days both for his extraordinary paintings of moody romantics suffering gorgeously and also for the extreme difficulty collectors have in obtaining one of these pricey treasures, so clogged is his waitlist. In fact, finding a compelling piece by this artist availably on the market is a rare triumph—so the fact that you've come across this one should be viewed as a distinct opportunity. Showing a fast-and-furious storm pelting away under a dramatically bright moon, this masterful charcoal drawing (in a handsome wooden frame) betokens the kind of free but fine hand that artists don't often possess these days, and in atmosphere also looks back to the 18th century of Romantic poetry, haunted castles, and the mad embrace of tormented genius.