"Someday, everything is gonna be smooth like a rhapsody/When I paint my masterpiece," sang Bob Dylan, and he wasn't just whistling dixie—a lifelong artist whose Fauvist painting adorned the cover of his 1970 album "Self-Portrait," the man who took music electric has had shows of his art at Gagosian and collaborated with Richard Prince. But while plenty of musicians like to dabble in painting—Joni Mitchell and Tony Bennett among them—it's nothing compared to the number of visual artists who find themselves compelled to put down their brushes, pick up an instrument, and rock out. 
Herewith, a quick rundown of a few acclaimed artists who have put together prominent musical projects, either on their own or in bands. They may not have all achieved the same state of renown, but at least they were never at a loss for album art. 
DESTROY ALL MONSTERS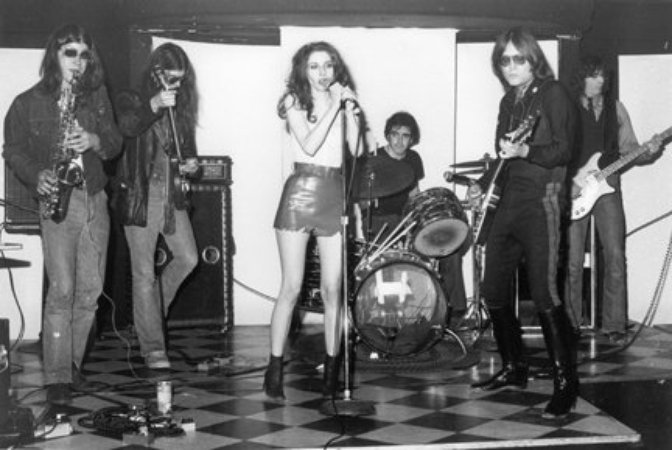 ARTISTS:Mike Kelley, Jim Shaw, Niagara (Lynn Rovner), and Cary Loren 
SOUND: Full-on, face-melting heavy metal and experimental noise punk rock, created with the help of unconventional instruments from coffee cans and vacuum cleaners to occasional meows from lead singer Niagara 
WHAT THEY DID: The ultimate band-cum-art-collective, Detroit group Destroy All Monsters had an impressive run from 1973 to 1985 but never achieved commercial success or even put out an actual record—though they did cross into the wider consciousness when members of the even more seminal Detroit bands the Stooges and MC5 joined the roster. CalArts graduates, Kelley and Shaw—who both became far more famous as fine artists—embellished the band's activities by making a Destroy All Monsters magazine that included student punk artwork. After the members parted ways, the band attained mythical stature: in 1994 Sonic Youth guitarist Thurston Moore released a three-disc album of their music that was accompanied by their art, and their documentary installation Strange Früt: Rock Apocrypha, which charted the history of Detroit's artistic grunge community in four mural-sized paintings that looked like classic freak show banners, was included in the 2002 Whitney Biennial. 
KEY SONGS: "Bored," "Anyone Can Fuck Her," "You're Gonna Die"  
GANG GANG DANCE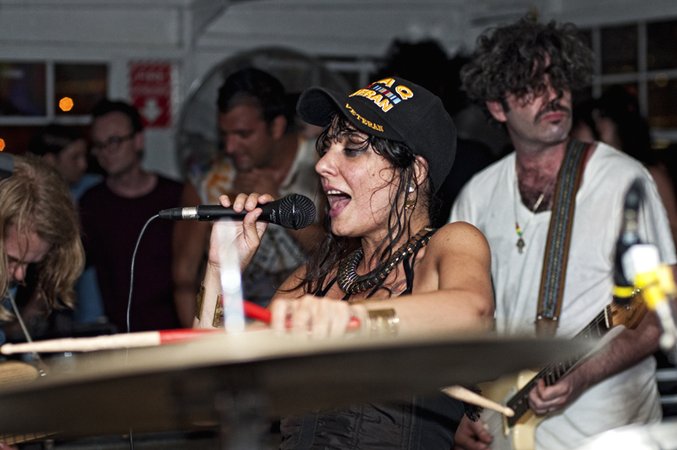 ARTISTS:Lizzi Bougatsos and Brian DeGraw
MEMBERS: Lead vocalist Lizzi Bougatsos, keyboardist Brian DeGraw and drummer Tim DeWitt.
SOUND: Animal-blooded, heavily percussive synth rock with an Eastern influence, pierced through by Bougatsos's unique, high-pitched vocals
WHAT THEY DO: Formed in 2001 with DeGraw on keyboards and Tim DeWitt on drums, Gang Gang Dance released their first album in 2004—another occasional member, Nathan Maddox, was killed by lightning in 2002—and have released four more since then, the last of which, "Eye Contact," earned a stellar 8.5 ranking on Pitchfork. Both artists who work across multiple mediums, Bougatsos and DeGraw are both represented by James Fuentes Gallery, and when Bougatsos was included in the 2008 Whitney Biennial Gang Gang Dance played accompanying shows at the Park Avenue Armory. Bougatsos also plays in two other artist bands: I.U.D., with painter Sadie Laska (they frequently play at Brant Foundation parties), and Angelblood with artists Rita Ackermann and Jess Holzworth. 
KEY SONGS: "God's Money," "MindKilla," "Glass Jar" (about Maddox), "Sacer" (about the late Dash Snow) 
XXX MACARENA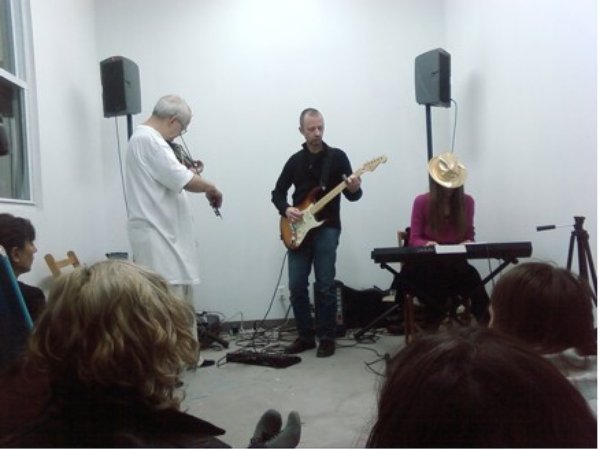 ARTISTS: Tony Conrad, Jutta Koether, and John Miller (sometimes featuring Greg Parma Smith)
SOUND: Distorted, at times minimal instrumental music fusing Conrad's violin with Koether's Euro-inflected synths and Miller's looping guitar
WHAT THEY DO: A real thinking man's art supergroup, XXX Macarena unites three artistic visionaries who each come from a different corner of the art world—Conrad is a legend in avant-garde video and sound art (he made the landmark, epilepsy-inducing film The Flicker in 1966), Koether is a hypercerebral painter, and Miller is a multitalented artist and critic who teaches at Columbia. Together, they create badass music, and have released a record on curator and dealer Bob Nickas's From the Nursery label (it was recorded in the Kunsthalle Zürich). Koether also frequently collaborates with fellow artist-musicians Kim Gordon and Television's Tom Verlaine (she also played with the late artist Steven Parrino). Fun fact: it was Tony Conrad's copy of Michael Leigh's book The Velvet Underground that inspired the name of Lou Reed's band.
KEY SONGS: "Selling Short" 
SONIC YOUTH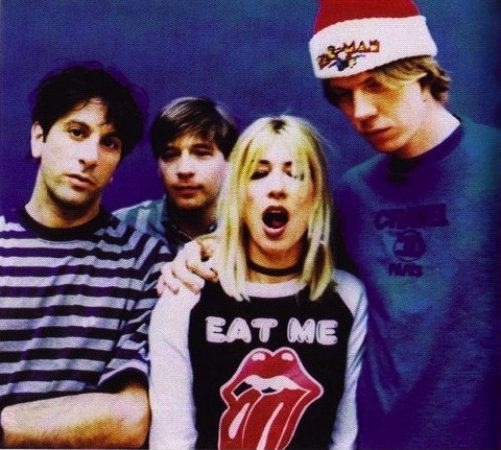 ARTIST: Kim Gordon
SOUND: The dictionary definition of free-form '90s noise rock, with metallic shrieks, copious fuzz, and the sounds of instruments being sadistically abused
WHAT THEY DID: Kim Gordon founded Sonic Young with Thurston Moore and Lee Ranaldo in 1981, forging one of the most iconic and influential alternative bands of the last 30 years, largely redefining the way a guitar can sound in rock music. But Gordon, a graduate of Los Angeles's Otis Art Institute, has art cred through and through: she started out working for Larry Gagosian's fledgling operation in L.A. in the 1970s, putting cheap frames around cheap posters so they could be sold at higher margins. (What was he like as a boss then? "He was mean. He yelled at us all the time. 'Faster, Faster!'" Gordon once said.) Making her own art—largely paintings—since the '80s, she has also written for Artforum and used her connections to engage famous artists to create Sonic Youth's album covers, most famously Gerhard Richter and Mike Kelley. 
KEY SONGS: "Teen Age Riot," "Superstar," "Kool Thing," "Schizophrenia," "Incinerate" 
THE X-PATSYS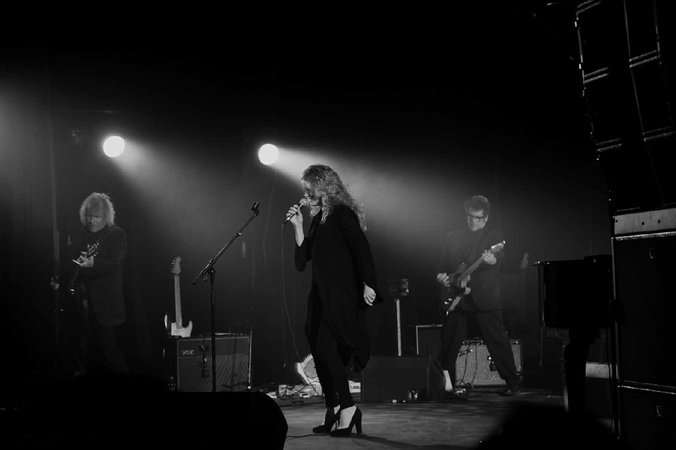 ARTISTS:Robert Longo, Jon Kessler, and Fassbinder actress and muse Barbara Sukowa
SOUND: Eerie, Kurt Weill-indebted cabaret rock, let by Sukowa's sultry vocals and underpinned by the spiraling guitars of Kessler and her husband, Longo
WHAT THEY DO: In 1998, Kessler told Sukowa—a superstar German actress who was immortalized as Fassbinder's cynical lounge singer and prostitute Lola, and has won the best actress prize at Cannes—that he had a dream of her dressed in country-western garb and singing Patsy Cline songs. From this surreal vision was born both the band and its name. Commanding a loyal if somewhat bemused following, the X-Patsys typically play art venues like Issue Project Room, the Kitchen, and Performa biennial events.
KEY SONGS: A cover of Patsy Cline's "I Fall to Pieces"
THE PRIMITIVES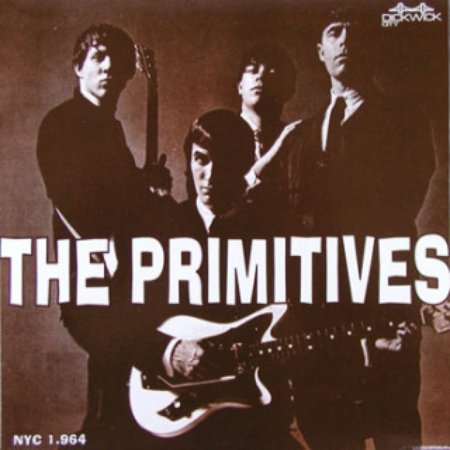 ARTIST: Walter De Maria
SOUND: Think the Monkeys, but darker, with a touch of arty performance. 
WHAT THEY DID: It's a funny story. So, when Lou Reed was just starting out, working as a songwriter for Pickwick Records in 1965, a producer at the company found himself in a jam: he had recorded a song under the name of a fake band called "the Primitives" that improbably became a hit, winning a slot on "American Bandstand"—which meant he needed to create a band to go on TV and play the song. Trying to pull together a convincing lineup, he recruited Reed, Tony Conrad, John Cale (who was playing in La Monte Young's Theatre of Eternal Music), and, on drums, the young Walter De Maria, who would go on to be a groundbreaking sculptor and land artist. They played on the show, did a few gigs on the East Coast, and were a total failure—except for the fact that it brought together Reed and Cale, who went on to start the Velvet Underground. De Maria also played briefly in the Druds, an avant-garde noise music band that featured La Monte Young on saxophone, the painter Larry Poons on guitar, artist Patty Mucha (then Oldenburg, married to Claes Oldenburg), lyrics by Jasper Johns, occasional vocals by Andy Warhol, and some participation by Lucas Samaras.
KEY SONGS: "The Ostrich," "The Human Centipede" 
KORAKRIT ARUNANDCHAI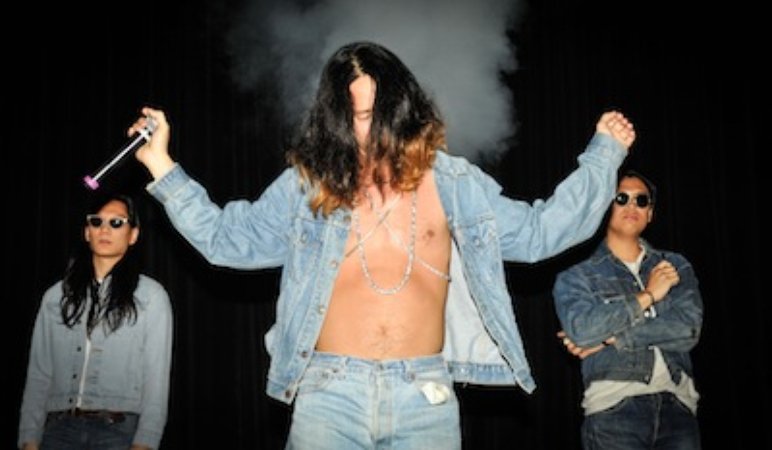 ARTIST: Korakrit Arunandchai
BAND NAME: Various
SOUND: Self-aware rap-pop, with pretend arena aspirations and savvy art-gallery realities
WHAT THEY DID: In a boy band that performed pop covers and gained some fame in southern Thailand, the Bangkok-born Arunandchai was called into one of country's major music labels and told that, while his band sucked, he had the looks to be a star. He ditched the band and began a semi-successful rap career, then came to New York to attend Columbia University, where he was mentored by the Thai artist Rirkrit Tiravanija. Since then, Arunandchai has developed a highly distinctive approach to art—denim and fire are his central motifs—that involves performances where he raps in head-to-toe acid-washed bluejeans amid coteries of fellow performers (sometimes including the art rapper Mykki Blanco and Jaki Doyka) who look like they stepped out of a Gap commercial, or Art Club 2000. It's incredibly entertaining. For his recent solo show at MoMA PS1, Arunandchai also performed alongside the Thai band the Bangkok Boys, along with his brother, Korapat, with the whole thing amounting to a cross between NSYNC and performance art.
KEY SONGS: "2011"
TRABANT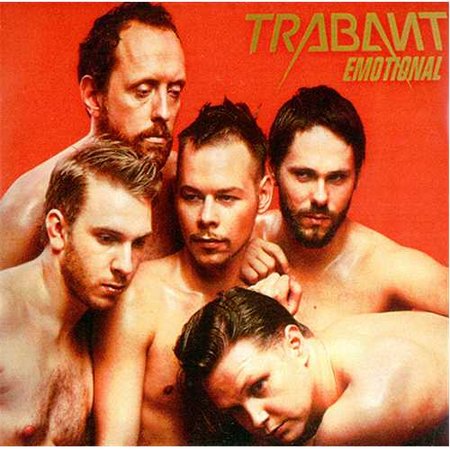 ARTIST:Ragnar Kjartansson
SOUND: Electro-punk with a cooling measure of smooth R&B and a touch of lounge, put in an experimental-music blender
WHAT THEY DID: Before he became one of Iceland's most acclaimed artists, Kjartansson was a legitimately successful pop star, providing lead vocals for the satire-tinged political punk band Trabant. Between 2001 and 2005, the group (with Viðar H. Gíslason on guitar and Gísli Galdur Þorgeirsson manning the DJ station) put out a very respectable four records, until Kjartansson began to focus on his art career. Since then, his signature blend of emotionally rich music, disarmingly connective human themes, and comedically self-effacing performance have given him a unique stature in contemporary art. He has represented Iceland in the 2011 Venice Biennale, won Performa's inaugural Malcolm Award for his 2011 performance Bliss (which entailed him and a cast singing the final aria from "The Marriage of Figaro" on repeat for 12 hours), received a New Museum show featuring musicians playing nonstop amid his art, and collaborated on durational performances with the National and Sigur Rós. He's also friends with Björk.
KEY SONGS: "Superman," "Pump You Up," "Nasty Boy," "Enter Spacebar"