A calendar year rarely captures an era, either within the artworld or outside of it. Nevertheless, as December draws to a close, we feel that the interviews Artspace has conducted in the past 12 months reflect at least something of the spirit of the age.
There are words from great contemporary artists; lively responses to the times we live in; talk of the pandemic, politics and American life; as well as age-old reflections on the power, beauty, and the limits of art.
Some interviewees wondered how we might all change the way we conduct ourselves following the spread of Covid-19; others spoke about how they personally had changed and pivoted to face the new realities of the pandemic. You may have found time to read them all, but we'd still like to take the opportunity to select a couple of handfuls of highlights, as we prepare to see out 2020.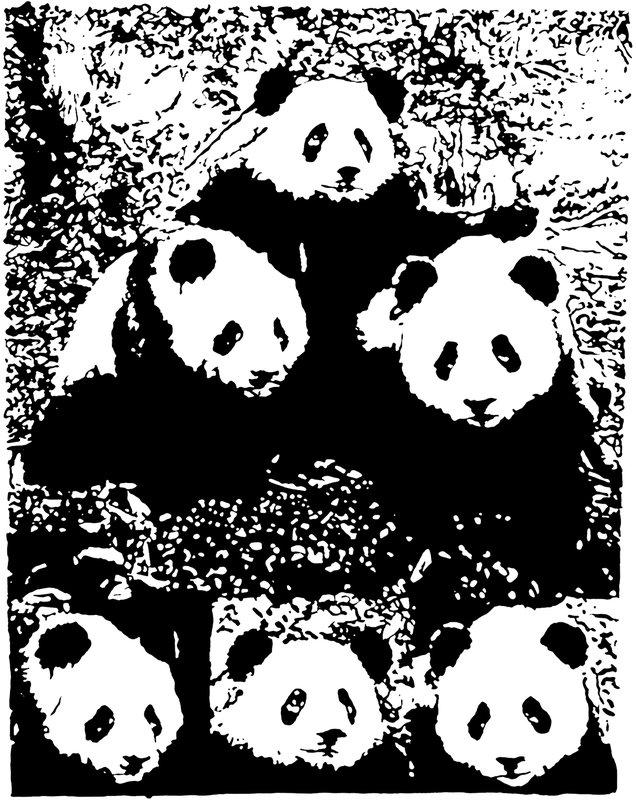 Stronger Together (2020) by Rob Pruitt
Rob Pruitt explained the significance of pandas in his work . "I was interested in establishing a cast of characters that could address a variety of narratives that I was interested in. For instance, in the very beginning I wanted to make works about fatherhood because I had such a good and interesting relationship with my father. So I made a lot of panda works with an adult panda and a child panda with titles specifying the gender of the adult panda as male. Environmentalism is another topic that in the beginning I knew I wanted to talk about. It seemed the panda was the perfect character to represent the fragility of the planet and its inhabitants and to remind everyone that we needed to be mindful of our intervention."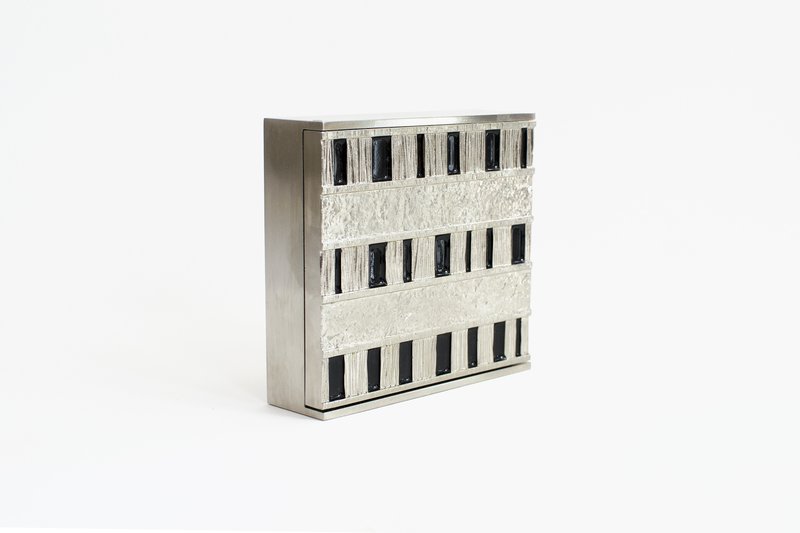 Mini Silver Novella Box , 2011-2016, by Peter Marino
Jean Michel Othoniel expressed his admiration for Peter Marino's work , when picking out his favourite works on Artspace. "This small bronze box covered in silver created by Peter Marino pays homage to the monumental boxes and monumental furniture-sculptures of this genius architect. For sure, it is one of the chicest objects to collect."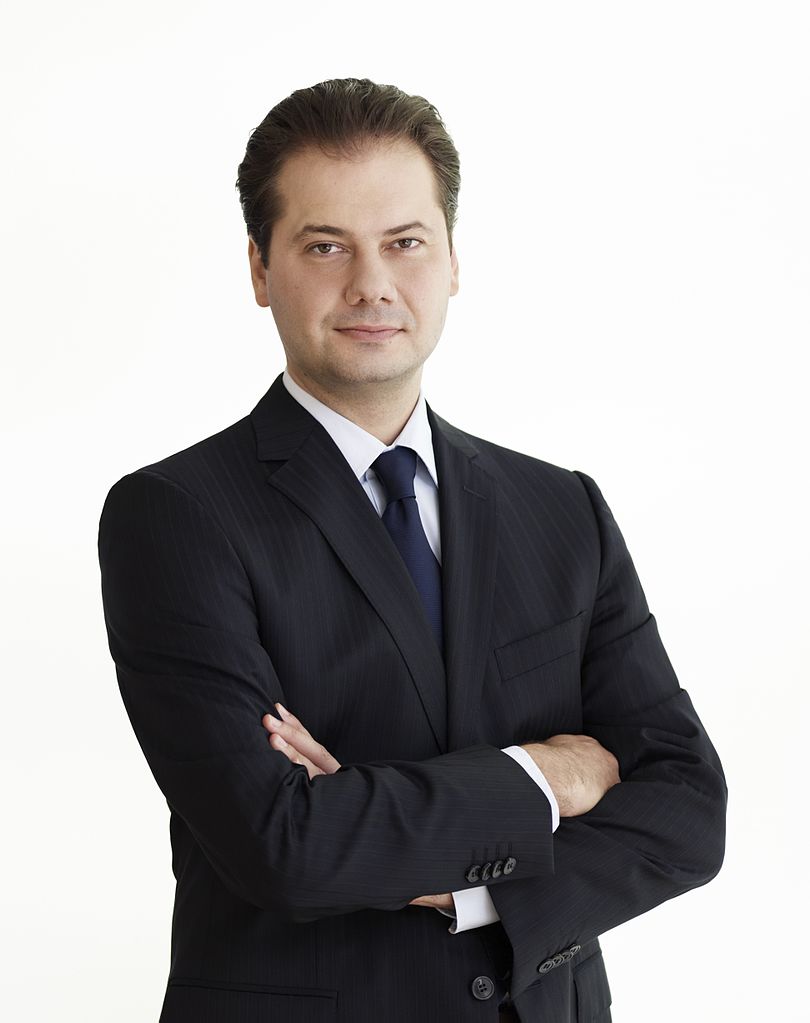 Max Hollein, the Director of the Metropolitan Museum of Art
Max Hollein , the Director of the Metropolitan Museum of Art ran us through his early life in museums. "My parents were both deeply involved in the arts—my father was an architect, and my mother was a fashion designer. All of our family friends were artists, actors, architects, authors, or designers. As a child, our vacation plans relentlessly reflected their passion for museums. Back then, I would have much rather gone to the beach, but even though I was resistant, these experiences had a significant impact on me. Also, Vienna, the city where I grew up, can be seen in a certain way as a museum in itself, and it has a whole range of major cultural institutions that I got introduced to very early on. But I first visited The Met when I was eight-years-old, and of course, my trip to the Museum was a life-changing experience."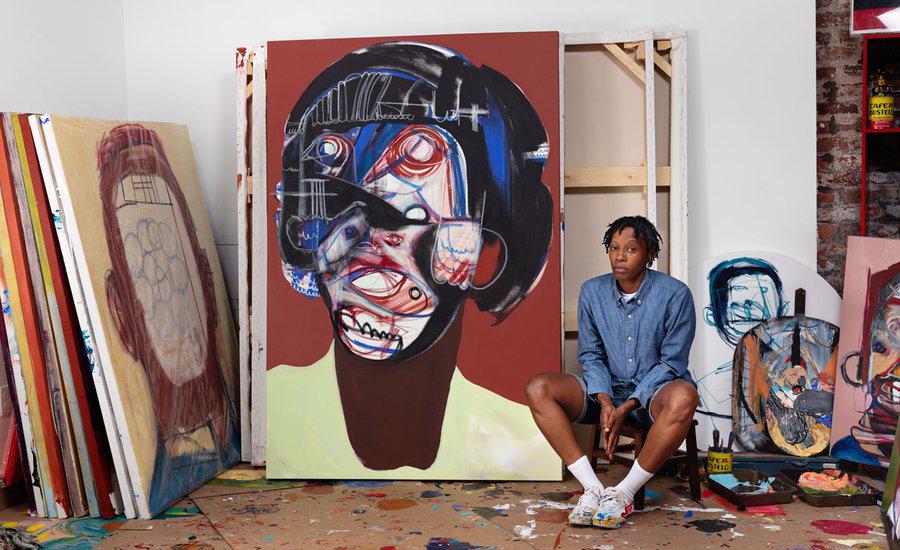 Genesis Tramaine photographed in her studio with Black Woman University by Lance Brewer July 2020
Genesis Tramaine told us why she creates such big paintings. "Two things. I'm a little lady. God created me small in stature but I'm mighty in spirit, so spiritually I feel very large. Also the angels take up a lot of space – they're huge and they stand over me, so I paint on the floor on my hands and knees. Sometimes now I stand because the paintings are getting bigger now. God is calling for me to do more, and to stretch more."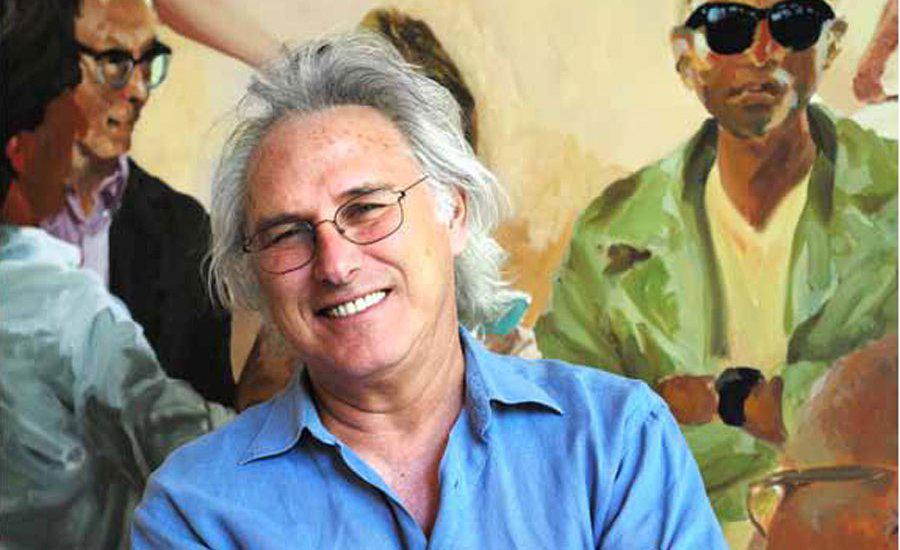 Eric Fischl
Eric Fischl reminisced about 1980s New York. "Wonderful time. Total blur. Felt like cultural revolution was in the air and I was a part of it. Wonderfully ambitious. Wonderfully competitive. Glamorously playful. Physically dangerous. Naive."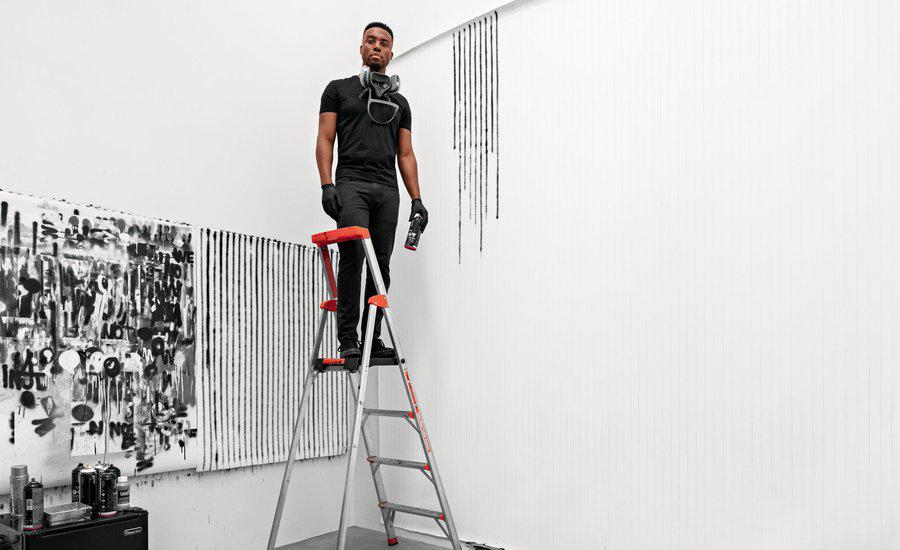 Adam Pendleton

Adam Pendleton described the common ground between Occupy and Black Lives Matter, and how they influence his work. " Occupy and Black Lives Matter are two significant social movements to have emerged in the United States in the past decade. Among other things, they prompt us to re-evaluate the fabric of America: to pose the question—and not for the first time—of what kinds of collectivity and what kinds of life are possible in this country. This involves both utopian and dystopian thinking, and a reckoning with historical possibility. What makes these movements different from historical upheavals, both in terms of politics and aesthetics? How do they—perhaps unexpectedly—align? I suppose I am, as an artist, most interested in the formal problems that the discourses around such protests introduce. I am bringing them into a space of abstraction, and part of what this project is about is the tension created in that translation."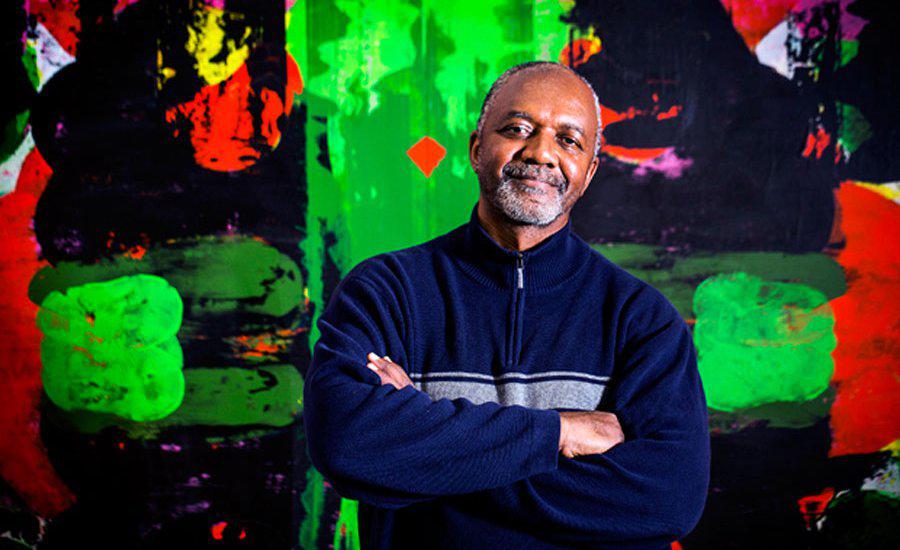 Kerry James Marshall
Kerry James Marshall outlined the importance of his pivotal work, A Portrait of the Artist as a Shadow of His Former Self , 1980 . "This was when it started to look like there was something that could be done with the black figure, that it could be used to explore ideas that are not only relevant to picture making by itself but also to convey some of these ideas that I'd been developing about where black people fit in. Before then, apart from self-portraits, which I'd do as an exercise, I was doing still-lifes and paintings of inanimate objects in order to figure out how to paint."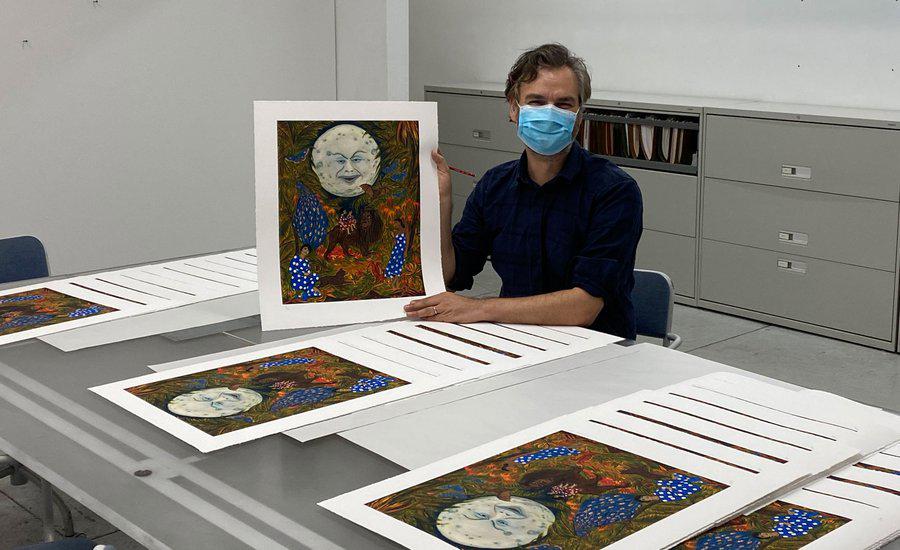 Marcel Dzama with his Artspace edition, The Illumination of the sisters of paradise, 2020 - photo Lower East Side Printshop, October 2020
Marcel Dzama ran us through the recurrent cast of characters that appear in his works . "I have recurring characters that have come and gone many times like the bear and bats in the tree. People have been there from the start, though disappeared for a few years and then returned only to disappear again. The femme fatale has always been there, and in the new travel drawings my son has appeared a lot. My wife and my son are my only models these days so I guess they'll be in all the new drawings. Sometimes I'll have characters that have come to life in a ballet or in a film that I've worked on and then I'll draw them quite a bit more after that because of the excitement of seeing them come to life."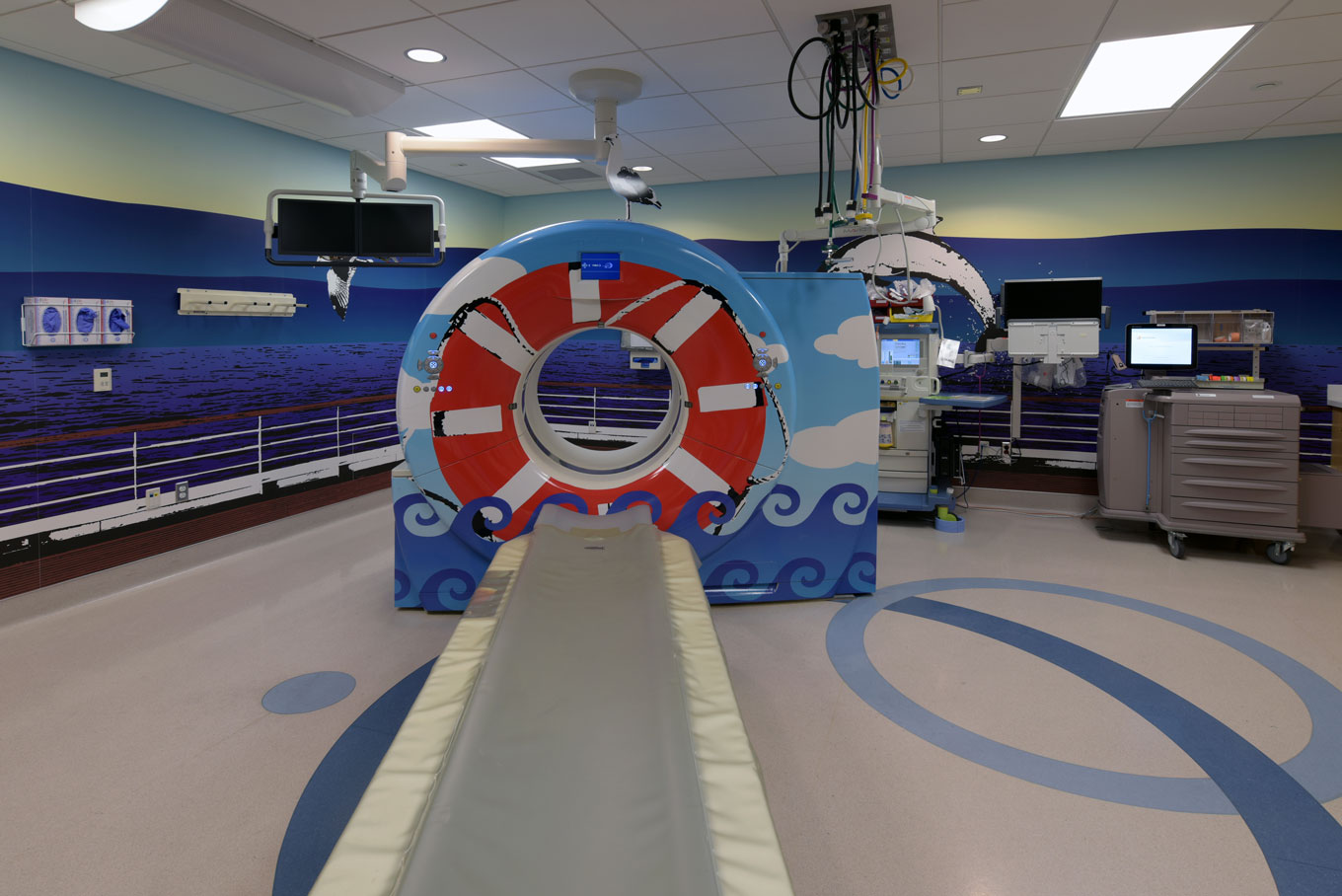 Robb Pruitt CHOC CT Scan - Christopher Bliss Photography

Diane Brown , founder of RxArt, the non-profit that gets artists to make children-focused art for healthcare facilities, shared a telling anecdote . "When we had the ribbon cutting for Rob Pruitt's project in the radiology department at CHOC Children's in Orange County, CA  a 9-year-old girl spoke. She had been having CT-Scans for a chronic issue since she was 2-years-old and said she was always afraid that the machine would swallow her - but now it seemed like fun."
Equanimous 1 (2012) by Chris Levine
Chris Levine described the Queen's spiritual dimension. "I shot the Queen when I was first getting into meditation. What a different word it would be if we all meditated - more compassion, no wars, no one going hungry and the human race would evolve quicker.  I was very conscious of Ma'am's breathing and timed the camera pass with her rhythm. Somehow with the eyes closed you go deeper into the subject and into a more spiritual realm. The Queen is a spiritual being at her core - like all of us."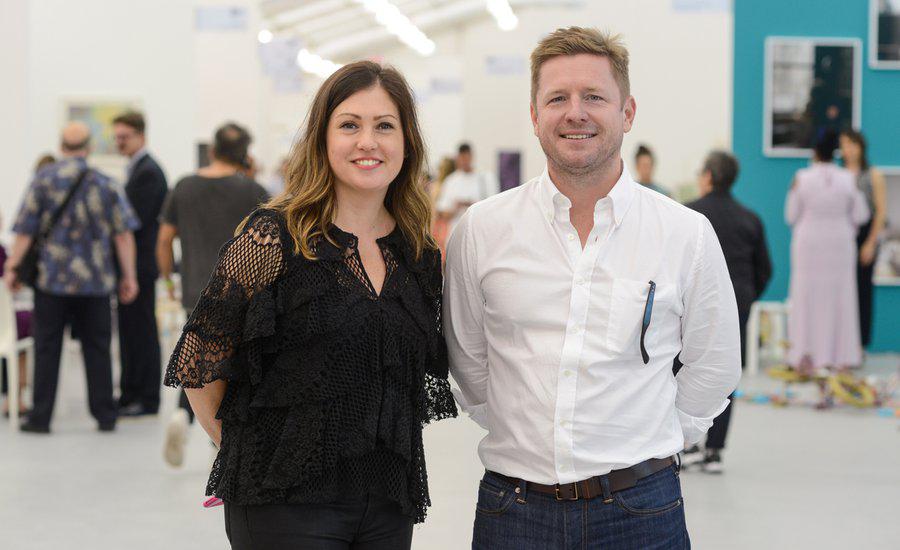 UNTITLED, ART's Jeffrey Lawson and Manuela Mozo
UNTITLED, ART's Jeffrey Lawson and Manuela Mozo described what it was like to take part in the first VR art fair . "The experience will be of walking through a virtual version of our Miami Beach fair. Visitors will be able to walk through the front door or jump to a specific gallery. Either way, once inside, the visitor walks the aisles, can see the ocean, there is a lounge in the middle of the fair, and some galleries may have desks and computers in their booths. And there will be shadows of the seagulls that sit atop the pavilion in real life!"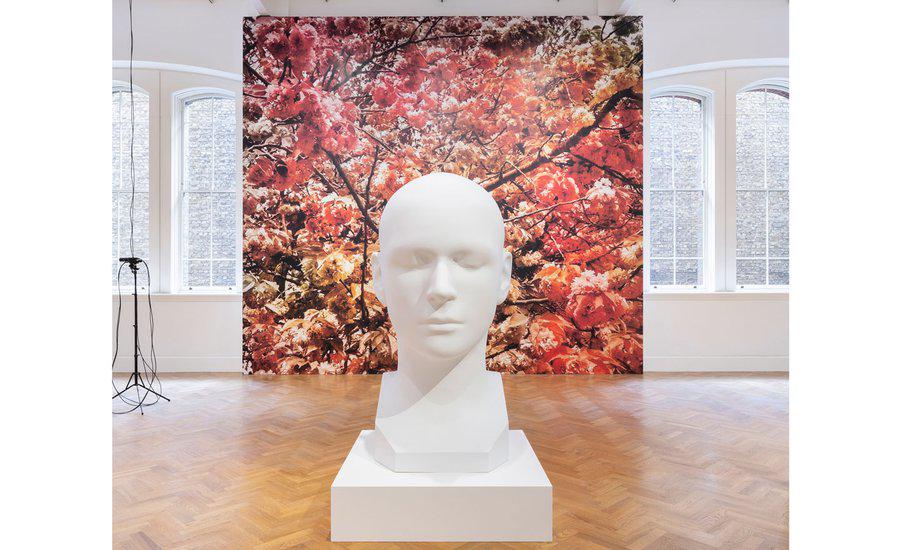 Installation view of Bloom, Trevor Paglen's new exhibition at Pace, London, September 2020

Trevor Paglen welcomed the public's changing view of tech entrepreneurs. "There is a vastly different conception of what Silicon Valley is now than there was ten years ago. And that's good. There is definitely increased awareness about the power that technology companies have and the degree to which - on technologies like AI and facial recognition or cloud services - they really do sculpt our political and social lives in really active ways. The ability to autonomously measure sentiment on platforms like Facebook and Twitter is a major goal of AI research, with applications in everything from content moderation to user profiling to high-frequency stock trading."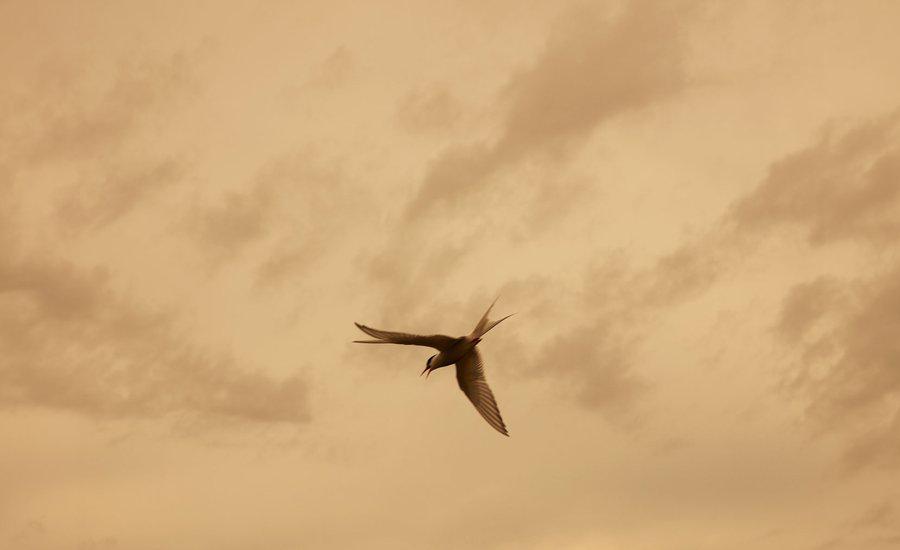 Camilla Akrans - Free
Robin Harvey , Spring Studios Global Creative Director, explained why he asked his network of acclaimed photographers to capture inspiring images from home , with the aim of encouraging hope, kindness, and solidarity in unprecedented circumstances. "It was important that this imagery represented a time where creativity could and will always flourish. We were interested to see what inspired these people when you removed the industry around them."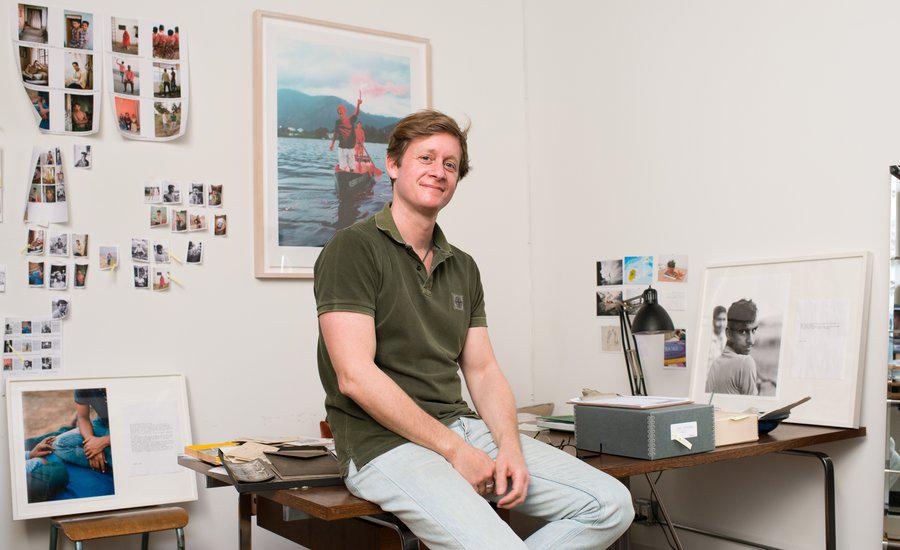 Marc Ohrem-Leclef
Marc Ohrem-Leclef spoke of the love and affection found in his documentary photographs . "In India, public displays of affection between men is socially accepted and understood to be an expression of deep friendship and brotherhood. Documenting this culture of touch, and the politics surrounding it, my work in the project 'Zameen Asmaan Ka Farq' (As far apart as the Earth is from the Sky *) addresses the varied dimensions that 'love' can embody for men, including love existing in unspoken, fluid spaces, beyond the obviously visible and assumed. Through photographs and texts, it documents the culture of touch between Indian men who live at the intersections of homosocial culture, friendship and love."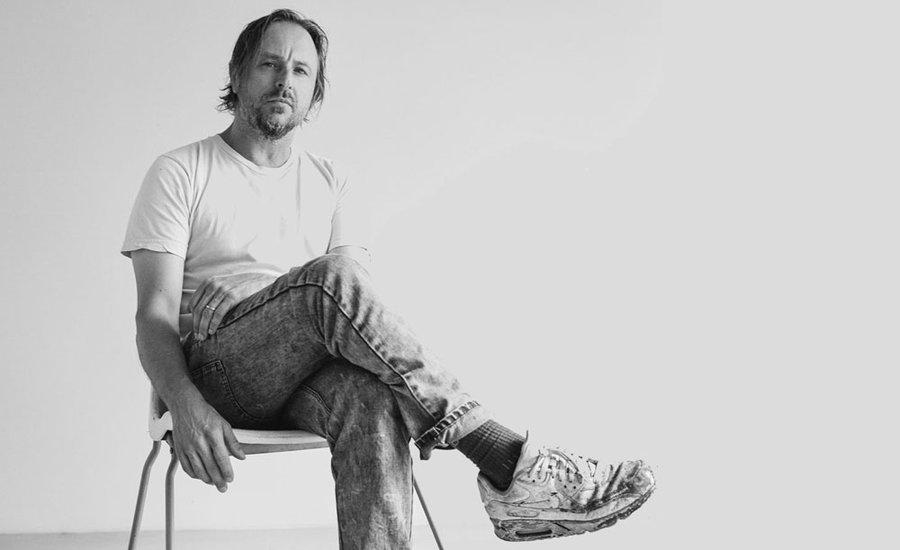 Sterling Ruby
Sterling Ruby described what he sees in poetry. "I think the poetry that I find most successful holds its potency in the same way that art does, wherein you cannot say, 'this poem works because it has A and B, then via some equation the catalyst of the poem is C'. It can't be broken down like that. You can't explain why it works. You can't prove why it works. So, you are right about the verbiage. People are trying to manically figure out why something does or doesn't work, because there's obviously something that gets under your skin, which drives you to clarify what it's doing. But because the baggage of context is so heavy these days, we struggle with it."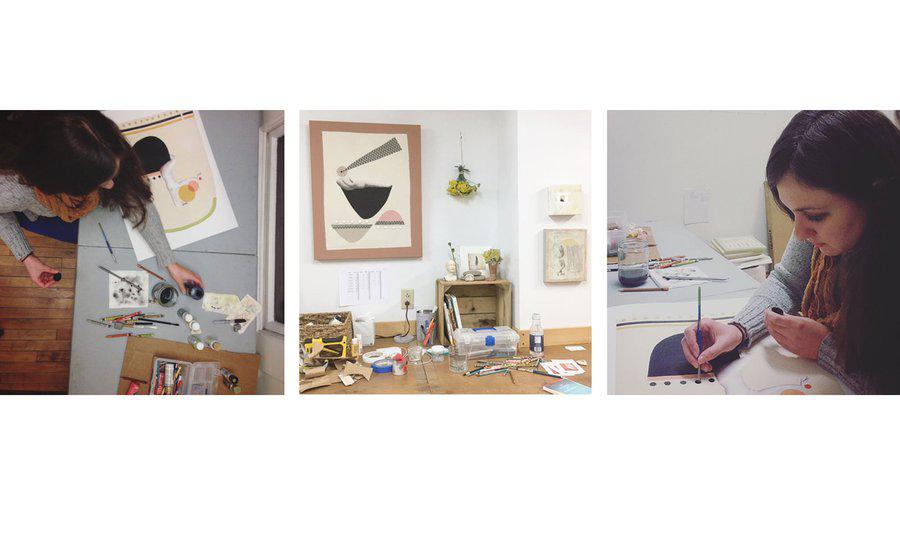 Athena Petra Tasiopoulos

Athena Petra Tasiopoulos outlined the role of the artist, as she saw it. "We should pose questions rather than answer them. The art-object connects artist and viewer in a very intimate way – allowing us to celebrate our shared human experience and embrace the fact that multiple truths can exist simultaneously. Generally speaking though, I hope my viewers will find a sense of peace from my work. I hope my art will inspire you to pause, reflect, and be more present in the moment."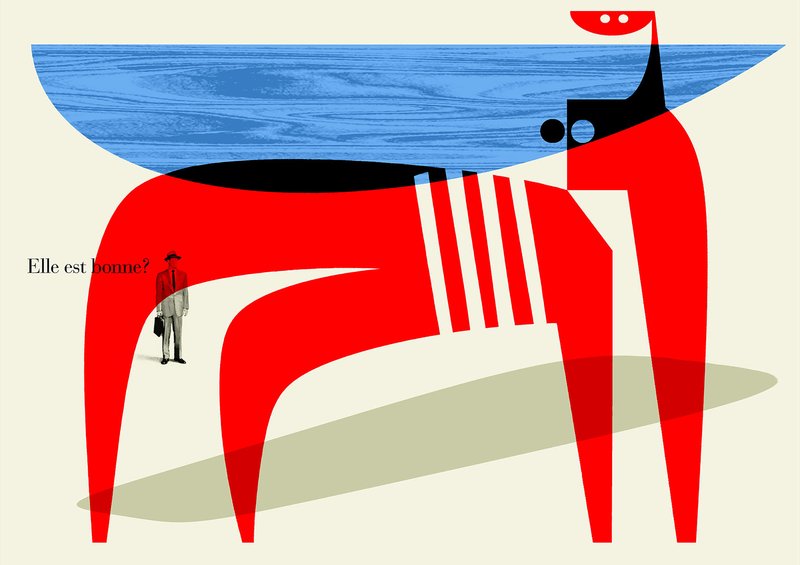 The Bather (2014) by Marcel Ceuppens
Marcel Ceuppens gave a name to his anonymous figure. "The character doesn't necessarily need to have a name. But an art blogger once called him 'Everyman' and that worked for me. He's a universal character; he stands for every one of us. It's me, but it's also you or anyone else. And I love that you evoke Jacques Tati, another hero of mine. I used that character when I first started working as an artist, after my advertising years. It was very much inspired and influenced by another hero from my art school days, the Belgian artist Jean-Michel Folon. He was famous in the Seventies, made covers for 'The New Yorker', and worked in advertising. His work for Olivetti is famous. His style was very different, and his technique was aquarelle, but he created this character with a hat. I used a completely different technique, more realistic, and I drew on computer. The character is observing the world that surrounds him, and that world can be absurd, crazy, fake. The rules we follow, the things we do or say, what we pretend to think. What we pretend to like. What we think we should like. I'm a guy, but it's a universal character, I hope all genders can relate to him."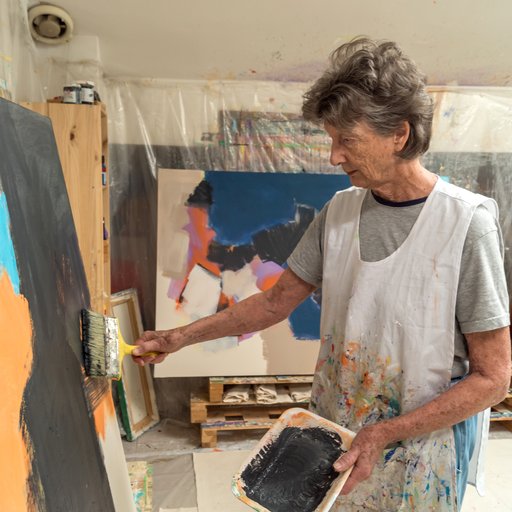 Annabel Andrews


Annabel Andrews described how her days begin. "With the first light of dawn I go silently up into the studio, with a cup of tea in hand to see what went on the day before. The semi-darkness makes it easier to judge the weight of the different colors and the picture balance. During breakfast I become more practical and work can start later. Every day is different. Most days I paint, others have to be spent preparing the canvas and making the glue or just looking and pondering on what is there without actually doing any work."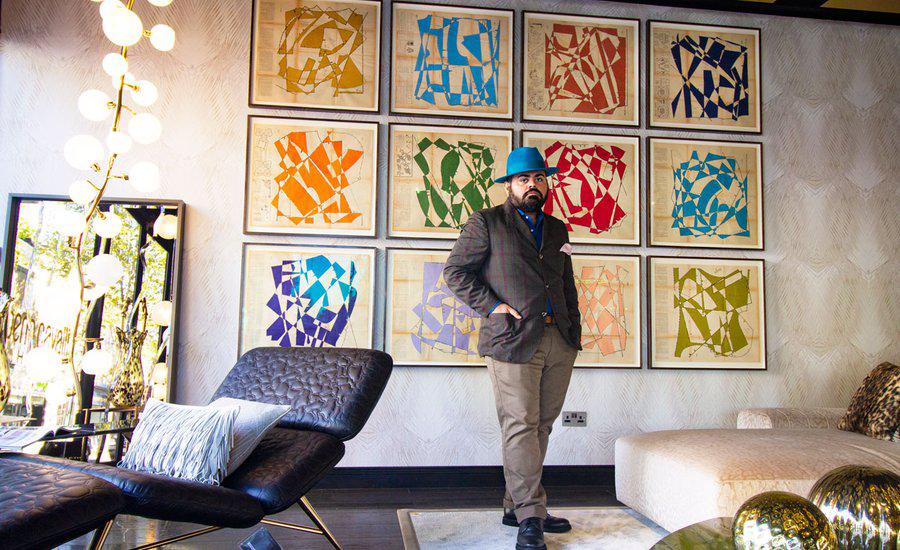 Hormazd Narielwalla
Hormazd Narielwalla talked us through how he controls (or fails to control) his work. "I always let the pattern tell me what to do. I do not sketch prior to making a piece. The only planning that goes into making an abstract piece is choosing a pattern base, the colours I would like to use, and my feelings. I then let my eyes take over and trust my judgment. I accept what the work will become in the end."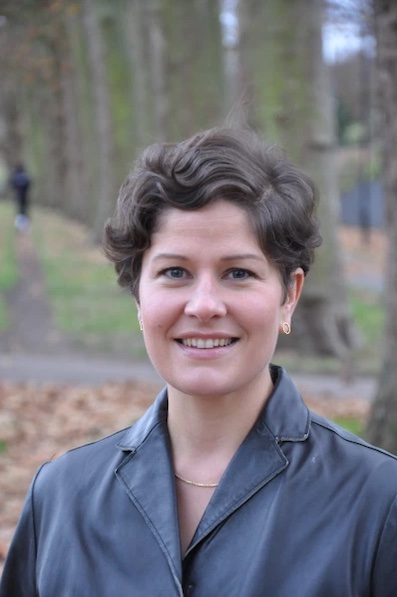 Ellen Mara De Wachter

Ellen Mara De Wachter considered how artists - and art collectives - might react to the pandemic. "It looks like a common form of collaboration at the moment is that geared to survival - whether physical, financial, or professional and there are examples of mutual aid and pandemic-related corporate sponsorship in different sectors, including the arts. What seems clear to me is that many people, including artists, are increasingly concerned about basic needs such as paying rent and affording living costs, wherever they may live. But for many, more time spent at home has also led to creative activities around people's living space and, if they have them, gardens, which are creative, pleasurable and healthy. Their importance and potential influence longer-term shouldn't be underestimated. A big question for me is how such modest, utilitarian and creative activities might support long-lasting creative attitudes towards how we organise ourselves into a more collaborative society."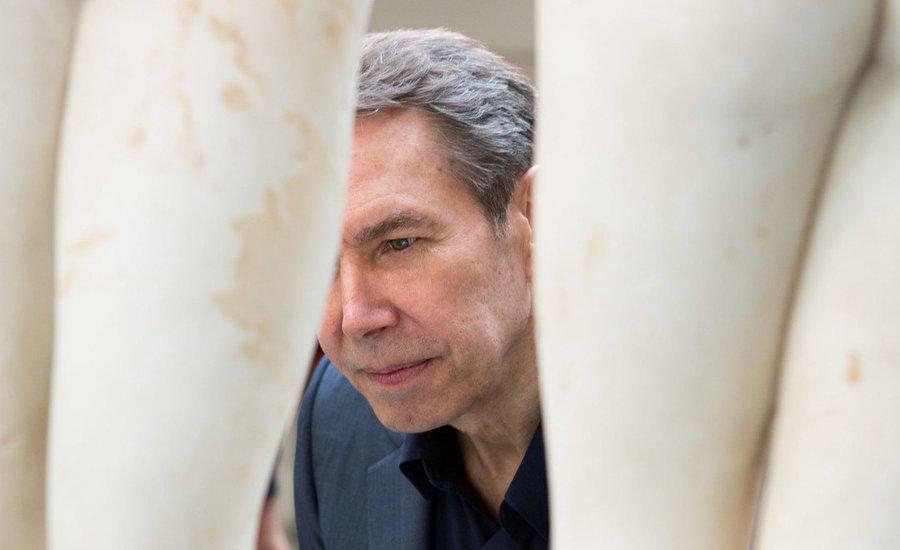 Jeff Koons at the Met Museum


Jeff Koons picked out his favourite aspects of ancient Roman sculpture. "I love the ancient Roman time period when people were creating things that competed with nature and that were above Man himself. In the Roman Sculpture Court at The Met, a sense of the eternal is conveyed both through the biological and through ideas. A lot of the sculptures are Roman copies of Greek originals, and you can feel the dedication that the Romans had to preserving all of the power within the original Greek pieces from third century bc. At the same time, there was always the desire to create a new form, a new material realization."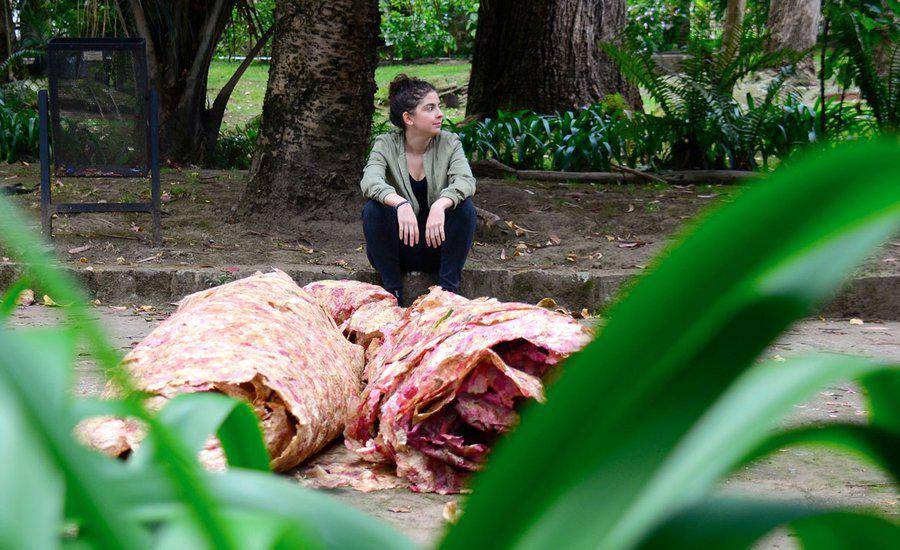 Maria Jimena Herrera
Maria Jimena Herrera told us exactly what she thought art was . "Art is a constant production of images that delight viewers or make them uncomfortable, that push them to the limit and that make them wonder what they are seeing."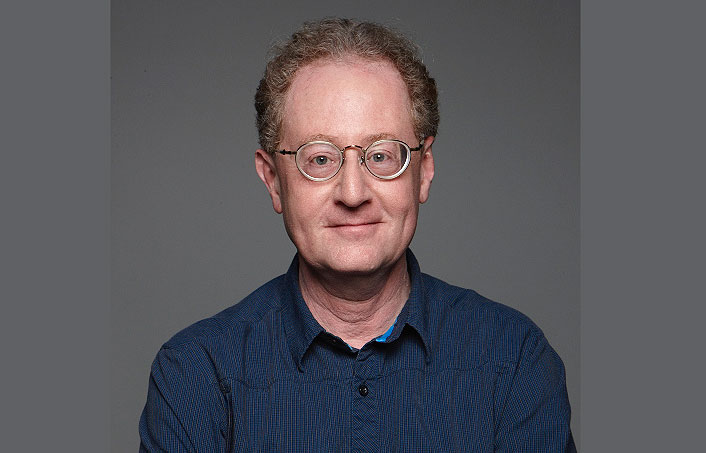 John Carlin
Activist and Red Hot founder and CEO John Carlin described how the decline of his friends David Wojnarowicz and Keith Haring spurred him into action. "When Keith and David started to get ill it really sensitised me. As it went on, many people were getting upset and were wondering what they could do about it. I found something that was seeded to my personality and skill base: I was an activist and an introvert. I didn't like going to meetings but I really liked making things."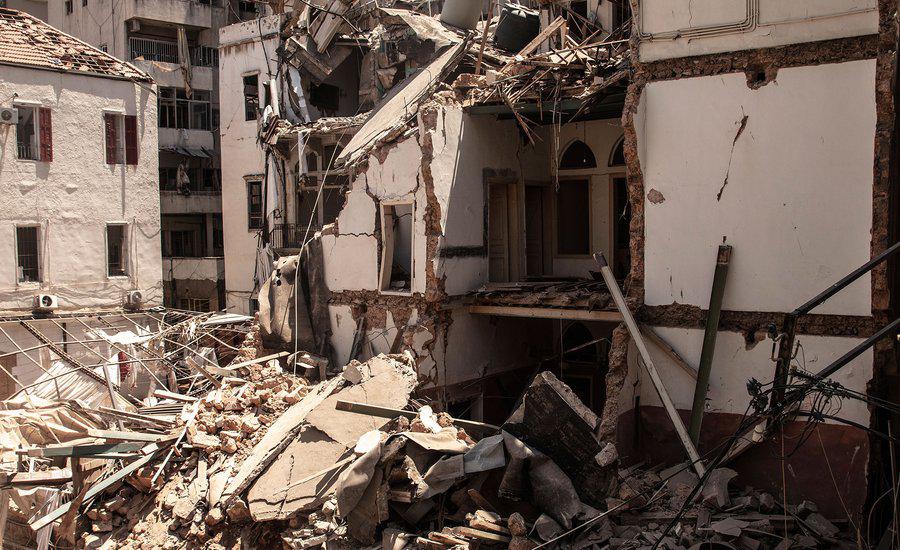 Collapsed building in the streets close to Tarek Moukaddem's Beirut apartment
Beiruti photographer Tarek Moukaddem described the catastrophic explosion in his city. "I was in my Gemmayze home/studio when I heard a weird first sound. Luckily I decided to take a few steps back from the room I was in, to stay in a safer zone of the house. A few seconds later, the house was in ruins, everything around me destroyed. I grabbed my camera, and tried to escape the building, my initial reaction was to try and document what was happening, but I didn't end up having the heart to do that. The streets were straight out of an apocalypse movie. Everyone was covered in blood, walking aimlessly as all hospitals in the area were destroyed, most roads were blocked by the rubble and the bodies of the injured and deceased."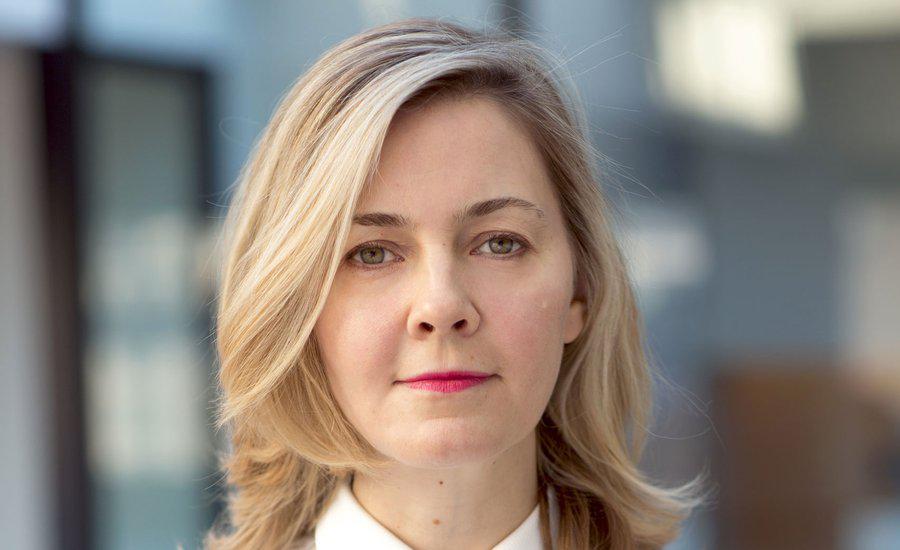 Elizabeth Dee

Elizabeth Dee , co-founder and CEO of Independent Art Fair, outlined how she found a unique space in a fluid market . "We realised that fairs were operating under a twentieth-century model in the 21st century. The buying process was starting to shift. It was not the same situation for gallerists as twenty years before–where galleries could do two art fairs a year and meet all the clients. And many of the artists were challenged by the question of making work that would be presented in formats that were not very innovative. So we came together and incubated Independent."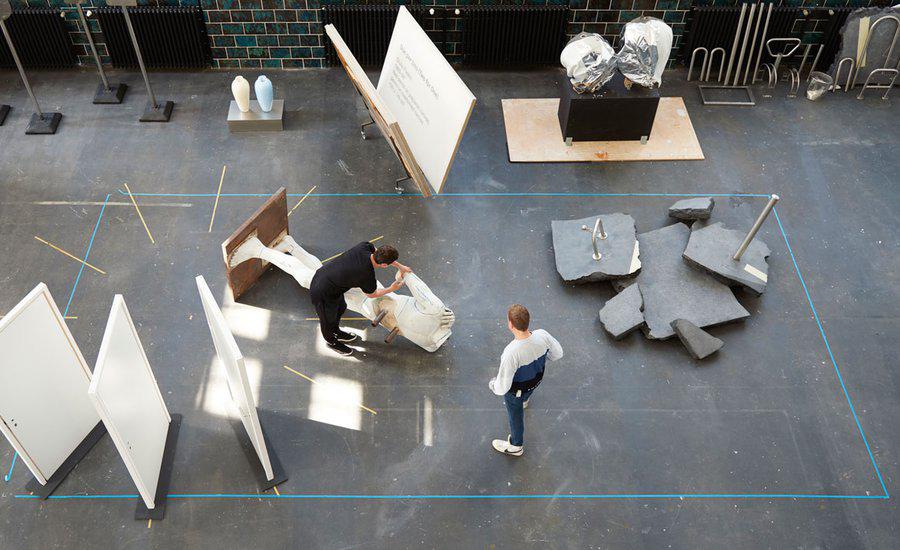 Elmgreen & Dragset in their Berlin studio
Michael Elmgreen talked about how he and his partner, Ingar Dragset, work with humour and hope. "Humour, for us, is a sort of anger management. I think you need to be naively optimistic in order to make art. Why would you make it if you didn't believe it would be worth it, no matter how critical you are? If you didn't have a sense of hope, if you didn't believe that things could change, you'd become the ultimate misanthrope. We were both fascinated by Foucault's notion of power structures, which we read about at the beginning of the 1990s. He said that it's actually wrong to call them 'power structures', because the structures themselves can't impose any power. They're just labels that we, as citizens, as human beings, agree upon. If the structures are changeable, they provide hope for change."
Let's hope for more change - and for the better - in 2021. Happy Holidays! We'll see you on the other side.

[2020interviews-module]