With the dust settled, what did we learn from the auctions? Well, at first glance, they were successful on the whole (despite the gloomy predictions), with the total circling a hearty $1 billion as Christie's, Sotheby's, and Phillips crammed all their spring auctions into a single week.
Of course, as everyone knows by now, a tenth of that success—$98 million—was attributable to one man, Japanese online retail king Yusaku Maezawa. The savior of the spring 2016 art market is stocking a museum in Chiba, outside Tokyo, and he was hunting big and flashy game: a gigantic, $57.3 million Basquiat , an Adrian Ghenie self-portrait as fan-favorite Vincent van Gogh, a big yet iffy $14 million Christopher Wool text painting, a splendidly spectacular Calder for $5.8 million, a sexy Richard Prince nurse for $9.7 million, a $7 million Jeff Koons'sLobster sculpture, and a Bruce Nauman neon for $1.7 million.
Maezawa's free spending helped otherwise softening sales look buoyant. We watched or attended every day or evening sale all week long, and many of the other lots on the block this May were either a hard sell (kudos to the auction specialists, btw, for pulling it off), a slow slog, or both.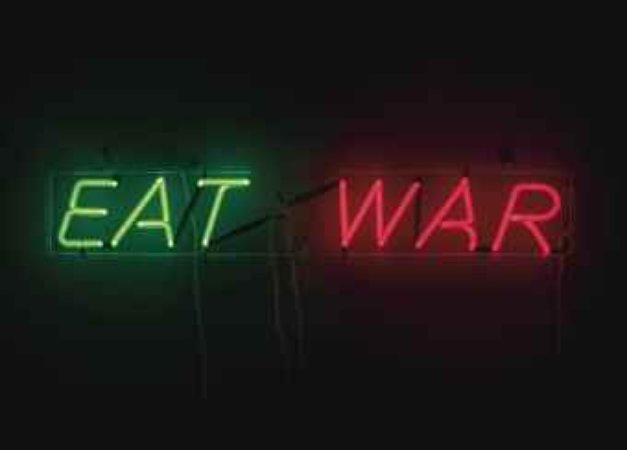 Bruce Nauman's Eat War sold to Japanese volume buyer Maesawa for $1.7 million
So we're left now with what the pros call an "hourglass market." What's at the top, the masterpieces, are an easy sell for auctioneers when they can win those consignments—which the houses, by and large, did not this season. "We would have loved a [rare pop] Warhol correctly estimated," said Sotheby's Michael Macaulay, manager of the contemporary evening auctions. But it "wasn't there." What's at the bottom of the hourglass? Bets on emerging artists, and they're still worth making if they're cheap enough. Therefore, the goal of the savvy collector, as prices weaken and some air leaks out of the bubble, may be to figure out what's in the middle that actually belongs at the top.
In other words: which artists, due to trends, moods, vagaries of art history, etc., are currently losing the spotlight or momentum but may rebound? Time and time again, over the decades, the art market, and demand for selected artists, has recovered. Collectors who smartly bought during down periods over the last few decades have gotten art historically cheap.
It doesn't always work, of course; entire movements have gone out of fashion, from Pre-Raphaelites to Op-Art, never to recapture quite the same heat. And the smart money is cautious: art collector and Blackstone investment guru J. Tomlinson Hill, speaking at MoMA this week in celebration of The Art Newspaper's 25th anniversary, said the $15 million price paid for a Jeff Koons floating basketball this week made him wish he could short the art market, i.e., bet on its decline.
Those caveats aside, who might be worth betting on, and why? What artists right now might be recession-proof? Here's our reading of the week's tea leaves.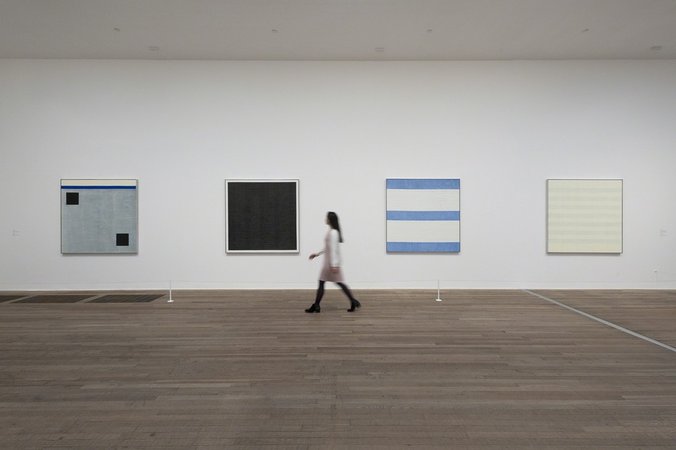 "Agnes Martin" at Tate Modern (Courtesy Tate Modern)  
The first comprehensive survey of Martin's work since her death in 2004 opens at the Guggenheim on October 7th; her pioneering Minimalist works will fill its spiraling rotunda, probably gloriously. The same exhibition, on view, variously at the Tate, Dusseldorf's Kunstsammlung Nordrhein-Westfalen, and the Los Angeles County Museum of Art, was roundly acclaimed. 
Arguably, Martin is a risky bet—despite her undisputed genius, so many of her works look alike. But that doesn't matter if everyone wants one.
Ten Agnes Martins came on the auction block in the last week, a flood of work that would normally dent an artist's prices. But all 10 of the precise, austere works sold, and a 1965 Orange Grove work once in the historic Gilman Paper Co. collection sold substantially above estimate at $10.7 million. It set a record for the artist unlikely to last.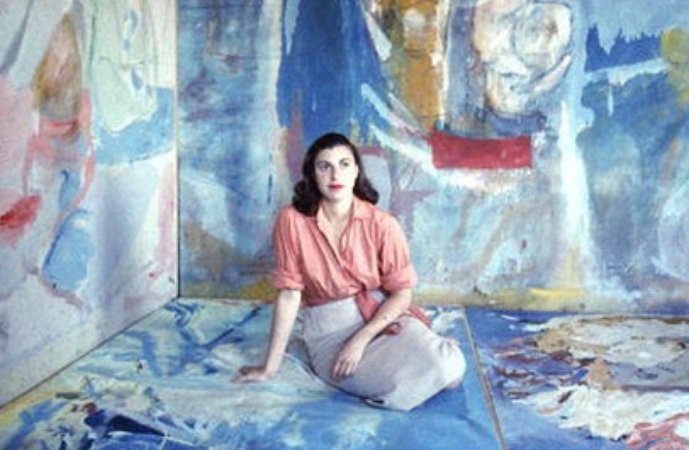 Helen Frankenthaler in her studio in 1956
The Color Field painters, who dominated sales of the 1990s as Jeff Koons and Warhols went unsold, got short shrift in these sales. But those who want to bet that the wheel turns back could look to Helen Frankenthaler, mid-20th century painter of works both experimental and serene.
Rachel White of Christie's notes that she used "a technique she inherited from Jackson Pollock, but her gestures are more fluid and harmonious than Pollock… lending her body of work a more poetic and lyrical quality."
Nine Frankenthaler works were offered at Sotheby's and Christie's. A 1976 soft pink acrylic from the Andre Emmerich Gallery, a desired provenance, was estimated at $500,000-$700,000 and brought a hammer price of $500,000. A 1970 Arriving in Africa zoomed to $1 million from a suggested $600,000 to $800,000 bidding range.
To put that in perspective, that's $1 million for a good work by the only woman—out of about 40 artists—included in the Metropolitan Museum of Art's groundbreaking New York 1940-1970 show (lovingly called "Henry's Show" at the time, after curator Henry Geldzahler). Other artists in the show were Rauschenberg, Warhol, Rosenquist, whose prices are, of course, now many multiples of Frankenthaler's. 
Smart eyes will find her work outside the evening-sales spotlight; during the day sales at Sotheby's, another Frankenthaler painting with recent auction history, Lexington, nearly tripled its low estimate to fetch $1.4 million.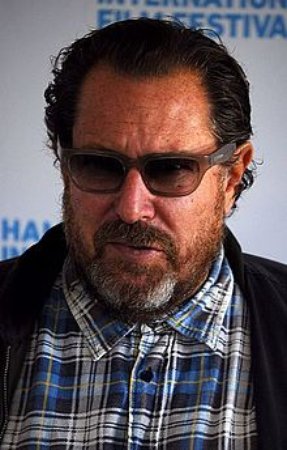 Julian Schnabel's work has crossed the $1 million
mark only once at auction
The news right before the sales that the noted painter and Hollywood film director had switched to Pace Gallery from Gagosian seemed to aid, though not supercharge, his market at the auctions. All four of the Schnabel works offered sold, generally at the mid-range of their estimates. The highest, a plate painting, brought just below $1 million, at Christie's much-ballyhooed "Bound to Fail" auction May 8. 
Indeed, Schanbel, a nearly household-name artist who has been a vast influence on young artists today (you could argue he's spawned a generation of acolytes and copycats), has only cracked $1 million at auction once; in contrast, Cecily Brown has several times. 
One veteran auction house official, who declined to criticize Gagosian's handling of the artist on the record, did note: "What's been lost is the progression in Schnabel's paintings and a more historical show [at Pace] just might help bring that to the fore."
AFRICAN AMERICAN ARTISTS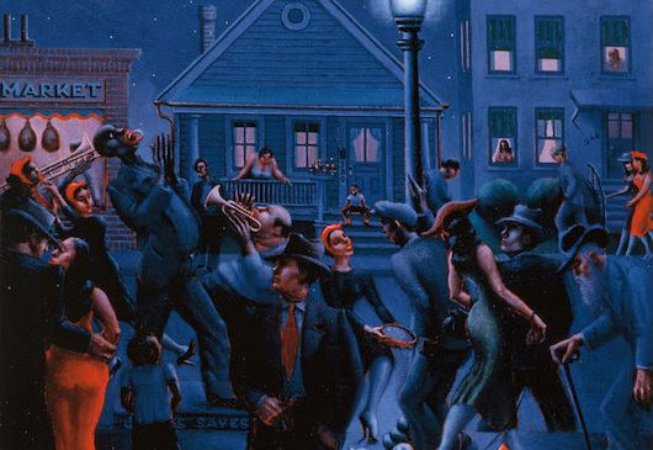 The Whitney Museum of American Art added Archibald Motley Jr.'s Getting Religion to its collection earlier this year; just one of a slew of recent acquisitions by major museums of works by African American artists. 
Addressing significant holes—and a history of bias—in their collections, museums across the country have been making major acquisitions of work by black artists. In 2015, both the Metropolitan Museum of Art and National Gallery of Art added works by Harlem Renaissance artist Aaron Douglas; the Met announced that the acquisition followed 2014 additions of work by Sam Gilliam, Hale Woodruff, and Kerry James Marshall. (A Marshall, Plunge, set the artist's record at these sales of $2.2 million, in advance of his upcoming Met retrospective.) Similarly, in 2015, the Brooklyn Museum, added Kehinde Wiley and Beauford Delaney. The Museum of Modern Art announced a similar initiative a couple of years earlier and, more recently, the Whitney added a spectacular Archibald Motley, its first, early this year.
The curatorial attention has trickled up to the art market, slowly, but prices for works by black artists still lag their contemporaries by a long shot. The auction record is held by Los Angeles artist David Hammons, set in 2013 at Phillips for $8 million for an elaborate basketball-hoop-and chandelier sculpture, Untitled, 2000. Works by Mark Bradford, Julie Mehretu, Chris Ofili, and El Anatsui have also crossed seven figures on the auction block.
In September, the Smithsonian will open the National Museum of African American History and Culture on the National Mall. The five-acre institution has been in the works for a decade. While not an art institution, the spotlight it throws on centuries of black culture in America is likely to advance this overdue re-writing of art history.
THE NUDES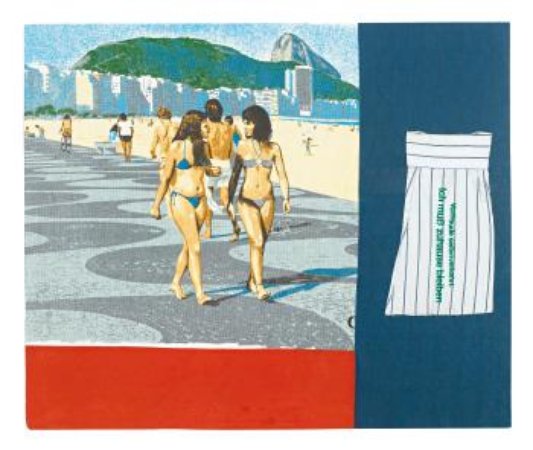 Martin Kippenberger's I Have to Stay at Home
A final note, tongue-in-cheek: these sales offered a few dozen nudes, in a variety of styles and media, from various periods and movements (almost all female). There was a 1972 smudge of pink with red lips and blue eyes by Willem de Kooning that brought a winning bid, over estimate, of $240,000; Martin Kippenberger's 1986 bikini-clad beachgoers I Have to Stay at Home went for triple its estimate at a hammer price of $115,000.
A John Currin sketch of a naked crouching woman got a $40,000 winning bid and his very buxom blonde, undressing, 1962's tiny Hotel Room had bidders chasing it to a winning bid of $24,000. 
In other words, in a softening art market where the auction houses had to hustle ferociously to move property, virtually every naked lady found a home. In the art world, it seems, nudity is recession-proof.